Geneve Ong '14 never expected to be helping Singapore address a pandemic when she became the senior assistant director of strategic planning at the country's Ministry of National Development. However, during the COVID-19 pandemic, most of her time has been spent helping to find relocation options for people who are unable to shelter in place safely.
"My role has changed pretty dramatically during the COVID-19 crisis — I like to think about what I do now in the context of peacetime versus wartime," Ong says. "Right now, we're in wartime."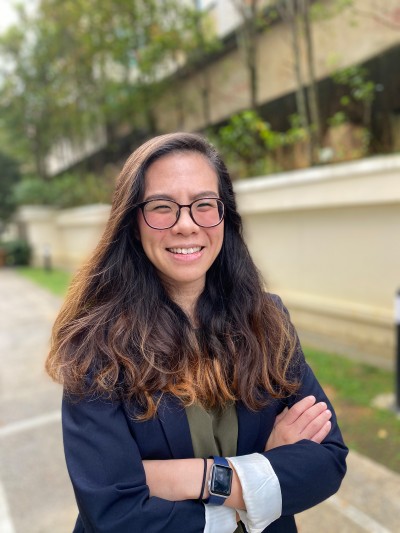 In "peacetime," Ong leads urban planning for all of Singapore. The island nation, which is about four times smaller than Rhode Island, has a population of 5.7 million people. Rhode Island, by comparison, has a little more than 1 million people.
"It's dense," says Ong. "My team is responsible for the planning that allows people to live comfortably in a dense, urban environment."
That entails creating plans for public housing, transportation and parks, among many other parts of city living.
Now her role involves placing Singapore residents with a high risk of contracting COVID-19 in places where they can quarantine safely.
"Safe distancing is really a luxury," says Ong. "In low-income and vulnerable communities we see a lot more people living under one roof. It's a lot harder to distance yourself at home when you don't have the personal space to do so."
Ong's work now primarily involves interviewing people who have tested positive for COVID-19 to understand who they may have come into contact with and whether those contacts are also at risk of contracting the illness. At the same time, she develops partnerships with hotels, campsites, holiday homes and other places that might be in low demand and able to offer temporary housing.
Tough conversations are part of the job, and Ong credits her degree in communication studies from Northwestern with helping to prepare her for her current role.
"There is a lot of negotiation in urban planning, and negotiation is not typically something that comes naturally to people," says Ong. "I still use the negotiation and communication strategies I learned at Northwestern all the time."
Singapore was impacted by the SARS outbreak from 2002 to 2004, and since then the country has been preparing for a similar outbreak. Even so, says Ong, COVID-19 presents its own set of challenges.
"Based on the evidence we've seen, COVID-19 is a lot more contagious than SARS," says Ong. "We're dealing with asymptomatic community spread and having to educate the young and healthy on why they have to stay home too."
Ong, who is from Singapore, came to Northwestern on scholarship from the Singapore government. During her time as an undergraduate student, she interned with the Second City as a marketing designer, and after graduation she was selected for a highly competitive public affairs internship with the Walt Disney Co. After the internship, Ong returned to Singapore and began working for the Singapore government in its Ministry of Communications and Information, developing communications strategy for top-priority issues, including defense, foreign affairs and economic and social policy.
Ong met her fiancé, Matthew Lee '12, when the two were Northwestern undergraduates in the a cappella group the Northwestern Treblemakers. Lee is now a music teacher.
"Northwestern was such an instrumental part of my life," says Ong. "From the skills I learned to the global support network of alums who are my mentors and friends, Northwestern continues to play a major part in my life and work to this day."