I Do ... Thanks to NU
Just a few recent weddings and engagements that wouldn't have been possible without Northwestern.
Ryan Haggerty '07, '16 MS and Lisa Wayland Haggerty '07, '17 MBA
WHO WROTE THE BOOK OF LOVE
In 2007, young couple Ryan and Lisa bravely took the famed — and popular — undergraduate class "Marriage 101" together and documented the experience for Northwestern Magazine.
After graduation they tied the knot in Chicago on Sept. 29, 2013. "It was an incredible day, and one we'll treasure for the rest of our lives," Lisa said at the time. "Almost every member of both of our families was able to attend, as well as many good friends, including quite a few Northwestern alumni. We are truly blessed."
On March 22, 2021, after relocating from Chicago to California, Ryan and Lisa welcomed daughter Claire Allison Haggerty into the world. The couple reports that Claire's middle name is – you guessed it – a nod to the dorm where they met as first-year students in 2003.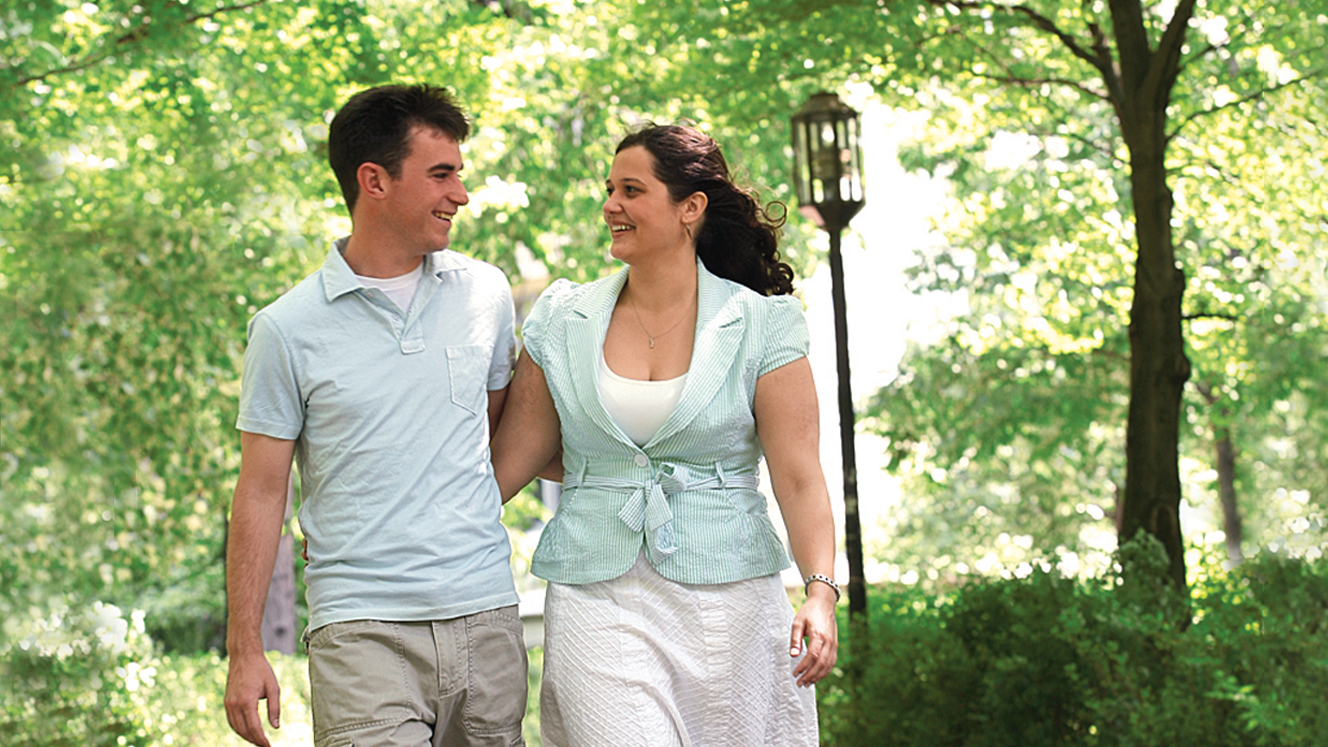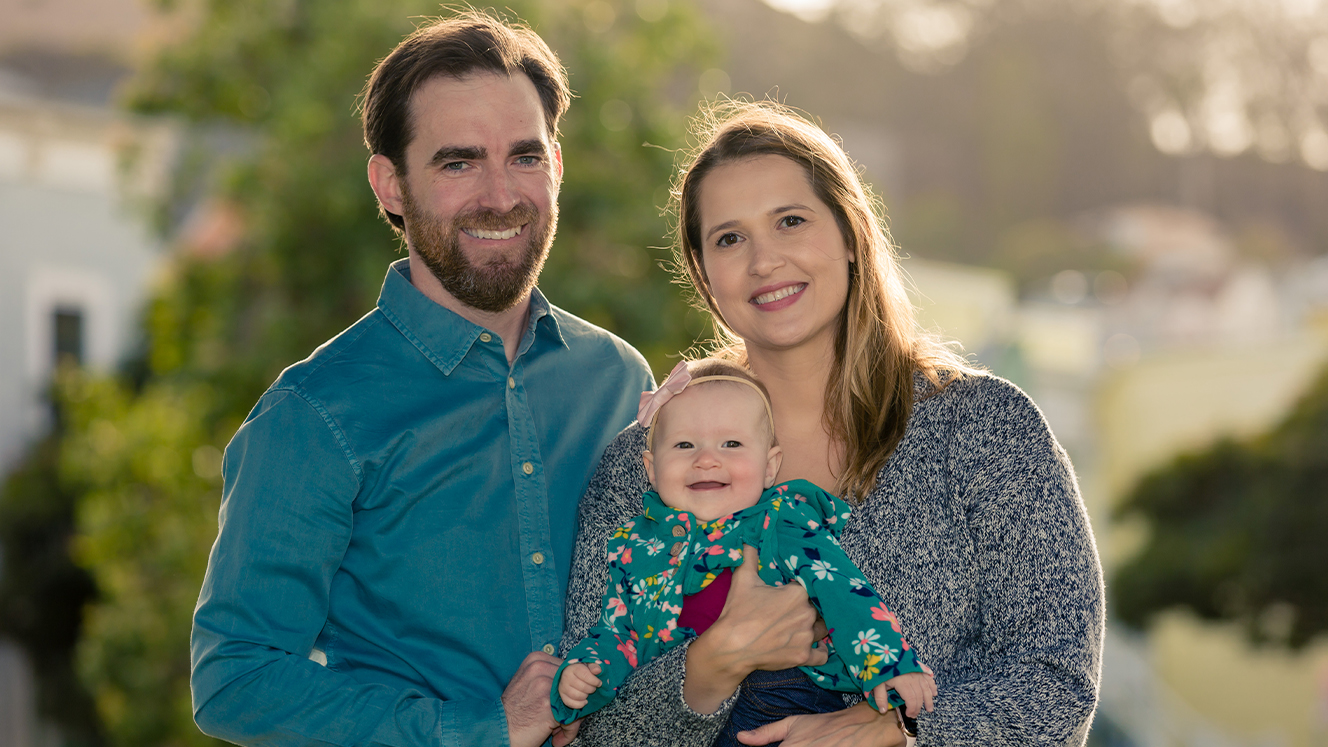 Nisha Garg '12 and Varun Bhalla '11
LOVE ON THE ROCKS
Nisha and Varun knew each other vaguely as undergraduate students, crossing paths at social events and in pre-med courses, but ended up in different medical schools on opposite ends of the country (Tuscon, Ariz., and Miami). When both ended up in the greater Los Angeles area for their residencies, "we were both single and swiping on dating apps, searching for the one," says Nisha. "We came across each other, and right away we both recognized each other. We met up and became friends, reminiscing about our Northwestern days. Having Northwestern in common was a huge part of why we clicked."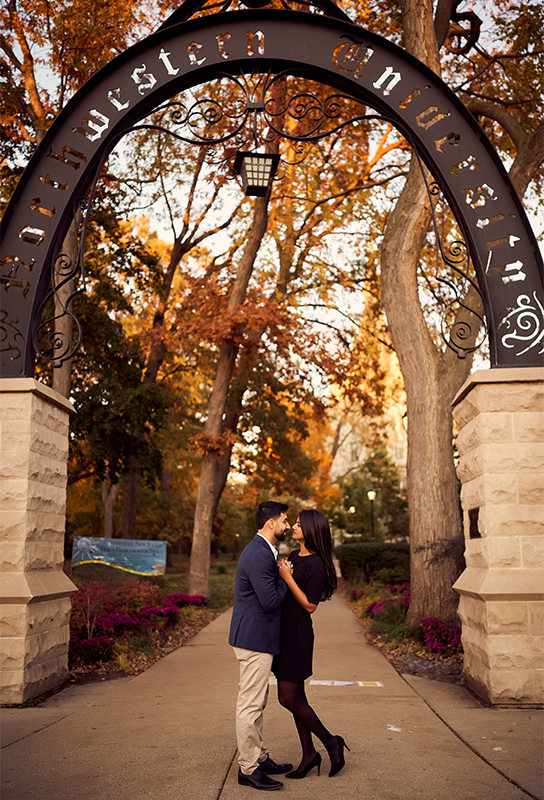 The couple eventually moved to Chicago together where Nisha is a fellow at Northwestern Medicine's Center for Complex Gynecology, and Varun is an assistant professor at Loyola University (rheumatology).
On Nov 6, 2021, Varun proposed to Nisha by the lakefill. "This campus symbolizes what brought us together, our beginning," Nisha says. "So it was the perfect place to solidify our future together. After the proposal, we painted a rock nearby with paint that he had brought and vowed to make this a family tradition."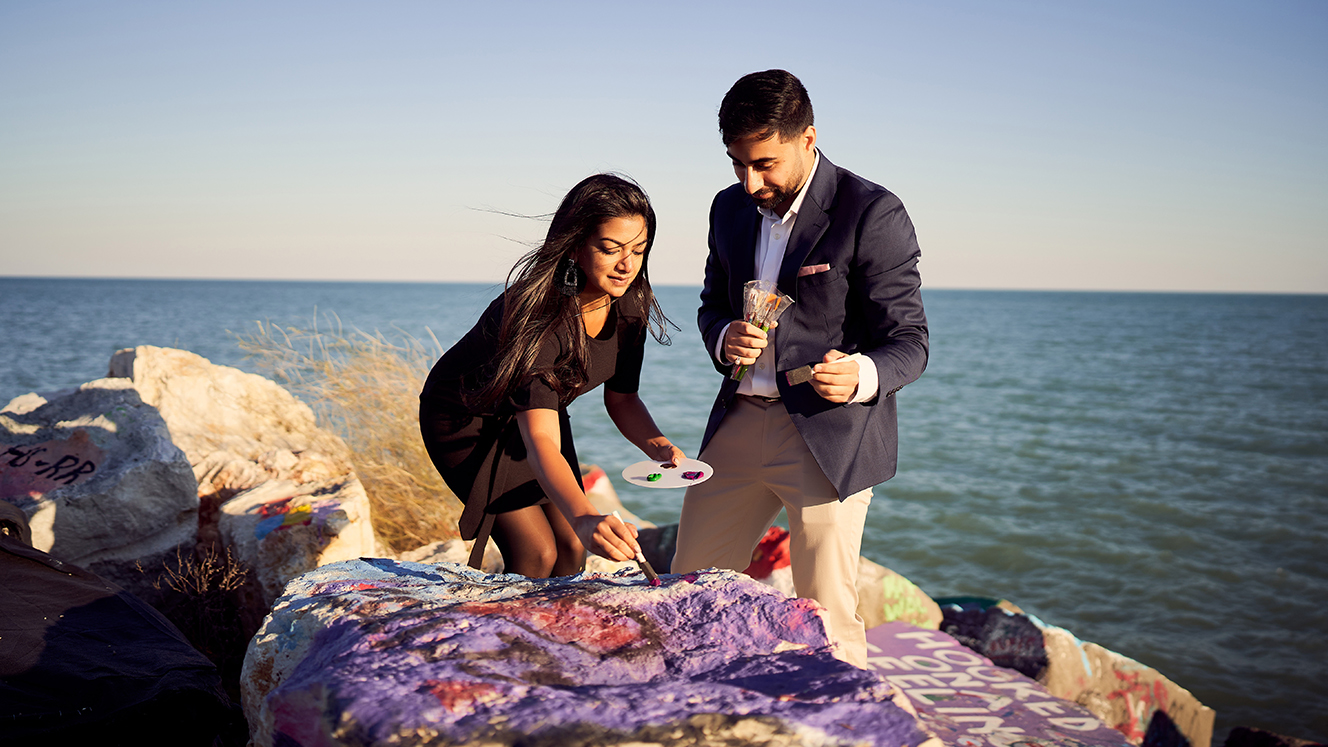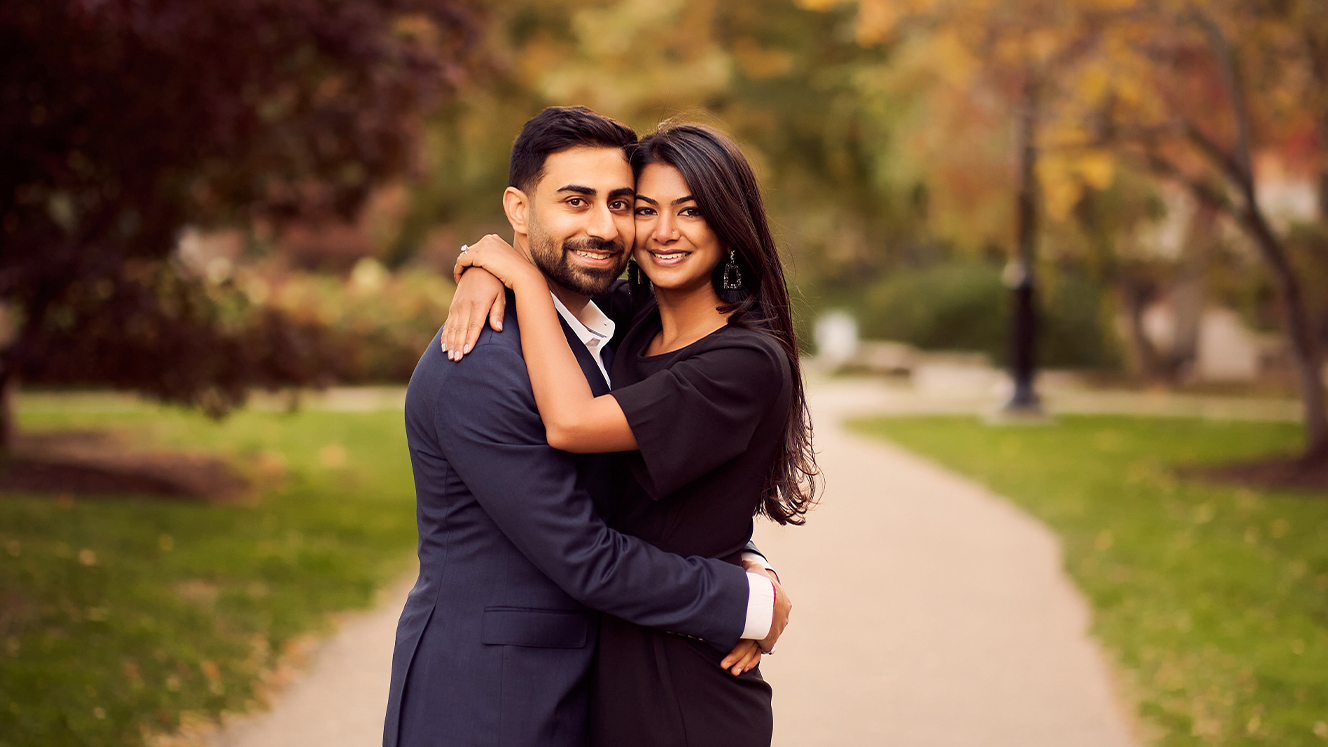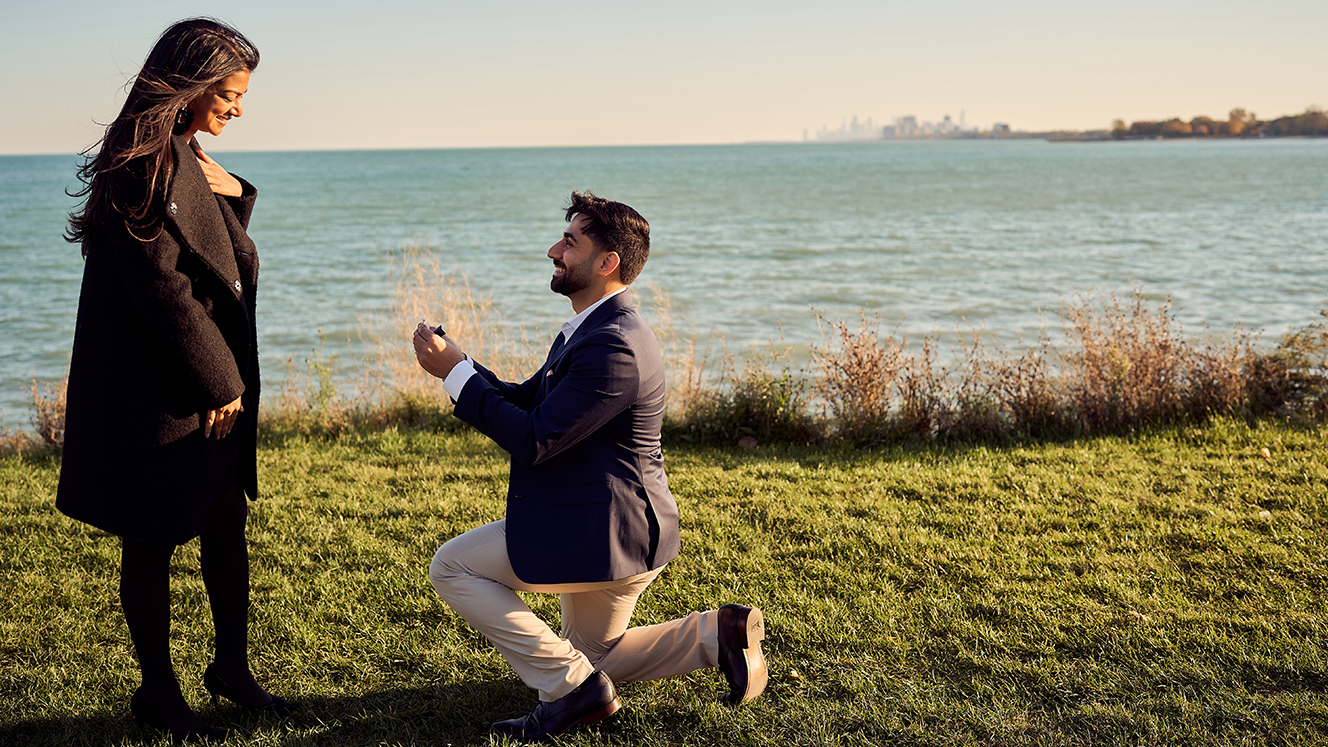 AYANNA BERRY '10 and JONATHAN BRAGG '10
SHARED PATHS
Ayanna and Jonathan Bragg were married on October 16, 2021, at Greencrest Manor in Battle Creek, Mich. The couple both graduated from Northwestern with degrees in industrial engineering.
The couple both "credit the National Society of Black Engineers with providing invaluable community and professional development during our time on campus," says Ayanna. "I served as national treasurer for the international organization and Jonathan served as vice president of Northwestern's NSBE chapter." Ayanna and Jonathan were also proud members of Alpha Kappa Alpha and Alpha Phi Alpha, respectively.
Besides mutual classes and majors, Ayanna says the couple also shared college internships, post-grad jobs and even participated in each other's company sports teams — as friends. Their relationship took a turn toward the romantic on a trip to Southeast Asia with Ayanna's MBA classmates. "A sunrise kiss in Phuket sealed the deal," Ayanna says, "and we seamlessly entered several years of dating before our wedding in front of many of our fellow Black 'Cats, family and friends."
Ayanna is a consultant, currently serving as a client partner at Meta. After years of software development and trading, Jonathan earned a masters in education and is pursuing a new role at the intersection of data science and education technology.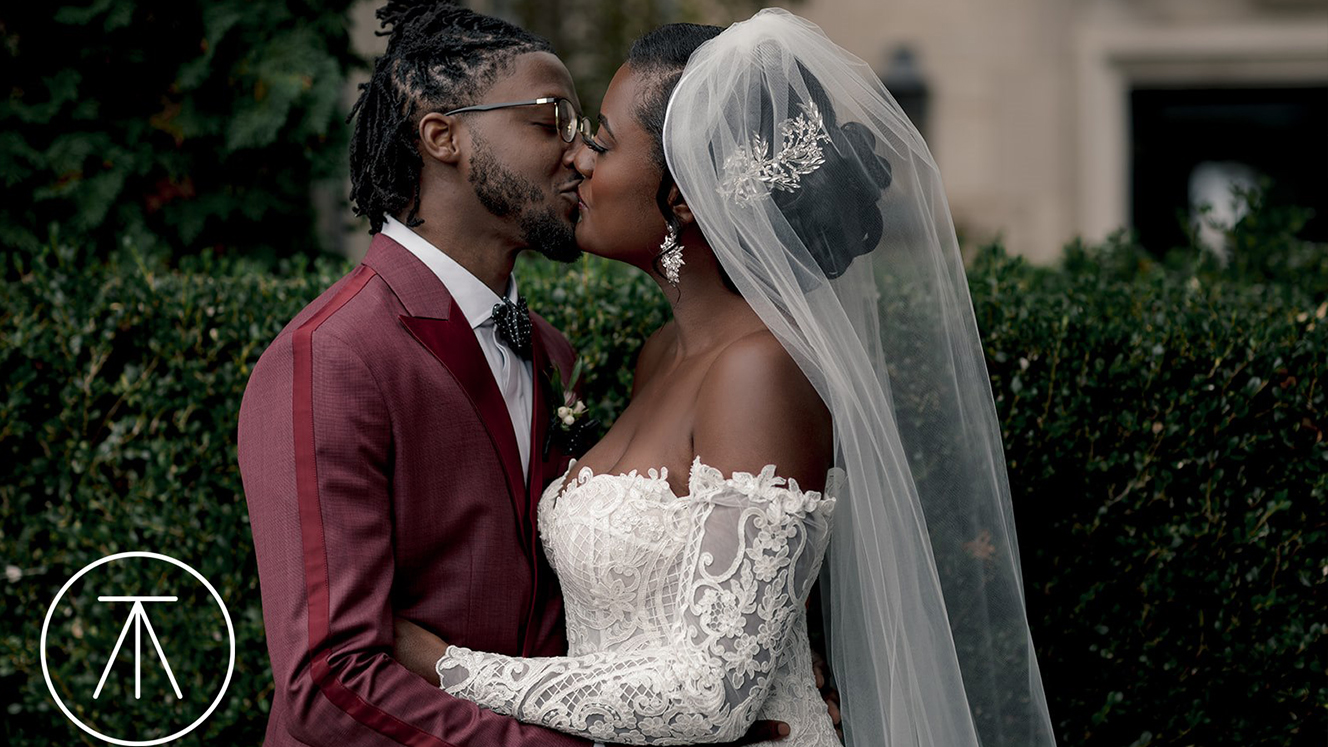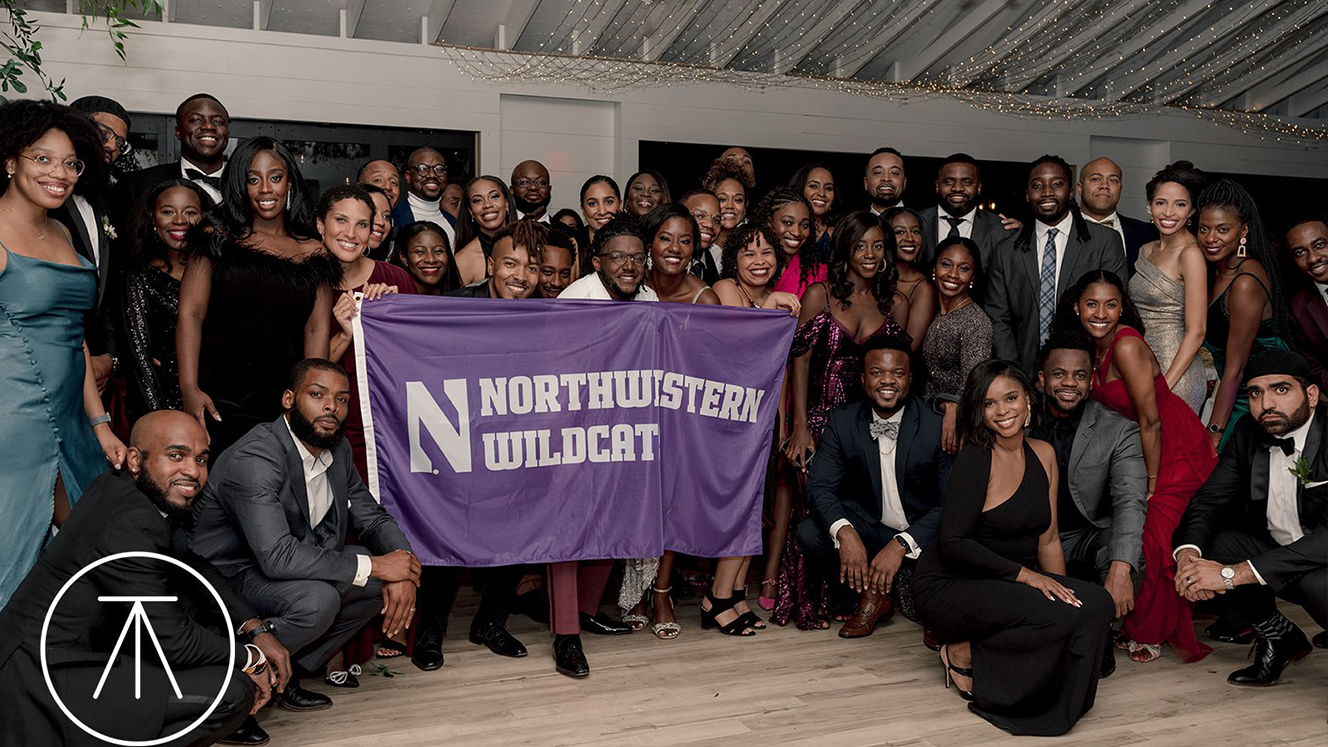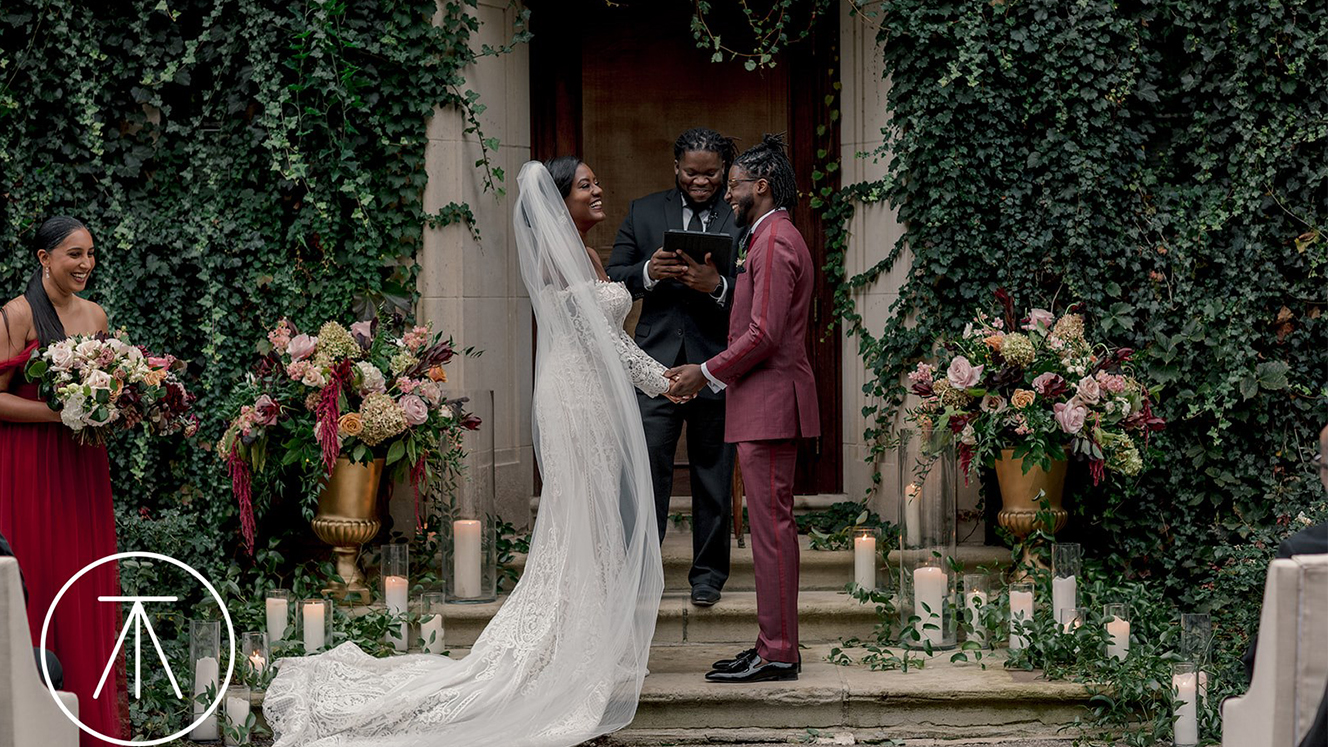 Noor Hasan '14 and Zachary Brown '09
CAPITOL LOVE
Noor Hasan '14 and Zachary Brown '09 were married May 22, 2021, in a small backyard ceremony in Skokie, Illinois. 
Noor is an attorney working as a judicial law clerk for a federal judge in the United States District Court for the District of Illinois in Chicago "When I was a senior at Northwestern, I was honored to be selected as a standout senior for Northwestern Magazine, in which I mentioned my aspiration to attend law school," she says. "I graduated from Berkeley Law in 2020 and I'm also currently mentoring students through the NU Asian and American Alumni (NU-A5) and the Northwestern Alumni Association's mentorship programs."
Zack is an incoming supervisory financial analyst at the United States Department of the Treasury, where he will be working in the Emergency Capital Investment Program, supporting the efforts of low- and moderate-income financial institutions disproportionately affected by COVID-19. (Noor added that Zack's mother, Sandra Zunker Brown '84 JD, "is also a proud Wildcat.")
Recently, Noor shared that she and her husband are moving to D.C., "for Zack's job at the Treasury and for my clerkship with a federal judge on the U.S. Court of Appeals for the D.C. Circuit. We are excited for this new chapter in our lives!"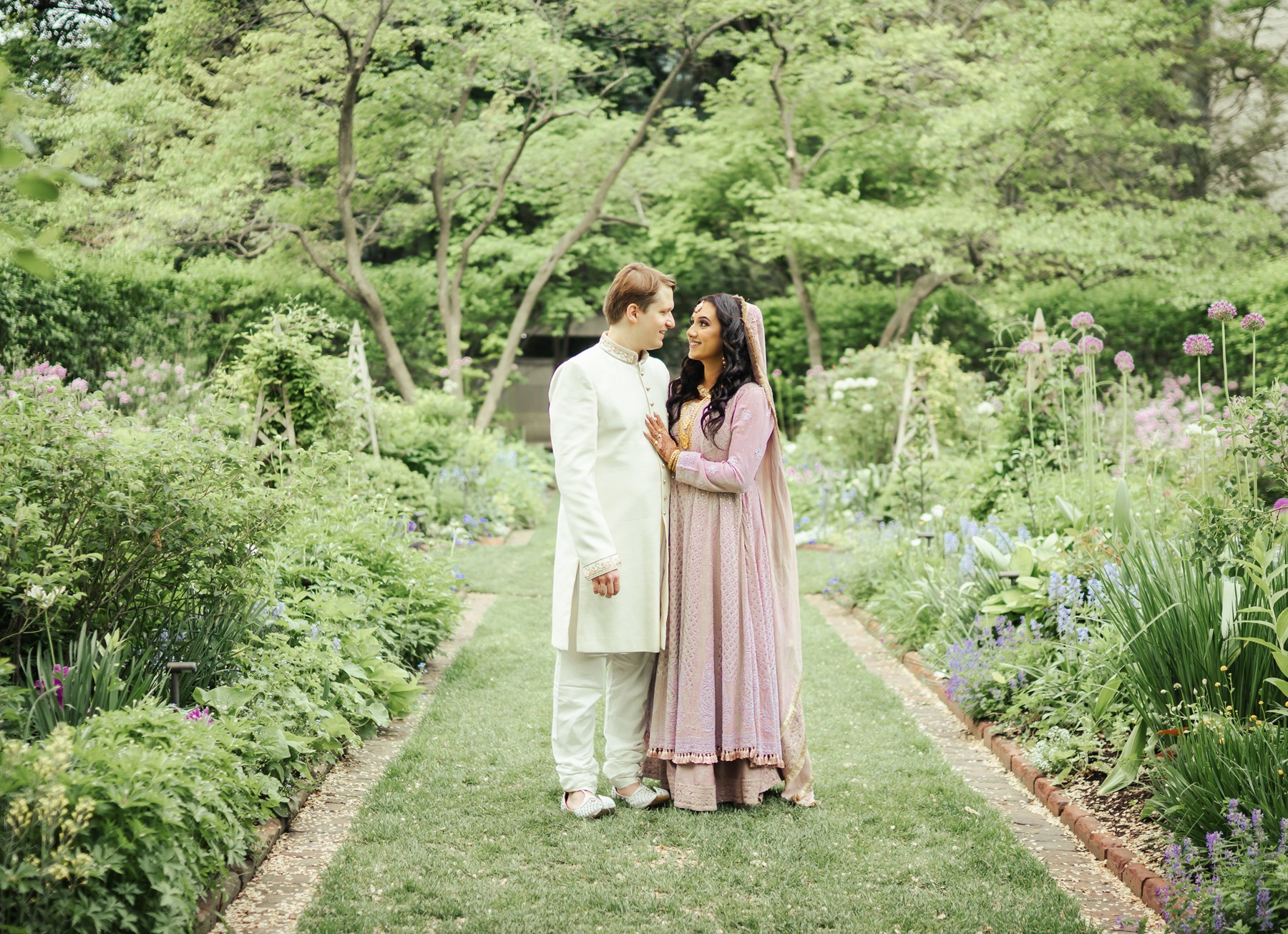 Jason Bolicki '04 and Adam Schloff
ALL I ASK OF YOU
Jason Bolicki '04 married Adam Schloff in Cape May, N.J., on June 18, 2021. Their ceremony was outside at Congress Hall, followed by an indoor reception. "It was a very Northwestern-heavy affair," Jason says, "with live performances during the reception from Matt Leisy '03 (singing "All I Ask of You" from Phantom of the Opera), Ron Holsey '03 and Alexis Williams '02." Henry Russell Bergstein '04 MFA served as the emcee for the reception.
Jason is the founder and executive producer of Exit Four, a television and digital media production company in New York that specializes in unscripted shows and reality series. Adam is the director of development and design at Astral Weeks Development, a New York real estate company. The couple both work in New York City but bought a house last year and moved to Brookhaven Hamlet, N.Y..
"While I graduated from Northwestern," says Jason, "my husband Adam is a proud Michigan grad. Some of our first dates were watching Big Ten football games with our friends."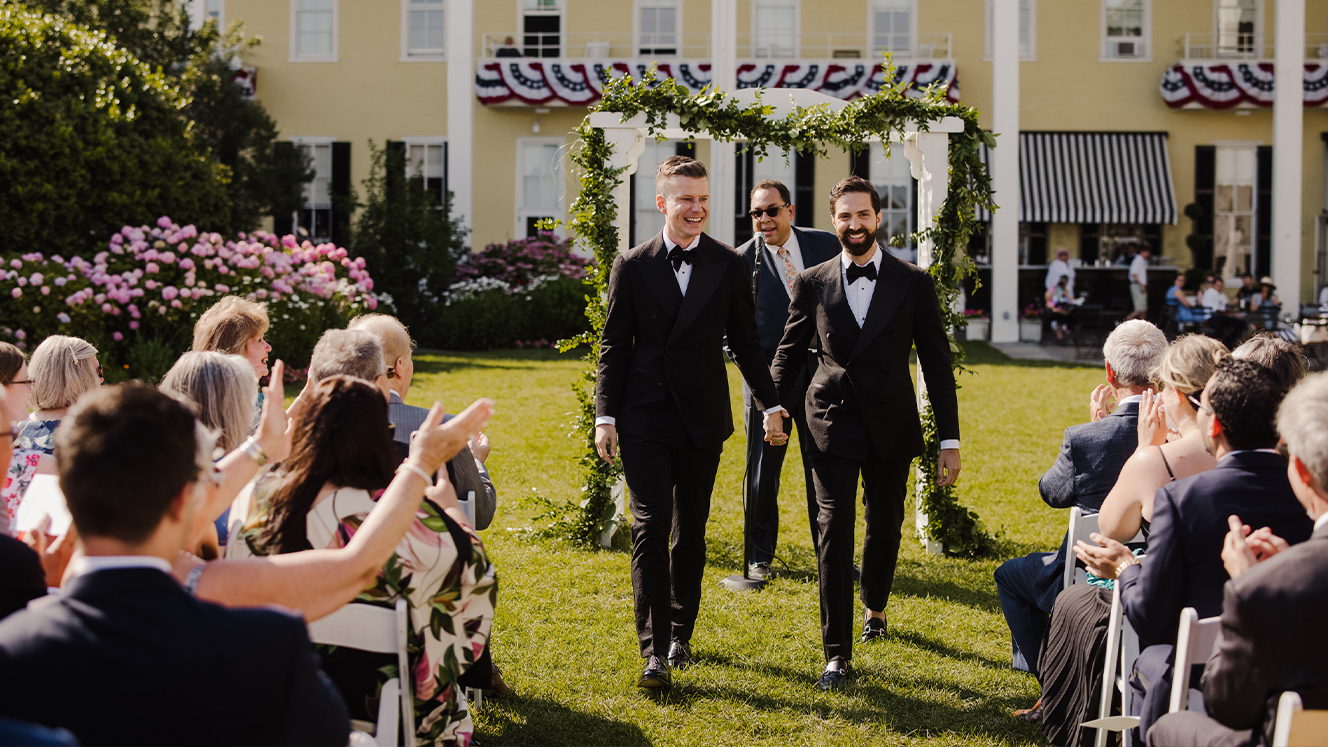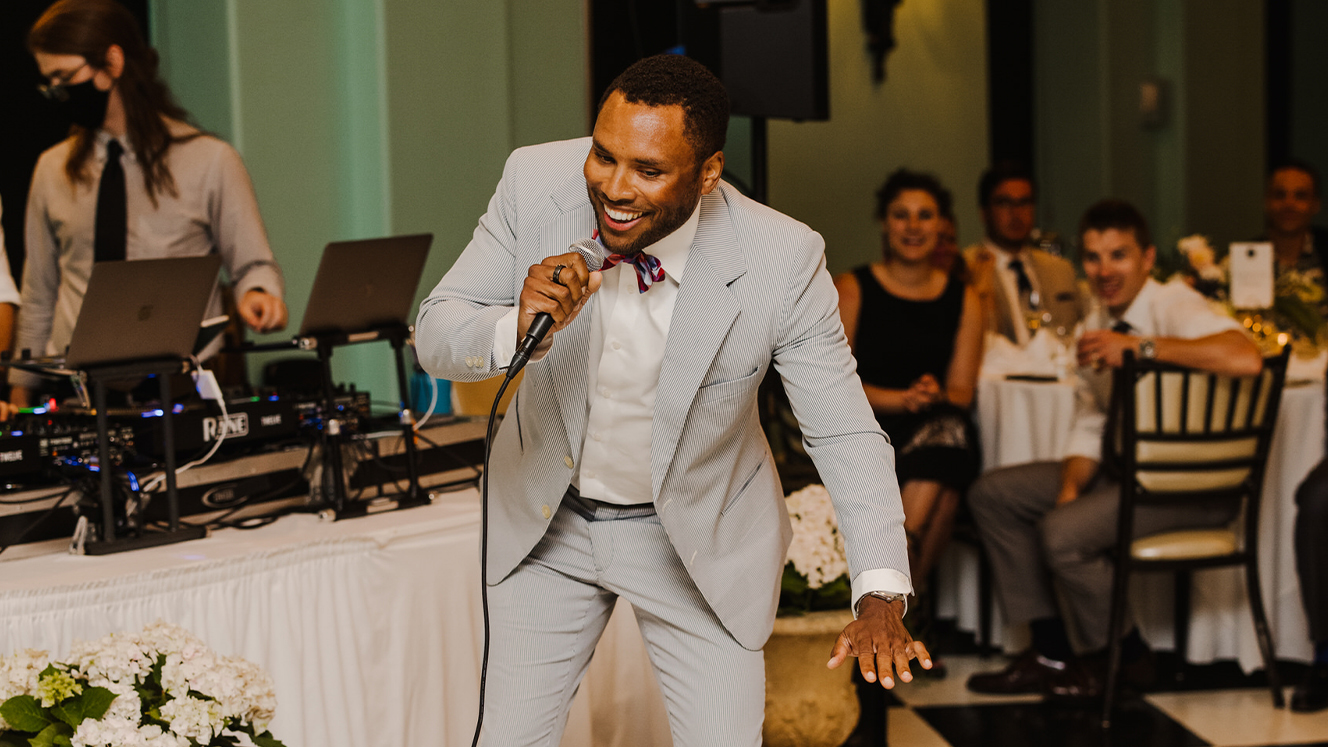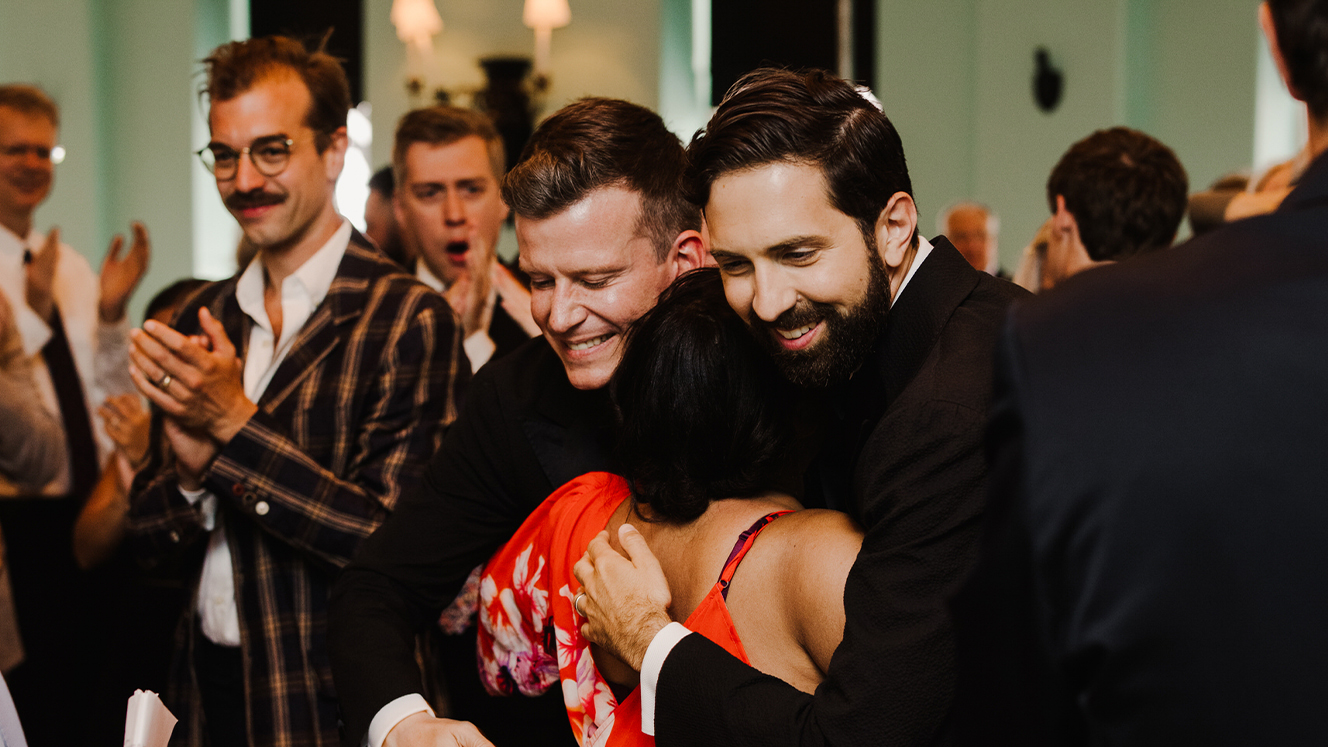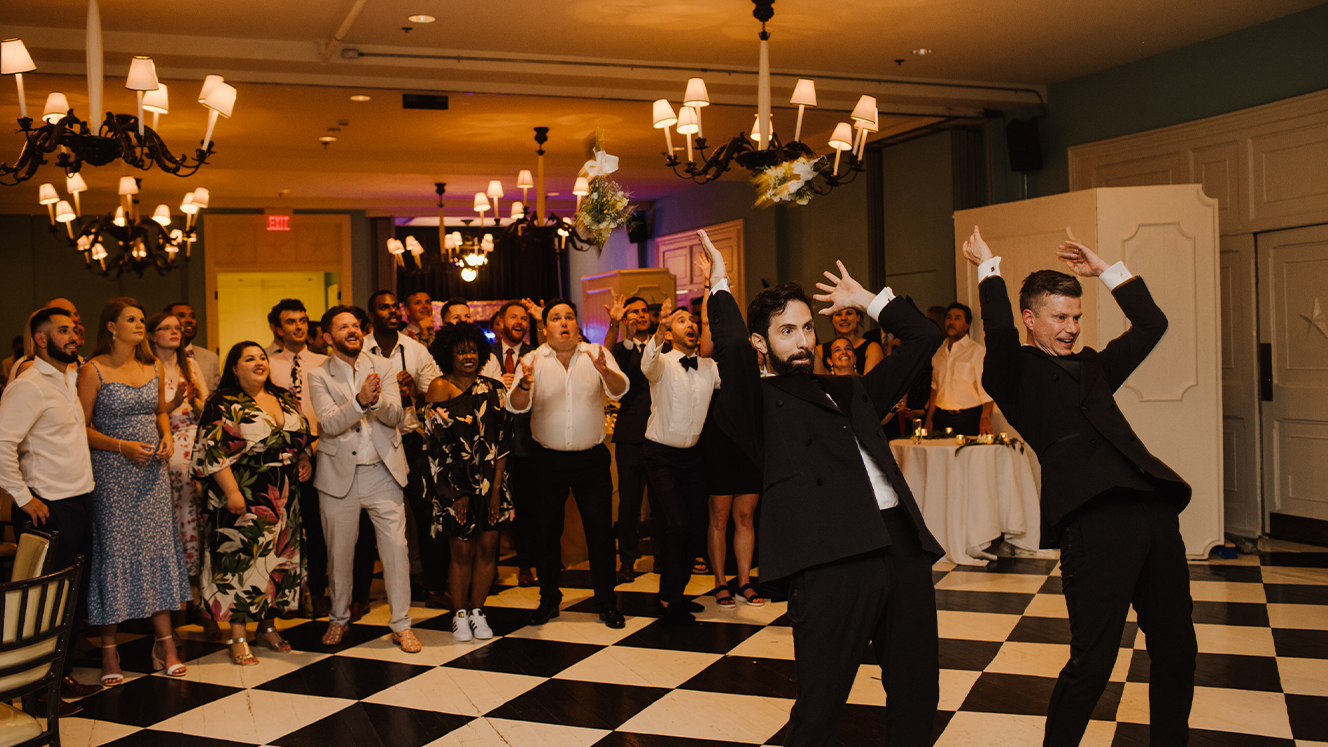 Breanne Boyd '13 and Patrick Metcalf '14
WHATSOEVER THINGS ARE TRUE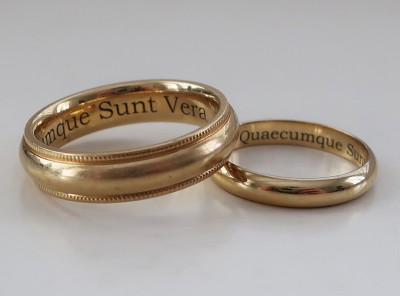 In February 2020, Breanne Boyd '13 and Patrick Metcalf '14 were married at the Ebell in Los Angeles after nine years together. They were joined by many Northwestern alumni at the celebration. Boyd and Metcalf have the University motto — the Latin phrase "Quaecumque sunt vera" — engraved in their wedding bands to honor the place that brought their lives together.