A Match Made at Northwestern
These Wildcat couples are very much in love — and many are celebrating reunions this year! 
Debbie Petranek Collazo '73 and Tom Collazo '73
Debbie first spotted Tom at a final exam during winter quarter of their first year on campus. The following spring, Debbie ran into Tom in front of Deering Library and asked if he wanted to walk to class together.

They had their first date on April 15, 1970, at an anti-tax rally in downtown Chicago. Tom was covering the rally for The Daily Northwestern, and Debbie was protesting. The next year, they were downtown again for a parade marking the 100th anniversary of the Chicago Fire. Debbie and Tom were looking at the fire trucks from all over the Midwest when they spotted then-Mayor Richard J. Daley in the stands. After introducing themselves as Northwestern students, Debbie and Tom were invited to sit with the mayor.

Debbie and Tom dated for the next three years and married one week after graduation, on June 23, 1973 (above). They both worked for The Nature Conservancy in Arizona, living at Ramsey Canyon and Aravaipa Canyon. Now retired in Tucson, the couple enjoy travel to distant places such as Japan, India, Turkey and Europe, especially Paris.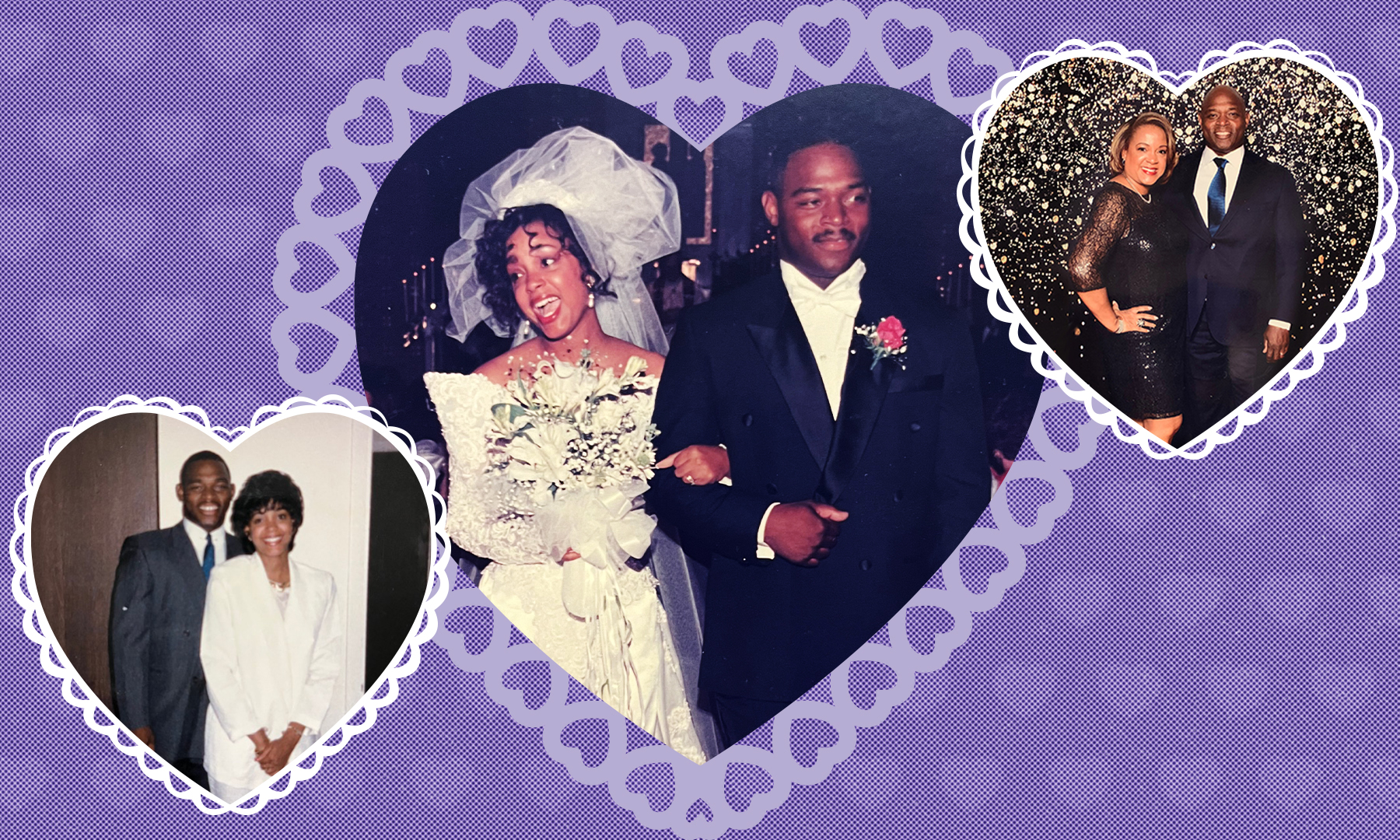 Mondria Jackson Davenport '88 and Stanley Davenport '88
During their first year at Northwestern, Mondria met Stanley through a mutual friend, Tangela Diggs '88, at what is now the Weber Arch on Sheridan Road. In their junior year, Mondria saw Stanley again in Foster-Walker Complex holding The Daily Northwestern. Someone asked if he was reading it, and Mondria blurted out, "No, football players can't read."
She apologized, and Stanley called her that night.
Mondria and Stanley have been together ever since and will celebrate 31 years of marriage this year. They have two daughters, Sheridan and Siobhan. Proud Wildcats, Mondria and Stanley love attending Wildcat football games and visiting Evanston and the Northwestern campus.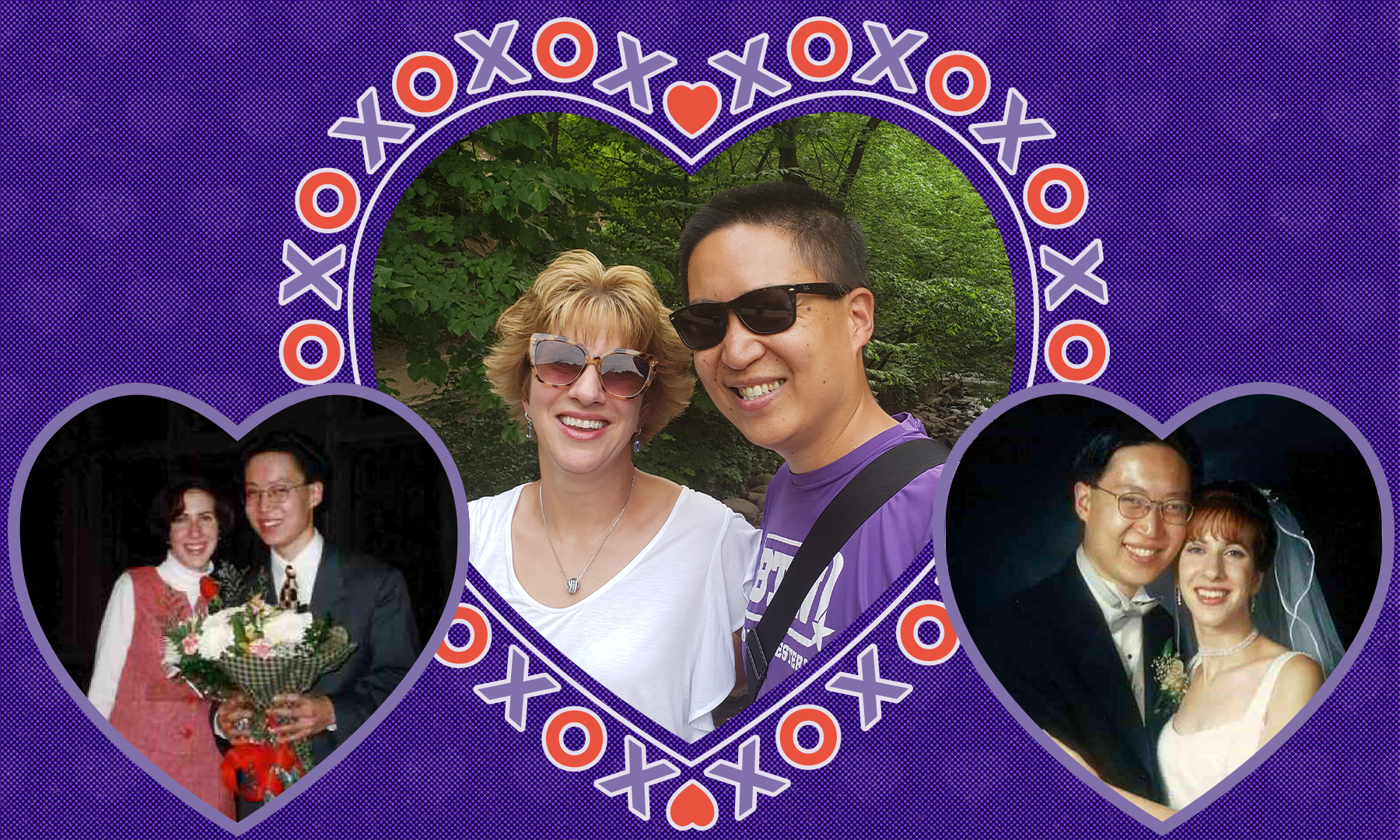 Natasha Trostina Mah '00, '03 MMus and Timothy Mah '98, '99 MMus
Working as a peer adviser during New Student Week in September 1996, Timothy was on the lawn outside the International Studies Residential College with a group of Northwestern first-year students, including "an attractive Russian girl with a great smile named Nataly Trostina," Timothy recalls. "Unbeknownst to me, my own version of Boy Meets Girl was about to happen." During various icebreaker activities, Timothy learned that Nataly actually goes by "Natasha," moved from Latvia to the U.S. with her parents two years prior, and was in the same Northwestern piano studio as he was.

After six months of friendship, four years of dating, a short engagement, a music-filled wedding, eight years of sleeping in on weekends, the birth of their son, Oliver, at Evanston Hospital, Natasha's postpartum depression, Tim's emergency brain surgery, two completed marathons, 20-plus years of marriage and "countless beautiful moments big and small," they are one happy family of Wildcats. "I am eternally grateful to NU for bringing us together!" Timothy says.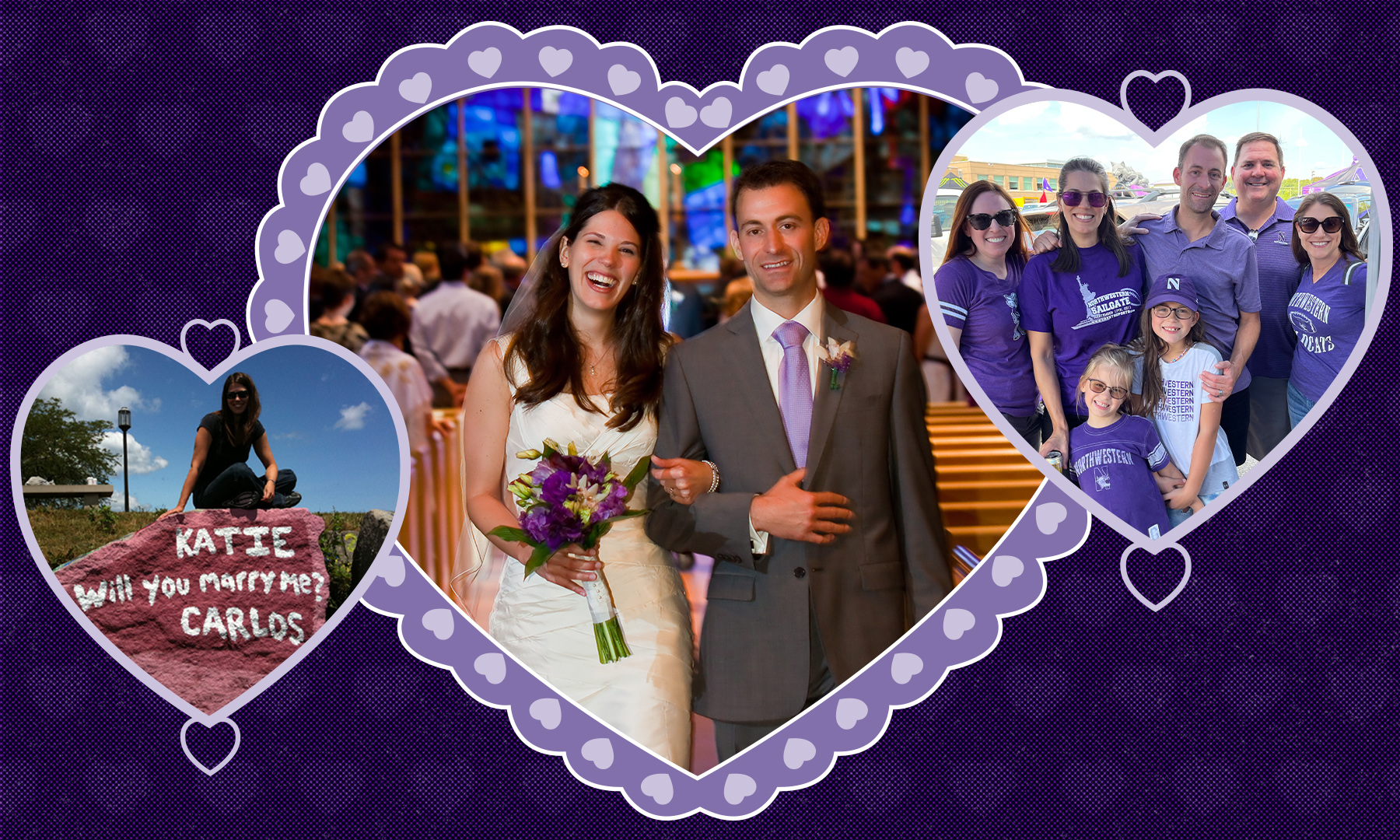 Katie Ruch Terrazas '01 and Carlos Terrazas '98
Carlos and Katie met in 1999 at a gathering of friends on Evanston's Lincoln Street beach. Carlos was persistent and stayed in contact with Katie after that meeting, but the two lost touch once she graduated and moved to Houston.
Seven years later, Carlos and the same friends from that summer beach day were in New York City and ran into one of Katie's friends from college. That chance encounter reconnected the group — and eventually Carlos and Katie.
In 2009 Carlos proposed to Katie on the Northwestern lakeside campus, and they were married at Alice Millar Chapel a year later, surrounded by family and many Northwestern friends. After working at Northwestern for 13 years, Carlos recently joined an early-stage tech firm, while Katie continues to flourish at Johnson & Johnson. Currently living in Indianapolis with their two daughters, Carlos and Katie return to Chicago and Evanston often.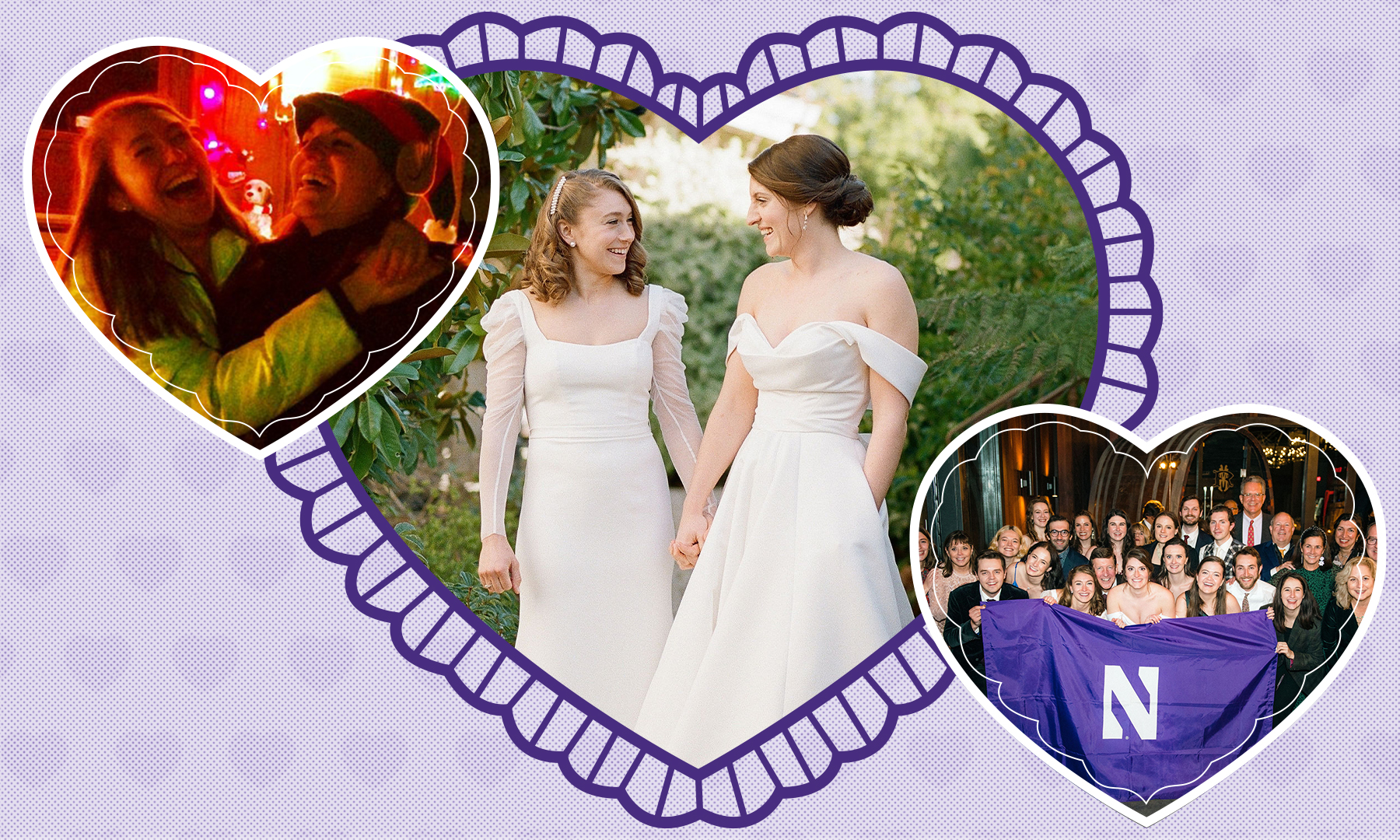 Emily Ryles '15 and Emily Bacalao '15
Emily Ryles '15 and Emily Bacalao '15 met at a fraternity event at Chicago's Lincoln Karaoke. They spotted each other across the room and immediately fell for each other.
On New Year's Day 2022, Ryles and Bacalao were married in a ceremony officiated by Andrew Green '15 '22 MBA. Almost half of the 80 wedding guests had attended Northwestern, including Ryles' parents Marcia Ryles '81 and Scott Ryles '81; Ryles' aunt Lois Therrien Padovani '83 and uncle Scott Therrien '85; and godparents Cindy Fuller '79 and Arnold Sowa '82.
Ryles and Bacalao have many fond memories of Northwestern, from study dates at Deering Library to riding the "L" one stop for pizza during polar vortexes. They currently live in Denver, where Bacalao is an otolaryngology resident at the University of Colorado, and Ryles works remotely as a senior producer for Digitas, overseeing video and commercials for a variety of clients.
Love may be long, but the list of Northwestern couples is even longer! Share your Northwestern love story in the comments below.