Fighting for Local News — and Democracy
A new Northwestern Medill initiative supports local news organizations. By Erin Karter
Even before coronavirus cases in the U.S. started to spike in March, newspapers across the country were taking drastic measures to survive.
Yes, news organizations — legacy publications and digital startups alike — are falling victim to the pandemic. But the virus is not the sole cause of death.
Local news as an industry has suffered a slow decline since the dawn of the internet three decades ago, and it never fully recovered from the Great Recession of the late 2000s. Amid plummeting ad revenue, decreasing print circulation and the polarization of American political discourse, many local news outlets were already struggling — and then came COVID-19.
But what if the deadliest pandemic since the Spanish flu of 1918 forces local news onto a new and more hopeful path while reawakening readers and viewers to its essential role in our democracy, our society and, sometimes, our survival?
"The pandemic blew through the old business model of local news like a Category 5 hurricane. But there's a great opportunity for local news in the rebuilding from this storm," says Tim Franklin, director of the Local News Initiative (LNI) at the Medill School of Journalism, Media, Integrated Marketing Communications. "We've already seen digital subscriptions to news sites skyrocket, by some estimates more than doubling in just a few weeks. If local news organizations can build on that momentum in their digital business models, there could be a silver lining to this crisis. There still are a lot of headwinds, however, and the next year is going to be critical."
Today few Americans have print subscriptions, and many local news outlets have struggled to develop a digital audience. These challenges are among the intractable problems the Local News Initiative was created to help solve. The initiative, launched in 2018, brings together experts in digital innovation, audience understanding and business strategy to bolster the sustainability of local news in America.
Developing a new business model is important. But it's equally important to convince readers that local news is essential to the health of society and democracy — and that readers should support it.
"While journalists and people in the news industry are very aware that local news is in a troubled state, most regular citizens are not," says Margaret Sullivan '80 MS, media columnist at the Washington Post and author of the new book Ghosting the News: Local Journalism and the Crisis in American Democracy. "So we have this very unfortunate disconnect in which our industry is really troubled and people who we need to have on our side, if we are going to save some of these institutions, don't really know things are so bad." (Read LNI's Q&A "Washington Post's Margaret Sullivan on Ghosting the News.")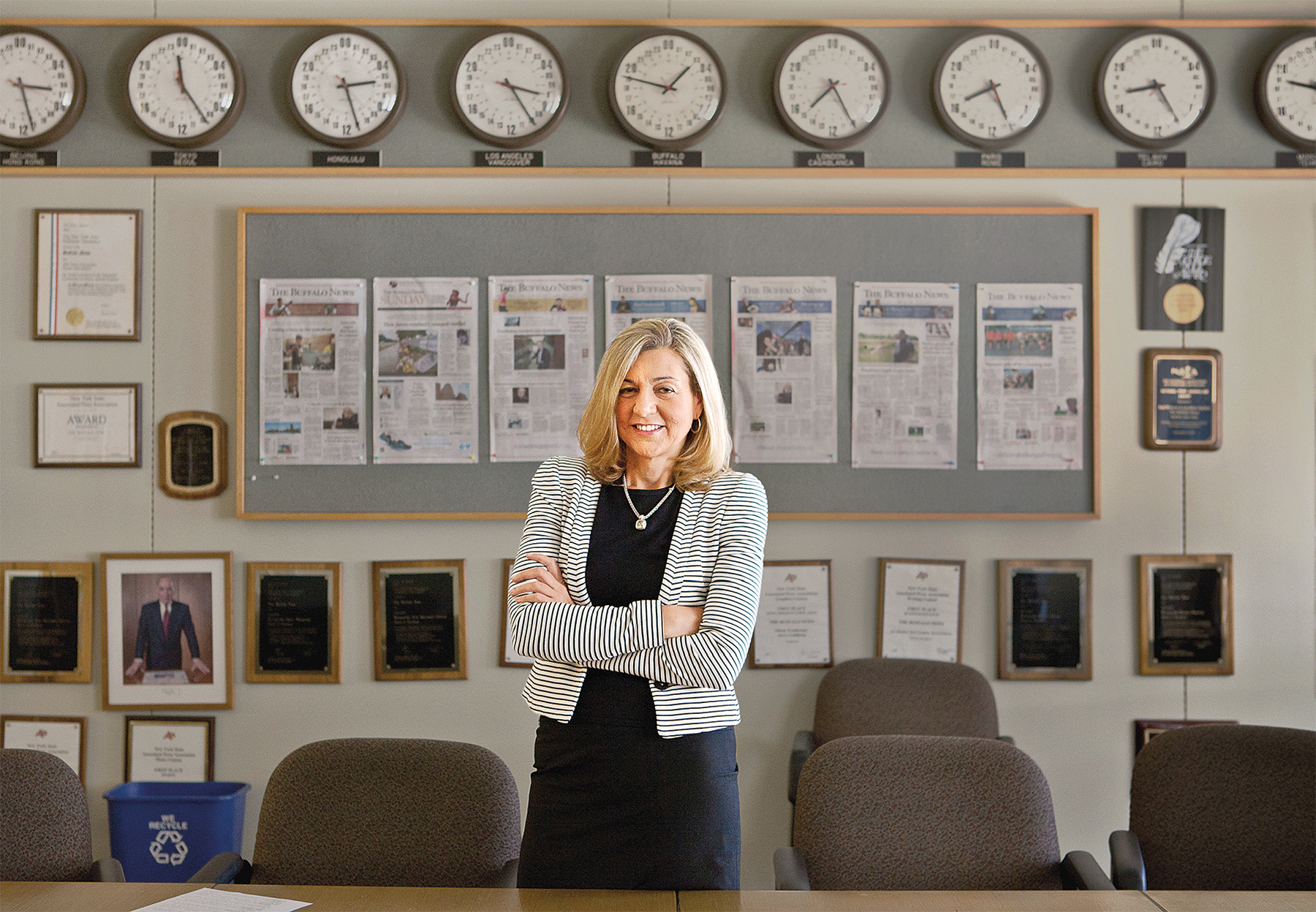 WHY WE ALL NEED LOCAL NEWS TO THRIVE
Sullivan's first job out of college was at the Buffalo News. She started as a summer intern and worked her way up to top editor. In three decades at the paper Sullivan came to a deep understanding of the role local news has as a watchdog and in preserving democracy, which motivated her to write the book.
"Local news shows up at the city council meetings," says Sullivan. "They will look into government records, and they will get commentary on controversial situations. All of these things help democracy in communities function the way it's supposed to. People can't really act like citizens without a basis of information to work from.
"One of the things that happens when local news starts to fade away is that people become less engaged in their communities, and they tend to go into their political corners," she adds. "They vote less, and they don't vote across party lines as much. They become more polarized. They don't engage politically as much."
The Local News Initiative was born after similar concerns prompted an exchange between Tim Franklin and John Mutz, a Medill alum concerned enough about the industry to offer startup funding. He also volunteered his personal network to help raise more money for the project.
Mutz '57, '58 MS is a business leader and politician from Indiana who served as state representative, state senator and lieutenant governor. He also ran on the Republican ticket for Indiana governor. While traveling around the state as a candidate, Mutz learned firsthand the critical importance of local news in the democratic process to communities large and small.
"Without any doubt, when you run for office in a state like Indiana, you find out what a major role the local news source plays in the local area," Mutz says.
"It became painfully clear that local news sources were drying up," he adds. "And it seemed to me, if Medill was going to continue to lead as one of the top journalism schools in the country, we had to be concerned about this problem."
In addition to enabling civic participation and serving as a watchdog, local news tells the stories of people in a particular place and time — both for the present and posterity.
LEADING THE LOCAL NEWS REVOLUTION
Chicago has long been a "news town," but the city's media landscape is in a state of upheaval. The Chicago Reader, once a national model with the biggest circulation of any alternative weekly in the country, is attempting to become a nonprofit after narrowly avoiding shutdown several times. Chicago's Spanish-language paper Hoy was shuttered last year. The storied Chicago Defender stopped producing a print edition. The Chicago Tribune has fallen under the influence of a hedge fund with a reputation for bleeding struggling newspapers of remaining revenues.
Dawn Rhodes '09 MS joined the Chicago Tribune in 2010, when the newsroom was still reeling from the devastation inflicted by real estate mogul Sam Zell, who two years earlier left its parent company $13 billion in debt. Just short of completing a decade at the paper, Rhodes took a buyout in mid-February.
"Whatever good or bad I have to say about the institution, the people in that newsroom are outstanding, and the work they are doing, especially now, under very, very difficult circumstances, is truly admirable," says Rhodes. "In the wake of the pandemic, the Tribune is going beyond the numbers and working really hard to tell the stories about the people who have gotten sick — the people who have died."
In spite of the turmoil and instability in the Chicago media scene, a patchwork of startups and collaborations have sprung up to fill the void. Rhodes recently took a new job as a senior editor at Block Club Chicago, a nonprofit dedicated to covering Chicago's diverse neighborhoods.
"Especially now that I am at Block Club, I think of all Chicago media as being an important part of a patchwork," says Rhodes. "Everybody has their own niche and stories they tell particularly well, and they all matter."
To help support local news operations, LNI is expanding its work with Chicago outlets through a $1 million award from the McCormick Foundation and the launch of the Metro Media Lab, a program designed to strengthen those outlets' sustainability through partnerships in research, training and student-produced storytelling.
"Chicago right now is one of the most entrepreneurial and experimental local news markets in the country," says Franklin, senior associate dean at Medill and a past president of the Poynter Institute, a Florida-based nonprofit journalism school and research organization.
Another entrepreneur and champion of innovation is Emily Ramshaw '03 MS, who is preparing to launch The 19th, the nation's first nonprofit, nonpartisan newsroom focused on the intersection of women, politics and policy.
Ramshaw was part of a generation of newly minted journalists who had to fight their way into an increasingly strained industry in the early 2000s. Her initial career path was typical for a newspaper reporter at the time.
She joined the Dallas Morning News and started covering the suburbs. Working her way to the overnight cops beat, she eventually landed a city hall assignment. In six years with the Morning News, Ramshaw survived four rounds of layoffs.
"I watched people who had devoted their whole lives, their whole careers, to this craft being discarded, and it was exceedingly painful," Ramshaw says. "It was a big wake-up call that something needed to change, whether it was the business model or the entire news industry."
By 2009 Ramshaw was so discouraged that she was considering law school. Then an opportunity pulled her back into the fray.
She helped start and eventually led the Texas Tribune, a pathbreaking online publication with a new journalistic model for covering state politics — nonprofit, watchdog and nonpartisan. It was an early success story for that new approach, showing Ramshaw a path toward not just sustainability but also growth. She left the Texas Tribune in January to use the same model in launching The 19th with Amanda Zamora, the Texas Tribune's former chief audience officer. (Andrea Valdez '06 MS is the new organization's editor in chief.)
"We have embarked on this venture with the goal of elevating the voices of women, particularly women of color and women off the coasts, as well as advancing storytelling that exposes disparities, presents solutions and helps advance greater equity for women nationally," Ramshaw says. "We intersect with local news in that all of our journalism will be entirely free, not just to read but to republish. It is our hope that news organizations around the country will be able to freely distribute our storytelling to their audiences, whether it's the El Paso Times or NBC Nightly News."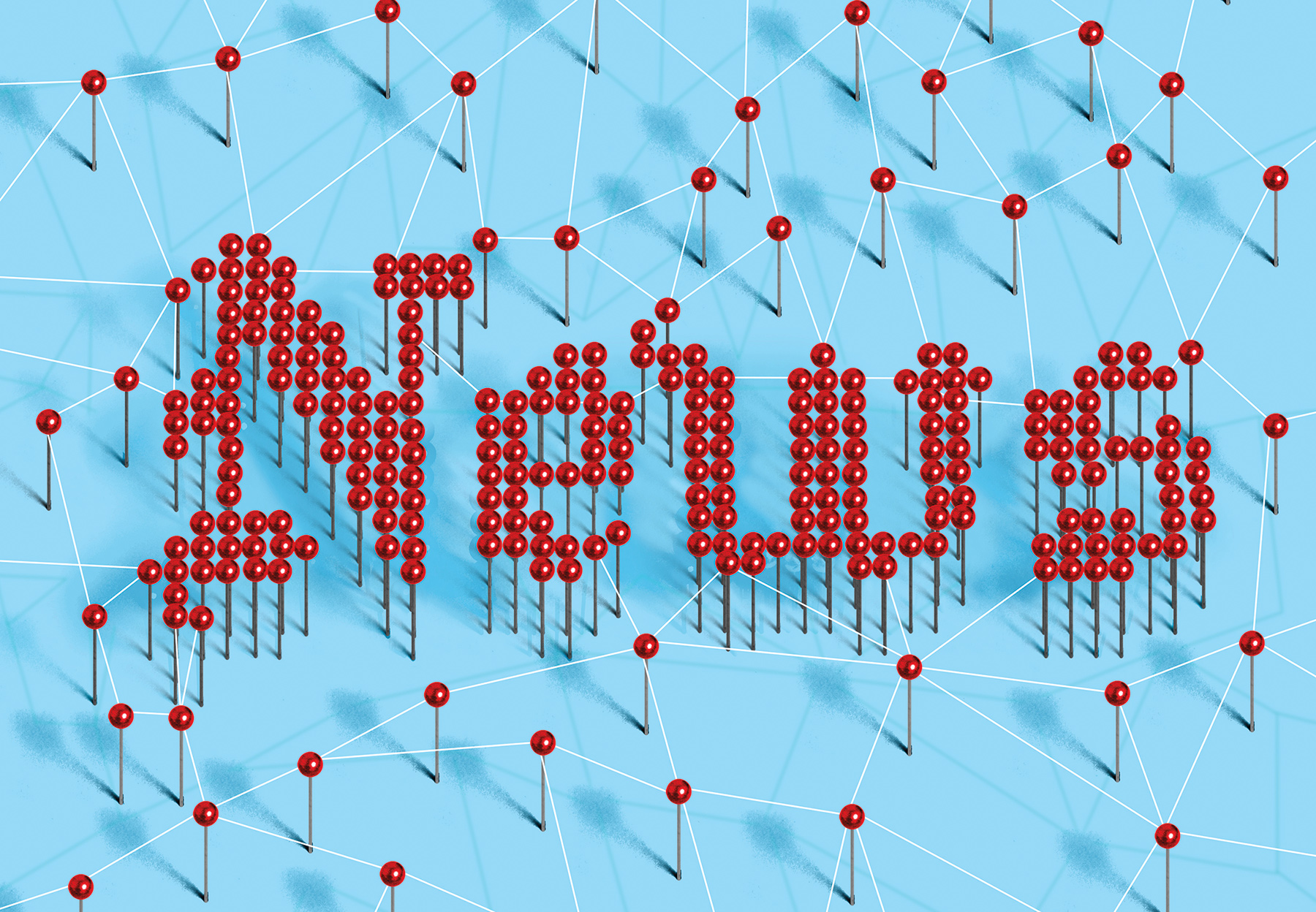 JOURNALISTS AS ENTREPRENEURS
Research shows that as local news outlets fade away and news deserts expand, civic engagement evaporates and elected officials become less virtuous without a watchdog to hold them accountable. The core tenets of the Fourth Estate — preserving democracy and accountability and giving voice to the voiceless — are what above all else make journalists public servants.
As noble as that cause can be, today's journalists must also be innovators and entrepreneurs. And, as Tom Collinger says, journalists must come to know and be directly engaged with those readers willing to pay for news. Collinger is executive director of Medill's Spiegel Digital & Database Research Center, which serves as LNI's data analysis arm.
"In newsrooms over the last five years, there has been an explosion of data-driven thinking, and subscriber revenue has become the new lifeblood of local media," he says. "Every journalist has access to information about how many people are reading a story in real time. What they don't have — and what we are offering — is an understanding of their subscribers: How are they engaging with content?"
Among several projects aimed at making U.S. newsrooms more sustainable, the Local News Initiative is exceptional for its partnership with Spiegel, which specializes in evidence-based, data-driven analysis of the relationship between customer engagement and purchase behavior — something much of the news industry was late to adopt or has failed to truly integrate into its day-to-day operations.
Spiegel is working to elevate customer engagement in the news industry by merging gargantuan reader- and subscriber-behavior databases to provide an understanding of what paying customers are actually doing, so outlets can maintain and expand their digital audience. For the media industry, it's a novel endeavor.
"We now understand through this research that having one person read you 100 times is of more value than having 100 people read you once," Collinger says. "There's a lifetime value to a subscriber, but getting people coming to you sporadically through Facebook and Google doesn't really help you financially."
The crisis hitting local news is not playing out for major national outlets like the Washington Post, the New York Times and the Wall Street Journal, which are seeing record subscription levels.
Key to their success has been the ability to engage readers in innovative ways. But not all newsrooms can afford to try new things, as Jeremy Gilbert '00, '00 MS, former director of strategic initiatives at the Washington Post, points out, because "in order to innovate, you have to leave room for experiments not to work out, and that can be very expensive." The Local News Initiative aims to ease that burden through data analysis, and with the Medill Knight Lab, it pairs students and faculty with partner news organizations to help develop strategies to increase readership and implement actionable intelligence provided by Spiegel's data analysis. (The Knight Lab is Medill's journalism innovation hub.)
LNI also recently launched the Subscriber Engagement Index, which will allow local news organizations to measure their performance with digital subscribers across a wide array of metrics and to benchmark their data relative to peers across companies around the country. It includes an interactive tool for local news leaders to "war-game" the outcomes of strategic decisions that could increase their digital subscribers and revenue.
"The Local News Initiative, for the first time in audience research, is using academically rigorous methods in forms that are accessible to journalists who are working in the industry and who are making decisions on a daily basis," says Gilbert, who will replace Owen Youngman as Medill's new Knight Chair in Digital Media Strategy in September. "I don't know a lot of other institutions that have the combination of the credibility with the newsroom and the academic know-how that Spiegel and Medill can offer.
"What I hope people will take away from the crisis of the moment — and it is absolutely a crisis — is that it's important to have local news," says Gilbert. "That doesn't necessarily mean that local news needs to look like a newspaper or a local TV news broadcast or a radio news broadcast."
ACTIONABLE INTEL
LNI's research has resulted in major, tangible improvements at its partner news organizations. For example, LNI showed the importance of emailed newsletters in building reader habit and loyalty. All three initial partners — the San Francisco Chronicle, Chicago Tribune and Indianapolis Star — have dramatically ramped up their newsletter numbers.
Mackenzie Warren '00, senior director of news strategy at Gannett, says LNI's work prompted the company to make two major strategic changes. First, it eliminated underperforming content as identified by the LNI research and, in response to findings that readers are overwhelmed, began experimenting with paid ad-free and ad-light news products.
Second, Warren says the company made the decision to "focus from a total organizational standpoint" on building reader loyalty, in response to Spiegel research showing that creating reader habit is the single most important strategy in getting people to pay for local news. He says the company created initiatives to increase reader loyalty in each of its newsrooms to drive subscription increases.
The Local News Initiative is also expanding its work to raise awareness about local news' importance among readers.
In June 2019 the Vindicator announced that it was going out of business after 150 years of covering Youngstown, Ohio. As the only paper in the region, the newspaper drew a national spotlight as a symbol of growing news deserts across the country and a worst-case scenario in the industry's episodic decline.
But as the Vindicator was preparing to publish its final issue, the narrative turned when other media players in the area began developing new strategies to fill the void. The investigative nonprofit ProPublica announced it would fund a reporter for a year; a Google-funded innovation project with McClatchy newspapers opened its first local digital operation in northeast Ohio's Mahoning Valley; and the Warren Tribune-Chronicle — a rival paper in the neighboring county — bought the Vindicator's name and subscriber list and began publishing an edition under that title.
To showcase the changing media landscape in northeast Ohio, LNI is providing support for a documentary by Medill professor Craig Duff, who grew up in the region. The documentary is part of an effort to rally a nation of readers to the cause of local news.
In 2020 the news is as important as ever, with COVID-19 concerns, racial justice movements and a presidential election headlining a host of local, national and global events. Although the need to stay informed about the coronavirus in particular has driven more people to their local news outlets, the full impact of the pandemic on the industry remains to be seen.
"The heroic and exhaustive work that these hampered news organizations did to chart the spread of the virus and relay essential safety measures from health professionals is but one example of what we stand to lose should our local news ecosystem crumble in the aftermath of the pandemic," says Medill dean Charles Whitaker '80, '81 MS.
"But more has to be done," urges Whitaker. "We must, as a nation, come to grips with what is at stake should our local news outlets disappear. The loss of local news is not just the loss of businesses that succumbed to the advance of technology. It would mean the loss of an important conduit of information that is vital to the functioning and maintenance of our democracy."
Erin Karter is a media relations specialist and writer in the Office of Global Marketing and Communications.
For more about the Local News Initiative, read "Bolstering Local News."