How to Get to Sesame Street
For 50 years Sesame Street has taught children, thanks in part to a purple pipeline of talent. By Joshua Rosenblat
Sometimes Stephanie D'Abruzzo '93 acts her age.
But only sometimes, because every so often she's transformed back into a 4-year-old.
All it takes are simple things: getting a hug and hearing her name.
And when you work on Sesame Street, as D'Abruzzo has since 1993, your hugs happen to come from Mr. Snuffleupagus, and Big Bird says your name.
"I still remember singing along to Sesame records in my bedroom at the top of my little lungs, wishing I could go to Sesame Street on vacation. And the fact that this 'street' is where I work with so many friends and idols, and idols who became friends, still boggles my mind," she says.
D'Abruzzo is part of a long line of puppeteers who have been instrumental in putting together 50 seasons of Sesame Street, which started in 1969. She's also one of many Northwestern alumni who have been involved in the show and in the larger Sesame universe, from writing and puppet creation to social impact and fundraising. And there's been a parade of Northwestern alumni celebrity actors who've rubbed elbows with Big Bird and other beloved characters over the years, including Seth Meyers '96, '16 H, Zach Braff '97, Stephen Colbert '86, '11 H, Megan Mullally '81 and Julia Louis-Dreyfus '83, '07 H, who famously swore in front of Elmo in an outtake from a 1994 episode.
In its half-century, Sesame Street has become an integral part of early childhood education. What started as a mission to teach children basic reading and math skills has developed to explore socioeconomic issues, medical and health lessons, differences and disabilities, food insecurity and homelessness.
Take Karli, a new character on Sesame Street, for example. She is a young Muppet in foster care, with her "for-now" parents, Dalia and Clem. Karli will help teach children (and their parents) about foster homes and families and show that those who may be facing similar challenges are not alone.
Those are the things that Ellen Wartella, a leading expert in childhood media consumption, thinks distinguish Sesame Street as a children's TV show.
Wartella, chair of communication studies and the Sheikh Hamad bin Khalifa Al-Thani Professor of Communication, heads Northwestern's Center on Media and Human Development. Her research focuses on public policy, specifically on the roles technology and media play in children's health, learning and development. Wartella, who is also a professor of psychology, of human development and social policy, and of medical social sciences, sat on the board of trustees for Sesame Workshop, the nonprofit educational arm of Sesame Street, for a decade. Before joining the board, she did policy-oriented research on the show.
One of the things that makes Sesame Street so remarkable, Wartella observes, is its respect for its core audience: children. That respect has allowed the show to explore complex and deep themes because "we learned that young kids are much more capable" of interacting with and understanding them than previously thought, she says.
In the United States, the show examines themes unique to American children. But as of its 50th season, an estimated 190 million children view Sesame Street in 70 languages and 150 countries, making it "the single largest informal educator of young children in the world," according to former Sesame Workshop vice president Charlotte Cole.
Different countries have different versions of the show, which are co-productions between local crews and Sesame Workshop.
"When you go to India, people sing the theme song for Galli Galli Sim Sim," the Hindi language adaptation of Sesame Street, says Chava Kallberg '97, vice president of development for Sesame Workshop. No matter where in the world you are, "people view Sesame Street as their first educational organization."
The international shows tackle topics specific to the children in those countries, from the language and math skills that provided the basis for the show in the U.S., to lessons about trauma, drugs and gun issues — all geared toward an audience of 3-year-olds.
"Sesame recognizes that the world is changing," Wartella says. "And anywhere you go in the world, it is known as quality children's television."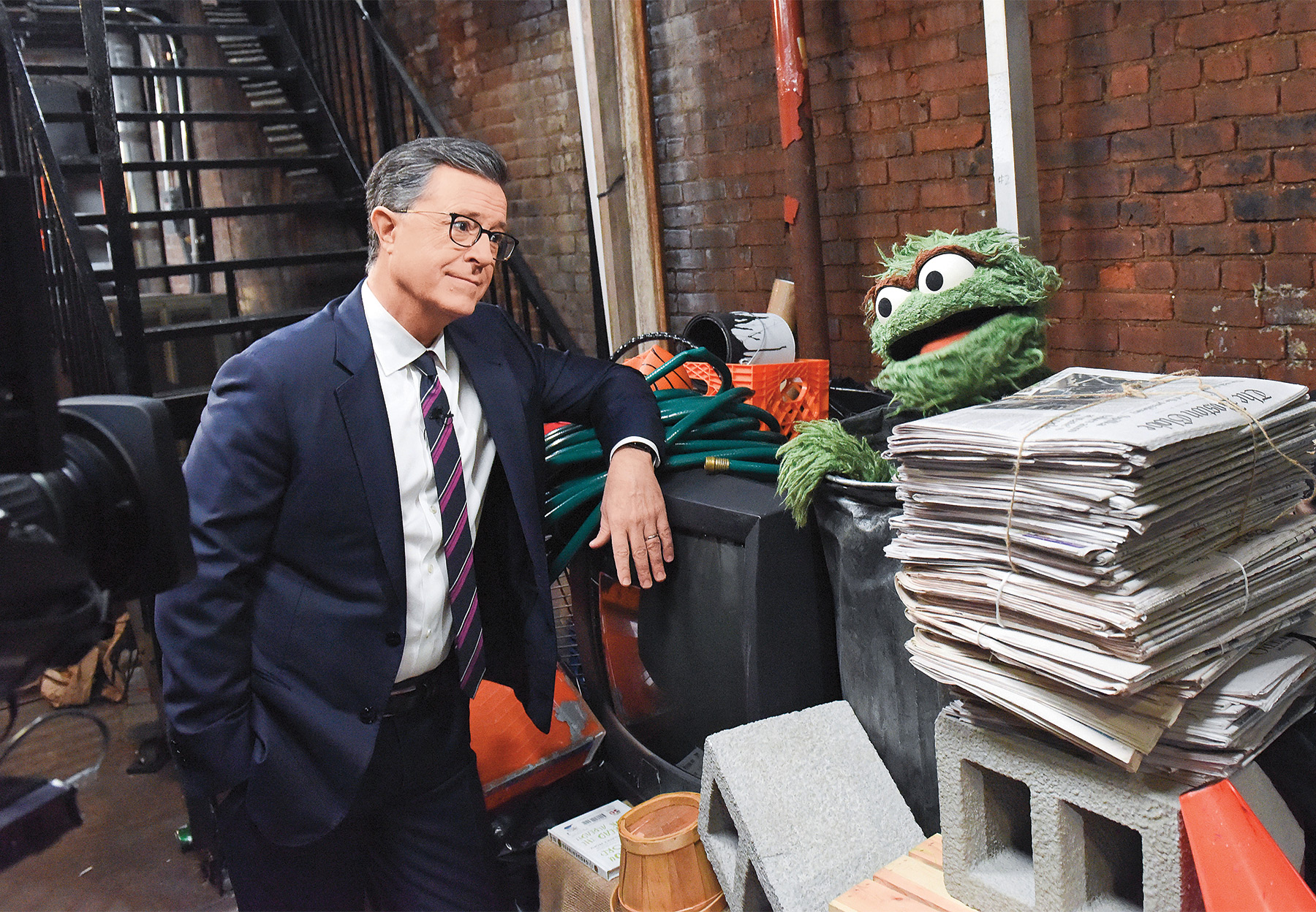 For 50 years, children and adults alike have wondered, "Where is Sesame Street? And how do I get there?" As part of the show's 50th anniversary celebration, New York City named the intersection of West 63rd Street and Broadway "Sesame Street." Now everyone can find their way to Big Bird's and his puppet pals' home.
But others have found their own paths to Sesame Street. Stephanie D'Abruzzo did.
She built her first puppets at Northwestern for a comedy production called "Freeform." Shot in Kresge Centennial Hall's Studio 22 and filmed on ¾-inch tapes, it earned a national College Television Award.
A brief in the Chicago Tribune helped set up D'Abruzzo's first audition for the Jim Henson Company in 1993.
"Remembering the very first day I set foot on the set still feels like someone else's dream," D'Abruzzo says.
Starting in Sesame's 25th season, D'Abruzzo has played a redhead named Elizabeth; a monster named Lulu; Baby Bear's little sister, Curly; and, since 2015, Prairie Dawn.
To make the magic of puppetry happen, she rolls around on dollies with her fellow puppeteers, hunched over to keep their heads out of the shot. With arms outstretched, they play out scenes while voicing their characters through microphones attached to hats or headbands.
"There's a lot going on below that TV frame, and it's our job to make sure the viewer is completely unaware of it," she explains.
Each of those puppets embodies different traits and personalities and imparts lessons to viewers.
Before Sesame Street existed, "people didn't really believe in TV" as a way to help children learn, says Wartella. Now, it has become indispensable as an educational tool.
"You have to have that balance of education and making it snappy, fun and funny," says Ron Holsey '03, who has written for Sesame Street since 2016.
Holsey is joined on the team of writers by Jessica Carleton '05. She started writing for the show in Season 48.
"It's a dream come true," Carleton says. "There's a connection people feel to the shows that we grew up watching, especially a show as iconic as Sesame Street. Getting to write for the characters that I idolized as a child feels like a tremendous gift and a great responsibility."
It's the writers' job to come up with storylines and sketches that illustrate a given season's curricular goals. Carleton gets a lot of inspiration from the curriculum seminar that writers attend.
The theme for Season 50, set to air this fall, is "how you can turn an oops into an aha," Holsey says.
In one sketch, a young character named Abby spills honeysuckle petunia juice. Her mother, Maggie, helps Abby realize that the spill wasn't a big deal. They work together to solve the problem and use a sponge to clean up the mess.
The writers have to balance a number of concerns and issues. Take a Fourth of July episode, for example. There's the current political climate to take into account, as well as having decades of past Independence Day episodes with content that Holsey and his colleagues try not to repeat.
"It was an interesting creative challenge to find a new angle," he says.
The team ended up writing an episode centered on a streetwide cleanup. The characters ultimately come to the conclusion that the best way to celebrate the holiday is "to do something nice for your community and nice for your neighbors," Holsey says.
The writers take great care to stay true to the show's educational mission, while remembering their primary audience: children.
But Wartella says the show also targets parents and adult caregivers.
"It's always better to have young children watch with an adult," she says. "There's a double code. That's why there are celebrities on the show. It's done on purpose."
A number of Northwestern alumni have starred in the guest spots. Zach Braff helped explain what "anxious" means. Nicole Sullivan '91 played the letter A and Stephen Colbert played the letter Z in Sesame Street's 2005 "All-Star Alphabet" video. Richard Kind '78 appeared as the Fairy Balloon Person in a 2005 episode. Julia Louis-Dreyfus appeared on Sesame Street's 25th anniversary special.
Because the show provides a little something for everyone, Sesame Street can offer an emotional connection for families.
"As a first-generation Indian American, I watched Sesame Street every day because it was one of the only shows my parents approved. To them, it was both entertaining and educational," says Nayna Agrawal '15 MFA, who in 2018 won a Sesame Street Writers' Room fellowship, a nearly two-month program for talent from underrepresented backgrounds. She was awarded a creative development deal by Sesame Workshop.
"Sometimes my mom would join my siblings and me, and we would watch it together. In a way, watching Sesame Street was a bonding experience for my family."
Josh Rosenblat '17 is a senior editor at the Philadelphia Inquirer.
Tell us what you think of Northwestern Magazine in a short online survey by Aug. 15, and you'll be entered to win one of eight $25 Amazon gift cards.