Making The Scene
Meet Joanna Bush '99, the Hollywood concept artist behind several Oscar-winning films. By Martin Wilson
Joanna Bush '99 got her second big break when she showed up in spring 2000 for an internship at a newly formed production company in Hollywood called Section Eight.
She immediately went above and beyond in any way she could: organizing the closet, labeling items and generally making herself essential. Her meticulousness led to a pivotal moment in her career. When the co-founder of Section Eight, Oscar-winning director Steven Soderbergh, needed someone to comb through archival footage of World War II for his 2006 film, The Good German, he knew just the person.
Despite her lack of training as an archivist, Bush threw herself into the project and created an elaborate database of footage. Her intimate knowledge of the material made her indispensable, and Soderbergh hired her onto the project full time. From there, The Good German's production designer, Philip Messina, hired her for Soderbergh's next project, Ocean's Thirteen. It was Bush's first job as a film illustrator or concept artist (the terms are largely synonymous to her). A film illustrator helps to "develop the visual look and tone of a film [and] communicates a director's vision to all the departments of a film," Bush says. "Great illustration can inspire and unite."
Quick rewind: Bush, who grew up in Columbia, Md., as the art-loving daughter of two National Security Agency linguists, got her first big break at Northwestern when she transferred from the Weinberg College of Arts and Sciences into the radio/television/film department in the School of Communication and found the creative possibilities helped her overcome some of her shyness. "I was, and still am, an extremely introverted person," she says. "But because I knew it was the path to pursue film, I signed up for the first available project" with Studio 22, a student-run production company that provides extracurricular filmmaking opportunities for Northwestern students.
"Being a part of Studio 22 films was an integral step in preparing me to work professionally in film," Bush recalls. "There was a real sense of mentorship and appreciation for the entire crew, no matter what your position." Bush worked as a production assistant, a set painter, a production designer, a sculptor for a stop-motion film and more.
One day a classmate asked her to storyboard his student film. That classmate was Zach Braff '97. They would reunite 20 years later when she created illustrations for Braff's 2023 film, A Good Person, starring Florence Pugh and Morgan Freeman.
"Northwestern was the perfect fit for me," says Bush. "I was able to take fine art classes in the [Weinberg] College of Arts and Sciences and other courses that also really challenged me intellectually. Northwestern has such a high level of excellence in so many fields, from science to theater to engineering to journalism to business to law and everything in between. I loved that ability to broaden my perspective on how the rest of the world outside of film looks at storytelling and art and culture."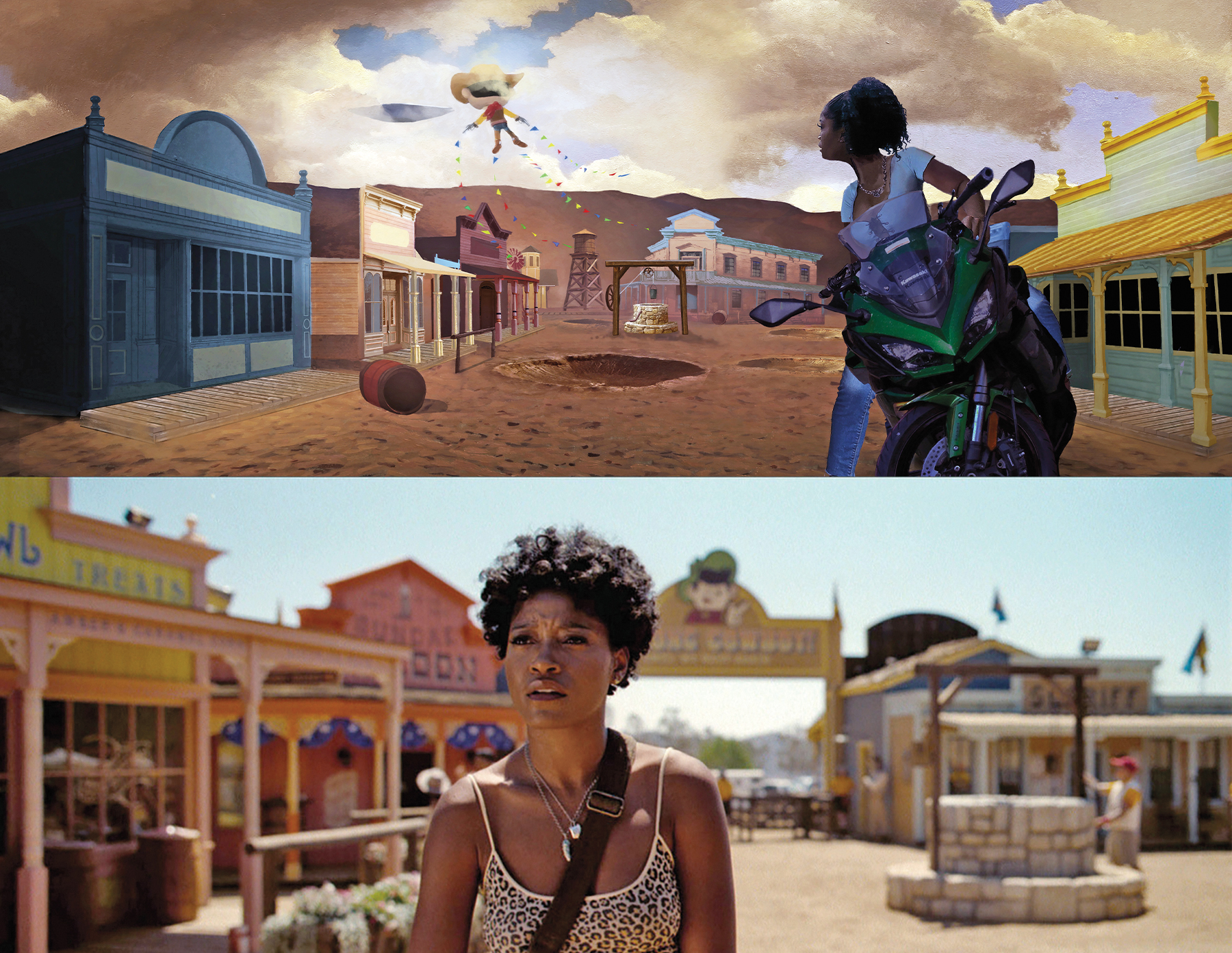 Fast Forward: Nope
After her Section Eight internship, Bush's career as a film illustrator took off. She continued working regularly with Soderbergh on The Informant! and Che: Part One and Che: Part Two — in which some of her illustrations were edited directly into the film by Soderbergh.
Finding a successful niche as an illustrator was somewhat surprising to Bush, who didn't even know what a film illustrator did at first. "I was very open, just trying to find my way into [the film industry]," she says. "Like all things in life, if you try to force something, it's hard to make it work. When you step in the door, like that [Section Eight] internship, it creates possibilities."
Another possibility presented itself when Bush was hired to work on Oscar-winning writer and director Jordan Peele's 2022 film, Nope. Bush also worked with both Peele and his production designer Ruth De Jong on the 2019 film Us.
Early in preproduction of Nope, Peele selected nine frames from his script to present to Universal Pictures, the studio that co-produced and distributed the film. Bush was tasked with developing an illustration for each that would convey a different aspect of the story for the studio.
"Jordan Peele is both a writer and a director, so the process very much felt like the way a writer approaches drafts," says Bush. "It felt organic and fluid, and I really felt we were molding and shaping as we went along — with each draft finding more of what the scene should convey."
For Nope, Bush says that De Jong had researched Western towns — real-life ghost towns as well as the "film towns" in classic movies such as Heaven's Gate and Once Upon a Time in the West.
"We looked at Western paintings of African American cowboys as inspiration," Bush says, "and experimented with pushing the colors in extreme ways. We tried out several color palettes. The style of the buildings was [meant] to feel grounded in a Western town vernacular, but the colors were [meant] to be exaggerated and given the more modern, contemporary feel of an amusement park."
Each new project for Bush is like going to a new class. "As you work on films, you get to travel through history," she says. "Right now, I'm working on a Tyler Perry project [the film Six Triple Eight] about a group of African American women who went to England during World War II to sort the mail. Every new film you work on is an invitation to learn something that you hadn't known anything about."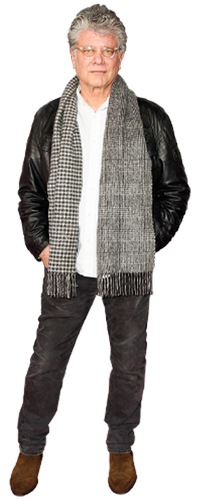 "From the beginning, motion pictures have relied on illustration. An illustrator's work influences the look and feel of a film, in some cases setting it early on, in others, guiding it during production. I have the greatest respect for artists who, through research, imagination and artistic skill, can create something that didn't before exist. Joanna is one of those very talented, creative artists."
— Oscar-winning screenwriter, director and producer Steven Zaillian, who worked with Bush on the forthcoming series Ripley
Image Credit: Unique Nicole: Getty Images Entertainment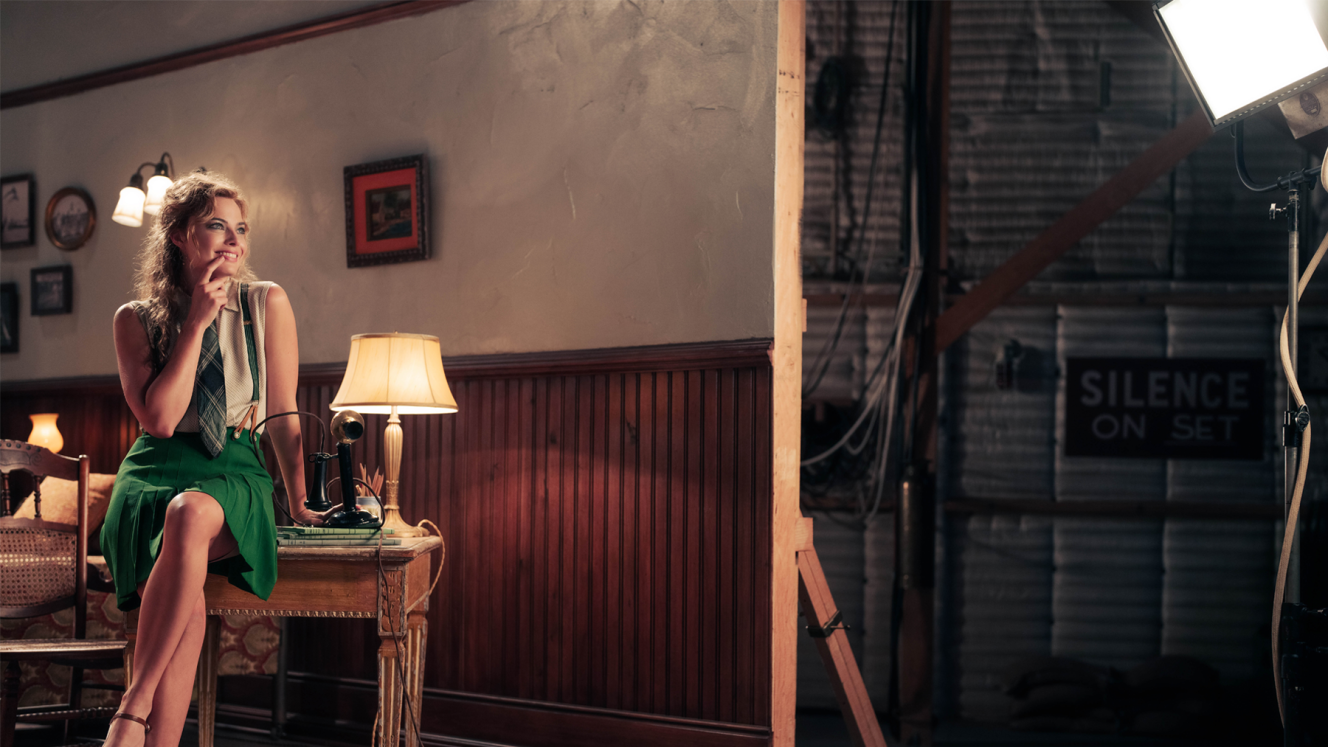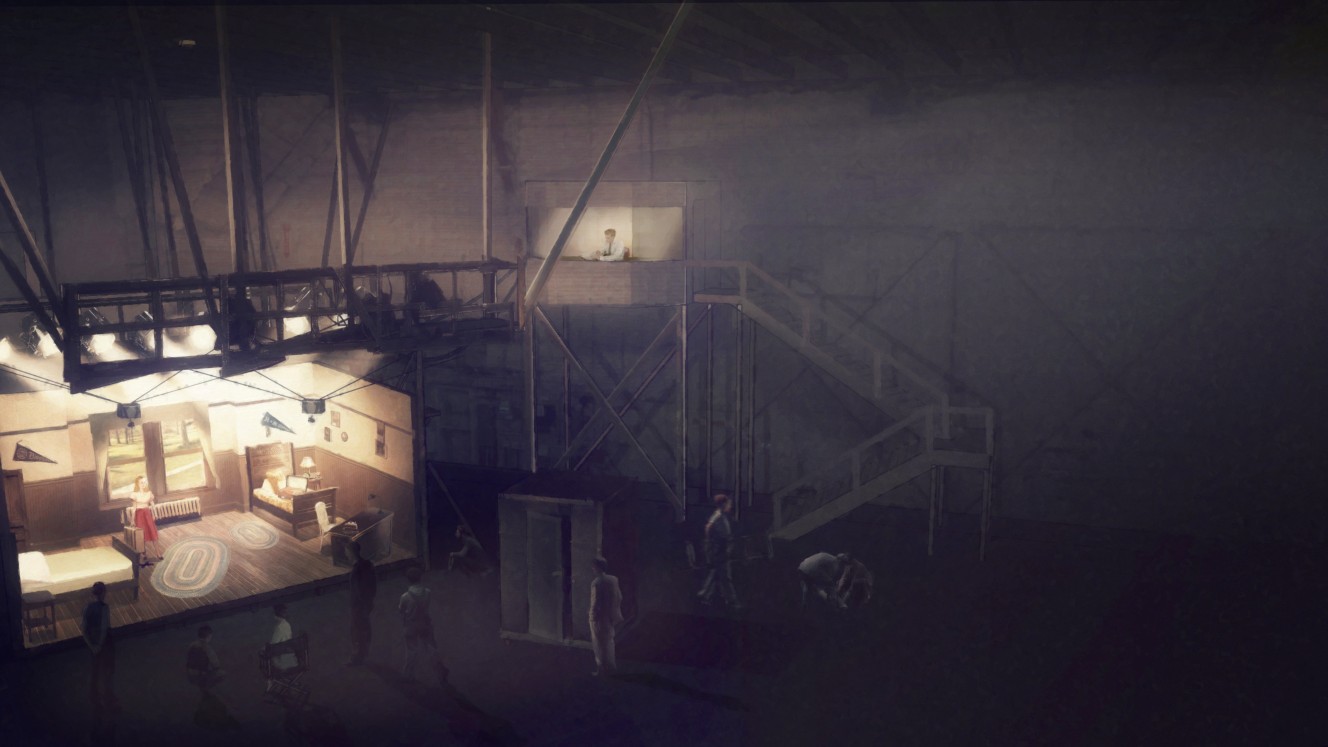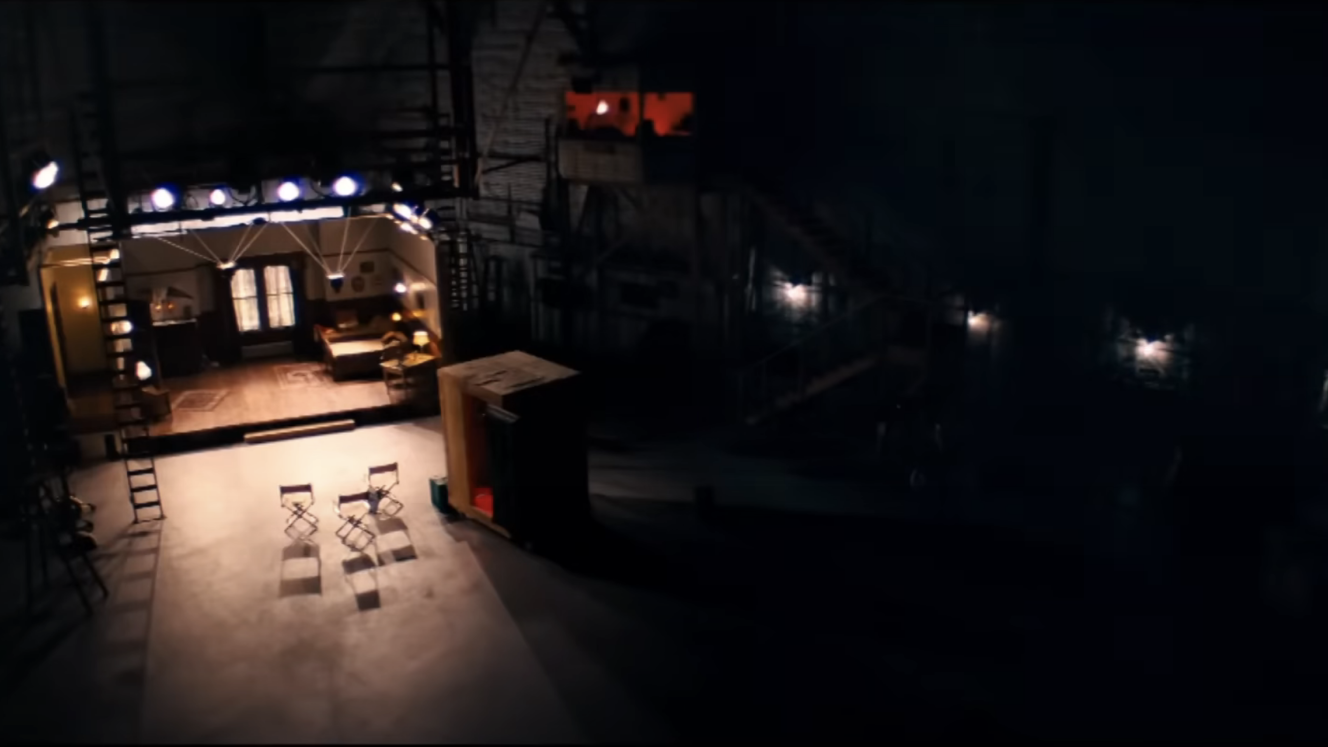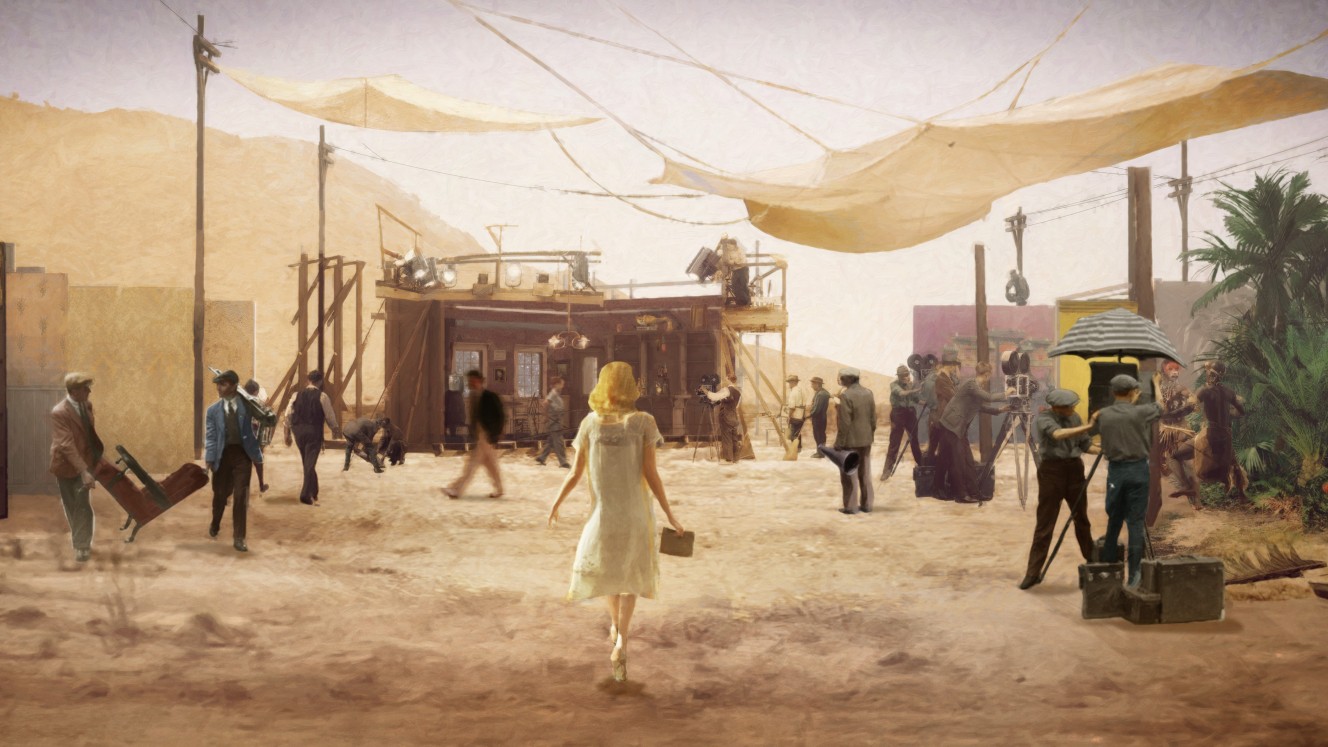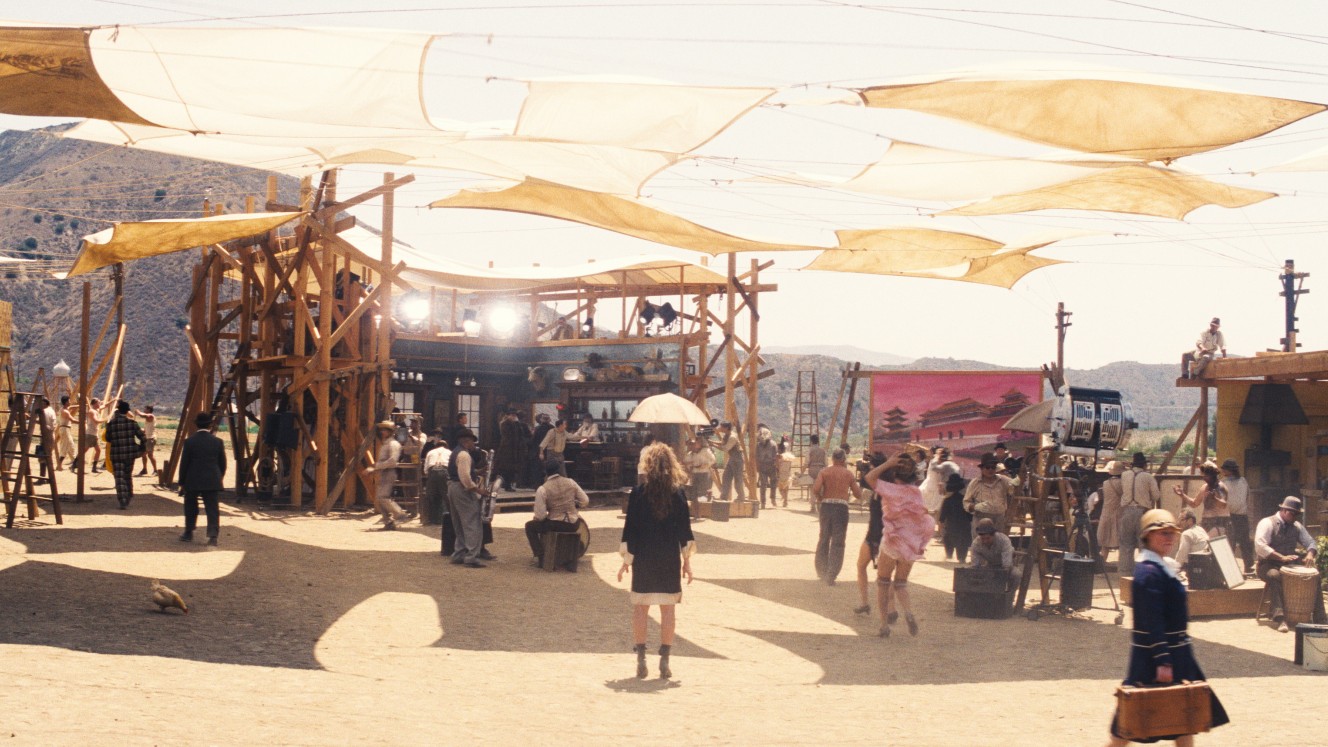 Special Feature:
Life of Pi
The project that Bush says took every ounce of her talent was Ang Lee's Oscar-winning 2012 epic, Life of Pi, based on the bestselling novel by Yann Martel.
Bush was one of the first people hired to work on the film by David Gropman, the production designer. (The production designer is a crew member who leads the art department for a film.) Through extensive research, Bush helped Gropman and Lee create a visual language for the film. For example, "I researched these different kinds of ornamental exhibit cages used at the zoo in Pondicherry, India," she says. "And one of them ended up in the illustration that was the first thing I ever sent to Gropman."
Her research eventually included traveling to Taiwan with the production team.
"Ang was fully committed to portraying the spirituality and religions of Life of Pi in the most authentic way possible," Bush says. "I knew very little about Hinduism. But this is my world of getting to learn about and explore and understand other cultures and other ways of life.
"There are these types of drawings in Indian history that are amalgams of one animal created by all these little animals. They wanted [a mural of] an elephant in the film, so I composed it out of the parts of all these different animals."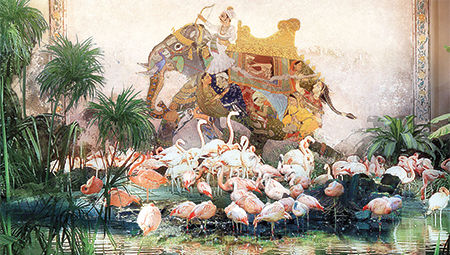 The main character in the film, Pi, has a lifeboat manual that features prominently in the narrative. Bush was initially tasked with designing five or six specific pages of the manual to be seen on camera. "But I wanted to make sure that every page of the manual felt authentic. I hadn't done many prop illustrations before, and I was nervous they might flip to a page and see gobbledygook text, so I ended up typesetting and illustrating 60 pages," she says with a laugh. "I made sure that every page in that lifeboat manual was readable and made sense. Then the title company [that produced the credit sequence for the film] used the little drawings I had done [in the film credits]."
In 2022, with recommendations from Ang Lee and others, Bush was admitted into the Academy of Motion Picture Arts and Sciences — better known as "the Academy" that everyone thanks when they win an Oscar.
"The directors and the production designers I've worked for are [my] mentors," Bush says. "They really do nurture and care for the people around them. It's given me such a feeling of community."
That community exists not just for the whole film production community in Hollywood but also on each project Bush takes on.
"The most enjoyable experiences are with directors and designers who give you a clear vision at the beginning but are open to you adding to the vision," she says. "Film is a collaboration, and all departments come together to work with each other toward the common goal of making the best film possible."
And when that collaboration happens, there's no better feeling for Bush.
"I remember on Life of Pi, Ang and David Gropman were talking about what was left to do for our presentation with Fox. And I remember Ang saying, 'Oh, I'm not worried about Joanna. She'll get it done,' and I remember thinking, he has such high standards, so for him to think that I was going to deliver — that's exactly what you want to hear."
Martin Wilson '10 MS is director of creative production in Northwestern's Office of Global Marketing and Communications.