Leading with Purpose
Meet the recipients of the 2020 Northwestern Alumni Medal. By Lindsay Beller and Kari Forsee '02
The recipients of the 2020 Northwestern Alumni Medal — the Northwestern Alumni Association's highest honor — are innovators in their fields, compassionate volunteers and outstanding members of the University community. They join a distinguished group of more than 100 alumni who have received the award since 1932 and exemplified the ideals of Northwestern through their life, work and service.
Voice for Change
Judy Belk '75
As African American girls growing up in the 1950s in Alexandria, Va., Judy Belk and her sister, Vickie, were bused across town to a segregated school until their mother made the courageous decision to fight injustice.
With legal and financial support from local civil rights activists and the Jewish philanthropic community, the Belks joined a lawsuit against the city of Alexandria to demand compliance with the U.S. Supreme Court's 1954 Brown v. Board of Education ruling. They won, and in January 1960 the Belk sisters enrolled at an all-white elementary school.
Belk, who never forgot the power of advocacy and philanthropy, has dedicated her life and career to battling inequality. Today she is president and CEO of the California Wellness Foundation, one of the state's largest public-health philanthropic institutions. With nearly $1 billion in assets, the organization awards $43 million in grants annually to improve access to health care, prevent gun violence and mobilize communities to support racial and social justice.
"We are laser-focused on ensuring that all Californians — no matter their race, zip code or immigration status — have the resources they need to thrive and to be healthy and well," she says.
Belk developed her voice at Northwestern, where she pursued her passion for storytelling as a radio/TV/film major and participated in For Members Only, which raises political, cultural and social awareness of the University's Black community. She also served as president of Delta Sigma Theta, a public service sorority, and was an active member of the Black Folks Theatre troupe.
"Northwestern was a window to a world that was so much bigger than my life in Virginia," says Belk, who met her husband, Roger Peeks '74, during her first days on campus.
Belk moved to California to work for CBS News after graduation. With public service in mind, she set out on a path that led to leadership roles in government and corporate and nonprofit sectors.
As vice president of global public affairs at Levi Strauss & Co., reporting to then-CEO Bob Haas, she guided a company initiative to combat institutional racism that was recognized by President Bill Clinton. Belk also co-led a delegation to South Africa to assess the possibility of doing business in the post-apartheid country.
"Judy's personal qualities — her authenticity, capacity to empathize with others and commitment to doing the right thing — enlist and energize people in her organization," says Haas, now chairman emeritus of Levi Strauss & Co.
After leaving Levi Strauss & Co., Belk served as senior vice president of Rockefeller Philanthropy Advisors before taking the helm at California Wellness, where she advocates for Californians whose well-being is too often determined by their race, income, immigration status or address.
As a writer whose work has been published in the Los Angeles Times, New York Times and Wall Street Journal, Belk supports women and girls of color and speaks out about organizational ethics, race and social change.
Debra Nakatomi, a director on the Cal Wellness board, calls Belk a gifted commentator with an abundance of charisma and charm.
"You see it in her delivery of a powerful keynote address or through a quiet read of one of her many essays or opinion pieces on gun violence, racial justice, parenting or remembrances of growing up in Virginia," Nakatomi says. "She's the consummate storyteller, laying bare the hard issues and revealing a lot about her life, her joy and pain — and in the process, touching our hearts and connecting us to our shared humanity."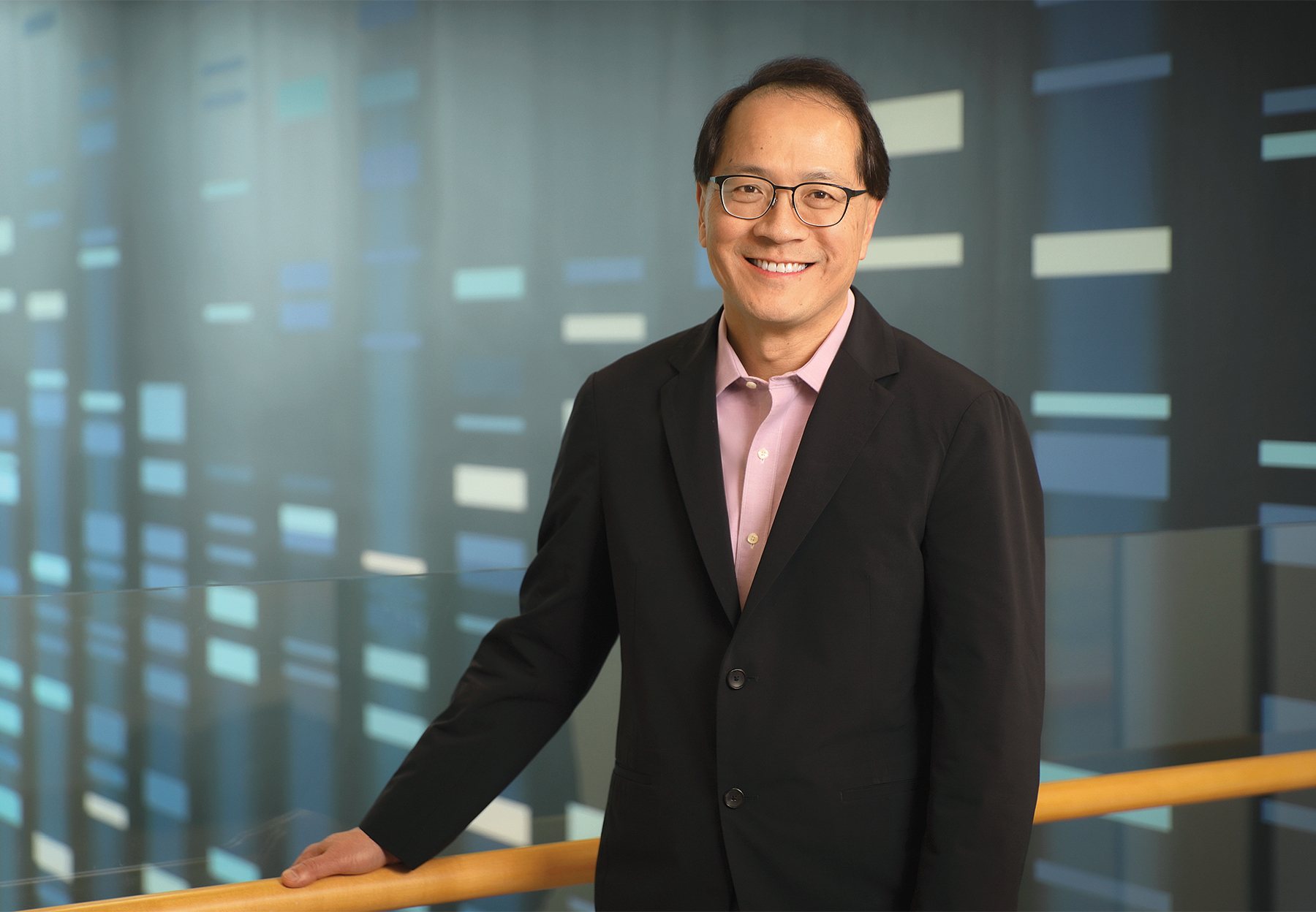 Research Pioneer
Andrew C. Chan '80, '80 MS
Andy Chan remembers the moment he realized a scientific paradigm of multiple sclerosis was wrong. The immunologist had just reviewed some clinical data on the disease of the central nervous system and was walking back to his office at Genentech Inc., a San Francisco–based biotechnology company that develops medicines for people with serious and life-threatening diseases.
Until then, it was believed that in people with multiple sclerosis, the body's T cells attack the protective layer around nerve cells in the brain, spinal cord and optic nerves. Chan found that B cells also play an important role in the progression of the disease. The discovery led to the development of ocrelizumab, an antibody approved by the U.S. Food and Drug Administration in 2017 for the treatment of multiple sclerosis, which afflicts more than 2.3 million people worldwide.
As senior vice president of research–biology for Genentech, Chan oversees the company's biological research programs. In his own lab, he examines how changes in the immune system may result in disease, in hopes of developing targeted therapies to save lives.
"As a physician, I have seen patients suffer from rheumatoid arthritis and pass away from lupus and kidney and brain failure," Chan says. "Developing therapies that can change the course of these diseases and have a significant impact on patients is very important to me."
Interested in problem-solving from an early age, Chan arrived at Northwestern in 1976. As a sophomore, he joined chemistry professor Joseph Lambert's laboratory for the next three years.
"Dr. Lambert was a great advocate of undergraduate research," Chan says. "That continued research experience was absolutely critical because I was able to see what research life was all about."
Chan earned his bachelor's and master's degrees in chemistry in 1980. After graduating, he pursued a medical degree and doctorate in cellular and developmental biology at Washington University in St. Louis.
Over the next two decades, Chan worked as a physician and professor at the University of California, San Francisco, and Washington University. The desire to see his science make an impact on patients brought him to Genentech in 2001. He also joined the executive advisory board of Northwestern's Chemistry of Life Processes Institute, where faculty across disciplines translate research into new treatments for diseases.
With his academic, medical and industry background, Chan brings a rare perspective to his role as CLP board chair, says Thomas O'Halloran, the Charles E. and Emma H. Morrison Professor of Chemistry at Northwestern and CLP's founding director.
"Andy understands the challenges of professors who are motivated to learn how disease processes work as well as their importance in translating discoveries into new medicines," he says. "He has provided invaluable advice to our faculty and trainees."
Chan founded and endowed the Lambert Fellows Program, which supports Northwestern sophomores and juniors who gain research experience with CLP faculty. The program honors his undergraduate research mentor,
who set Chan on the path to where he is today.
"I think it's incumbent on all of us to give back to the institutions that invested in us, so the next generation of students and scientists can benefit and come up with lifesaving discoveries," Chan says.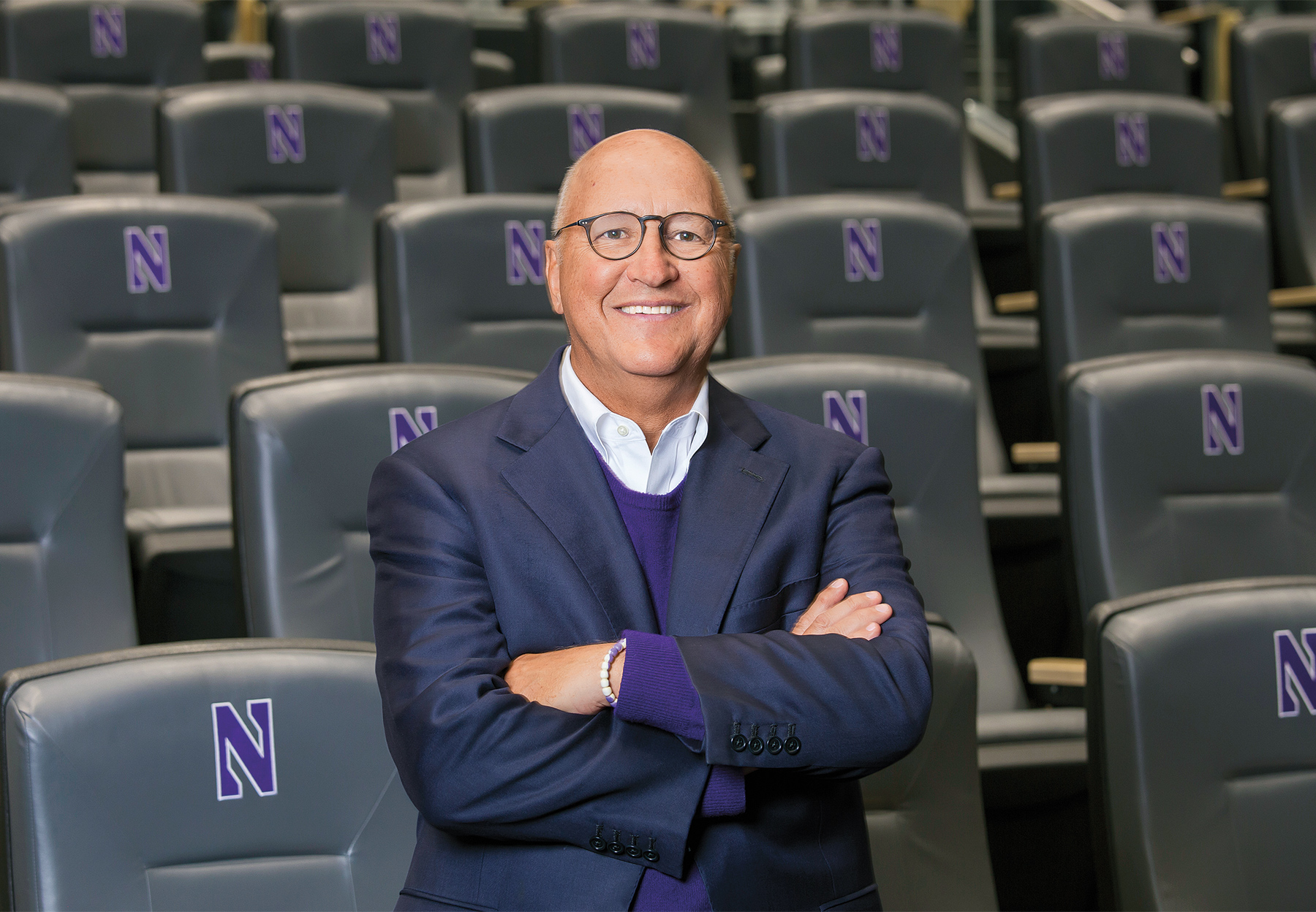 Team Player
Christopher B. Combe '70
One afternoon in New York City about two decades ago, Chris Combe and Tom Butcher '71 were walking to catch a train when Combe detoured into a CVS drugstore. Butcher followed his longtime friend down an aisle that sold personal and health care products. Many of them were manufactured by Combe Inc., the family-held company that Combe led as CEO and chairman.
Combe took one look at the scattered boxes of Just for Men and Grecian Formula — popular Combe Inc. products — before spending 10 minutes carefully organizing the shelves. "He may be a big-picture guy, but he's also focused on the details," Butcher says. "To me, that's Chris Combe."
For more than four decades, Combe has rolled up his sleeves and proven himself to be a team player in business, volunteerism and philanthropy. He learned the importance of hard work and collaborating with people from different backgrounds at Northwestern, where he was a member of the men's tennis team during his first year and earned a degree in economics in 1970.
Combe joined the family business in 1975 and expanded operations globally, launching divisions in Japan, Australia and New Zealand. Along with supporting his employees' growth, he led the company's marketing efforts and acquired new brands like Aqua Velva and Cepacol before retiring in 2014.
The company was started in 1949 by his father, Ivan Combe '33, '36 JD, who passed down to his son an appreciation for Northwestern, a passion for tennis and a commitment to philanthropy.
"My father was very philanthropic, and that has carried on to me and my children," Combe says. "I try to choose areas of philanthropy where I can really have an impact and make a difference — not just by signing checks but by really getting involved."
A longtime volunteer for Northwestern, Combe was a founding member of the Weinberg College of Arts and Sciences Board of Visitors in 1981 and joined the University's Board of Trustees in 1997. He also was named one of the inaugural co-chairs of We Will. The Campaign for Northwestern in 2015 and served as director of the Alumni Admission Council in Westchester, N.Y., for more than 40 years.
The Combe family has provided transformative financial support for Northwestern — from facilities and endowed positions at the Department of Athletics and Recreation to international health and human rights initiatives at Northwestern Pritzker School of Law and social entrepreneurship scholarships at the Kellogg School of Management and other areas across the University.
In 2008 one of Combe's daughters, Keech Combe Shetty '99, '06 MBA, introduced her father to Andrew Youn '06 MBA, her Kellogg classmate and founder of One Acre Fund (see "Green Acres"). The nonprofit organization provides microfinancing and agriculture training services to nearly 1 million farmers in East Africa to help reduce hunger and poverty.
Youn says Combe has provided critical financial support and worked tirelessly to promote the organization, exemplifying the One Acre Fund value of humble service. "He's not afraid to get his shoes muddy in service to farm families we support," Youn says.
Combe also brings his passion for global volunteerism to the board of directors of Malaria No More, an organization that works to end malaria-related deaths in Africa, and Heart Care International, which seeks to improve the health of children with heart disease in Latin America.
"There are tremendous opportunities to help people in the United States and all over the world," Combe says. "The key is impact. What impact can you have on people around the world?"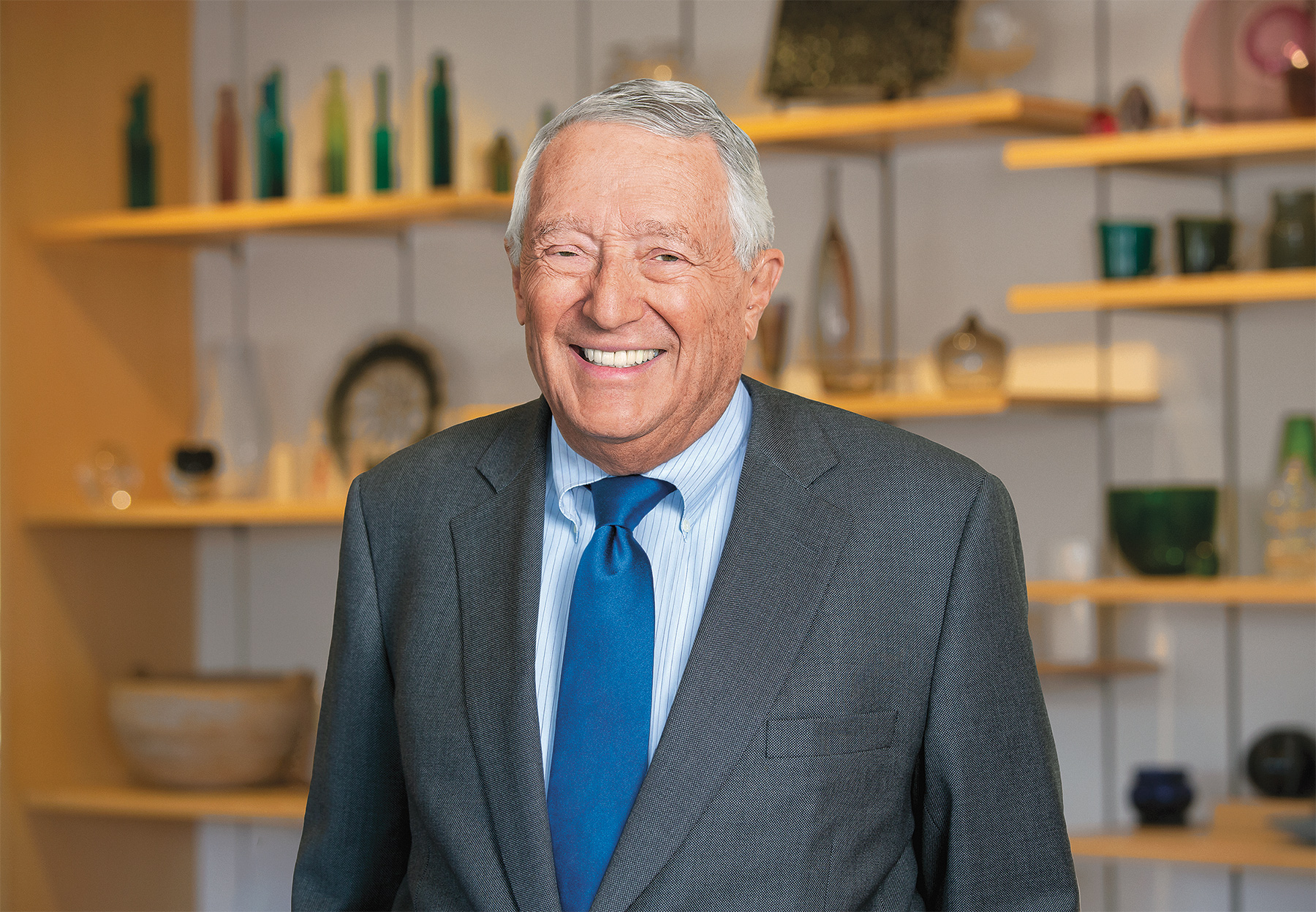 Design Visionary
Gordon Segal '60
A year after graduating from Northwestern, Gordon and Carole Browe Segal '60 were on their honeymoon in the Virgin Islands when they stopped in a small Danish store. Still furnishing their first apartment, they were surprised to learn that the home goods being sold there — which were higher in quality yet less expensive than those they had found in the United States — came direct from small factories in Europe.
Soon after their trip, Segal turned to his new wife one night after dinner.
"There have got to be other young couples like us who have good taste and no money," he said. "Why don't we open a store?"
In 1962 the Segals opened the first Crate & Barrel in a former dumbwaiter elevator factory in Chicago, putting crating lumber over unplastered walls and displaying dishes on the packing crates that had carried the couple's first merchandise from Europe.
With an eye for contemporary, affordable products, the Segals grew Crate & Barrel into a global home furnishing empire. By the time Gordon Segal retired as founding CEO and chairman in 2008, there were more than 100 store locations and 7,000 employees.
Though Segal studied business at Northwestern, he says his liberal arts courses — on subjects such as American diplomatic history, European philosophy and Irish author James Joyce — profoundly influenced and inspired him.
"These courses created an intellectual curiosity and a desire to travel to other places, learn about other cultures and live other experiences," says Segal, who took many of these classes with Carole.
Soon after the Segals opened the first store, Shirley Welsh Ryan '61, '19 H walked in and recognized the couple she had met at Northwestern — an encounter that led to a lifelong friendship. "Gordon has a keen eye and sees elegance in the simplest forms," says Ryan. "He's very open to new thought and is alive to the world."
Ryan's husband, Patrick G. Ryan '59, '09 H, got to know the Segals as well. Gordon Segal and Pat Ryan, who founded Aon Corp., became business and civic leaders in Chicago and members of Northwestern's Board of Trustees.
Segal joined the Board's educational properties committee in 1990 and became its chair in 1994. After Ryan became Board chair in 1995, he reappointed Segal as committee chair.
From 1994 to 2017, Segal chose building sites, selected top architects and worked closely with University leaders to oversee the planning of several Northwestern buildings, including the Kellogg Global Hub, Louis A. Simpson and Kimberly K. Querrey Biomedical Research Center, Patrick G. and Shirley W. Ryan Center for the Musical Arts and Walter Athletics Center. Thanks to Segal's efforts, many of the new buildings have an open feel, with views of Lake Michigan and the city of Chicago. Parking lots were relocated from the center of the Evanston campus to the north and south ends as well.
"All the changes on campus from the early 1990s to today have the artistic signature of Gordon Segal," Pat Ryan says. "He is a very creative individual, a visionary with great design skills and a natural merchandiser who applied this foundation to campus planning and development."
The Segals also helped create the Segal Design Institute at the McCormick School of Engineering, where students across disciplines and levels gain experience in solving complex problems through human-centered design.
"I think design is a very important element in the way people live their lives," says Segal, who hopes his philanthropy and service will help make Northwestern an even more creative place. "You want an environment where the best students find inspiration, just like my wife and I did, when they're developing their perspectives on life."
Learn more about the 2020 Alumni Medal winners.