A Fresh Perspective for the Guggenheim
As chief curator of a world-class museum, Naomi Beckwith asks us to rethink how we see art. By Lara Ehrlich
In spring 1993, Naomi Beckwith and 13 other high school juniors ventured around Chicago with butterfly nets and sketchbooks, conducting natural history studies and collecting evidence of the city's ecological and manmade environment. Led by conceptual artist Mark Dion, who uses scientific specimens in his installations, the project brought together the oft-distant disciplines of science and art.
Those experiences (part of Chicago's Culture in Action landmark public art exhibition) had a profound effect on Beckwith, introducing her to the idea that art is about exploring the world.
"That was an amazing way into contemporary art practice," says Beckwith '98. "It wasn't sketching, copying the masters in a studio — it was out in the field, doing performative action, building out installations."
Dion says it was clear that Beckwith, even as a high schooler, stood out. "Naomi shined well above an already incandescent group of people," he says. "She is so intellectually nimble, and there's a kind of grittiness and an intellectual velocity to her thoughts."
Now the deputy director and chief curator of the Solomon R. Guggenheim Museum in New York City, Beckwith credits Culture in Action as her first deep engagement with art as an agent of social change. "Art is a way into history, science, community action — it isn't just about discrete objects but a set of relations," she says.
Hired in June 2021 as the first Black chief curator at the Guggenheim — during a pandemic and the nation's ongoing reckoning with institutional racism — Beckwith had an intense first year in one of the most coveted positions in the arts world. She oversees the Guggenheim's collections, exhibitions, publications, and curatorial programs and archives. And, importantly, she strives to create a more inclusive collection that reflects the diverse community the contemporary art museum serves.
Lisa Graziose Corrin, the Ellen Philips Katz Director of The Block Museum of Art at Northwestern, says Beckwith is a perfect fit for the job. "A brilliant scholar and electrifying speaker, she is blessed with what Italians call sprezzatura, effortless style, along with warmth that embraces everyone she meets," Corrin says. "These traits serve her well at the artistic helm of a global institution like the Guggenheim, where she will be one of its most visible representatives around the world."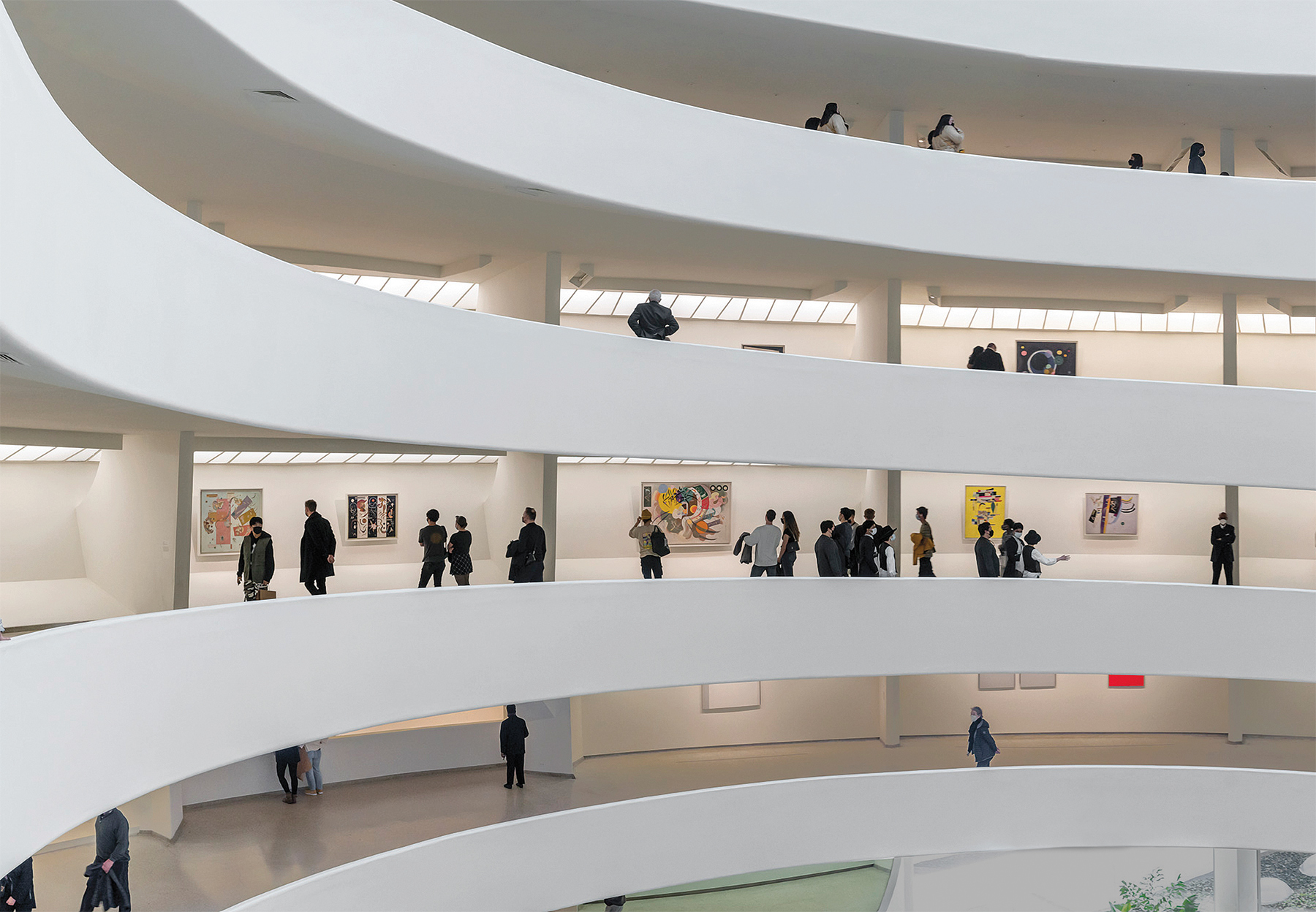 ART AS COLLECTIVE CONSCIOUSNESS
Beckwith grew up in Chicago's Hyde Park neighborhood in the 1970s and '80s — a time, she says, when the Black community felt a longing for, and an affinity with, their African origins. She remembers cultural projects by artists and organizations such as the DuSable Black History Museum and Education Center that engaged with ideas of Black identity, economic empowerment and self-reliance. She took African dance and drumming lessons and attended Hyde Park's annual 57th Street Art Fair, where she became familiar with her community's artists and craftspeople.
At that time, in that place, "you didn't have a social-political awareness without it also being attached to some sense of aesthetic," she says. "That aesthetic education was deeply multidisciplinary; it was music and dance and visual arts and theater and poetry and language all wrapped into the formation of a consciousness and character of a community."
Beckwith, who originally planned to become an OB-GYN and help curb the high rate of teenage pregnancies she saw among her peers, attended Northwestern to study biology. But she also worked in the University's Dittmar Gallery, wrote exhibition reviews and eventually changed her major to history, with a focus on African American diaspora heritage. "It's so funny that I walked in like, 'I'm going to be a doctor!' but I clearly had this deep interest in art," Beckwith says. "I had amazing art history courses at Northwestern."
In particular, she remembers former Northwestern assistant professor Michael Stone-Richards, who taught European modernism and encouraged her to attend London's Courtauld Institute of Art. "He could recite art history almost in real time — knowing the work, the artists and their milieu, all the gossip and peccadillos," Beckwith recalls. "He made artworks live." (She still keeps in touch with Stone-Richards, who is now a professor at the College for Creative Studies in Detroit.)
She went on to earn a master's degree in art history from the Courtauld Institute, where she specialized in African American art and was quickly identified as a rising star. (While there, she also worked with Dion on his Tate Thames Dig, an archeological art project that showcased natural and manmade items pulled from the banks of the River Thames.) After prestigious fellowships at the Whitney Museum of American Art in New York City and the Institute of Contemporary Art in Philadelphia, she served as associate curator at The Studio Museum in Harlem.
Beckwith returned to her hometown in 2011 and spent a decade at the Museum of Contemporary Art Chicago (MCA), most recently as the Manilow Senior Curator. She became known for curating exhibitions with artists of color and those who are committed to the practice of community-based art, such as Howardena Pindell, the first Black woman curator at the Museum of Modern Art in New York City, and Lynette Yiadom-Boakye. Beckwith's exhibitions and publications at the MCA focused on the impact of identity and the resonance of Black culture on multidisciplinary practices within global contemporary art.
"She has long been a champion for artists whose voices have been overlooked or even suppressed," says Corrin. "Today, museums are reflecting with an increased self-awareness on their roles as shapers of culture, considering how their values are embedded in what they choose to show and whose stories they choose to tell. Naomi brings to her leadership a deep commitment to questioning these choices."
The broader role and purpose of the museum "is under investigation ... though with the idea that we all kind of still believe in museums," Beckwith said on a 2021 episode of the contemporary art podcast Bad at Sports. "We're still committed to some kind of vessel by which we think about art and object. ... [But] how we think about that is really up for a renovation. ... I've been ... thinking through ways in which my education in Black cultural history has allowed me to rethink all of art history."
A NATIONAL RECKONING
Situated on Manhattan's Upper East Side, adjacent to Central Park, the Guggenheim aims to engage audiences on a global scale as well as those in its local community. Like many museums, however, it has some work to do. In a 2018 study, the Guggenheim found that nearly 73% of its visitors identified as white, while about 43% of New York City residents are white. The Guggenheim is not alone in this trend; institutions throughout the U.S. are looking for ways to diversify their audiences.
This pressure came to a head in 2020 in the wake of George Floyd's murder. As Black Lives Matter protests raged throughout the country that summer, arts organizations — and most other entities across the country — were forced to look more closely at the ways in which they needed to address racial injustice.
For Beckwith, part of the work of museums like the Guggenheim is to dismantle the myth that art and culture began in Europe. "These are false narratives, bad faith assumptions, a convenient, prescribed history undergirding the white supremacist narrative," she says. "To tell a story that only includes certain people is a form of racism and white supremacist thinking."
In summer 2020, the museum opened an independent investigation after the curatorial department sent a letter accusing the Guggenheim of fostering "an inequitable work environment that enables racism, white supremacy and other discriminatory practices." More than 170 current and former employees signed a second letter stating that the Guggenheim's "failure to create a diverse and equitable workplace has resulted in a museum culture that refuses to take accountability for the violence and injustice inflicted upon its BIPOC (Black, Indigenous and people of color) constituents. ... The Guggenheim cannot claim to be a leading arts institution without first atoning for its wrongdoings and committing to concrete action and change."
The letters resulted in the Guggenheim becoming one of the country's first cultural institutions to create a comprehensive plan aimed at dismantling systemic racism. Initiatives included hiring a leader to oversee diversity, equity and inclusion; expanding paid internships for first-generation college students, financial aid recipients and BIPOC students; and instituting broader initiatives such as an industrywide network for BIPOC arts professionals. The Guggenheim also formed a committee to review the museum's acquisitions and exhibitions with an eye toward diversity and inclusion, citing the fact that "the museum has never held a solo exhibition of a Black artist, a woman artist of color, an Indigenous artist or a trans-identified artist" within its iconic rotunda.
Beckwith entered the Guggenheim in the midst of this public reckoning, a moment she calls both "a blessing and a curse."
"It's a curse," she says, "because the team feels traumatized to have the questions around our progressive vulnerabilities made public. At the same time, it's a blessing because it's in the open — and we'll see what it means to walk out of this as a cohesive institution."
Dion says Beckwith understands the challenges of our historical time, "which is one where there's a lot to be critical of and a lot that can feel daunting and depressing. Naomi has the ability to deal with this critical landscape, but at the same time, she is never defeated by it.
"When I think about Naomi," he adds, "I think about her laughing. She has a buoyant personality, which doesn't mean that she's ignoring all of these things, but rather she knows that we have to emphasize joy and pleasure. We can't only focus on the grimmest aspects of our current condition."
THE BLACK EXPANSE
As chief curator, Beckwith's vision for the Guggenheim questions the lenses through which we experience art.
Shortly after Beckwith's hiring, the Guggenheim's director, Richard Armstrong, said in a statement that she is ideally positioned to drive the museum forward because she has dedicated her career to "building a revised canon of art history."
"I'm less interested in the artist as lone genius cutting off his ear," Beckwith says. "I'm interested in artists as [people] embedded with their family, partners, lovers, friends, collectives, schools. What are they learning from each other? How are they influencing each other? How do we make up a story about art as the product of all these histories, rather than one singular vision? How do we talk about artists as citizens?"
Beckwith has been curating exhibitions that address these questions, with artists who have been traditionally underrepresented in the museum's programming. "Our attention and resources are going toward people of color, mostly African American artists, and mostly women," she says.
Beckwith's first Guggenheim exhibition, Forothermore, is a career retrospective of Chicago artist Nick Cave that opened at the Museum of Contemporary Art Chicago in May and will travel to the Guggenheim this fall. The exhibition encompasses Cave's multidisciplinary community-building projects and the premiere of Soundsuit 9:29, a wearable sculpture he made in response to Floyd's murder. The sculpture is a continuation of the famous Soundsuits project he began in 1992 in response to the police beating of Rodney King.
"People love these exuberant sculptures as costume, but they forget that they're born of trauma, made as a suit of armor. Sadly, the necessity for them continues," Beckwith says, as she flips through the 12 pages of the exhibition catalog devoted to the names of all the (known) BIPOC individuals killed by police between May 25, 2020, and May 25, 2021. The list begins with Floyd.
"Nick Cave is asking all the questions that the world has been asking of arts professionals in the last couple of years — questions around anti-Black violence and social justice," Beckwith says. The work also asks: "What does it mean to celebrate your loss? And what does it mean to hold fast to the resilience and love you've gained from community and family? And how can that help propel you through this perpetual and never-ending trauma?"
These questions will resonate with all audiences, says Beckwith, who is working to broaden the demographics of the museum's visitors by engaging meaningfully with the community, initiating new programs, such as family events, and increasing accessibility with free entry days. Equity is more than just presenting work by Black artists, she says. "You are not going to get Black audiences with a bunch of Black shows, unless those shows become an ongoing part of your practice and programming," Beckwith says. "Inclusivity is for everybody."
One of the museum's current exhibitions, Vasily Kandinsky: Around the Circle, resonates with diverse audiences in part because the artist faced personal and global trauma with resilience. Kandinsky, whose work was in Solomon R. Guggenheim's personal collection and was gifted to the museum upon its founding in 1939, was constantly uprooted throughout his life, relocating across Germany, Russia and France in the years before World War II. "He literally lost everything — lost his country, lost his home, lost his land, lost his job several times over," Beckwith says. His stylistic evolution reflects his ever-changing relationship to place and community.
Beckwith is particularly struck by the exhibition's namesake piece, Around the Circle, a delirious conglomeration of abstract, colorful shapes against a deep, dark background reminiscent of outer space. By starting with a dark canvas, "Kandinsky already inverted the very ground in which we're supposed to see color and form," Beckwith says. Then, he painted circles. One blood-red circle with a black overlay, reminiscent of an eye, dominates the top of the canvas, reigning over smaller circles and curves and bulbous forms. Here, too, Kandinsky subverted viewers' expectations, Beckwith says, because "if you're an art history nerd, you know the square is everything." It's a foundation, the basis of the artist's grid, a predetermined, organized structure just waiting to be disrupted.
"What happens if we can put something in the context of blackness, the black expanse, rather than the white cube, which itself is a metaphor for galleries and a model of white supremacist thinking?" Beckwith asks. "If we can put something in that black expanse, then I think we are looking at a radical shift in the way we talk about culture and history."
Lara Ehrlich of Gales Ferry, Conn., is marketing director for the International Festival of Arts & Ideas. She wrote the story collection Animal Wife and is host of the podcast Writer Mother Monster, a conversation series devoted to dismantling the myth of "having it all."