A New Game Plan
Former Wildcat running back Jason Wright takes a new role as Washington Football Team president. By Elliott Smith
It's not an exaggeration to say that Washington, D.C.'s NFL franchise has built a reputation for controversy over the past 20 years.
The team's owner since 1999, Daniel Snyder is known as one of the most litigious people in the capital region. The organization's former name, the Redskins, had drawn rebuke from Native Americans and others who pointed out the racist origins of the moniker and logo. In 2021 the NFL concluded an investigation into the franchise's workplace culture amid accusations of sexual harassment. Members of the cheerleading squad filed a lawsuit against the team for secretly producing inappropriate videos during swimsuit calendar shoots.
So when the franchise fired former team president Bruce Allen in late December 2019, many wondered who would step up to fill the role.
Some in Jason Wright's inner circle advised him to think twice about the opportunity to lead the transformation of the renamed Washington Football Team.
But Wright '04, a former NFL running back and one of the top 10 rushers in Northwestern football history, has never been one to shy away from a challenge. The position offered him a unique opportunity to reshape the culture of a franchise from the ground up. Those chances don't come around very often in the tightly controlled NFL, where change is often slow and incremental.
"I saw that this organization was at a major inflection point," Wright says. "I knew that there was a commitment to a cultural transformation. In the interview process, I understood that Dan and Tanya Snyder [co-CEOs of the Washington Football Team] were deeply committed to this. We poked and prodded at each other, but we didn't find any fractures. So we were excited to link arms and move forward."
On Aug. 17, 2020, the Washington Football Team named the 38-year-old Wright the franchise's president, making him the first Black president in NFL history. Currently the youngest president in the league, Wright was hired after seven years at McKinsey & Company, where he was a partner in the operations practice and helped lead the company's diversity, equity and inclusion initiatives. His combination of on-the-field NFL experience and corporate boardroom chops made him an ideal candidate to guide the team's cultural and business transformation.
Responsible for leading the team's business divisions, Wright immediately began putting his stamp on the franchise, hiring a diverse group of leaders, not from the insular NFL but from outside organizations like the Obama Foundation, Jay-Z's Roc Nation and soccer powerhouse Real Madrid, to provide fresh perspectives to a franchise that had gone stale. He also retained Julie Donaldson, who was hired just weeks before Wright, as the team's senior vice president of media and content. She was the first woman to become a full-time member of an NFL radio broadcast.
And in the Washington, D.C., area, where every move made by the team is often met with either skepticism or hostility, something strange happened under Wright's watch: People actually liked the things he and his newly installed team were doing.
In December 2020, Wright was named the "Best Hire of 2020" by Street & Smith's Sports Business Journal. NBA superstar Kevin Durant, a native of Maryland and passionate Washington Football Team fan, applauded Wright on Twitter. And so far, the fan base seems happy with the work of a president who has been transparent about the changes, big and small, to their favorite team.
"When Washington hired Jason, his resume as a former player turned well-regarded consultant made sense for the situation, but he inherited a daunting, culture-changing task," says Ben Standig, who covers the Washington Football Team for The Athletic. "There's no 'mission accomplished' banner flying over FedEx Field or anything, but at a minimum Wright has helped put a professional polish on a tarnished brand thanks to his relentlessly positive vibe and forward-thinking business approach."
Hit the Ground Running
Admittedly, Wright's hiring raised some eyebrows. After all, he'd never held any front-office position in the sport. Plus, he was a contemporary of some older players still in the league.
But Wright had begun building an excellent reputation at Northwestern, which he says pushed him to grow both personally and professionally. He came to the University as a heralded recruit from Los Angeles, who, in his own words, wasn't "the most responsible or mature kid." He credits late football coach Randy Walker as a critical figure in his development.
"He helped me evolve as an individual and grow into a man," Wright says of the former Wildcat coach (1999–2005), who died in 2006. "The evolution that needed to happen for me to become a person of substance came through Coach Walker, who was able to see through my b.s., my California bluster, all of that. He was intentional about investing time in me. I carry so much of his character with me in the work I do today."
Wright learned, above all, to be adaptable, a hallmark trait that would lead to his success both in his Northwestern football career and in the pros. He was asked to shift positions, from running back to wide receiver, early in his Wildcat career, a move that stung at first but demonstrated his ability to think and maneuver on the fly.
"It was the first time I wasn't the best of the best at something," he recalls. "It was a blow to my ego, but it was also my ego that compelled me to say yes to the position switch. It helped me develop a more diverse skill set as a player.
"And now, with all the high-intensity topics in this role, the type of thinking I need to bring shifts from meeting to meeting, moment to moment. That mental and physical agility started at Northwestern."
During his first two seasons, Wright didn't see much action for the Wildcats. But that didn't mean he wasn't making an impact on the team.
"When Jason wasn't starting, he and I were both on the scout team," recalls former Northwestern quarterback Brett Basanez '05, '06 MA. "He was so talented. We could have our way with the starting defense — and we had a lot of good players on that defense. Plus he was one of the smartest people at the school, not just in the locker room."
Wright proved to be multitalented both on and off the field. The self-described nerd studied psychology at the Weinberg College of Arts and Sciences and considered a career as a pediatrician. He also sang the national anthem before a Big Ten Men's Basketball Tournament game at the United Center and was president of the Northwestern chapter of Alpha Phi Alpha fraternity.
Wright's coaches eventually returned him to running back before his junior season, and his mental and physical acumen drew notice from all in the program, including a young assistant coach named Pat Fitzgerald '97, who was working with Wildcat linebackers.
"He was incredibly intelligent," recalls Fitzgerald, now the Dan and Susan Jones Family Head Football Coach. "It was amazing to me that he took the MCAT [Medical College Admission Test] during preseason camp one year. So he was going down the road to medical school. To see him change gears and get into the business world and now football management is incredible. But he always exuded leadership, confidence and the amazing ability to make everyone better."
Wright became captain of the football team in his senior year and twice earned first-team Academic All-American honors.
But when asked what the most important part of his collegiate experience is, Wright says there's no contest: It was meeting Tiffany Braxton '07, a School of Education and Social Policy student whom he married in 2008. Wright also credits the student-athlete experience and the Black community at Northwestern for helping to shape his worldview.
"The Black community was especially vibrant, thoughtful and formative for me, especially my discussions with fellow Black students at the Black House," Wright says. "Just being around other brilliant Black folks is always energizing. I don't think I really understood the value of those experiences at the time. That network of folks has helped me get on my feet as a first-time chief executive."
Wright's professional success came as no shock to his friend and fraternity brother Michael Blake '04. "Northwestern put Jason in a scenario where excellence in academics and sports and the professionalism of business all intertwined," says Blake, president of Next Level Sports and Entertainment and former vice chair of the Democratic National Committee. "It perfectly prepared him for this moment. Remember, he wasn't just some random guy. He was the star of team. I always said Jason was the coolest nerd I ever knew."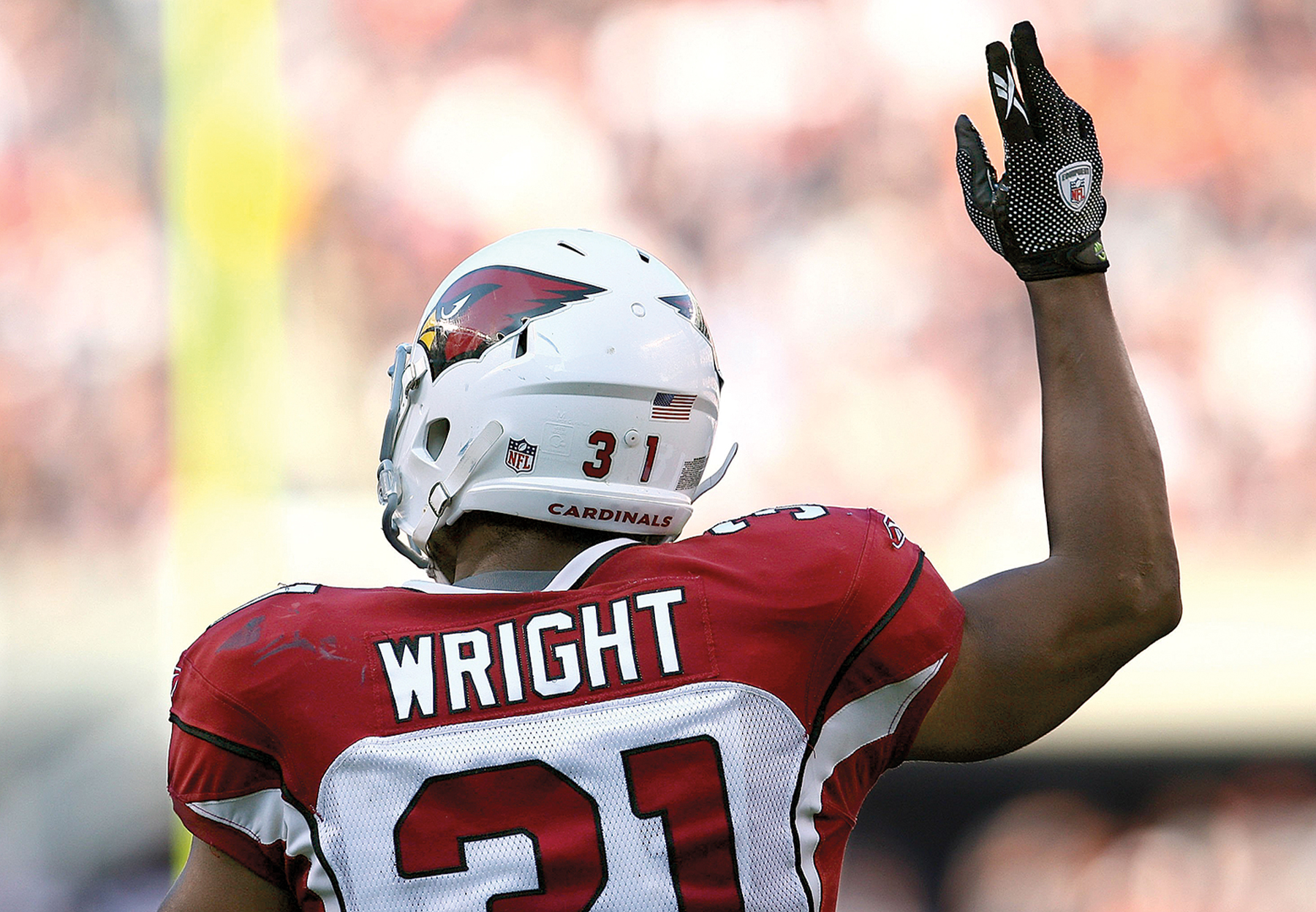 On to the NFL — and Beyond
After rushing for more than 2,600 yards in his Northwestern career, Wright spent seven seasons in the NFL with the San Francisco 49ers, Atlanta Falcons, Cleveland Browns and Arizona Cardinals. He was a team captain for the Cardinals and served as the team's NFL Players Association representative. But even at the pinnacle of his profession, Wright felt something was missing.
He comes from a family with a history of activism and service. His grandfather helped launch an NAACP chapter in east Texas, and his father was a Black Panther and civil rights activist. So during his NFL offseasons, Wright found ways to give back to communities he cared about. He went to seminary and helped start a charter school network in Cleveland.
While Wright was playing for the Browns, he and Braxton befriended two teenage girls who attended the after-school program where Braxton worked. When their parents were not around, the girls lived with the Wrights. Now in their 20s, Aiesha Gaston and Jamie Owens are the Wrights' goddaughters and part of the family alongside Jason and Tiffany's children, Johnathan and Gabrielle.
For Wright, there had always been more to life than football. So in July 2011, at age 29, he retired from the NFL to attend the University of Chicago Booth School of Business.
"My wife will tell you I was going through my pre-midlife crisis in graduate school," Wright says. "But I was always focused on the platform or the fulcrum for broad societal impact. I believed that occurred through business. If we can find a way to generate capital while also doing good for the community, that's the rising tide that raises all boats. I found that at McKinsey."
During his seven years at McKinsey & Company, Wright helped raise awareness about the U.S. racial wealth gap. He rose to partner and co-authored a report that showed the average Black family in the U.S. in 2016 had a net worth that was one-tenth the wealth of an average white family.
"The entire economy does better if the racial economic gap is closed," Wright says. "Even taking this job with the Washington Football Team, I looked at it as an opportunity to enact that vision of equitable distribution of capital while creating social good. It just happened to lead me back to sports, fortuitously, at the right time."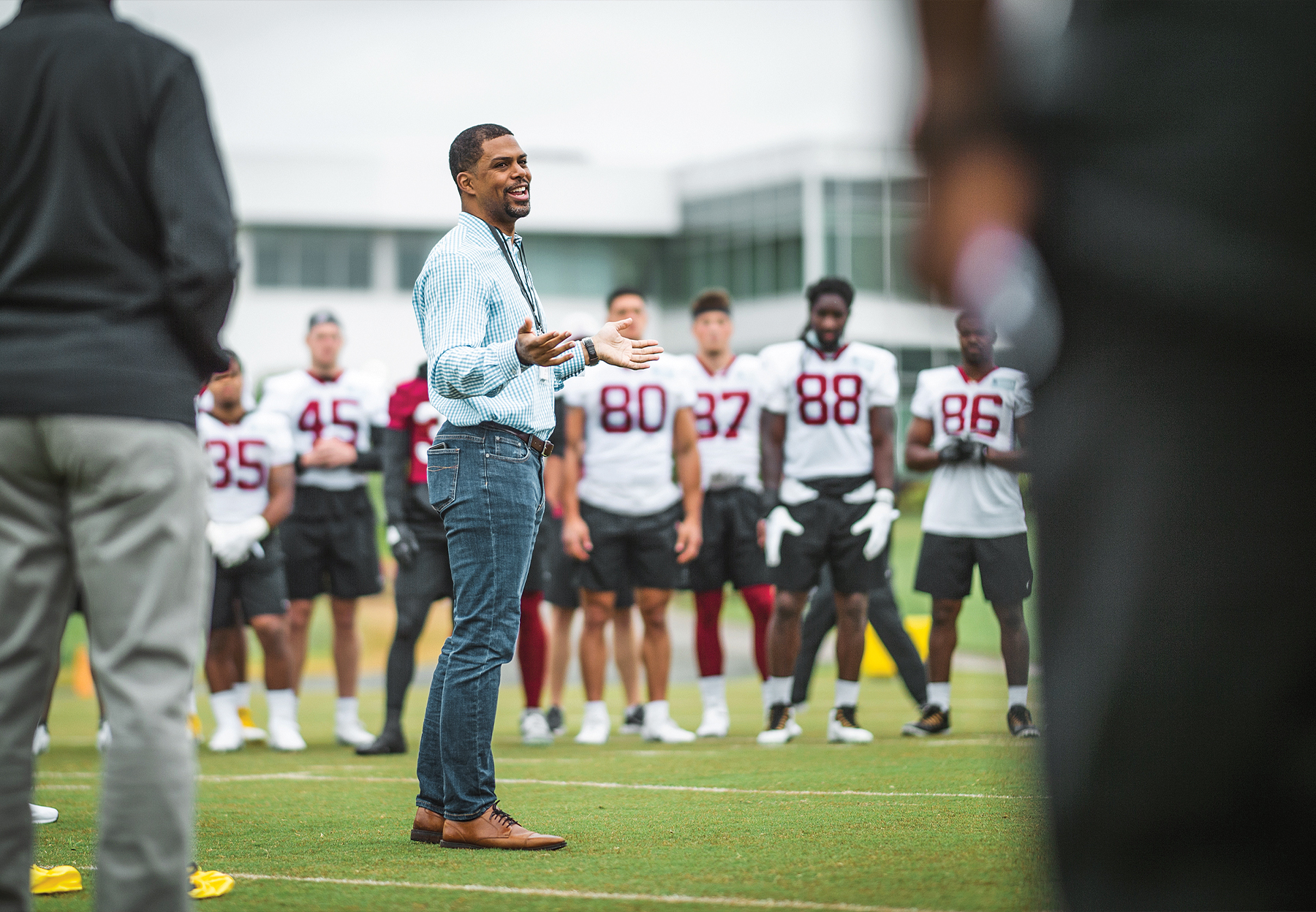 High-Wire Act
When Wright visited the Washington Football Team training camp in Richmond, Va., in summer 2021, he couldn't go more than 50 feet without being questioned about the team's new name. Wright announced in July 2021 that the name wouldn't be Warriors or any other moniker that references Native American or Indigenous iconography. The team plans to have its new identity in place early in 2022, in time for the franchise's 90th anniversary celebration.
That's just one of two polarizing issues Wright faces in his new position. The other is deciding where the team will play in the future, with Virginia, Maryland and Washington, D.C., all jockeying for the team when its FedEx Field stadium lease ends in 2027. Wright, for his part, is looking to create a world-class entertainment venue that will uplift the surrounding community as well.
"For a 39-year-old brother from LA, whose life has been focused on economic equity, especially through a racial lens, it's very rare that someone like me gets to deploy that amount of capital," he says.
While Wright's appointment was groundbreaking, he's also aware of the realities that Black managers and executives in professional sports often face. Studies have shown that they usually have shorter tenures than their white counterparts. And if they are fired, rarely do they get a second chance.
Blake says Wright wouldn't let fears of that scenario stop him from taking on this opportunity.
"This is a once-in-a-generation, transformational opportunity," Blake says. "There has never been a Black NFL president before now. When you think about how you can provide equity, how you can truly change the game, how you can create opportunities, especially for people of color and women, how do you not pursue something like this? His success is going to open up doors for so many who come after him."
Wright is well aware that all eyes are on him. But he hasn't let that stop him from bringing his unique perspective and experience to the Washington Football Team.
"I don't want to blow this opportunity, because I don't want people to be like, 'We're not going to give a brother the keys to the kingdom again.' I definitely don't want that," he says.
"The only pressure I put on myself is: Don't mute yourself, don't water yourself down. When I'm trying to solve a problem around trying to increase our season ticket base, for example, I want to bring my Blackness, I want to bring my background as an economist, I want to bring my nerdiness, I want to bring my experience as a former player. I want to bring all those aspects of who I am to the forefront. One of those aspects of my identity might have the key to solving this problem. And that's just my set of experiences.
"To me, that's the power of assembling a diverse team — you get to better answers."
Elliott Smith '97 is a freelance writer and children's book author. He lives in Falls Church, Va., with his wife and two children.