How did you become involved in sports tech?
Igor Karlicic '12: We really liked the concept of allowing a receiver to train alone. The only way you can execute that is if you take the player's data in real time, track his position and velocity using wearable technology, and then layer algorithms to predict where he's going to be. Being able to train alone while interacting with a robot is one thing, but having a platform that learns from you and then modifies the output — that's the paradigm we're most excited about.
What sets the Seeker apart from other football-passing machines, including the popular JUGS machine?
Bhargav Maganti '12: The patent for JUGS machines was created more than 40 years ago, and there hasn't been much innovation on that front since. We asked, "How can we optimize this technology?"
The first thing we focused on was positional tracking. There have been tremendous advances in the tracking space, specifically positional tracking in soccer, over the past decade. We came into the industry at a moment when this tracking technology became more widely available and applied it to the Seeker.
What makes the Seeker so important to football?
Karlicic: We had a relationship with the University of Iowa to test our prototype. And with the very first concept, it was evident that we had something special. A lot of the receivers commented that they could never get the practice reps they needed. As a third-string receiver, you don't get priority. Everybody wants reps. The Seeker offers that. It became clear that the idea and the platform had immense potential.
How did you launch Monarc in the midst of a pandemic?
Karlicic: We have several universities on board right now. We had planned a road show to hit a lot of Big Ten schools. And then that came to a screeching halt with COVID-19. But the players themselves were reaching out to us. The idea of being able to train alone was extremely compelling.
Maganti: We've done several workouts with NFL players. We had [San Francisco 49ers tight end] George Kittle using the Seeker in his backyard. He posted videos on social media. In addition to exposure, the outcome of our campaign was having NFL players like T.J. Hockenson and Eric Ebron purchase Seekers for themselves. We also had Kittle, Mohamed Sanu, Hunter Henry and N'Keal Harry come on board as investors.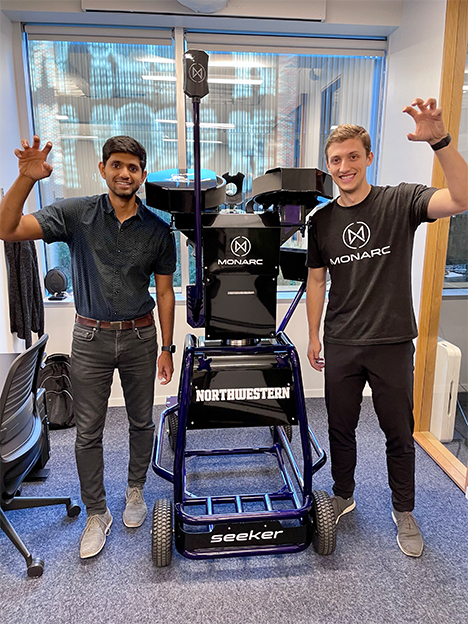 How has your work at Monarc been informed by your time at Northwestern?
Maganti: The Engineering Design and Communication courses and the capstone design course that Igor and I took together our senior year were certainly influential in terms of our interest in and passion for design. What also makes Northwestern unique is the amazing Ford Design Center. Igor and I used to go there quite often, just tinkering around and learning how to make things.
Interview by Jacob Muñoz, a senior from Ingleside, Ill.