It all started with Rocko, a yellow-beaked bird with a wobbly head.
Phil Sklar's lifelong friend Brad Novak was working with the Rockford RiverHawks when the minor league baseball team released a bobblehead of its mascot, Rocko. Soon Sklar '14 MBA and Novak were traveling across the country, attending sporting events that offered the beloved collectibles.
"It sort of took on a life of its own," says Sklar.
While some might see bobbleheads as a novelty, Sklar envisioned something greater. He and Novak co-founded the National Bobblehead Hall of Fame and Museum, which opened its doors near Milwaukee's Historic Third Ward this past February. It's Sklar's latest step into a mostly untapped market.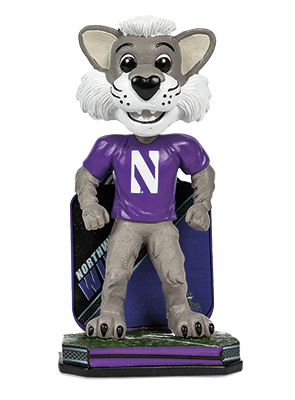 More than 6,500 bobbleheads are featured on location, a display so large that Guinness World Records may name it the largest bobblehead collection by this summer. Sklar and Novak's actual bobblehead count, however, totals around 10,000.
"We saw the need for a company to produce and market bobbleheads," says Sklar. "At the same time our collection was growing out of control."
Sklar had been working in corporate finance, but he grew up in an entrepreneurial family in Rockford and imagined starting his own business. In 2011 he entered Northwestern's Kellogg School of Management and began taking classes in marketing, branding and strategy.
"Kellogg was instrumental," says Sklar, "I don't think we'd be where we are as an organization if it wasn't for the professors and classmates and projects I was involved with."
Sklar and Novak began their online bobblehead shop in November 2014, at the same time they announced plans for the museum. Both on the shop's website and at the museum's store, customers can choose from recognizable characters and celebrities or customize their own creations.
The online model has worked. Digital sales have doubled annually and, along with bulk orders, remain Sklar and Novak's largest source of revenue.
When choosing his favorite collectible out of the thousands, Sklar goes back to his and Novak's first creation: a bobblehead of their friend Michael Poll, a Special Olympian and University of Wisconsin-Milwaukee sports manager. When Sklar showed the project to a friend at Kellogg, she encouraged him to consider it as a business venture.
"We wouldn't be doing this today if it wasn't for our experience with that bobblehead," says Sklar.
National Bobblehead Hall of Fame and Museum Fast Facts
Northwestern bobbleheads in the collection:
Meghan Markle '03 marrying Prince Harry
Sports journalist Michael Wilbon '80 with Tony Kornheiser of ESPN's Pardon the Interruption
Northwestern football coach Pat Fitzgerald '97
Green Bay Packers defensive end Dean Lowry '16
Willie the Wildcat
First in the collection: Rocko the RiverHawk, mascot of the now-defunct Rockford RiverHawks
Most popular: Sister Jean, spiritual superfan who became a celebrity during the Loyola University Chicago's run in the 2018 NCAA men's basketball tournament
First inductee into the Bobblehead Hall of Fame: Pete Rose, baseball player and manager who received a lifetime ban for gambling on baseball games