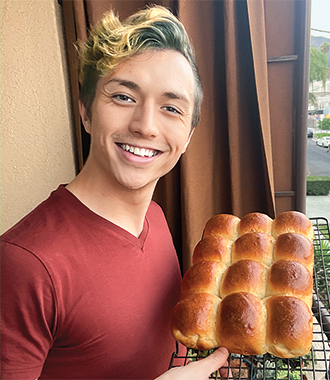 Last spring, as millions of Americans quarantined at home, Alex Willis '17 MS used his lifelong hobby of baking to keep him busy.
Willis, who earned a master's degree in chemistry at Northwestern, pursued a career in business analytics and strategy after graduation and also rekindled his passion for food creation. This spark led to an appearance on the fifth season of The Great American Baking Show, which aired on ABC last winter. Willis, who earned Star Baker honors twice — during Cake Week and Spice Week — and finished the season in fourth place, called it the time of his life.
"The best thing about being on the show," he says, "was meeting all of the people: my fellow bakers, who I text all the time, and the production crew and the celebrities."
In August, Willis hosted a live, virtual baking demonstration with the Northwestern Alumni Association and the Graduate School in celebration of National Potato Day. During the presentation he turned purple sweet potatoes into purple milk bread.
Willis, who lives in West Hollywood, Calif., says his long-term goal is to start or operate a bakery. "It's important to realize that you should be a multifaceted person and pursue your interests, even if it's just as a hobby," he says. "That doesn't make it any less important or less valuable."