RIVA LEHRER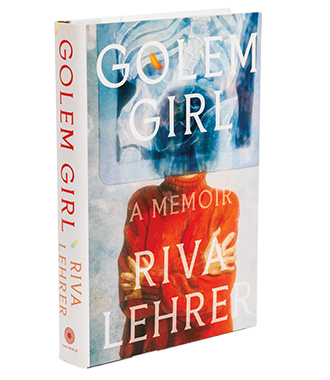 Born with spina bifida in the 1950s, when most children with the condition were not expected to survive, Lehrer endured surgery after surgery and grew up to be a visual artist, writer, activist and teacher. The first part of her intricate memoir is about enduring numerous surgeries while helping her mother deal with her own disabilities; the second focuses on how Lehrer's view of herself and others evolved as she began creating portraits of other artists with disabilities. The book includes images from her work, which explores themes of gender, sexuality and disability.
Named by Kirkus Reviews as one of the best books of 2020, Golem Girl was also a finalist for the National Book Critics Circle Award for autobiography. Lehrer teaches drawing in Northwestern's medical humanities program.
AMY STANLEY
Associate professor of history Amy Stanley pulled from a trove of family letters and records for her biography of an intrepid 19th-century Japanese woman. The book has been shortlisted for the National Book Critics Circle Award and the PEN Biography Prize.
EULA BISS
In her latest book, English department artist-in-residence Eula Biss sheds light on the ways in which capitalism is entrenched in our lives. The book grew out of a diary she kept after buying a home in 2014.
NATASHA TRETHEWEY
Board of Trustees Professor of English Natasha Trethewey explores grief, memory and identity in the wake of her former stepfather's murder of her mother. In this deeply personal narrative, Trethewey traces her mother's life in the segregated South, her own childhood in Mississippi, and their experiences with domestic abuse and racism.
CHARLES CAMIC
Charles Camic, the Lorraine H. Morton Professor of Sociology, explores the formation of capitalism critic Thorstein Veblen's ideas about the social institutions that enable wealthy Americans to amass vast fortunes.
GERALDO CADAVA
Associate professor of history Geraldo Cadava examines the roles Hispanic Republicans have played in U.S. elections. Though Hispanic Americans tend to vote for Democrats, Cadava shows how the post–World War II Republican Party has had a long-standing relationship with Hispanic voters, especially during times of political conflict.
DOMINIC MISSIMI
This collection of essays and autobiographical scenes by theater professor emeritus Dominic Missimi recounts his journey from 1950s boyhood to his career as a professor and director. During his 32 years at Northwestern, Missimi founded and directed the University's music theater program and directed 17 Waa-Mu Shows.