A Shining Talent
Jayne Atkinson, star of a one-woman show about Texas Gov. Ann Richards, balances fame and success. By Richard Harris
Last month, when Jayne Atkinson stepped out on opening night in her one-woman show, Ann, you first noticed the swirl of white hair. How could you miss it? It was Ann Richards' signature, along with her silver tongue, wit and one-liners.
At age 60, Atkinson '81 is getting rave reviews in the latest iteration of Holland Taylor's play, a love letter to Richards, the late Texas governor who was only the second woman and the last Democrat to be chief executive of the state (1991–95). (In October, the production moves from Washington, D.C.'s Arena Stage to the Dallas Theater Center from Oct. 15 to Nov. 10.)
Kristen van Ginhoven, the producing artistic director of WAM, the regional theater in the Massachusetts Berkshires where this production originated, hoped to entice Atkinson to direct the play. But after reading it, she told van Ginhoven, "I don't want to direct it, I want to BE Ann!"
Did she ever. But not all actors can pull off a one-woman show. Think of an aerialist on a wire between two skyscrapers with no net below. "You really have to be someone who has the breadth and the breath and a dynamic focus to hold the audience in the cup of your hand for a two-hour production night after night. It is extraordinary," says Molly Smith, artistic director of the Arena Stage.
For Atkinson, embodying Ann Richards, a feminist political icon, was not just an opportunity but a civic duty. "It was a way to align myself with something that is in my heart right now. It's the right time because of this amazing, chaotic moment we seem to be in. We all have to find our inner Ann Richards," she says.
Smith couldn't agree more. "When artists feel that way, there is even a stronger force behind their work. We all as human beings need something to get us out of bed in the morning and fire us up. For someone like Jayne Atkinson, the idea of bringing Ann Richards back to life at this politically fractious time is a powerful statement of purpose."
Atkinson doesn't wear her politics on her sleeve. She's not a marcher and has always taken her dad's advice to heart. "Don't be political," he told her, recalling how Jane Fonda was pilloried for protesting the Vietnam War by venturing into enemy territory, what was then North Vietnam. "It could be the death of your career," he warned her.
As six women campaign to be president in 2019, it was only 35 years ago when Geraldine Ferraro became the first woman on a major party presidential ticket. And four years later at the 1988 Democratic National Convention in Atlanta, Richards' keynote address poked fun at George H.W. Bush, producing this memorable line that helped launch her successful gubernatorial run: "Poor George, he can't help it. He was born with a silver foot in his mouth." In the play, Atkinson reprises Richards' line from that speech that most resonated with women: "Ginger Rogers did everything Fred Astaire did. She just did it backwards and in high heels."
No one is surprised that Atkinson's career on stage, screen and television continues to blossom into her seventh decade — least of all Julia Louis-Dreyfus '83, '07 H, who says when she was a freshman at Northwestern, she was "blown away" by one of Atkinson's performances — as Portia, delivering the "quality of mercy is not strained" monologue from Shakespeare's The Merchant of Venice.
In fact, that scene made such an impression that when Louis-Dreyfus accepted the Mark Twain Prize for American Humor last fall, she told the audience at Washington's Kennedy Center — with tongue firmly planted in cheek — that she wanted people to know she had more than comedy chops; she was also a serious actress. So Louis-Dreyfus proceeded to perform that same monologue from The Merchant of Venice, but this time as Elaine Benes from Seinfeld.
"It was all born out of admiration for Jayne back in the day," she says. "For me, Jayne's performance at Northwestern represented the pinnacle of quality drama." When Atkinson later heard these comments during an interview, her eyes welled up.
And Atkinson then confessed that she had auditioned for the role of Elaine on Seinfeld that would go to Louis-Dreyfus. "That was her part," Atkinson was quick to say. "Oh my God, she's so talented."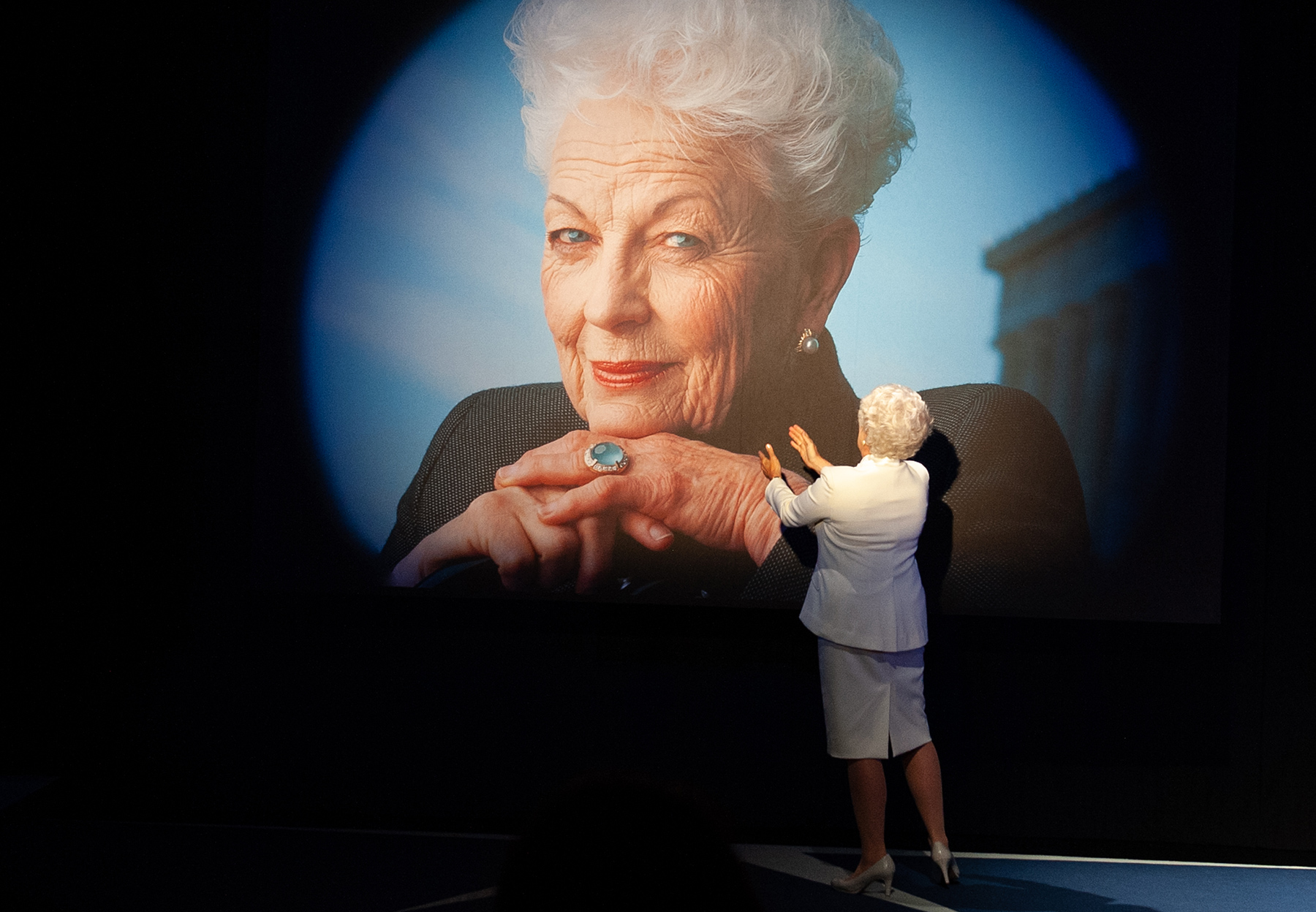 In their careers, Louis-Dreyfus and Atkinson have both played the vice president. Louis-Dreyfus, of course, just concluded seven seasons as Selina Meyer on Veep. Atkinson has been both the vice president on Madam Secretary and Secretary of State on House of Cards (where Atkinson's husband, Michael Gill, whom she met during a 1989 production of The Heiress at Long Wharf Theatre in New Haven, Conn., played the president).
Perhaps the first clue that Jayne Atkinson was born to be onstage came in a fifth-grade production of Cinderella. She had missed the fitting for the glass slippers and was so uncomfortable in the pair provided that she limped offstage, turned to the audience and came up with this gem: "YOU try this!"
It didn't hurt that the British-born Atkinson, who moved to the U.S. as a 9-year-old, grew up in Florida, where her parents sang and acted in community theater musicals. She ran lines with her dad and was her mother's dresser in I Do! I Do! Performance was in her DNA.
And by the time she was a 15-year-old high school freshman in Fort Lauderdale, there was little doubt Atkinson was serious about acting. She was in a production of The Diary of Anne Frank where "we weren't allowed to come back out and take a bow because we were gone." Years later, she would visit Auschwitz. That was the moment that she learned theater can be powerful and a very sacred place. "It sowed the seeds."
For Atkinson, theater was also a place to challenge yourself. That same year, she took on both the male and female leads in The Rainmaker at an acting competition during high school. Twenty-five years later Atkinson played Lizzie on Broadway, capturing a Tony Award nomination, the first of two in her award-winning theater career.
Among her coaches at the Pine Crest School: Kelsey Grammer, who first told her she was terrible. But after working with Atkinson, he told her she was "pretty darn good," she recalls.
Atkinson doesn't usually read reviews of her work. If she did, it could be incredibly awkward. Take John Simon's 1990 savage New York Magazine takedown of The Art of Success, the off-Broadway production Atkinson starred in less than a decade out of Northwestern and Yale Drama. "There is little to Art of Success beyond anarchy, scatology and stupidity," Simon wrote, concluding, "'Do I have to stand here and listen to this shit?' asks someone in the play. Even seated, one might ask the same."
But buried in this vicious review, Simon spared one performer from his poison pen: "Jayne Atkinson is riveting: Here is a plain woman transfigured by shining talent."
Atkinson concedes "not all reviewers are out for blood. One actually saved my performance in The Heiress when he said, 'If she would just look up, she would be magnificent.'" From then on, she did.
When Atkinson heard about the opening line of Peter Marks' recent rave review of Ann in the Washington Post — "In a more just universe, Jayne Atkinson would be a household name." — it had a familiar ring. "It's what my parents always told me," she says. "And I would say, 'Then I won't have a life.'" Atkinson acknowledges some of her reluctance to embrace fame has to do with fear. "It takes a lot to be a Julia Louis-Dreyfus, to be constantly in the limelight. It's enough what I have," she says.
The fear of stepping over that invisible line between having a really successful acting career and becoming a household name is real. The challenge is finding the tricky balance between getting great parts and maintaining some semblance of a private life.
During a recent interview, Atkinson revealed an encounter with an acting teacher at Northwestern that has stayed with her. "There was a moment onstage, performing a play called Ashes, a moment that I can't explain, where I came through as an actress in a very profound way."
Soon afterward, she went to Ann Woodworth's acting class, unprepared for the assignment she had been given. "I came in half-assed, and she stopped me and said, 'Why are you sabotaging yourself? You're being a clown.' I just looked at her and burst into tears."
Nearly 40 years later, reliving this pivotal moment nearly prompted tears again. "I told her I'm afraid of what I have, that people won't like me, they'll be jealous of me, think I'm too big for my britches." And like it was yesterday, Atkinson recalled Woodworth telling her, "Stop it. You have a gift and you're responsible for that and you have to take yourself seriously."
"Ann made me face my fear at a very critical moment and was willing to say tough things to me. She moved me deeply because I was hiding."
This month, Woodworth '75, '79 MA is entering her final year teaching acting at Northwestern, her 10th on the campus in Qatar. "Over the years, there are some students I worked with for three years whom I don't remember," says Woodworth. "But I had Jayne in one summer quarter class and have always remembered her. She had a great sense of showmanship."
She, too, recalls that very intense moment with Atkinson. "The thing I took away was that she was willing to be vulnerable. That's why Jayne stood out. I remember having total respect for her and thinking she's going to be great."
Some 16 years after that moment, Woodworth saw Atkinson doing Ivanov at Lincoln Center in New York City. She remembers thinking, "Oh, my God, Jayne's so lovely onstage, and three dimensional. It's all I hope for a student."
Above all, whether she's wearing ill-fitting glass slippers or a confection of white on her head, don't ever tell Jayne Atkinson that acting isn't open-heart surgery, as a colleague once did. "If we play our cards right, it is," she insists. "You never know who leaves that audience with their life changed forever."
Richard Harris '76 wrote "The Life of Brian," the Northwestern Magazine profile of Brian d'Arcy James '90 in 2015.