Grads to Celebrate
Members of the Class of 2020 reflect on their Northwestern experience in their own words.
In this season of celebration, we're honoring our soon-to-be undergraduate and graduate alumni and commemorating their time at the University. Here, they share their thoughts on the essence of being a Wildcat and their most important Northwestern experiences.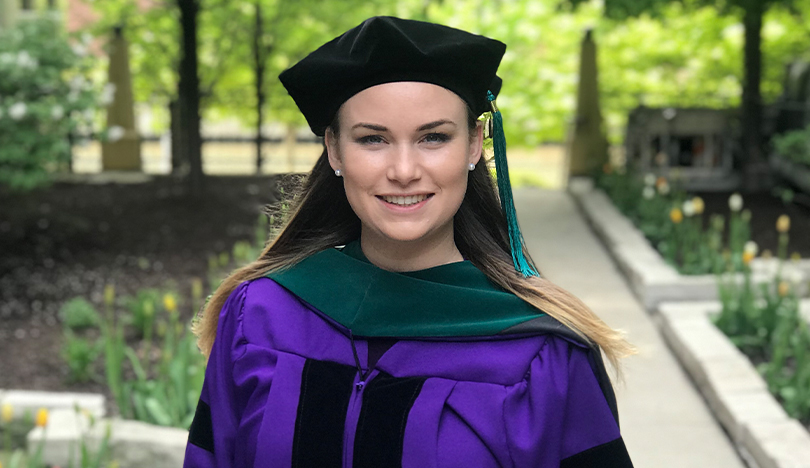 "I am grateful to be part of a network of Wildcats who learn from, support and inspire each other during our school years and beyond. I have also enjoyed adding more purple to my wardrobe!
"When I was in the planning and applying stages of my journey to physical therapy school, I wasn't sure where I would end up, but I dreamed of interning at the Shirley Ryan AbilityLab, working with veterans and exploring the emerging field of pelvic health. Through my clinical rotations as a student at Northwestern University Physical Therapy and Human Movement Sciences, I got to do all three. Now my challenge is deciding where to start in my career because I loved all three experiences."
— Kayla Matthews, Feinberg School of Medicine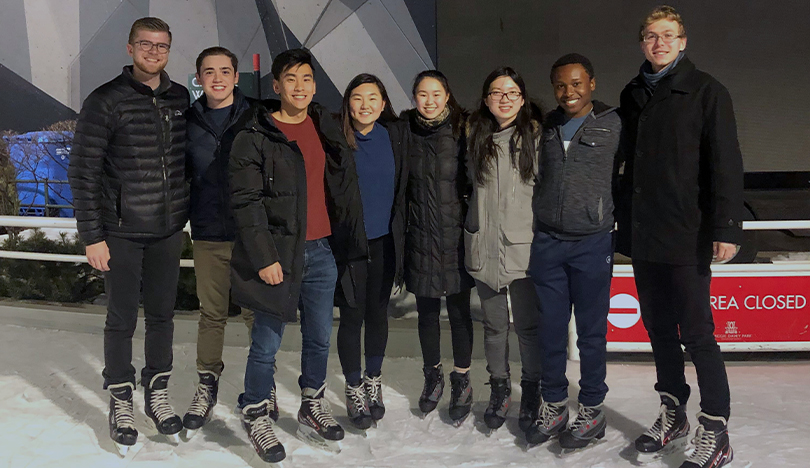 "A Wildcat is being a part of a community of dedicated, skilled individuals and pursuing your passions alongside these incredible peers. Even after I graduate, I hope to be able to gain motivation through this community that I know I will always be a part of.
"During senior year I was an active member of six clubs, and a general attendee for many, many more. My fondest memories come from my time in NU Nights, a student-run, late-night event programming org. The small but tight-knit group made me feel closer to the Northwestern community through hosting events. I learned a lot being a part of all of my clubs, which is something I wouldn't have expected coming into college."
— Miya Jia, Weinberg College of Arts and Sciences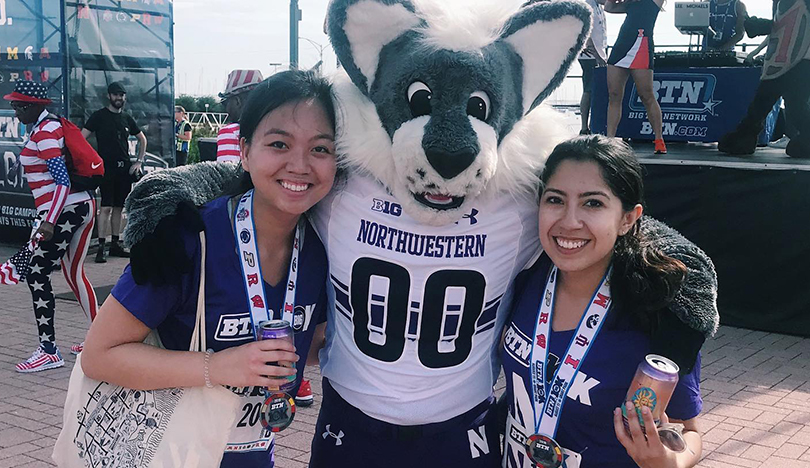 "Being a Wildcat means bleeding purple, cheering on the 'Cats, and kickin' butt while doing it. I'll always remember going to football games, running my first-ever 10K to support NU at the Big Ten 10K, and getting to study public health abroad in South Africa."
— Nancy Le, School of Education & Social Policy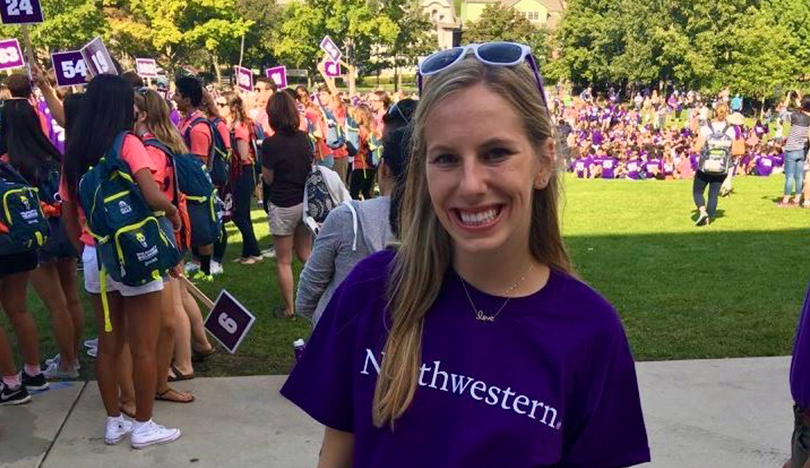 "Being a Wildcat means having the opportunity to grow as a student and person as well as learn about your passions all while being surrounded by a support system filled with role models of all kinds. Each professor, mentor, adviser, and the most incredible friends of all ages I have been able to learn from and connect with have made my Northwestern experience unforgettable. I am grateful for the inspiring, close-knit NU community and know this community will continue to play a positive role in my life as I start my next chapter."
— Julia Aronson, School of Education and Social Policy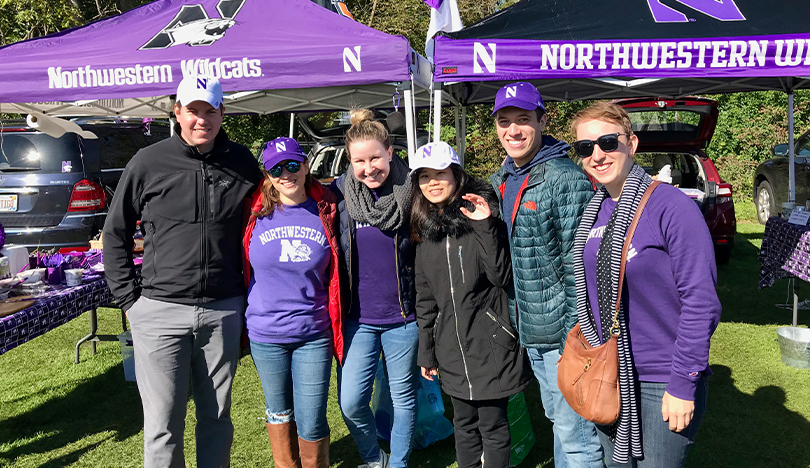 "Being a Wildcat means the ability to pursue both excellence and kindness. To me, the Midwest culture stands for a combination of professional achievement, humility and community engagement."
— Vicky Wu, School of Education & Social Policy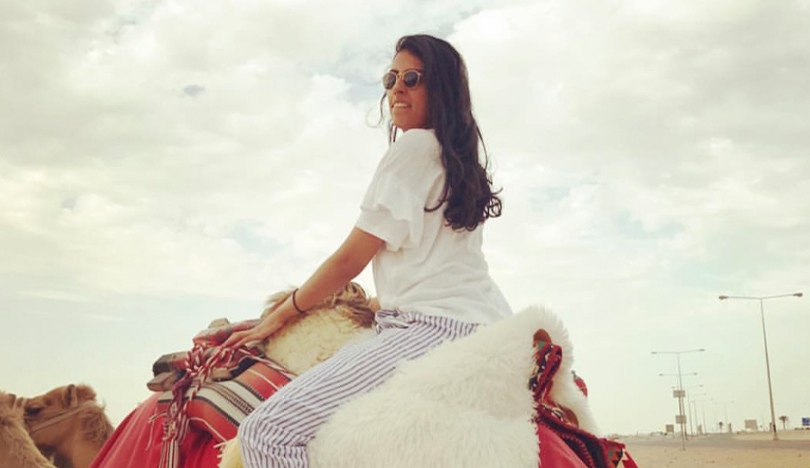 "Being a Wildcat means embracing successes and overcoming challenges with resilience and courage. Over my time at Northwestern, a lot has taken place — the class of 2020 has seen the highs like a Big 10 football championship and also the lows like a global pandemic. In each of these defining moments, I have never been prouder to be a Wildcat and to see such a welcoming and loyal community come together for support. The Wildcat community is one that I feel confident leaning on far beyond my days as a student here.
"The single experience that most stands out from my time here was the cultural exchange that I participated in by traveling to Northwestern in Qatar. It was an incredible opportunity to simultaneously appreciate such a rich and different culture from my own and find connections with the international students there (beyond the similar tastes in Qatari balaleet and Indian payasam). I will carry these lifelong connections with me in different spheres of my life."
— Trisha Kaundinya, School of Communication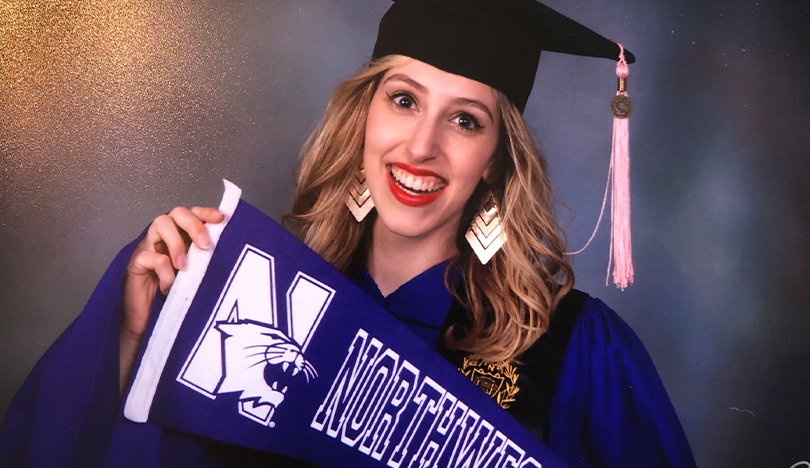 "Being a Wildcat means to have passion in all that we do, to strive to be the best that we can be and to be confident as we are approaching the next chapter of our lives! I'm sad to leave my dream school, but once a Wildcat always a Wildcat. I'll always cherish the wonderful times I've had at Northwestern!
"Some of my best memories came from preparing for concerts and recitals with Professor Waller. She always has my back and gives so much support to all of her students so that we may become the best versions of ourselves. I'm going to miss her and being in the NU guitar studio!"
— Marisa Sardo, Bienen School of Music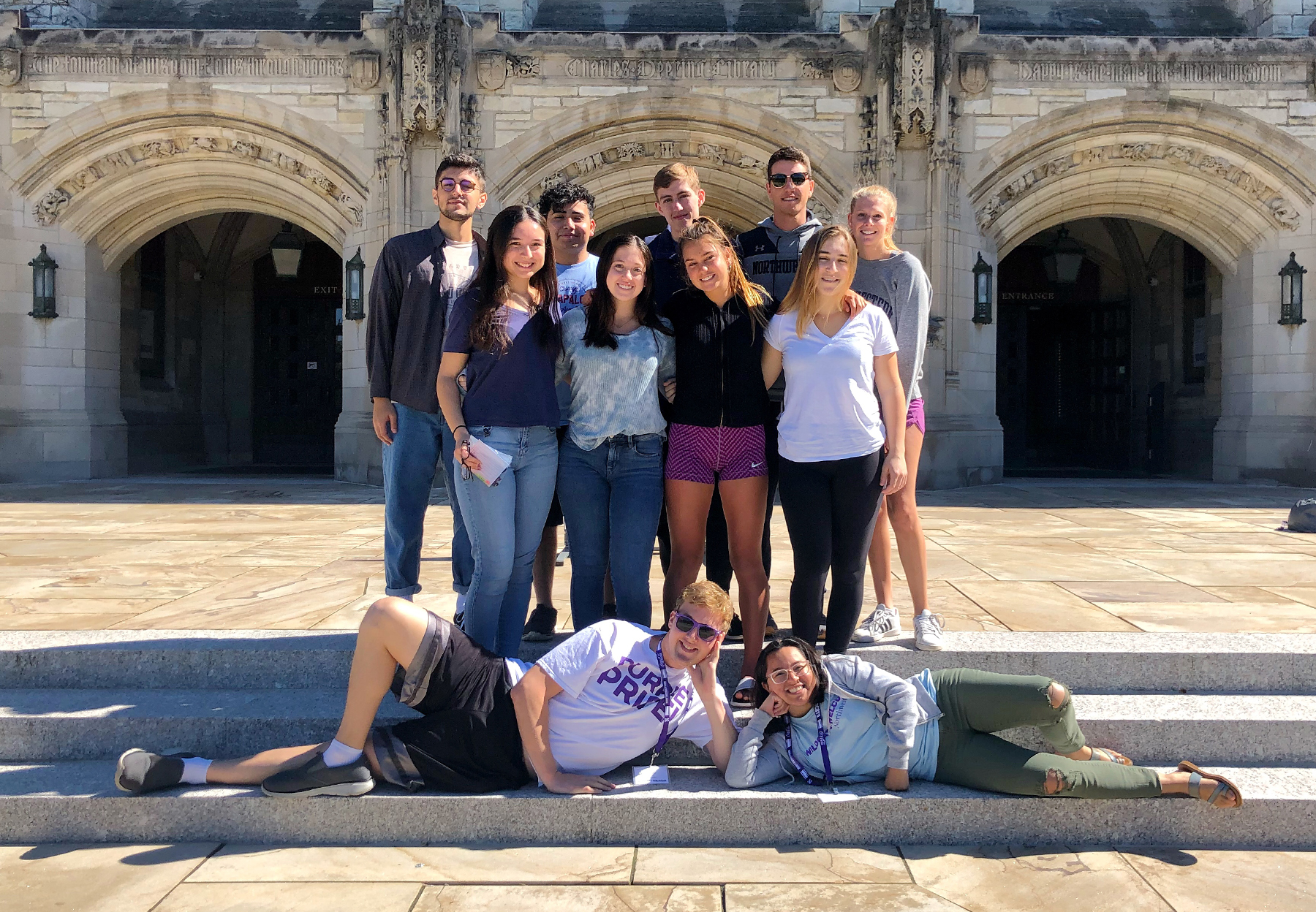 "Wildcats are like SESP's candy bowl — always here for you whenever you need a boost. We promote community care to carry each other through the challenges we face. From leading goofy games to facilitating deep dialogues about identity [as a peer adviser], mentoring incoming Wildcats through their college transition has been a very fulfilling experience."
— Henry Lang, School of Education & Social Policy
"The experience that stands out is getting the chance to explore the world beyond Evanston — from San Francisco to Washington, D.C., to London to Japan — and making my best friends along the way."
— Emma Kumer, Medill School of Journalism, Media, Integrated Marketing Communications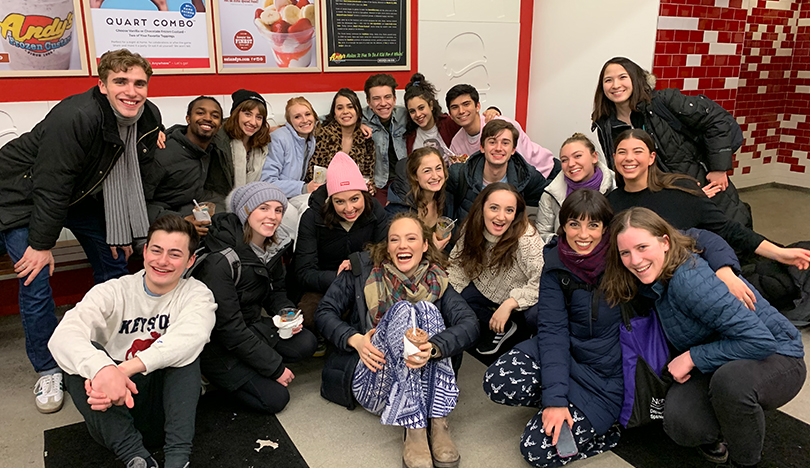 "Each Northwestern student is incredibly different, but as a community, we help one another in our individual journeys. Being a Wildcat is about the unwavering collaboration and support you both receive and give to those around you.
"Northwestern fosters such an incredible sense of community. I have always felt immense support and love from those around me. I am so grateful to have been able to call Northwestern my home for the past four years and to have been a part of a community that pushes me to be the best version of myself."
— Mia Nevarez, School of Communication
"Being a Wildcat to me means being fiercely proud of yourself and your diversity, both in identity and passions. I love that Northwestern prides itself not only on multiple prestigious disciplines, from music to scientific research to athletics to 'whole-brain engineering.' Being a Wildcat means remaining true to yourself while recognizing the differences of others."
— Jessie Bolger, Weinberg College of Arts and Sciences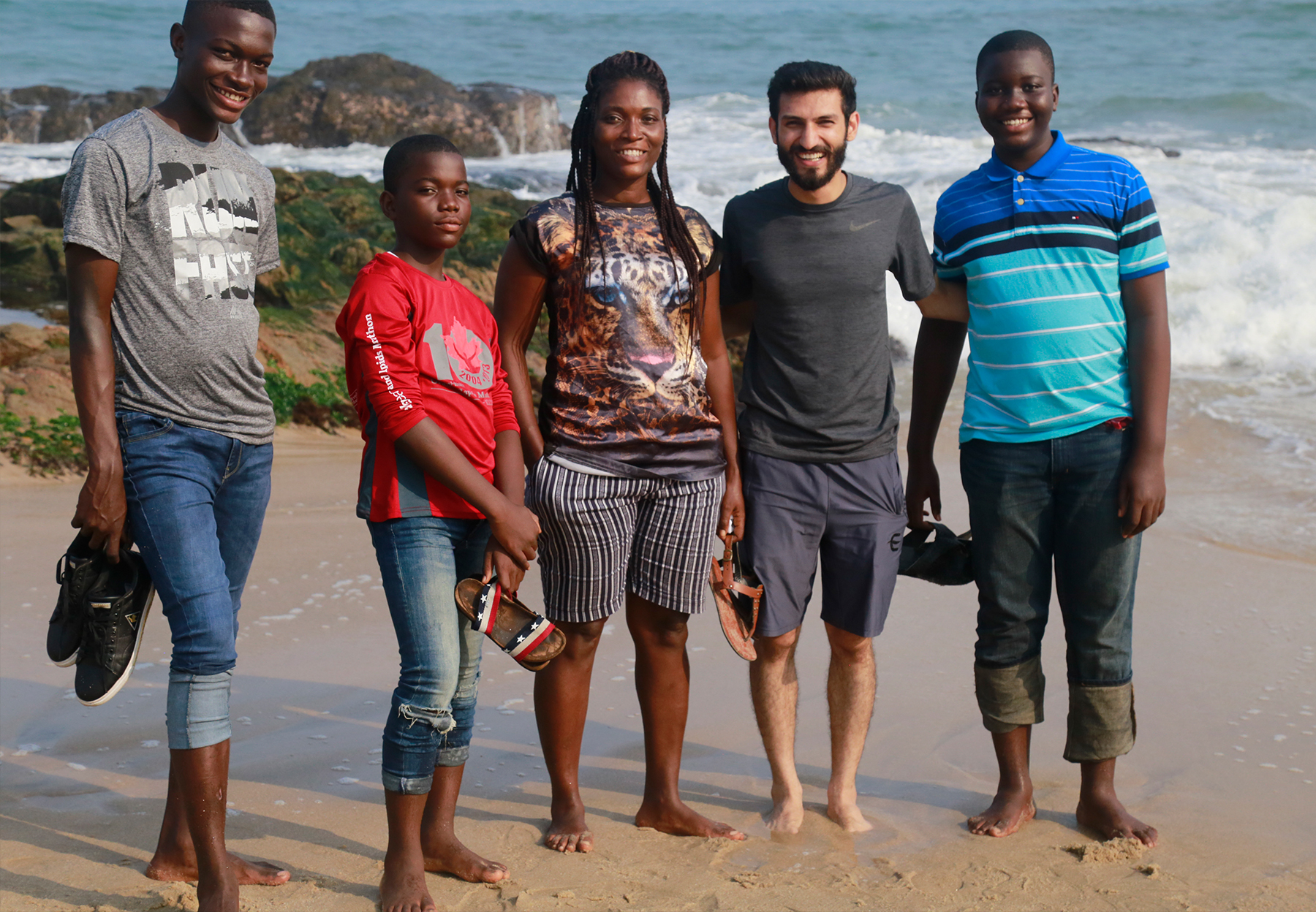 "I never knew how much the Global Engagement Studies Institute would mean to me. Every time I think about the experience and how much I grew, I am filled with a renewed purpose to do whatever I can in my power to leave this world better than how I found it."
— Muhammad Muneeb Ur Rehman, Northwestern in Qatar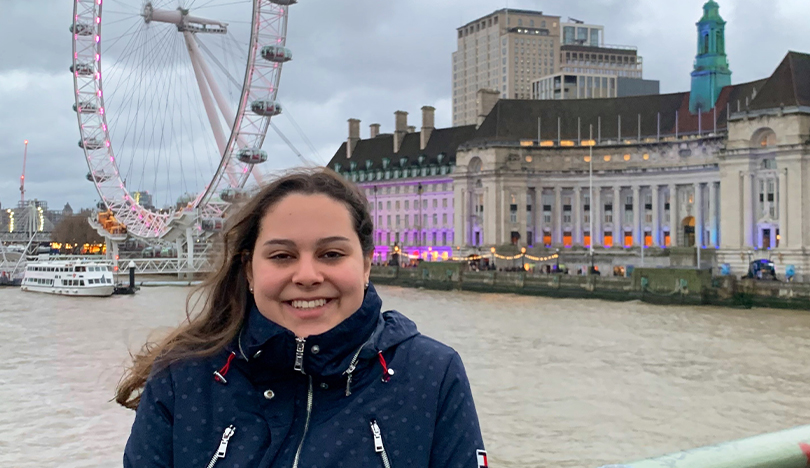 "Being a Wildcat to me means having people all around the world to help out with anything you might need, from finding a job to making new friends in a new city.
"Being able to go to London with Medill to report on Brexit the week after the UK left the EU stands out from my experience at Northwestern."
— Carolina Gonzalez, Medill School of Journalism, Media, Integrated Marketing Communications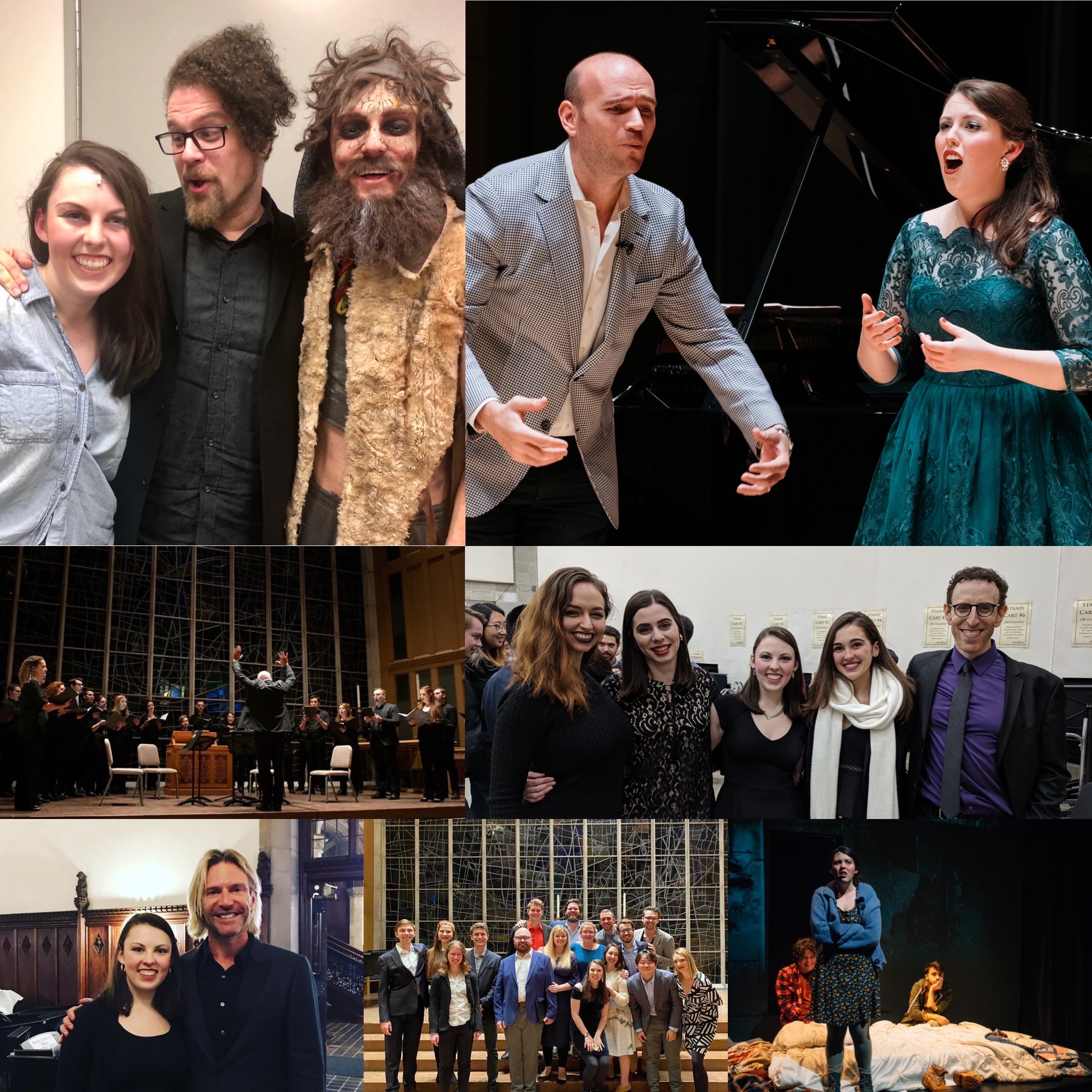 "The picture above is a collage of some of my experiences: singing for Michael Fabiano, world famous tenor; being chosen to sing with Alan Pierson and Steve Reich as a sophomore with a full orchestra; working with composer David T. Little on his new and incredible opera, Dog Days; singing with Dr. Nally and his group, the Crossing; being supported through Catalyzer to raise money to be the first student group on campus to bring an outside professional group to do a musical residency with our group, the Renaissance Singers; performing Eric Whitacre's choral pieces with Eric Whitacre conducting. These are just a FEW of the bigger opportunities I have had through the Bienen School. The people I have worked with — colleagues and professionals — are connections that will last for a lifetime and have helped me to find myself, discover my passion and create an unprecedented future for myself. I have a lot of pride in my school."
— Olivia Prendergast, Bienen School of Music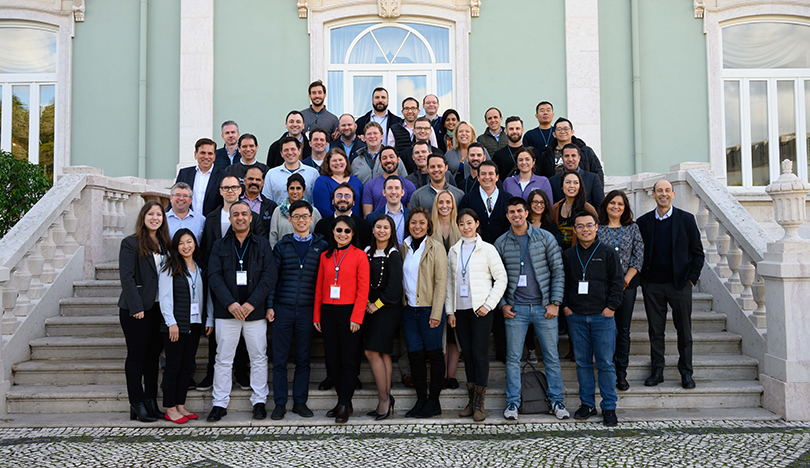 "Learn from each other. Network for bigger impact!"
— Wendy Chan, Kellogg School of Management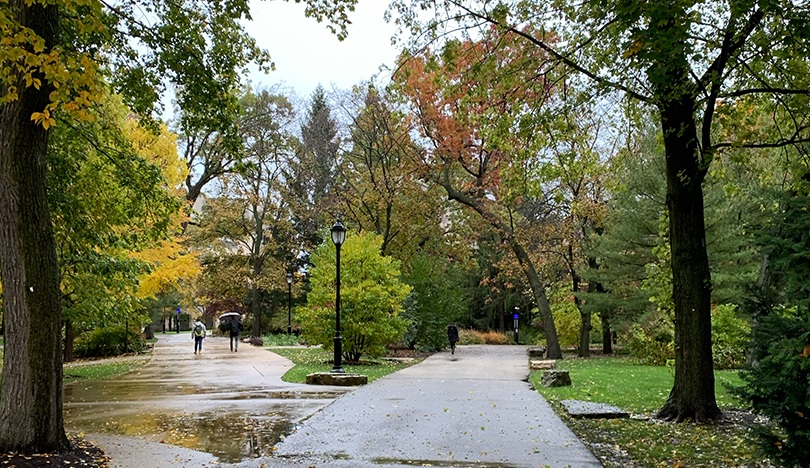 "Being a Wildcat means developing an inner sense of courage. It means taking big risks and failing. It means challenging yourself, and it means confusion along the way. It means moments of doubt and moments of beautiful discovery. It means staying up late to finish homework and, of course, to work on a crazy passion project with friends. It means community.
"Whenever people ask me if I think I chose the right school, I always say that I could not imagine my life today without the professors that I had and the friends that I met. I have learned so much both academically, and perhaps more importantly, about how to be a good and kind person in a challenging environment."
— Nico Miller, School of Communication
"Being a Wildcat means a lot honestly. There is a lot of rich history and culture here, and I am blessed to add my name to such an esteemed list. There were a lot of sacrifices made for me to get to Northwestern, and for that I am thankful."
— Evan Brooks, Medill School of Journalism, Media, Integrated Marketing Communications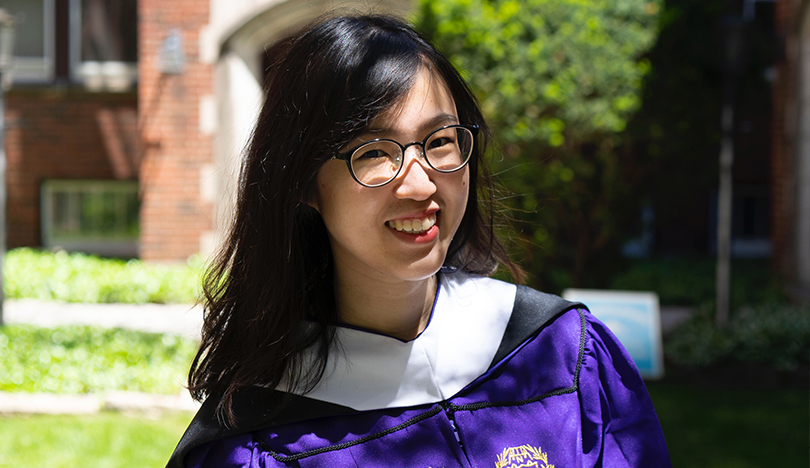 "As an international student coming from an immigrant family in Macau, my professional identity as a compassionate, competent and culturally sensitive counselor has been greatly cultivated in the counseling program at the Family Institute at Northwestern. I understand that not many international students or even people of my color have the privilege to be trained at this nationally renowned counseling program, and I fully acknowledge my obligation to help connect resources and advocate for underrepresented populations in my country. My dream is to be a future educator and leader in the mental health field and to promote the underdeveloped licensure and training system in my home country."
— Sin U. Lam, The Graduate School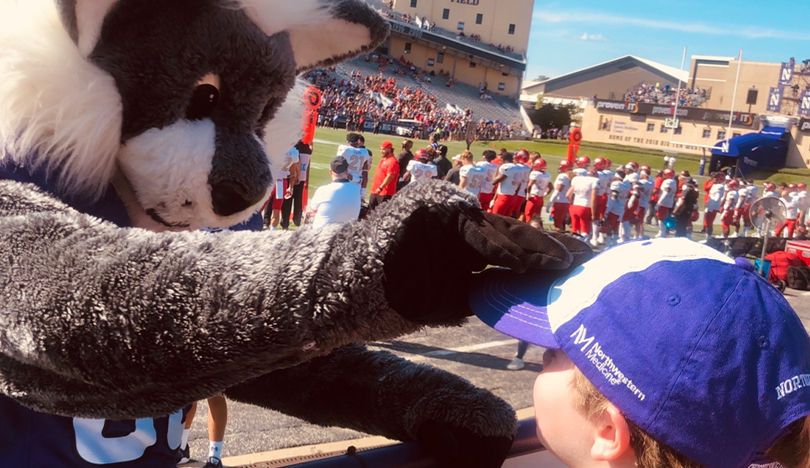 "Being a Wildcat means having a beautiful, diverse and brilliant community."
— Gigi Surel, Northwestern Pritzker School of Law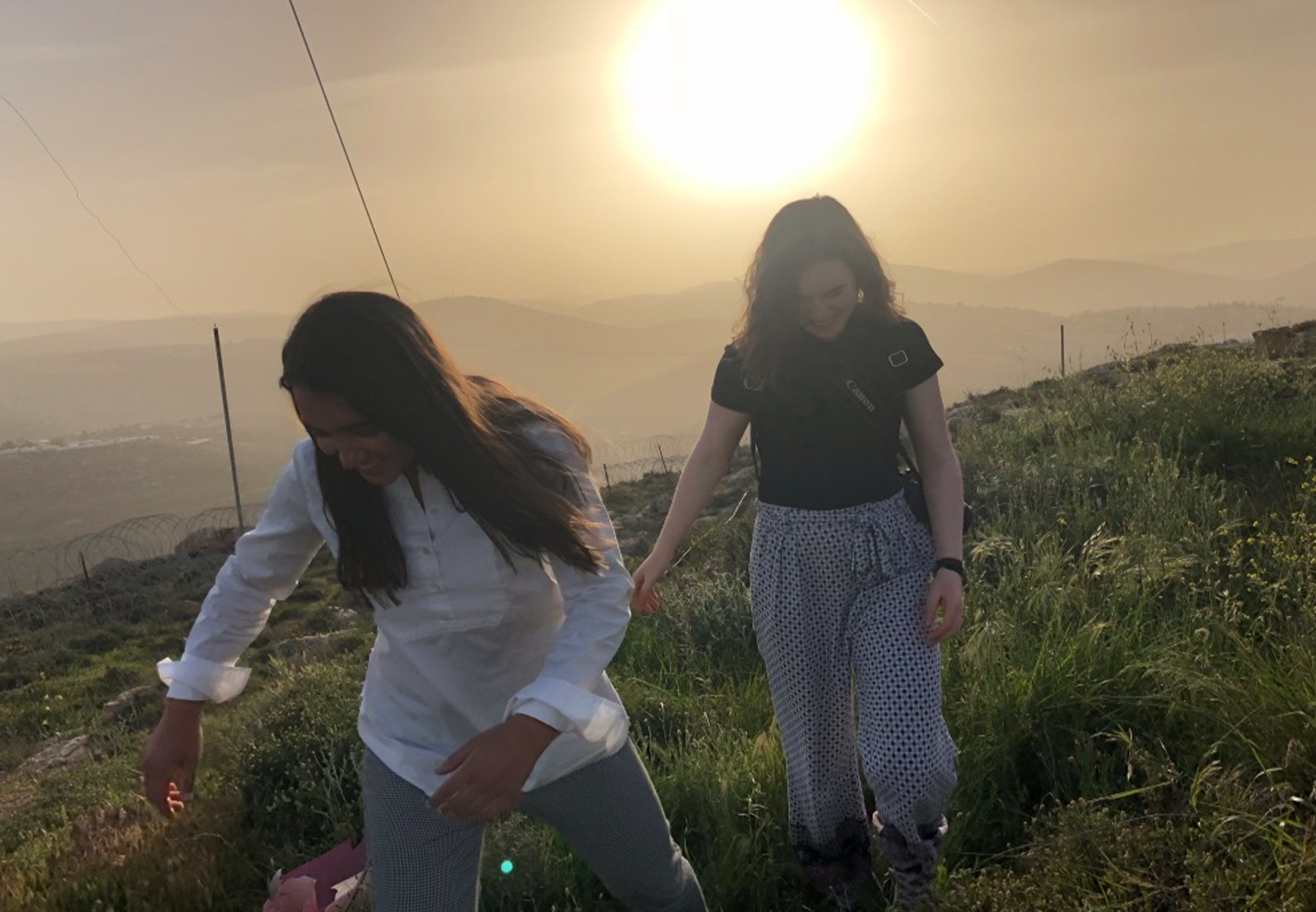 "I'll remember traveling and meeting journalists from around the world, which gave me a behind-the-scenes look at the logistics and challenges in journalism.
"I also love singing our fight song."
— Natalie Shilati, Medill School of Journalism, Media, Integrated Marketing Communications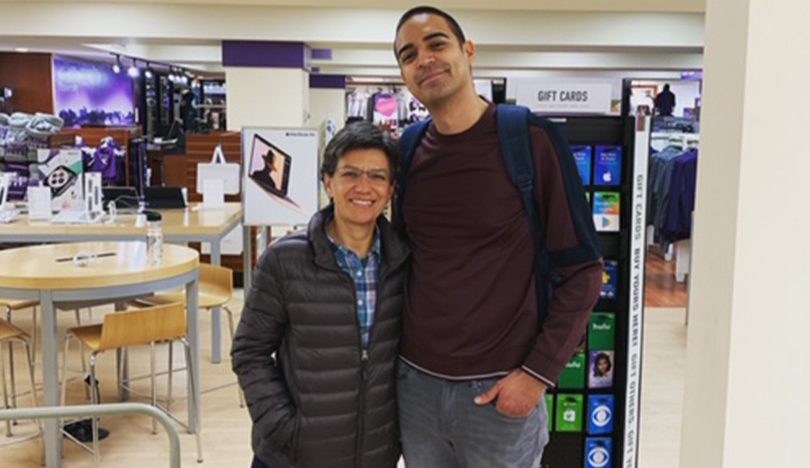 "With the goal of returning home to Cali, Colombia, to run for office, meeting and sharing a cup of Starbucks coffee at Norris with then-candidate Claudia López '19 PhD (now the mayor of Bogotá, Colombia) confirmed that returning to the country that raised me in order to contribute to a post-conflict society is my calling in life."
— Hernando Sevilla-Garcia, School of Education and Social Policy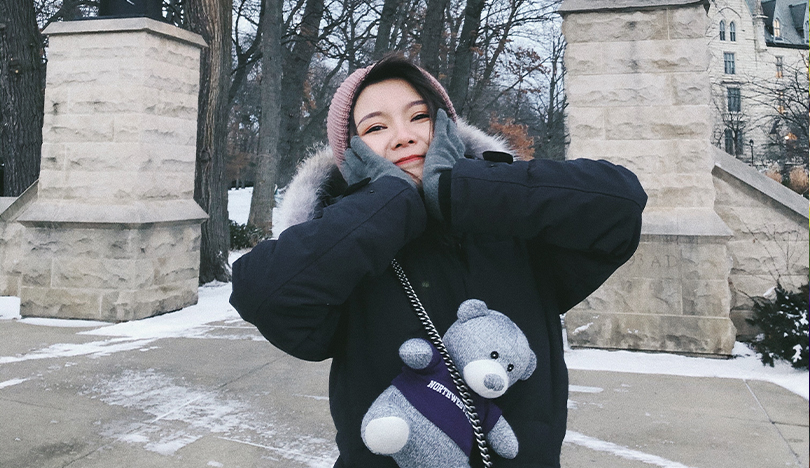 "Being a Wildcat means I have more wonderful friends and more sufficient experiences, which will be encouraging for the rest of my life. I'm sure all the effort in studying and working was worthwhile. As a Wildcat, I'm ambitious and enthusiastic and never give up. I'm so proud!"
— Bing Xiao, Medill School of Journalism, Media, Integrated Marketing Communications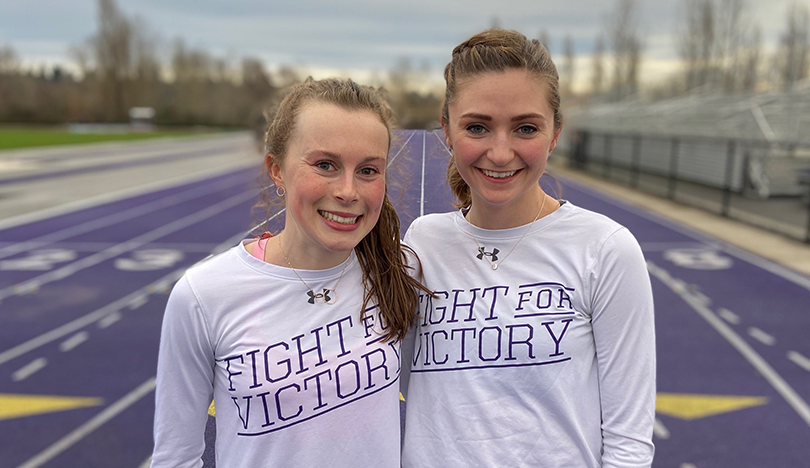 "To me, being a Wildcat means seeing the sunrise on the lakefill during morning cross country practice and seeing the sunset during a football game at Ryan Field (or from Main Library, depends on the weekend). It means working hard and working to be the best version of myself — and encouraging my teammates and peers to do so along the way.
"I am so thankful to have been able to run on Northwestern's cross-country team. I'll always remember the good workouts and races, but perhaps moreso, I won't forget the toughest and muddiest races, the windy intervals on the lakefill, and all the chem lab reports and quizzes I did late after practice. These were the times when I was really tested, and in these moments, I developed some of my strongest friendships. Thanks, NU! It's been quite the ride."
— Aubrey Roberts, Weinberg College of Arts and Sciences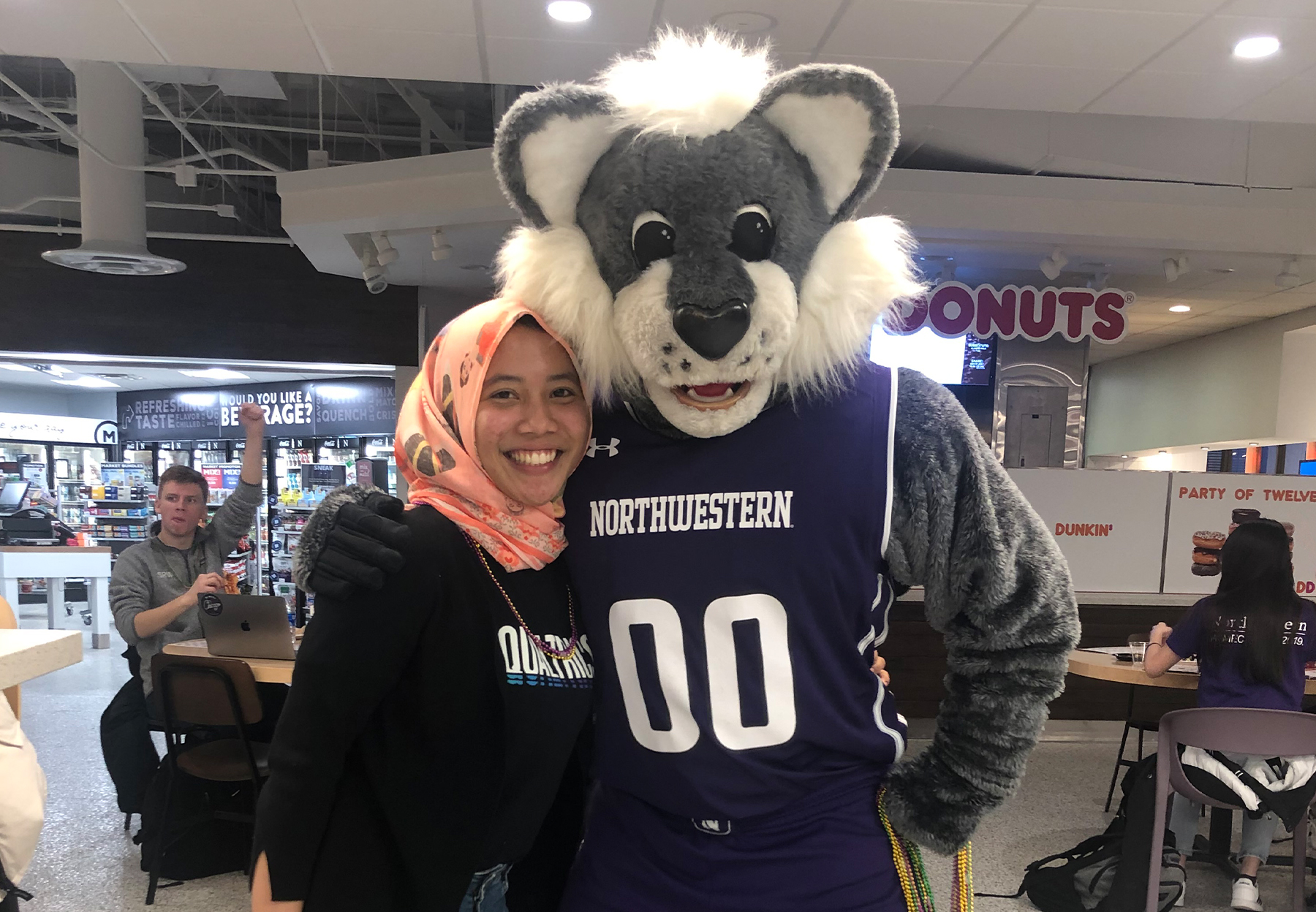 "Being a Wildcat means letting myself step out of my comfort zone, leaving my family and friends thousands of miles away to pursue my dream and finding the meaning of home in a new and foreign place. Moreover, I have met and learned from people who aren't the same as me. What a life-changing experience!"
— Rhiza Novita Triananda, School of Communication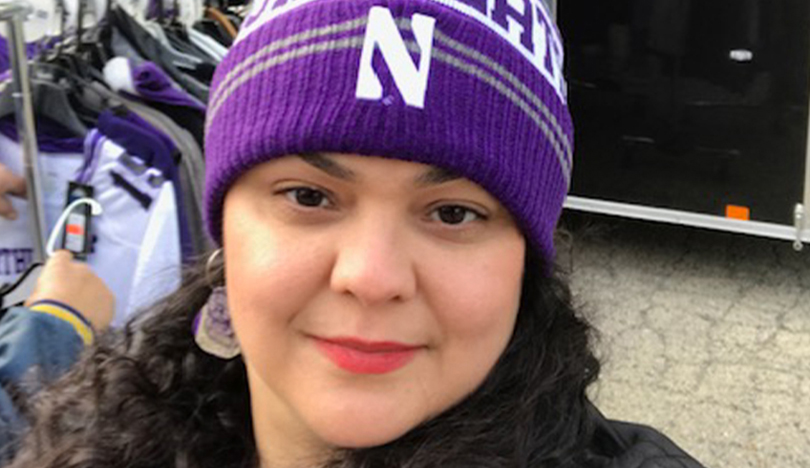 "Being a Wildcat to me is the community and pride. I have experienced support from the Wildcat community and enjoy showing my Wildcat pride."
— Diana Sancen, School of Professional Studies