Arts & Entertainment
Kabul Rocks
Alykhan Kaba manages Afghanistan's first rock band. By Monika Wnuk
If you drove around Kabul, Afghanistan, in 2012, you couldn't miss the billboards promoting Kabul Dreams, the country's first rock band.
"Seeing the images of three rockers all around Kabul wasn't something many people expected," says Alykhan Kaba '18 MBA, who at the time was working in Kabul for a telecom company that sponsored the band.
Although the nationwide ban on music was lifted when the Taliban lost power in 2001, music has still not fully made its way back into the daily lives of Afghans. That's why when Kabul Dreams released an energetic album in 2013 that outlined a vision of hope for the future, it struck a chord with young Afghans.
"What impressed me about the band initially was that they chose to go back home to Afghanistan to play," Kaba says. "All three had been living abroad since a young age, but it was important to them to go back and give young Afghans something to hope for."
When Kaba first listened to Kabul Dreams, the band's mission — to challenge perceptions about Afghanistan and Afghan people — immediately resonated with him. As a Muslim teenager coming of age in Canada after 9/11, Kaba remembers feeling a disconnect between his own experience and how Muslims were portrayed in the media.
"When I discovered Kabul Dreams later in life, I thought, 'Here's this band with a positive message, using their talent and creativity to tell the story about Muslims that no one is telling.' I knew then that I had to do something to help them get their story out."
After the band moved to Oakland, Calif., in 2016 to pursue a career in the U.S., Kaba, who was working at Live Nation in Los Angeles at the time, reached out to them. Much to his surprise, he heard from Sulyman Qardash, the lead singer, the next day and immediately started helping the band with marketing — pulling analytics, drawing consumer insights and building a fanbase of concertgoers in the U.S. The group quickly hired him as the band's manager, and he became responsible for duties like penning contracts as well as long-term planning of Kabul Dreams' promotional and media strategies.
A Curriculum in Music Entrepreneurship
A year into his work with the band, Kaba enrolled in a one-year MBA program at the Kellogg School of Management, where he was able to create a customized curriculum for himself focused on music entrepreneurship.
He signed up to take NUvention: Arts, a course offered through the Farley Center for Entrepreneurship and Innovation, housed in Northwestern's McCormick School of Engineering, that invites students from across the University to think collaboratively about creating successful businesses in creative industries. In addition to his interest in the curriculum, Kaba was also excited to work with the instructor, Gregg Latterman '96 MBA, adjunct lecturer of innovation and entrepreneurship, who founded and sold Aware Records, an indie record label that produced records for major U.S. acts.
"Gregg is a legend in the music industry," Kaba says. "It was really an honor to have had him mentoring me while I managed Kabul Dreams as a student at Northwestern."
Not long into his business education, Kaba realized that as a multifaceted band manager, he would also benefit greatly from some legal knowledge. He was able to enroll in courses at the Pritzker School of Law on entertainment and music law.
"It was hugely helpful to practice things like drafting a contract for a record label, licensing merchandise and protecting intellectual property," Kaba says. "I was able to take all of that knowledge and immediately apply it to my work with Kabul Dreams."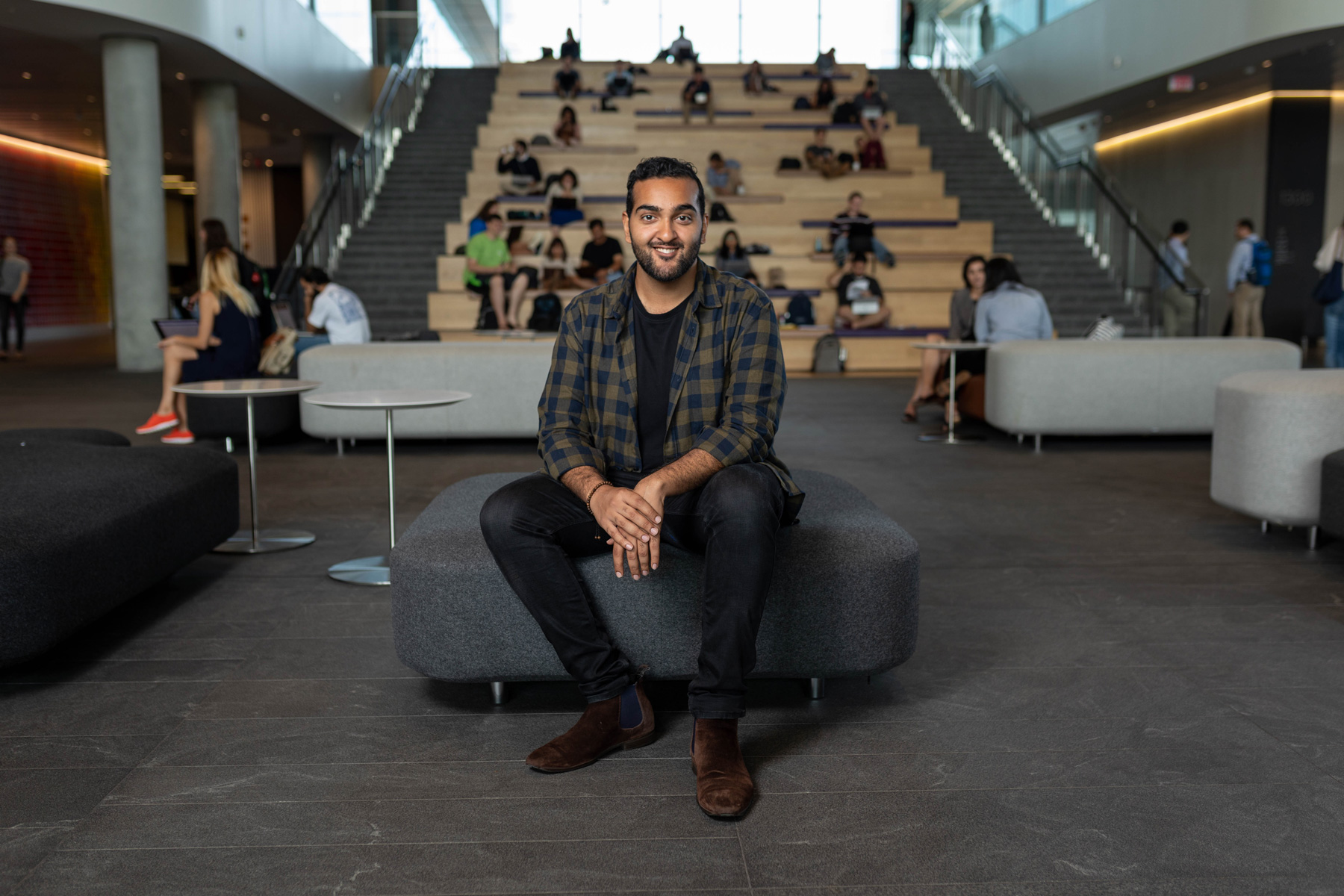 Entrepreneurship for a Cause
In 2017 Kaba was awarded a Youn Impact Scholarship, offered annually through Kellogg to five students and alumni who are passionate about using their business skills to create positive change in the world.
"Social impact is so embedded in the story of Kabul Dreams," he says. "The band exists to challenge popular perceptions of Afghans. When you see a group of Muslim women headbanging in the front row of a Kabul Dreams concert, you realize that Muslim women like to rock out just as much as anyone else."
Named for Andrew Youn '06 MBA, founder of the One Acre Fund, the scholarship provides both a financial award as well as access to a community of current and former scholars.
"There's no other network like the Youn Scholars, in my opinion," says Kaba. "To be able to talk about the triumphs and challenges we share as social entrepreneurs, whether it's scaling a project or measuring impact, to have that sounding board is invaluable."
Kaba just added South by Southwest to the band's tour schedule and plans to spend the next few months booking venues and filling out Kabul Dreams' West Coast tour.
"As an entrepreneur, you become accustomed to not knowing all the answers when you start, and not having an exact precedent to look to," says Kaba, who is a leadership rotational program associate at Activision Blizzard in the Los Angeles area. "But I also think that that's when you know you're onto something. I believe in the band's mission and I want to help them make waves here in the U.S. and around the world. For us, there's no plan to fall anywhere short of that."