Free to Play
Kathryn Hahn rediscovers the relentless curiosity she first fostered at Northwestern. By Clare Milliken
For Kathryn Hahn, Afternoon Delight was a game changer.
In the 2013 film, Hahn '95 played Rachel, a wife and mother who looks to enliven her marriage by arranging a visit to a strip club with her husband. Rachel forms a bond with one of the dancers, whom she invites to become her young son's live-in nanny. The film, which exposes painful, even cringe-worthy realities of modern marriage, was described by reviewers as groundbreaking and "meticulously acted." Hahn's performance was "disarmingly frank," one review noted.
Filmed in just 21 days, the indie hit was intensive and immersive for the cast. A single scene could take all day to shoot, as the actors improvised and fed off of one another's performances. Rehearsals, runthroughs and power naps took place in what Hahn calls a "creative womb," a rented Southern California bungalow where images and quotes from John Cassavetes — the pioneering independent filmmaker who brought an improvisational, actor-first aesthetic to American cinema — covered the walls.
Hahn drove her own car in the film, and she'd find energy bar wrappers and crushed water bottles in the minivan's crevices after filming wrapped — reminders of her "work family."
"I would be driving home so juiced that I just could not wait to get back to work the next day, because I was riding those feelings of discovery," Hahn says of making Afternoon Delight. "It was that feeling that I'd been looking for since college, the same feeling of play that I had when I was at Northwestern."
After Hahn's supporting roles in a series of mid-2000s comedies, Afternoon Delight signaled a shift in her career, leading to edgier, more sensual, more substantial roles and cementing Hahn's place as an awards circuit mainstay and a sought-after star working across genres and mediums.
Her IMDb page reads like a review of the past two decades of pop culture: Spider-Man: Into the SpiderVerse. Free Agents. Bad Moms. Transparent. Parks and Recreation. Hahn's most recent work includes roles in the HBO shows Mrs. Fletcher and I Know This Much Is True, as well as parts in the Disney+ miniseries WandaVision and two Apple TV+ shows: The Shrink Next Door, an upcoming series based on a podcast of the same name, and the animated Central Park.
While under California's stay-at-home order in response to the COVID-19 pandemic, Hahn recorded voice-over for Paige Hunter, her Central Park character, from inside a closet in her house. "I'm so technically not savvy, but the crew was very patient with me and walked me through every step," Hahn says of her work-from-home setup.
Hahn is regarded by her former professors and professional colleagues alike as a dedicated artist and a captivating performer. And it's clear that she's deeply in love with her work, not the trappings of celebrity but the craft of acting: the deep dives into character, the exploration and messiness each role brings, the dedication to her fellow actors — and the creative magic that results.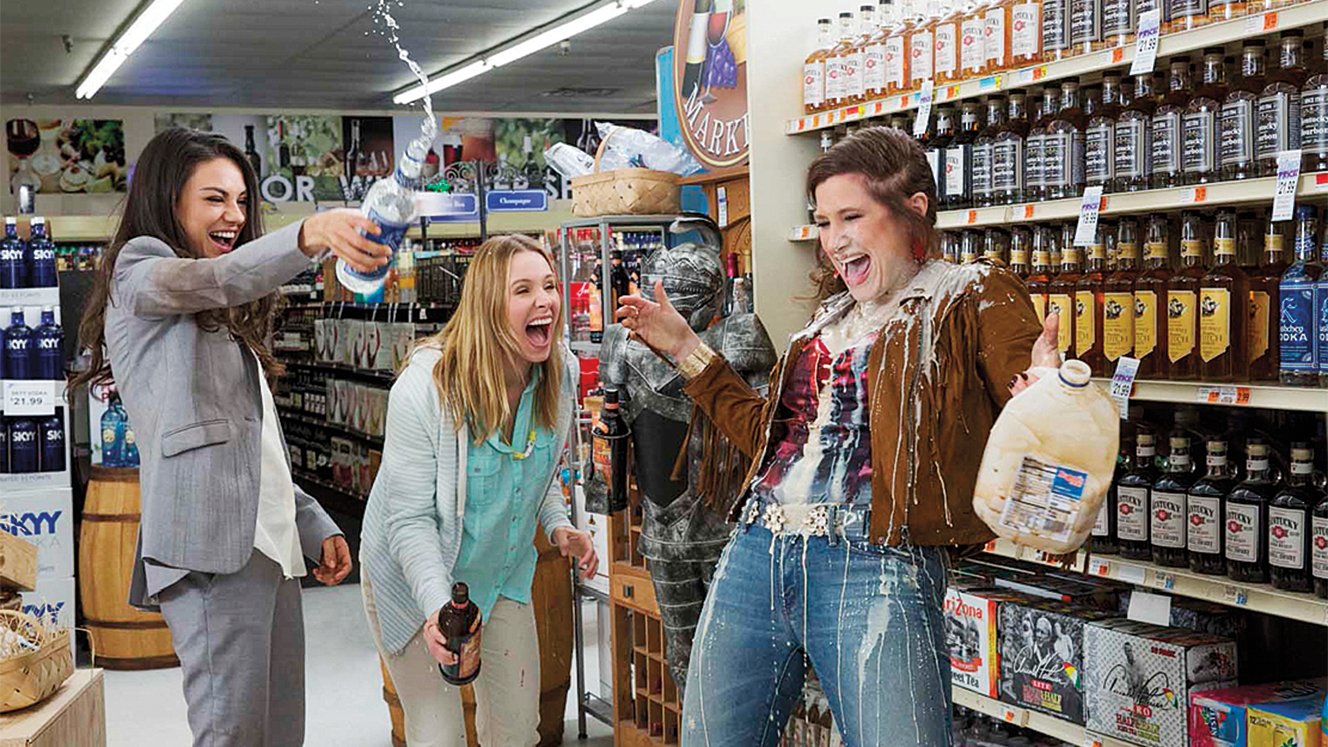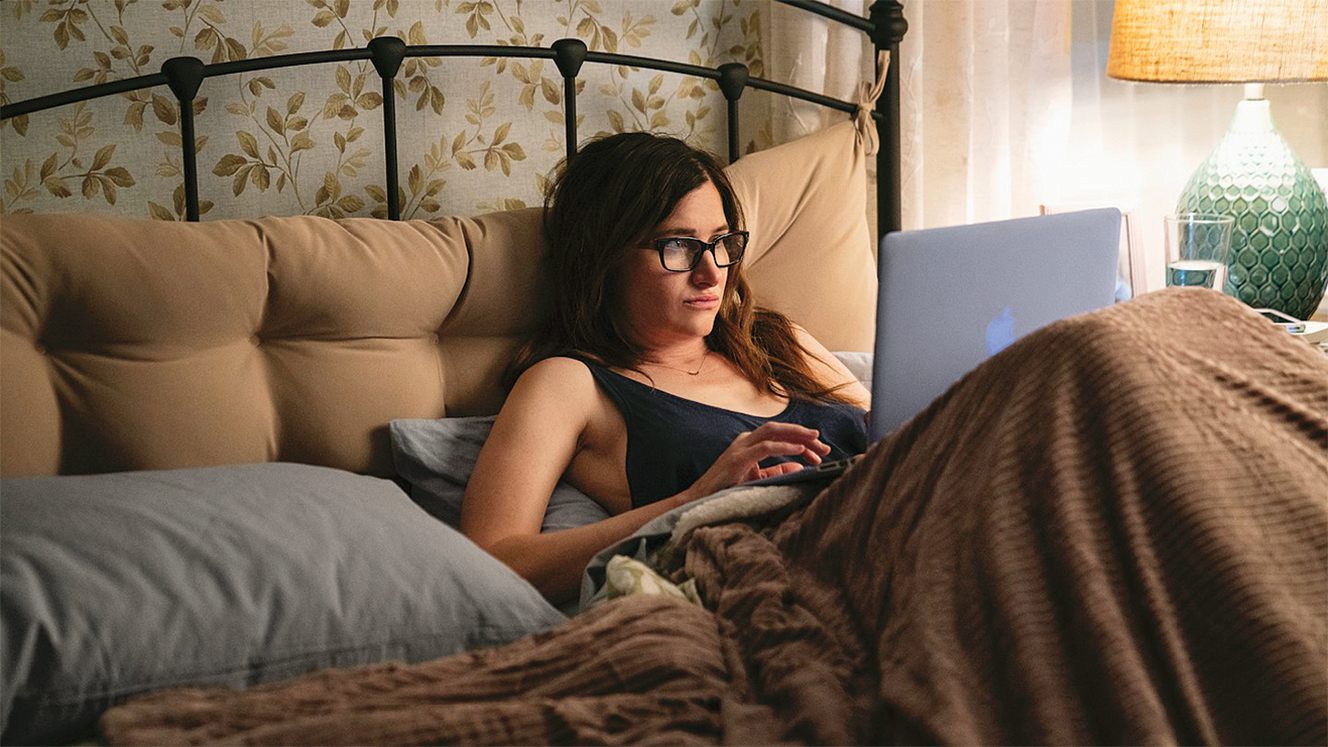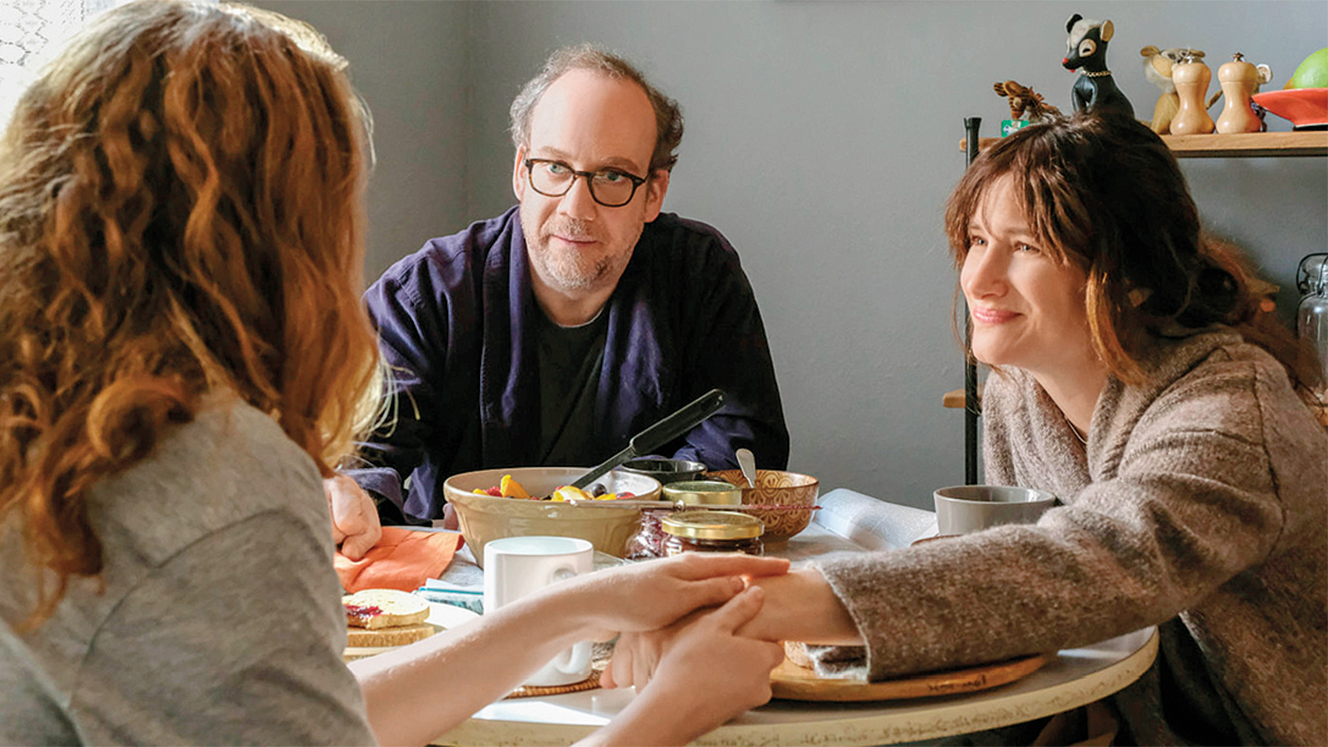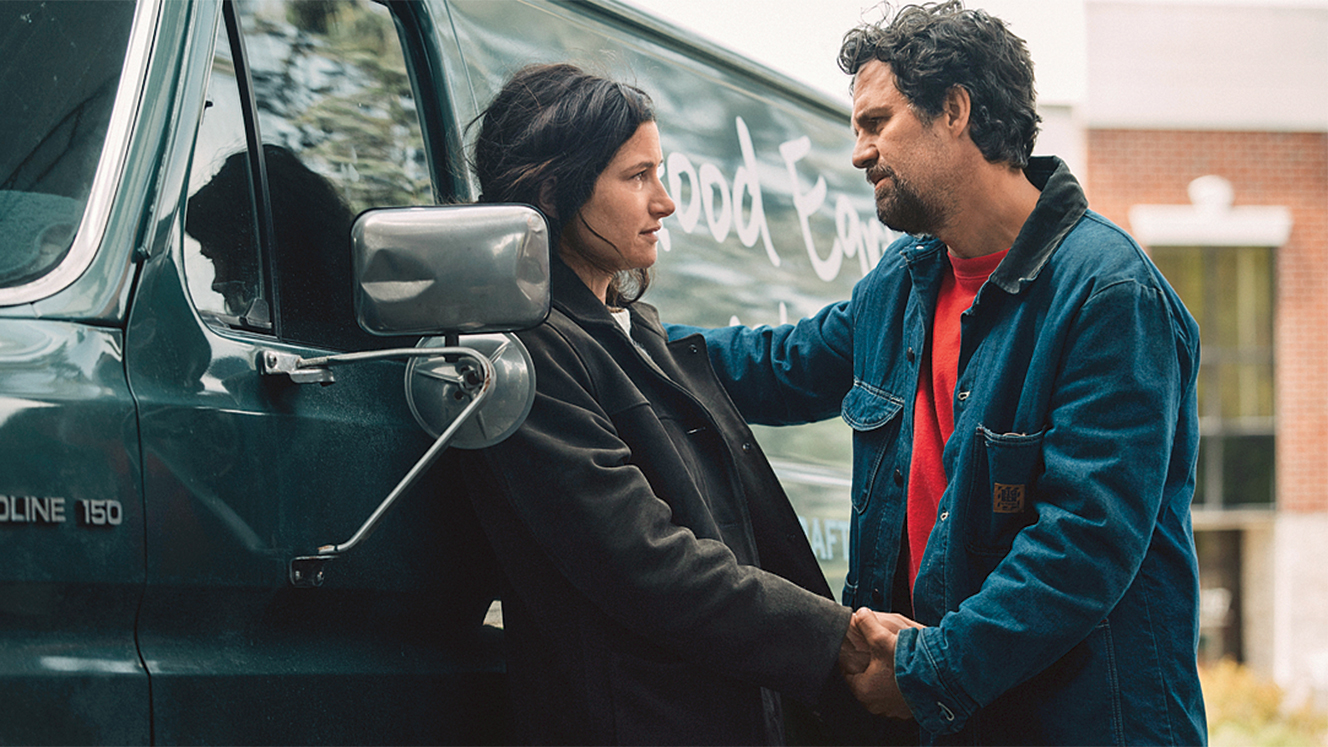 FROM STAGE TO SCREEN
The summer after graduation in 1995, Hahn and her boyfriend, radio/TV/film major Ethan Sandler '95, rented a U-Haul truck and drove east to New York City, eager to immerse themselves in the big-city theater scene.
Their first apartment was a tiny walk-up studio that had only one sink. "You would open the door and hit the shower," Hahn says. "I was always saying to Ethan, 'Dude, when you shave, please rinse the hair before I do the dishes.'"
Hahn and Sandler waited in long lines to audition for "off-off-off-off-off-off-off-off-Broadway shows." They ate "like crap" and slept on a futon. Hahn worked as a receptionist at a salon, and the staff once gave her a hairbrush for Christmas. "I was not a ringing endorsement for a hair salon," she recalls with a chuckle, drawing a circle around her unruly brown hair.
"It was the best time," Hahn says, her eyes sparkling with happy memories. "I loved it. Everything about it. It was pretty heinous, but we were so young that we just didn't know."
Hahn's first big break came in 2001, when she was cast as a grief counselor in the crime drama series Crossing Jordan, which aired for six seasons on NBC. The transition from New York to Los Angeles and from theater to television was not an easy one.
"I did come out to Los Angeles a little bit kicking and screaming," she recalls. "I was so incredibly grateful for the opportunity, but I definitely was still mourning [losing] New York City and the theater opportunities. It took me a while to find the same ownership over my work."
Hahn began getting smaller parts in movies — including the "big-swing comedies" How to Lose a Guy in 10 Days (2003) and Anchorman: The Legend of Ron Burgundy (2004). She also had roles in the drama The Last Mimzy (2007) and the rom-com How Do You Know (2010), among others.
Despite notable successes, "I never could figure out the rules of that space," Hahn says of working on camera. "I just couldn't find the total freedom. On the stage, once that curtain goes up, it belongs to you and your fellow actors, and it's all just about breathing together and the relationship with the audience. And I just never could find that on camera."
Contrary to what some might expect, herself included, Hahn says that becoming a mother opened the door to the creative freedom she craved. "Once I had kids, I just … I just got a huge case of — pardon my French — the 'f--- its,'" Hahn says. "I felt less like I wanted to please everybody and more like I didn't want to waste any time anymore," she continues, relaxing. "I wanted to get back to those feelings I had when I was in college in a dark little studio theater with the people I love and just digging those trenches. I just happened at that moment to meet these incredible creators who were looking for that same feeling."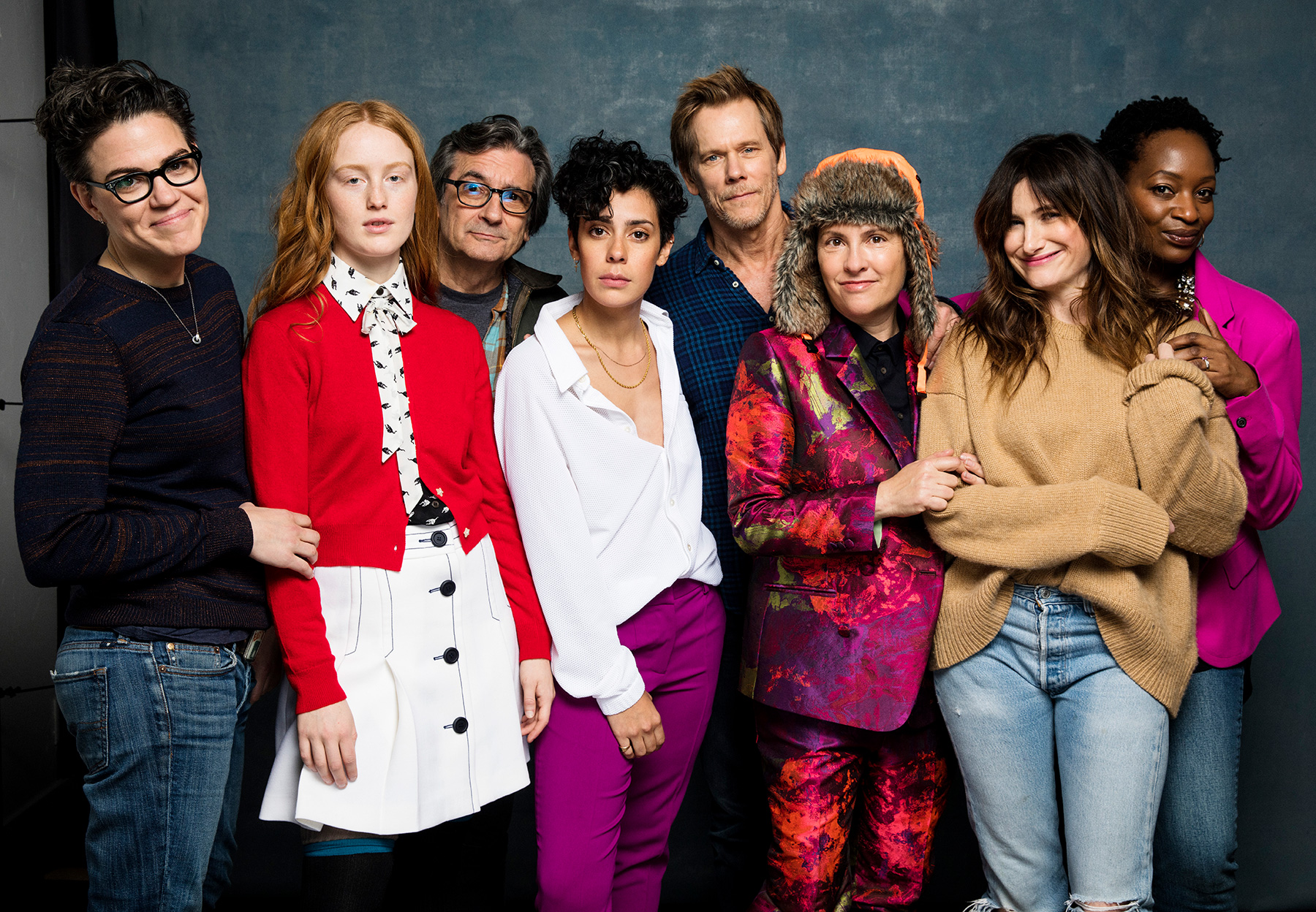 COMING HOME IN HOLLYWOOD
One of those creators was writer-director Joey Soloway, who cast Hahn in Afternoon Delight and with whom Hahn has continued to collaborate. Hahn played Rabbi Raquel in the Soloway-created Amazon Studios series Transparent (2014–19), a role for which Hahn received an Emmy nomination.
Hahn also starred as Chris Kraus in Amazon's I Love Dick (2016–17), a short-lived series created by Soloway and Sarah Gubbins '97, '08 MFA and based on a book of the same name. Hahn plays a woman who becomes infatuated with Dick (played by Kevin Bacon), the head of her writer husband's residency program in Marfa, Texas.
"That role was difficult because of the mind space. It was a very hungry, tense experience, because [Chris] was always unsatisfied," Hahn says.
But as for the show's creators, cast and crew, she says, "What an amazing group of humans!" The feeling is mutual for Gubbins, who hadn't met Hahn before I Love Dick and now says she'd "do anything" with Hahn.
"Kathryn never shies away from the messiness [of a role]," Gubbins says. "She locks in emotionally to a character and then puts it through this Kathryn Hahn funnel. She's able to take a very static scene and just ignite it with so much energy and purpose." While Hahn says she and I Love Dick's creators "definitely have unfinished business," she hasn't exactly been hard up for new roles — and critically acclaimed ones at that. She starred as Carla in the comedy Bad Moms (2016), a smash hit that was followed by A Bad Moms Christmas the next year. In 2018 she co-starred alongside Paul Giamatti in Private Life, whose New York Film Festival premiere Hahn counts as one of her proudest moments. "It all felt so legit," she remembers of the event at New York City's Lincoln Center for the Performing Arts.
Yet Hahn is still eager to return to theater when the time is right. (Her last stage show was Boeing-Boeing on Broadway in 2008.) Gubbins thinks Hahn would be great as the strong-willed and sharp-tongued Masha in Chekhov's Three Sisters. "That would be amazing," Hahn says with a grin that quickly becomes a sly smirk. "It says a lot about my personality."
EAGER TO ACT
Growing up in the 1970s and '80s in Cleveland Heights, Ohio, Hahn always knew she wanted to be an actor. "There was no other choice," she says. "I didn't have stars in my eyes. I just had no other option in my mind." As a child, Hahn performed in local theater productions at the Cleveland Play House. That experience led to her first television role — on Hickory Hideout, a children's program featuring puppet animals living in a treehouse — but she had her sights firmly set on theater. When it came time for Hahn to apply to college, Northwestern was a perfect fit.
"I knew that I wanted a liberal arts education," she says. "It was important to me as an actor to have that foundation."
Hahn quickly found her Northwestern family, which included Sandler, now her husband, and Jeb Brody '95, a lifelong friend who is president of production at Amblin Partners, the film and television production company headed by Steven Spielberg. Brody and Hahn now live down the street from each other in Southern California. Even when they were students, Brody knew Hahn had something special.
"There was something about Kathryn's presence as a performer that was recognizable right away," says Brody. "She had the kind of performer's magnetism that you couldn't miss. You wanted to find out more about her characters — to explore, investigate and understand them."
Hahn, who worked in the campus prop shop and as a manager at downtown Evanston's Unicorn Cafe (which closed in September after 29 years), also met Sandler during her first year on campus. Hahn and Sandler began dating in their sophomore year, and they eloped on their 10-year anniversary. They now have two children, Leonard, 14, and Mae, 11.
"It was like you took two of the most creative and talented minds at Northwestern at the time, put them together and shook them around every day," Brody says of Hahn and Sandler's relationship. "It was astonishing to be near."
Hahn and Sandler performed together in several plays at Northwestern from 1991 to 1995, including David Mamet's two-hander The Woods.
Hahn also performed on campus in Christopher Hampton's Les Liaisons Dangereuses, María Irene Fornés' Fefu and Her Friends, Chekhov's Uncle Vanya and Shakespeare's Hamlet.
Ann Woodworth '75, '79 MA, an associate professor of theater in the School of Communication who co-directed the Hamlet production with senior lecturer Dawn Mora, says Hahn was a dream collaborator.
"Kathryn was willing to try anything, to explore and experiment," says Woodworth of Hahn's turn as Ophelia. "We turned the play that Hamlet requests into a musical, and Kathryn was willing to go along with all of it. I've shown clips of that show since, when I'm trying to get classes to expand their imaginations of what we might do with a production."
"What I remember most about Kathryn at Northwestern was her radiance," recalls professor emeritus Frank Galati '65, '67 MA/MS, '71 PhD, who taught Hahn in several performance studies classes. "Kathryn is unpretentious and self-deprecating. She's beautiful, charming and hilariously funny. She's comfortable in her body and never posing. She doesn't display character; she inhabits character."
When reflecting back on her Northwestern experience, Hahn is nothing short of ebullient. "It was such a rich, rich experience," Hahn says, her enthusiasm at a rolling boil. "I think about that space — the theater building — as holding so much vibrating, creative energy and people just wanting to make. And I still hold on to that feeling — of rehearsing at 2 in the morning, not wanting to coast and just wanting to dig into the heart of it. That's what I definitely have taken away from it — the relentless curiosity."
In 2018 Hahn took the stage at Northwestern's A Starry Night, a celebratory performance that brought together some of the University's most famous alumni in entertainment. The event capped off CommFest, a weekend reunion hosted by the School of Communication. Backstage, Hahn talked to students, fellow stars and others, including Galati, who was thrilled to tell her how much he loved her performance in Transparent.
The afternoon before the show, Hahn and Sandler returned to their old campus haunts.
"Walking through the theater building with my hubby, I had a lump in my throat the whole time," Hahn recalls. "I miss those days so much. I will never take that experience for granted. I know how lucky I was to spend four years at Northwestern."
Clare Milliken is senior writer and producer in the Office of Global Marketing and Communications.