Sound Advice
If you want to break into the music business, Thom Russo would like to bend your ear. By Stephanie Russell and Alex Garcia
Record producer-songwriter-mixer Thom Russo knows talent when he hears it.
Last spring his manager sent him two songs recorded by a 20-year-old student who's attending the Brit School, a free performing arts and technology academy in south London. The school's alumni include Adele, Amy Winehouse, Jessie J and King Krule.
"When she opened her mouth, I thought, 'Oh, my — this is just a God-given talent,'  " says Russo '88. "I've been in this industry for 25 years, and I still hear it. If this isn't a young artist who should be world famous, then I don't know who is."
In the meantime, Russo's manager left him a voicemail that the young woman was coming to Los Angeles, and he wondered if Russo would like to collaborate with her.
"Immediately I was on the phone. I mean it was a Sunday night at 10 p.m., and I was like, 'This woman is unbelievable. Sign me up!'  "
Since then, Russo and the singer have been writing extensively and working remotely via Skype. She's not on a label yet, so he is reluctant to mention her name. "It's very much at the nucleic stage," he says of his interaction with the up-and-coming singer. "This is the time to build up a relationship, because it's the beginning that matters."
Russo knows a lot about building relationships with singers. First as an engineer and mixer and now as a producer and songwriter, he's spent more than two decades in Los Angeles working with major artists such as Prince, Michael Jackson, Audioslave and Jay-Z, Johnny Cash, Eric Clapton, Juanes and Maná. A sought-after sound man, the 16-time Grammy Award winner has a diverse discography that ranges from jazz, pop, rock and R&B to Latin rock, pop and alternative.
What he does for musicians is bring together the technical and the creative into musical production, a role that he compares to being a movie director.
"On occasion, you're dealing with someone who is incredibly gifted but has no idea where they need to go," says Russo. "I'm directing them, pushing them to a place where I think they need to be. Other times I'm working with a band so established, my job is to simply not do anything. I need to have the self-control to know, 'This is great. Don't mess with it. Leave it alone.' Knowing that difference is where the opinion, or taste, part comes in. It truly is all about taste."
***
To make it as a producer in the recording industry, Russo says, there are several must-haves: outstanding technical and musical capabilities, an insanely strong work ethic — and people skills to beat the band.
Russo picked up his technical skills at a small recording studio in Chicago and then as a staff engineer with Larrabee Studios in Los Angeles, where he worked for more than a decade.
The music skills he has in spades: A keyboard player for most of his life, Russo majored in percussion and music theory at the Bienen School of Music, played in several University ensembles and was involved with various extracurricular bands while in school.
As for a strong work ethic, late-night sessions go with the territory in modern music production, and early in his career Russo learned the value of putting in long hours. That's how he happened to be at the right place at the right time — when major artists strolled into the recording studio in the middle of the night, and he was one of the few "studio rats" still awake.
And last but not least, "You've got to have mad people skills," Russo says, "when you're dealing with musicians and singers."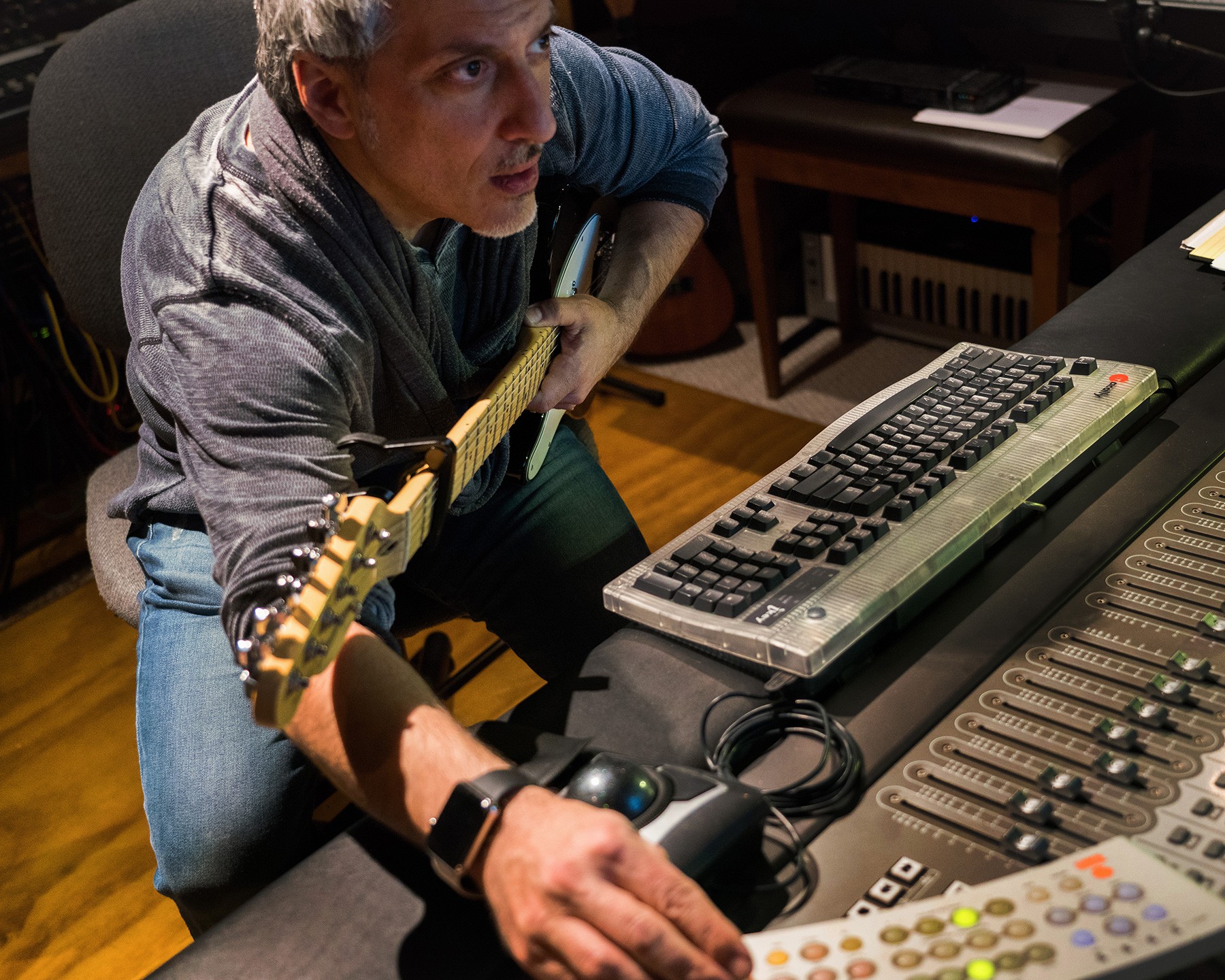 In the Studio with Michael Jackson
Four years after graduating from Northwestern, Russo got a job as a staff engineer at Larrabee and hit the ground running. "Some weeks were 100-hour weeks, because I was the guy they could always call," says Russo. Within three months of landing at the studio, Russo was invited into a project that jump-started his career. He happened to be at Larrabee's North Hollywood studio, where Michael Jackson was working on his album Dangerous in 1991.
"It was bananas that it happened this way — not just right place, right time," he says, "but the fact that I knew my stuff enough when Michael rented out the entire building and that I was proficient enough to be on the production team."
Russo ended up on one of the sessions with Bruce Swedien, a legendary audio engineer and producer who was Quincy Jones' right hand for many years.
"Bruce could tell that I was one of those young, hungry dudes who knew a lot, that he could say, 'OK, I'm going home. You can work till 2 a.m. and finish this.'   "
One night the megastar started talking with Russo and suggested that he join Jackson's team. Although nervous at first, Russo quickly figured out how to interact with him.
"When you're working with artists of that caliber, you have to know how to be around them. That's a street smarts thing, in a way. You're polite and you're quiet and you only offer your opinion when asked. You help out and give them everything they need. But beyond that, Michael was comfortable around me. That's why that worked.
"The stuff I witnessed was just magic — Michael in the back of the control room, working on some dance moves. When you work with a guy for the better part of a year, that's what happens."
What also happened is that the record was up against a tight deadline, and Sony Records was upset that Jackson hadn't finished it. "Michael was still writing lyrics on at least three-quarters of the record," says Russo. So Swedien told Russo to go to another studio with Michael to record all the vocals.
"And that's what I did," Russo recalls.
***
Russo was just 26 years old and now had a credential that would open doors for him. But he says it never would have happened if his technical skills hadn't been second nature. "I knew my way around a recording studio, backward and forward," says Russo. "You have to get your technical chops together in every genre and format," he advises people who want to break into modern music production. "Then you just forget about it. And you do it by rote."
Prince Leads to Alternative Latin
Early in his career, Russo says, he was fortunate to have been taken under the wing of some of the top people in the business, including Keith Cohen, a prominent, in-demand audio engineer/producer who was working with Prince at the time.
"What often happened is that Keith would be doing a million things at once, and I would end up finishing his work for him.
"We never knew when Prince was going to show up. It'd be like 1 o'clock in the morning, and all of a sudden he'd be standing in the back of the control room. He was just like Batman. And I'd be the one sitting at the console. It was crazy."
The work that Russo put in with Prince had an impact on his career, Russo says. Getting a credit on Prince's record Diamonds and Pearls brought Russo attention from other bands and musicians from all over the world who liked his work, including an alternative Latin Argentinian band named Illya Kuryaki and the Valderramas. They had seen Russo's name on the liner notes and reached out by sending him some of their previous albums.
"Talk about cross-genre," Russo says. "That band was hip-hop meets jazz, meets funk, meets R&B. It was so innovative, ahead of its time and some of the coolest music I'd ever heard. It blew my mind."
Russo worked with the band on a record in LA, and then they made a second record, Leche, in Argentina that turned out to have a multi-international hit on it. The record caught the attention of noted Latin record producer Gustavo Santaolalla, who had just signed a young Colombian artist to his label on Universal.
"Wow, your sound is insane," Santaolalla told Russo. "I want you to hear this young artist I just signed, and maybe we can work on [the record] together, although at this stage it's low budget."
The young man was Juanes, a musician who had been in a rock/metal band back home in Colombia called Ekhymosis but who had moved to Los Angeles to break out on his own. He was in his mid-20s and living out of his car at the time, Russo remembers.
"When I heard the demos from Juanes, I told Gustavo, 'I'll even do this for nothing. He's amazing,'  " says Russo. "Juanes wanted to do a solo act, more pop/rock folkloric … but he wanted me to bring a toughness, a rawness to his sound. He knew exactly what he wanted."
Their resulting album, Fíjate Bien, made Juanes an international sensation and won a Latin Grammy for best rock solo vocal album (Russo's first Latin Grammy). The platinum album and several Latin Grammy Awards from subsequent albums springboarded Russo into collaborations with both established and aspiring Latin music talents, including Maná, Aterciopelados, Kinky, Huecco and Jesse & Joy, and ultimately led to 12 more Latin Grammys for Russo.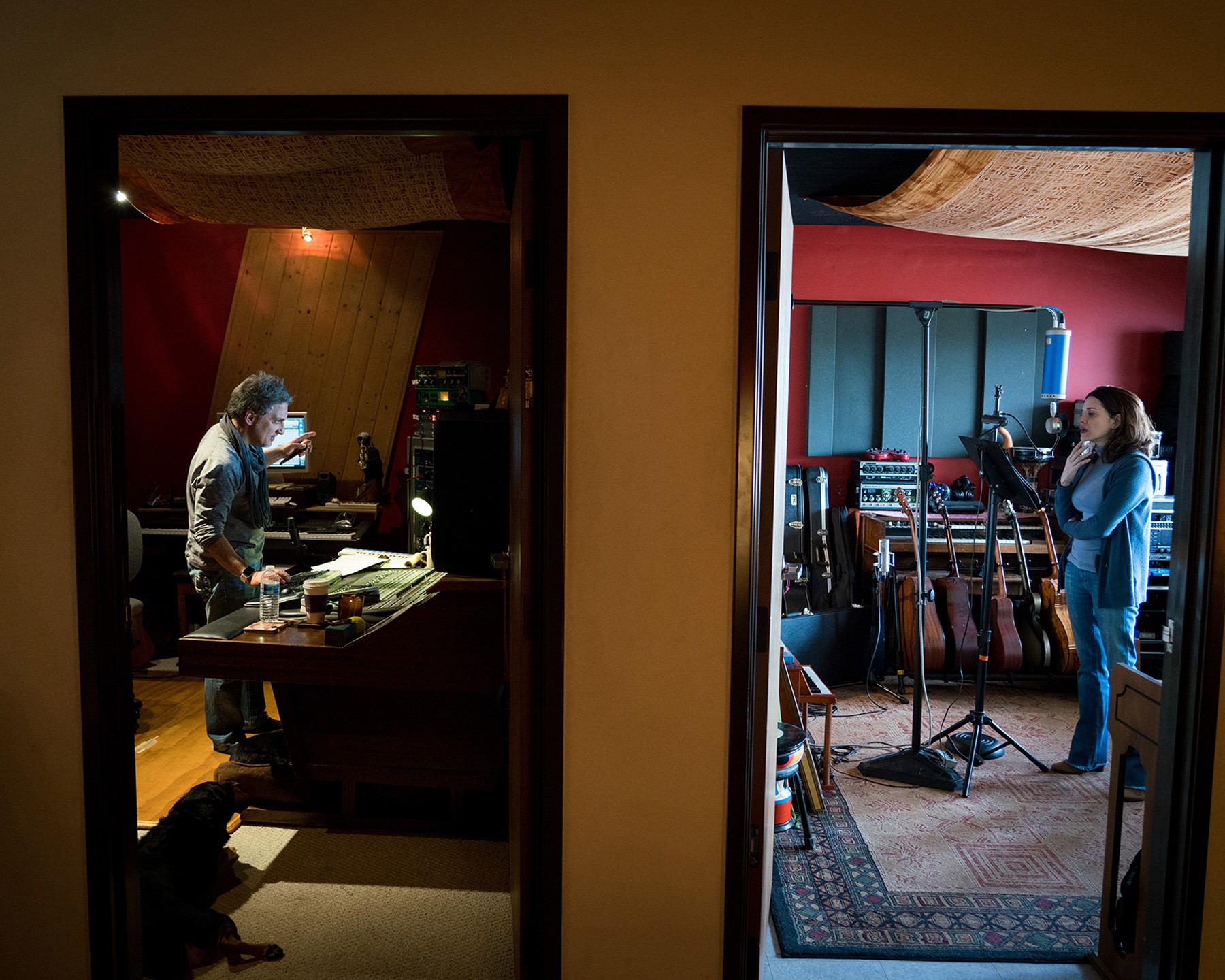 Niteskool Changed His Life
A music major at Northwestern, Russo realized by his junior year that he wasn't going to be a performer. "To be honest, I didn't have that kind of talent," he says. "But I didn't know exactly what I wanted to do in the music business."
It was what Russo did outside his major that helped him figure that out. He wrote music for the Waa-Mu Show, played in several bands (including the house band for the Mee-Ow Show) and hung out with a lot of musicians from many genres. He also got involved with the newly formed Niteskool Project, a student-run record label and music video production company that began in 1983. (See "Course Correction.")
"I started taking a computer music class, computer programming, and then an analog synthesis class, and that started to ignite some things in me," he recalls. "Then I got into Benj Kanters' recording class — and that was exactly when my brain went 'Kaboom!'  "
"I went over to Benj's Evanston studio, Studiomedia Recording Co., on a Niteskool project," Russo recalls. "Walking into that recording studio, it all suddenly made sense. These records that I loved but never really understood how they were made, it all came to me in a way — through Benj's class and working on the Niteskool projects. I was like, 'Oh, my God. This is it. This is what Steely Dan and Pink Floyd and all those bands are about.'
"Niteskool was the springboard for me."
Russo immediately realized he wanted to be in the music production/recording business and lined up an internship at River North Records in Chicago. Before graduation the studio offered him a full-time job. He spent two years honing his technical chops on everything from commercial music and ad jingles to rock, jazz and R&B album projects before deciding he wanted to solely make records. So he headed to Los Angeles "to be in a place where the music industry thrived."
After a brief job search he had offers from two of the most prominent studios in the world — Larrabee Studios and Ocean Way. He ended up working on staff at both but went on to spend most of his time at Larrabee, and he has been working in the recording industry ever since.
Music production has undergone a lot of changes since Russo started his career.
The majority of the big, high-profile studios have all closed, and while many smaller ones remain, most don't keep a large number of production people in-house. About 16 years ago Russo realized that being a house engineer was holding him back, so he became an independent contractor. Most artists seek out the independent producers when they make big records, so musicians come to Russo's studio in North Hollywood.
***
Today Russo produces, co-writes and mixes albums for some of the newest up-and-coming musicians: Los Hollywood, Will and the People, Félix y Gil, Charlotte Lawrence, Luis Gamarra and Barns Courtney.
One of his latest collaborations is with his wife, actress Alanna Ubach. The two are beginning work on an album of songs inspired by the Academy Award–winning movie Coco, in which Ubach played the role of Mamá Imelda. Of Puerto Rican and Mexican descent, Ubach is planning to record traditional songs from Mexico with some of Mexico's biggest artists, liaised through Russo's contacts.
Meanwhile, Russo continues to work with the young singer at the Brit School who shows such promise. Stay tuned!
Stephanie Russell is executive editor of Northwestern Magazine. Alex Garcia '89 is a Chicago-based photographer and photojournalist.