Confidence Udegbue cooked up the idea for a kombucha cocktail long before he arrived at Northwestern. He was moonlighting in San Francisco as a personal trainer at the time and regularly heard his clients say they wanted a healthier way to drink alcohol while staying fit.
On his first day of orientation at the Kellogg School of Management, he met Ashley Sherman, another MBA student, who had a background in alcohol distribution. From there, they brought on Catherine Lamb, who had been brewing her own kombucha for 10 years, and Dennis Wong, who had a background in finance.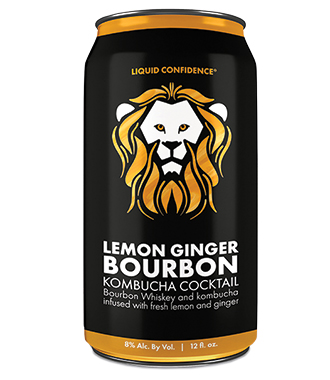 Together they developed Liquid Confidence, a cocktail of bourbon and kombucha (a fermented, fizzy tea chock full of vitamins, electrolytes and probiotics). Sherman says the process of getting started was anything but smooth, recalling the days she and her co-founders spent brewing kombucha out of their own kitchens.
"Right after we launched, we got our first really large order from a wine club for a hundred [liters]," she says. At the time, the team hadn't yet secured a contract packer (or co-packer) to package the beverage. "We didn't want to say no," Sherman explains, "but kombucha has to stay cold."
So the crew got creative: They found a free refrigerator on Facebook Marketplace, borrowed a pickup truck to retrieve it and hauled it up three flights of stairs to one of their apartments.
"We all spent the whole day filling 100 bottles for this delivery," Sherman says. Since then, the team has leveraged resources from both Kellogg and The Garage. "Now we're in cans and we have a co-packer, but it was a journey to get there. And when our product actually got on shelves, that made it all worth it."
Liquid Confidence is available online and in 20 stores in the Chicago area, and the team hosts in-store tastings to get live feedback. "Chicagoans love to support local emerging brands," Sherman says.
And for the question on everyone's minds: Is the drink named after Udegbue himself?
"We did some initial brainstorming and just kept coming back to Liquid Confidence," Sherman says with a laugh. "It's such a fantastic story to tell when people are sampling the product, because he's right there in front of them."