In the early 1940s, Northwestern became the first U.S. university to offer a major and master's degree in (drumroll please) … marimba!
Part of the percussion family, the marimba consists of wooden tone plates that are played with mallets, and it is thought to be an iteration of one of the earliest instruments ever invented. Similar to the xylophone, the marimba is known for its warmer, softer tones and a deeper range of notes.
Renowned percussionist and marimba virtuoso Clair Omar Musser, a hugely influential conductor and composer, began teaching marimba at Northwestern in 1942 and served on faculty for a decade. Under his tutelage, several student marimba groups formed at Northwestern in the 1940s, including the Marimba Coeds (also called the Marimba Madcaps), an all-women orchestra. The group included seven members: Dorothy Carroll '48, Betty Atterberry Chandler '49, Margaret Elliston '48, Jo McWethy Kostuck '50, Jean McWethy Matar '48, Christine Austell Moore '47 and Jean Smith Scott '47. Together they toured the U.S. and Canada and performed at venues such as Carnegie Hall.
A rare video, above, shows the Marimba Coeds performing "Hora Staccato" at Northwestern's Lutkin Hall in 1947. According to archival materials from 1948, it is perhaps the earliest video recording of the group.
"I was just gifted with footage of my mother performing that I'd never seen," Dorothy Carroll's daughter, Rebecca, wrote on Twitter. "This is precious to me to see her play in her younger days. She looks so happy!"
Several members of the Marimba Coeds, including Carroll and Moore, traveled to the Philippines and Japan in 1946 for a six-month USO tour to perform their music for homesick soldiers just after the end of World War II. (See newspaper clipping below from The Daily Northwestern, Nov. 19, 1946.)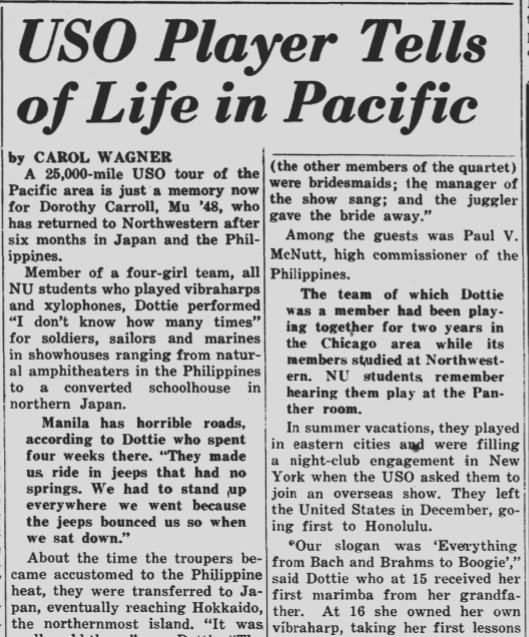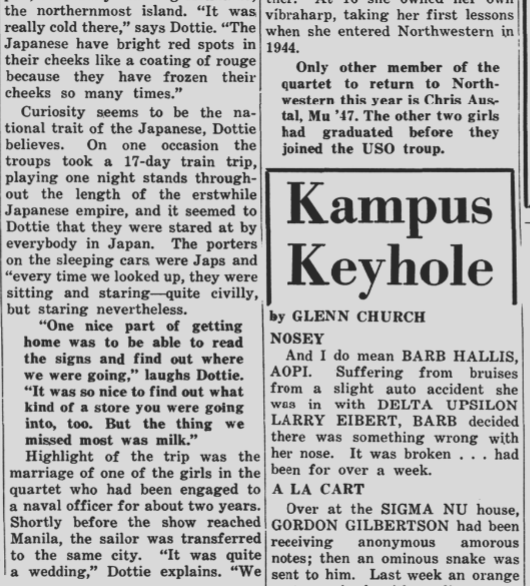 In the 1940s Chicago became a leader in popularizing marimba music in the U.S., thanks in large part to Musser, who was known for organizing enormous orchestras, at times comprising hundreds of marimba players. For example, Musser organized a 100-piece marimba performance at the Chicago World's Fair in 1933–34. He also composed original marimba music, which was near-nonexistent at the time due to the instrument's relative rarity, and he is credited with innovating grip techniques for marimba players, including the "Musser grip," which involves holding two mallets in each hand.