Food in a Crisis
The president of El Paso's only food bank fights food insecurity during the COVID-19 pandemic. By Clare Milliken
The cars start arriving as early as 6 a.m., snaking through the parking lot of an El Paso, Texas, mall that has been closed for more than a month, ever since the mayor issued a stay-at-home order in response to the COVID-19 pandemic. The line of cars stretches for more than a mile, growing by the minute.
Each car is a family in need of food, and the mall's front entrance is just one of five places where Stuart Schwartz '76 and his team at the El Pasoans Fighting Hunger Food Bank (EPFH) are trying to meet that need.
The number of people struggling with food insecurity across El Paso, Hudspeth and Culberson counties — the three counties served by EPFH — has grown from 200,000 to 300,000 as a result of the economic slowdown caused by COVID-19, says Schwartz, who has worked with EPFH for more than five years and became its president in 2019.
"We went from delivering food to our partner pantries and filling and distributing food boxes for seniors from our own warehouse to thus far distributing 200,000 boxes of food (12 tractor trailers per day) to 60,000 families of all sizes from our five mega-distribution centers," Schwartz wrote in an op-ed for the El Paso Times.
Meeting this increased demand is a struggle, especially now that prices for dry goods like rice are prohibitively inflated and frozen and fresh products are hard to come by.
A Committed Citizen
A fourth-generation El Pasoan, Schwartz has always been an active member of his local community. "Our family has been involved in charitable and civic activities for as long as I can remember," he says.
Schwartz, who studied political science at Northwestern and went on to a career as an attorney, is the past president of the Jewish Federation of El Paso and former chairman of the city's ethics review commission. He served as county commissioner of El Paso and was recently named president-elect of his synagogue.
It's clear that food insecurity is a cause that keeps him up at night.
"We've got to get food to those who are very anxious about where their next meal is coming from and who have to decide whether to put food on their table or pay the rent or utilities," Schwartz says. "Those are real-life decisions that many of our neighbors need to make on a daily basis."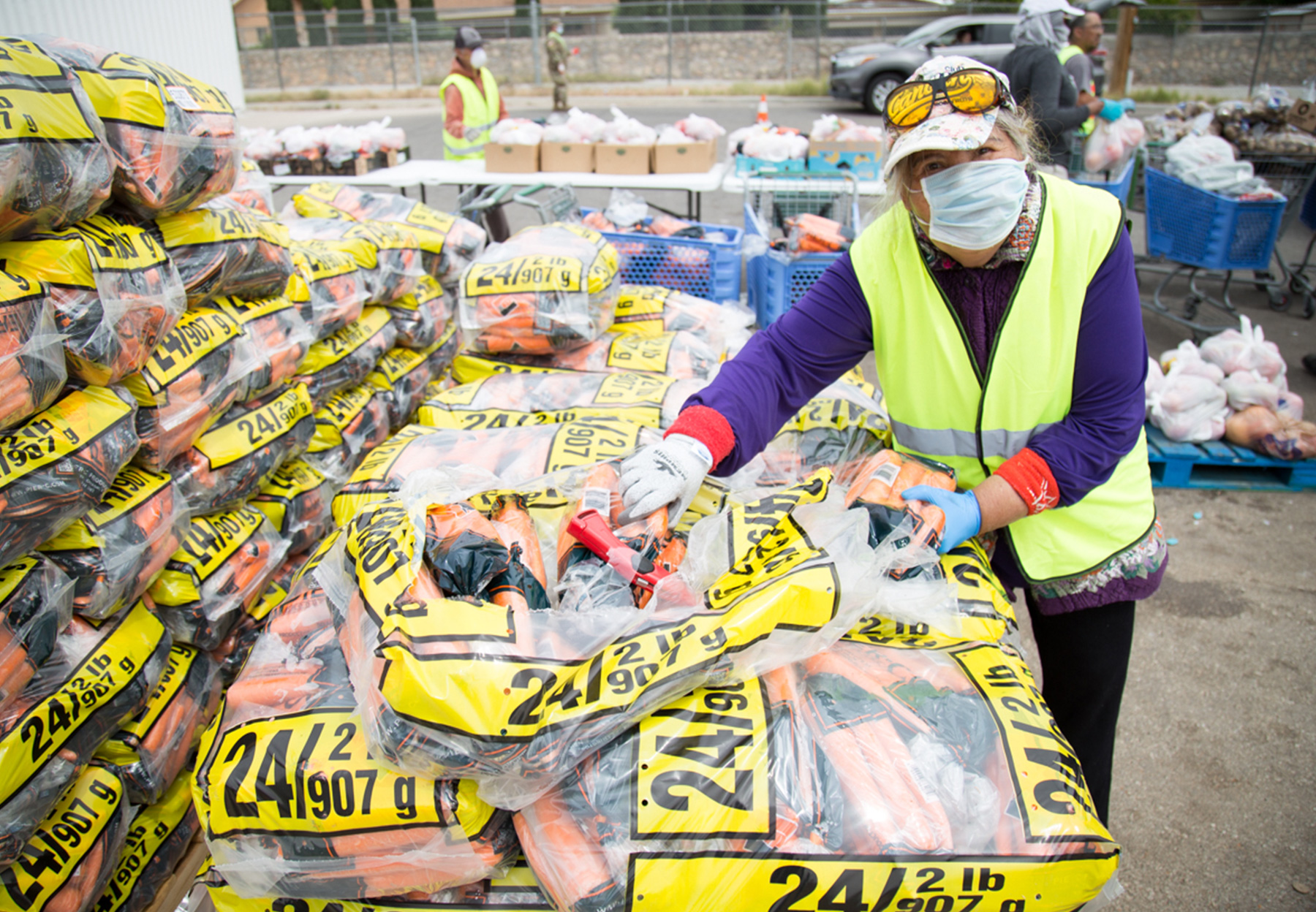 Feeding El Paso's Families
Getting food to all families who need it is a challenge in its own right, but the COVID-19 crisis has created many new hurdles for Schwartz and his team.
"Just two months ago, we were busy supplying food to our partners in 130 food pantries, soup kitchens and shelters, feeding children in 182 schools as part of the USDA National School Breakfast and Lunch Program, delivering boxes of food to 3,100 seniors through the Community Supplemental Food Program, deploying 235 mobile pantries to reach isolated residents who are food insecure, and providing comfort to the many families directly affected by the Aug. 3, 2019 [mass shooting]," Schwartz wrote in the El Paso Times.
But the food bank's distribution channels — senior centers, schools and church-affiliated food pantries — have been shut down by the pandemic, and as a result, EPFH has established five mega-distribution centers where residents in need can receive about a week's worth of food at a time.
Staffing is another issue, as many of the food bank's volunteers historically had been older individuals who are now staying home for their own safety. Luckily, Texas Gov. Greg Abbott has deployed more than 100 National Guard members to help distribute food for EPFH, and Lyft has committed to deliver food for five weeks to seniors in their homes. Furthermore, the El Paso Community Foundation has partnered with Get Shift Done to pay displaced restaurant workers $10 an hour to help with EPFH distribution.
"They're all doing a phenomenal job, and many are working 12- to 15-hour days," Schwartz says. "Unfortunately, we're still short on volunteers."
Funding to Help More People
Recent financial contributions are a tremendous boon to EPFH, where every dollar is equal to seven meals. An anonymous benefactor donated $300,000, and the El Paso Independent School District launched a fundraising campaign for the food bank. Three local foundations pledged to match all donations made to EPFH, up to $1 million. While Schwartz estimates the food bank will need up to $10 million to respond during the pandemic, he's hopeful.
"The entire community is coming together to support the food bank," he says. "People are realizing the need and making a real effort to bring the resources necessary to get the job done."