One of the first "backpack journalists," Kevin Sites '89 MS covered conflicts and disasters across the globe, including a yearlong endeavor to cover every conflict region in the world. Those experiences informed his debut novel, The Ocean Above Me, about an emotionally traumatized war correspondent who finds himself fighting for his own life — and confronting his past mistakes — during a harrowing shipwreck.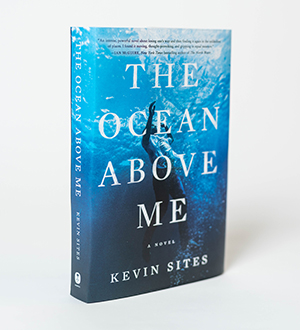 Sites' fourth book, The Ocean Above Me follows journalist Lukas Landon's struggle for survival after The Philomena, the shrimp boat that he's reporting on for a small paper in South Carolina, goes down in a storm. Alone in darkness at the bottom of the Atlantic Ocean, Landon finds a pocket of air within the shipwreck and leans on the survival skills he learned while covering conflicts.
"I'm always aware of the stories that are happening underwater," says Sites, a Professional Association of Diving Instructors–certified scuba dive master who has worked in Bonaire and Indonesia. "We were all captivated by the story of the Wild Boars football team in Thailand, when they were trapped in that cave in July 2018. What were they thinking while they were trapped in that cavern for more than two weeks waiting for rescue? And 10 years ago, a tugboat capsized and sank in the Atlantic. The Nigerian cook, Harrison Okene, found a bubble of air and lived there in total darkness for three days before being rescued.
"That sparked my imagination, and I thought, 'What if someone were trapped at the bottom of the sea with a secret so disturbing that if they never confessed it, their life would feel like a betrayal?' That became the starting point, the embryo of the story."
Sites says the new book draws on his time as a war reporter but it is not autobiographical. "He's not me," Sites says of Landon. "Not by a long shot. While we both bumped up against major ethical dilemmas in our reporting careers, his life, his narrative has a much darker and more unforgiving arc."
Sites' three previous books focus on his foreign reporting in conflict regions. But his first novel was particularly challenging to write.
"There was blood on the screen by the time it was over," he says, laughing. "This has been one of the hardest things I've ever done, and I think I've done some fairly challenging things."
Sites says literature has the power to do what news reporting often can't in an age of polarization.
"Obviously, journalism has been the dominant force in my career," says Sites, who also served for about a decade as an associate professor of practice in journalism at the University of Hong Kong's Journalism and Media Studies Centre. "But in the almost 40 years that I've been doing this, I started to realize the limitations of it. … I want to keep reaching people with the issues that are important to us today, but at the same time, I'd like to reach a larger audience that doesn't come with preconceived notions. Literature began to present itself as the way to do that, to reach people at a level where they're entertained but they may learn something as well."
The Ocean Above Me is, unintentionally, a thrilling adventure story, Sites says, but it has a message: "It's about understanding the truth. It's about understanding that journalistic principles should not be betrayed. It's about collateral damage. And one of the greatest underlying themes is that, yes, we all suffer, but we all can be redeemed."
Sites returned stateside in 2022 and now lives with his wife and daughter in the Pacific Northwest, where he is working on his next novel, the second book in a series about journalists. Tentatively titled Freedom's Deep, the new novel is about a modern-day foreign correspondent who returns to work at his hometown newspaper in Ohio and starts settling scores with community members in a column called "Better Forgotten." While writing his column, he uncovers a Civil War–era murder mystery on the Underground Railroad.
"It's about telling the truth," Sites says, "and the cost of doing that when it actually hurts people."