During his junior year, music major Thom Russo took a recording class with adjunct professor Benj Kanters '76, '02 MMus that changed the direction of his life. After he visited Kanters' Evanston recording studio on a Niteskool project and saw how music is made, Russo shelved his thoughts for a performance career and headed off to a future as a sound engineer in the recording industry.
Kanters, who has spent 40 years in academia and in the audio and music industries, taught a slew of Northwestern students about the world of sound engineering through two popular audio courses (he started teaching at Northwestern in spring 1979, when Ira Glass was one of his first students). One of the required texts for his course on the aesthetics of music recording was the book All You Need Is Ears (1979), co-authored by George Martin, the British record producer known as the "fifth Beatle" for his extensive work with the Fab Four.
"I would say, ears are half of it, and a head for science is the other half," says Kanters, now an associate professor and director of the audio design and production major at Columbia College Chicago. "To be an audio engineer requires this kind of balance of understanding — that this is art, technology, science and physics.
"The key to being facile as an audio engineer is to be comfortable with the science so that you're free to do the art," says Kanters, "so that you can get creative and think, 'Well, the musician has asked me to do something. Now how am I going to get there?'"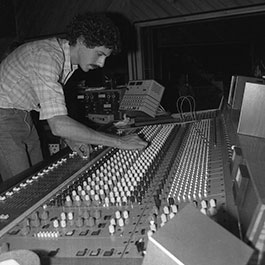 Kanters was a partner and house engineer at the Amazingrace coffeehouse concert-club in the 1970s (see "Amazingrace," fall 2011), then a partner and chief managing engineer at Studiomedia Recording Company in Evanston in the 1980s, when he was also a part-time adjunct professor at Northwestern. He joined the faculty at Columbia College Chicago in 1993 as a part of its then-new sound department.
Kanters returned to Northwestern to earn a graduate degree in music technology and in 2000 took a course — on hearing physiology — that had a huge impact on his future.
"It was the most exciting course of my college career," says Kanters of the class taught by professor Jon Siegel. "It turned my head around and showed me a whole new direction for my work as a professor of sound engineering. Studying and lecturing about hearing in the context of the audio and music industry has been essentially the focus of my energies for the past 18 years."
Eleven years ago Kanters founded the Hearing Conservation Workshop and now, along with his teaching at Columbia, tours the United States, giving presentations on hearing loss and conservation to future sound and music professionals at colleges and universities and conferences.
Kanters' work in the hearing world has also brought him back to the University, where he sits on the advisory board of Northwestern's Knowles Hearing Center and the Hugh Knowles Leadership fund.