Making a Positive Impact
The 2023 Northwestern Alumni Medal recipients are leaders in philanthropy, business and health care. By Daniel P. Smith
Transforming Global Learning 
Roberta Buffett Elliott '54
Roberta "Bertie" Buffett Elliott calls her Northwestern undergraduate experience "life-changing."
The Omaha, Neb., native credits the University's broad liberal arts education with exercising her mind in invigorating new ways. A history major who was drawn to Northwestern's sophistication and Midwestern locale, Elliott recalls courses in psychology, sociology and anthropology that enlightened her, stretching her understanding of people and society. She remembers famed English professor Bergen Evans proclaiming, "Love doesn't always turn out to be a good thing" — a startling comment that ignited Elliott's critical thinking. And she discovered an interconnectedness between seemingly disparate subject areas that stimulated deeper knowledge and perspective.
"Northwestern was the university I chose, and I'm always glad about that because it expanded my world in a way that nothing else would have," says Elliott, the daughter of former U.S. Rep. Howard Buffett and younger sister of business magnate Warren Buffett.
Elliott's Northwestern experience laid the foundation for her wide-ranging civic and philanthropic interests in the arts, science, education, health and more — from spearheading the creation of a youth mental health center at the Community Hospital of the Monterey Peninsula in Monterey, Calif., to driving the growth of the Carmel Bach Festival into a world-class, 15-day music celebration in Carmel, Calif.
"My life opened up intellectually so much at Northwestern," says Elliott. She counts four grandchildren as fellow alumni, and two grandchildren are current students.
Over the last two decades, Elliott has provided similar mind-opening opportunities for others at Northwestern, where her longtime support of international programs has transformed global learning and research. After serving as co-chair of her 50th reunion class gift committee in 2004, Elliott made a gift to bring internationally recognized professors to teach and study at Northwestern in the fields of international and comparative studies. In 2005 that nascent effort expanded into the creation of the Roberta Buffett Center for International and Comparative Studies, which supported research, speakers, seminars and travel awards.
"International studies was an important piece for Northwestern to have because the world had changed a lot since I was in college in the 1950s," Elliott says.
In 2015 Elliott amplified this work through a visionary $101 million gift to Northwestern that created the Roberta Buffett Institute for Global Affairs.
Founded on the idea that critical challenges such as climate change, human rights violations and antibiotic resistance cannot be solved from a singular disciplinary or geographic perspective, the Buffett Institute bolsters opportunities for interdisciplinary dialogue, transnational research, cultural exchange and global education. Elliott's support has created 20 scholarships for international students at Northwestern through the Buffett Matching Challenge for International Student Scholarships.
Much as Northwestern opened her eyes to a broader world and inspired unexpected connections, Elliott hopes her philanthropy uplifts the lives of others.
"I would hope the effect my philanthropy might have on the world is that people learn a different way of thinking about our biggest problems ... [and] that we continue to survive and prosper as the human race," Elliott says.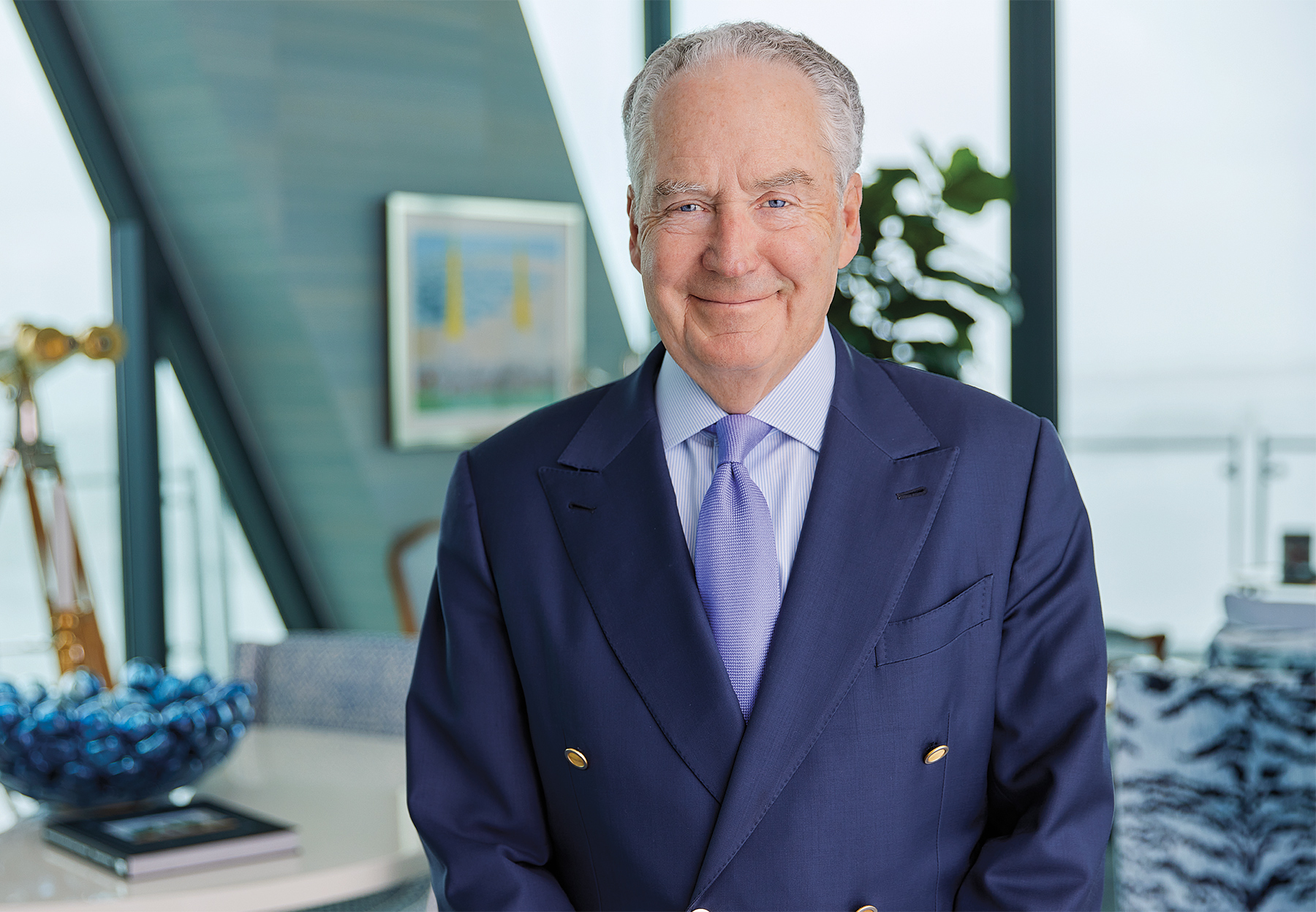 Supporting Innovation 
Chris Galvin '73, '77 MBA
Innovation and entrepreneurship are in Chris Galvin's DNA.
His grandfather Paul Galvin founded Motorola in 1928, just before the Great Depression. From the 1950s through the '90s, Chris' father, Robert, steered the Chicago-based company's growth into a global telecommunications powerhouse, introducing innovations such as car radios, the cable modem and the first commercial handheld cellphone.
"The underpinning strategy for Motorola when the Galvins ran it for 75 years was to not just create products but actually invent new industries," says Chris Galvin, a Chicago-area native who spent nearly four decades at the company and served as its CEO from 1997 to early 2004.
Galvin's own enterprising business pursuits have extended far beyond Motorola with other "high-risk, high-tech" investments, he says. He chaired boards at Navteq, a groundbreaking provider of digital mapping databases, and Cleversafe, a digital storage company later acquired by IBM for more than $1.3 billion. In 2005 he co-founded Gore Creek Asset Management and Harrison Street Real Estate Capital, a private equity firm.
At every professional turn, Galvin embraced his alma mater's culture as motivation. "Northwestern's emphasis on collegiality and sharing ideas ... was always an inspiration," he says.
Galvin brought his industrious spirit to Northwestern's Board of Trustees as a young alumni trustee from 1980 to 1982 and was re-elected to the board in 1988.
Galvin served as a member and co-chair of the steering committee for We Will. The Campaign for Northwestern. The effort raised $6.1 billion to strengthen the University's trajectory, funding scholarships and fellowships to attract promising students, endowing professorships to attract top faculty, and supporting the creation of new physical spaces to expand the research enterprise and enhance the student experience.
The Galvin family contributed more than $18 million through the "We Will" Campaign, including a $10 million gift to the Kellogg School of Management, on whose Global Advisory Board Galvin has served since 2013. In recognition of his family's generosity, an area in Kellogg's state-of-the-art Global Hub was named the Galvin Family Design Wing and Conference Center. The space features design studios and creative space for students to develop, test and launch new businesses.
To further address increasing student interest in entrepreneurship, Galvin also contributed to NUseeds, a $4 million venture capital fund to help launch student-founded ventures. He also guided fundraising efforts for The Garage, Northwestern's innovation and entrepreneurship lab for students, which has fueled more than 1,000 startups and projects since 2015.
"If you can't offer students the opportunity to create a business, to innovate, to create intellectual property, they won't come to your school," says Galvin. "If we want the University to survive and prosper, it has to engage in continuous renewal, adapting to different technologies and new teaching methodologies, and making sure it provides a modern, innovative educational experience."
After all that Galvin has helped Northwestern build, he's most excited for what comes next. "I'm hoping there are lots of surprises to come that take advantage of the creativity and the environment at Northwestern," he says.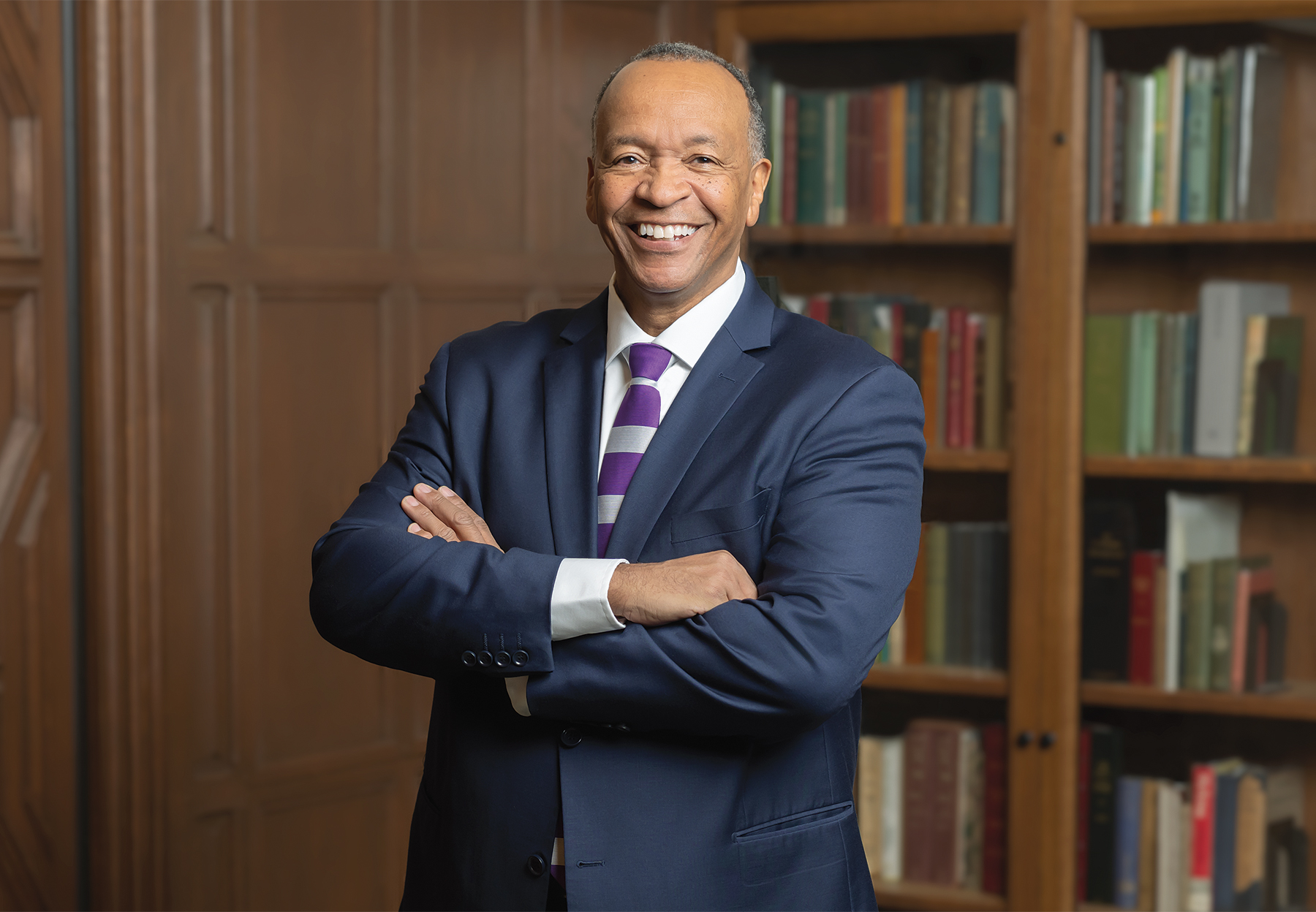 Promoting Health Equity  
Charles S. Modlin Jr. '83, '87 MD
When Charles Modlin graduated from Northwestern's Feinberg School of Medicine, his father issued a stern edict. "He told me explicitly, 'It's your responsibility now to use this medical education ... to benefit society,'" Modlin says.
An accomplished clinical urologist and kidney transplant surgeon, Modlin embraced his father's directive and has emerged as a national leader in efforts to reduce health disparities in men and communities of color.
Modlin, who grew up in New Castle, Ind., first learned about health care disparities in the mid-1990s after completing his kidney transplant fellowship at the Cleveland Clinic. Black men, he discovered, had the lowest life expectancy of any demographic. A range of social determinants of health, such as poverty and access to health care, spurred higher rates of various cancers and chronic conditions, including diabetes and hypertension, in Black men.
Modlin wished to build trust in a system that many men of color often approached with skepticism.
In 2003 he launched the Minority Men's Health Fair at the Cleveland Clinic, a free event that provided education, examinations and preventive health screenings that saved many men's lives by detecting prostate and bladder cancer, kidney disease, congestive heart failure and other conditions.
The first event drew just 35 men, but attendance swelled in subsequent years. More than 16,000 men have attended the event since its inception. Modlin also opened the Cleveland Clinic's Minority Men's Health Center in 2004 — and, later, several other health equity centers — to create an accessible, welcoming health care environment for people of color.
After a 27-year tenure at the Cleveland Clinic, Modlin joined MetroHealth, a large northeastern Ohio health system, in 2021. As vice president and chief health equity officer, Modlin steers the system's health equity activities, which include diversifying staff and developing health equity centers across medical subspecialties. In 2022 he introduced a new health fair for men of color.
"This is something I was put on this Earth to do: to be a leader in eliminating health care disparities," says Modlin, who remains a practicing physician.
It's a calling inspired by his father's charge but also by the responsibilities he feels as a double Northwestern alum. "Northwestern has continued to push me to excel above and beyond, to be innovative and creative in how I can best serve the community," says Modlin, who majored in chemistry as an undergraduate before enrolling in medical school.
The inaugural recipient of Feinberg's Distinguished Humanitarianism in Medicine Award in 2009, Modlin initiated the Class of 1987 Feinberg School of Medicine endowed scholarship campaign to provide tuition support for Northwestern medical students. He also served on Feinberg's alumni board for three terms and has returned to campus numerous times to share his story with undergraduates and medical students.
Dedicated to mentoring and guiding future generations, Modlin also wrote It Isn't Difficult to Do It If You Know How to Do It, which offers career advice for high school and college students.
"Northwestern opened my thinking tremendously and made me realize I can make a huge difference not only in the lives of people in my local community but globally as well," Modlin says.
Daniel P. Smith is a Chicago-based freelance writer.
The recipients of the 2023 Northwestern Alumni Medal will share how the University shaped their lives and careers at the President's Alumni Panel: My Northwestern Direction on Oct. 6. Learn more.