The Morty Years
As Northwestern's president, Morty Schapiro transformed the campuses and created lasting change. By Alan K. Cubbage
The Jewish faith encourages followers to strive to improve the world through their actions. For President Morton Schapiro, that principle has guided his four-decade career in higher education, including the past 13 years at the helm of Northwestern.
"My faith has always been the foundation for my personal and professional life," Schapiro says. "And one of the principles from my Jewish tradition that I most cherish is tikkun olam [Hebrew for "repair the world"], which implores me to never stop reflecting, listening, learning and trying. I may not succeed at times, but the goals are constant."
Working toward those goals exemplifies Schapiro's tenure as Northwestern's 16th president. When he steps down this summer, he leaves a university that has been transformed. During his tenure, research activity soared, the number of students who are the first in their families to attend college increased dramatically, the University's fundraising reached record levels, Northwestern expanded its global footprint, and new buildings changed the face of the University's campuses.
The University also faced financial challenges and several controversies, as well as an unprecedented pandemic. But, thanks to Schapiro's leadership, Northwestern now stands as an internationally recognized research powerhouse that attracts top students and faculty from all over the world. (Check out a timeline of Schapiro's presidency.)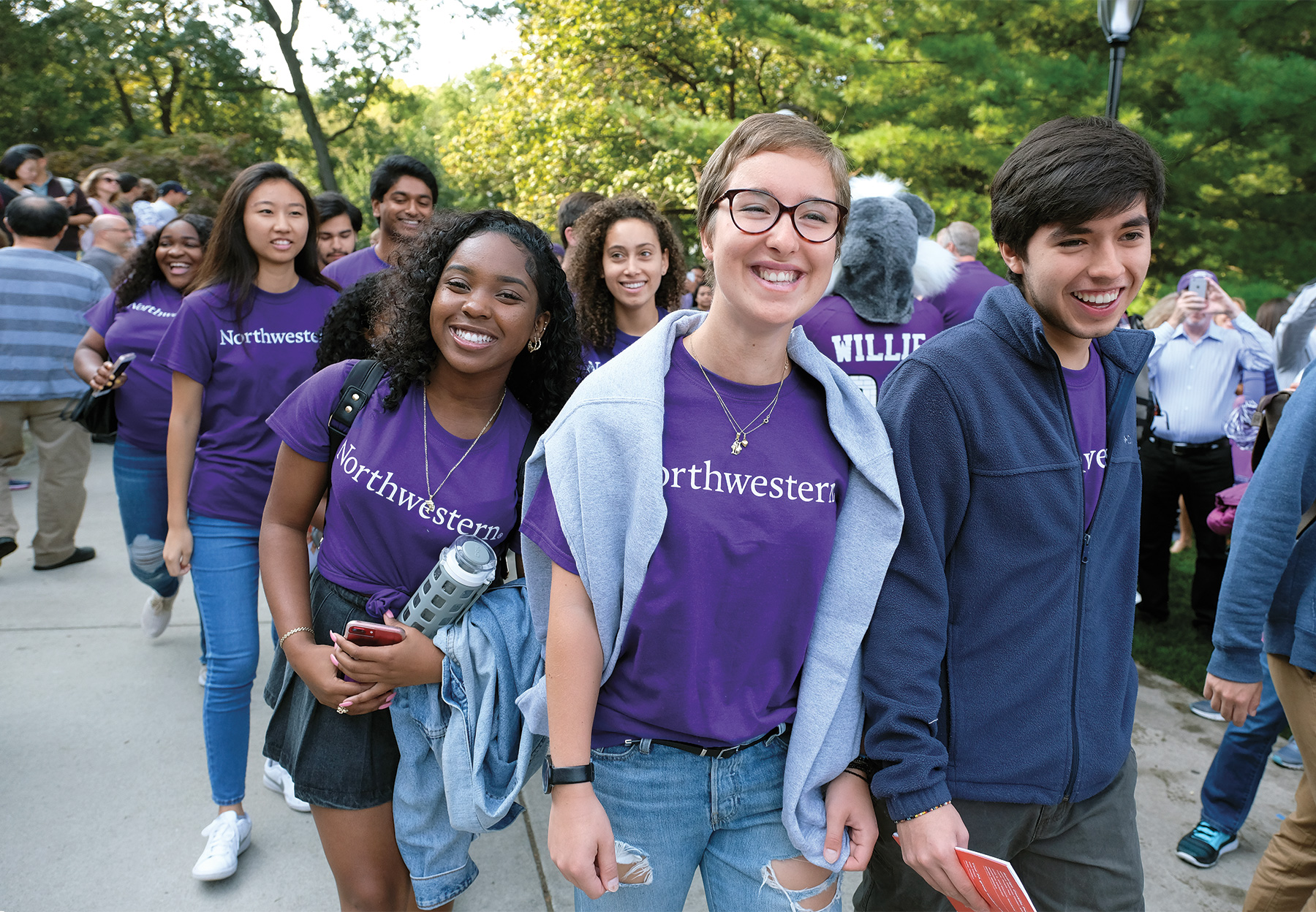 A FIRST-NAME PRESIDENT
As soon as he arrived at Northwestern in 2009 from his post as president of Williams College, Schapiro began engaging with students on their own turf, from fireside conversations in residence halls to meals at fraternity and sorority houses.
"Morty is an undergraduate student president," says Julie Payne-Kirchmeier, vice president for student affairs (and soon-to-be vice president for student success for the Indiana University system). "He wants to be with the students in their environments. When they have access to a president in a casual setting, it helps students feel heard."
Schapiro's self-deprecating humor and quick wit instantly made him a popular and approachable figure. He and his wife, Mimi, opened their Evanston home to students, inviting them over for dinners with faculty and distinguished guests. Over the course of his tenure, he estimates that as many as 10,000 students dined with them at their home.
Nolan Robinson '21 had dinner with the Schapiros and guests at least 10 times as a student, and several times he was invited to deliver the "dessert speech," including during a visit by U.S. Rep. Adam Schiff in October 2019.
"When he introduced me that night, Morty said, 'Nolan is a filmmaker, an actor, a singer, a dancer — and he really has become part of the family.' That touched my heart," says Robinson, who has an album of selfies from the many times he has bumped into the president on campus.
During his sophomore year, Robinson created Where's Noah?, a web series about the life of a Black student at a predominantly white university. When Robinson didn't have a place to host the premiere, Schapiro came to the rescue, offering Hardin Hall.
"I thought he wasn't going to make the premiere," says Robinson, "but as it was starting, he walked in. I'm like, 'Oh, my goodness, you made it!' He said, 'Of course! I wasn't gonna miss this.' He and his wife were always rooting for me."
Supporting students and creating a sense of community was key for Schapiro, who helped launch important student traditions such as the March Through the Arch, a rousing welcome for new students.
"In 2011 I was at an event where students were asked about their most meaningful moment at Northwestern," says Schapiro, "and one student talked about walking through the Arch and how great it was to participate in this long-standing tradition."
Schapiro smiles at the memory. "I didn't have the heart to say that was only the second time we had done it. But it's become an important symbolic event now."
That event and others have helped to create a more unified Northwestern identity. And Schapiro, who has a notoriously vast collection of purple in his wardrobe, leads by example when it comes to wearing his pride.
"I was surprised when I got here to see people wearing sweatshirts from other universities. That really bothered me," admits Schapiro, who told the Wall Street Journal that he has around 90 purple ties, 50 purple sweaters and 100 purple shirts. "So we gave out a lot of swag to students, and now you see people having pride in Northwestern purple."
The effort has become so well known on campus that the Daily Northwestern's guide for new students includes the term "Morty-fied," defined as "being embarrassed because Morty spotted you not wearing purple."
Schapiro's passion for purple even caught the attention of Stephen Colbert '86, '11 H, who visited campus as part of the School of Communication's A Starry Night celebration in 2018. The TV funny man and late-night host set his comedic sights on Schapiro in his opening monologue.
"A lot of people know me as the guy who tells jokes about the president," Colbert began, "but the only president I want to talk about tonight ... is Morty Schapiro. Where are you, Morty? There he is! Of course he's here! Morty's everywhere! Everybody loves Morty. He's always out shaking hands, making connections. ... It's like he's the mayor.
"Morty's done so much for the school. He took something great and made it greater. ... The man lives and breathes Northwestern. He wears purple, he bleeds purple, he is purple! He is more purple than if the Grimace gave birth to a baby fathered by Prince in a pool full of Welch's grape juice."
CHANGING THE FACE — AND FACES — ON CAMPUS
The new and renovated buildings on Northwestern campuses are an obvious sign of transformation, but perhaps a more important change is the increased diversity of the student body — a change spurred on by Schapiro's commitment to make higher education more accessible.
"Access to and affordability of higher education is my academic field," says Schapiro, a professor of economics at the Weinberg College of Arts and Sciences. "When I got here, we didn't give as much aid as our peer institutions, and that was a barrier for potential students. I wanted to take that limitation off the table."
Carol Lee says Schapiro had a plan — and the confidence — to address this problem from the start. "I served on the committee that vetted candidates for the presidency in 2009," says Lee, a professor emeritus at the School of Education and Social Policy. "We asked all candidates how they thought about addressing the challenges of enhancing diversity at the University. Everyone talked about how hard it was.
"When we asked Morty, he looked at us and smiled. At that time he was president of Williams College. 'Addressing diversity is not a big deal to accomplish,' he said. ... That sold me on Morty. And when he arrived as president, one of his first initiatives was to build relationships and support for students from Chicago Public Schools to come to Northwestern."
On Schapiro's watch, the University significantly increased financial aid for undergraduate students and eliminated loans in financial aid packages for undergrads.
"It was critically important to provide the resources to recruit students who traditionally were not considering Northwestern — first-generation college students, Chicago Public Schools students, underrepresented minorities," says Christopher Watson, associate vice president of student outreach and dean of undergraduate enrollment. "President Schapiro saw that and committed the resources to recruit and enroll those students."
Northwestern is now a national leader among selective universities in enrolling and retaining first-generation and low-income students, including those who qualify for the Federal Pell Grant. At the same time, the median ACT and SAT scores of the entering class increased throughout Schapiro's tenure, and applications soared as Northwestern changed from a school that often was a second choice for the very best students to one that is now among the most sought-after universities in the country by those students.
MORTY IN THE CLASSROOM
Even with the never-ending demands on a president's time, Schapiro has maintained his economics research and teaching at Northwestern. "I like interacting with students in a variety of settings, particularly in a classroom," Schapiro says. "Having a class where you're engaged in a lively discussion, exchanging ideas and opinions, is when higher education is truly exciting."
In his previous roles as president of Williams and dean of the College of Letters, Arts and Sciences at the University of Southern California, Schapiro also found time to teach. And his enthusiasm for teaching is infectious.
"I have never met a teacher as inspiring as Morty, and he makes it look so easy," says professor Gary Saul Morson, who has co-taught a popular undergraduate course with Schapiro for the past decade. The course, Alternatives: Modeling Choice Across the Disciplines, explores the intersections of literature, economics and a variety of other disciplines — and is always fully enrolled.
"Morty's students learn not only the subject matter and how to reexamine their own most cherished ideas but also what the life of the mind really is," says Morson, the Lawrence B. Dumas Professor of the Arts and Humanities and professor of Slavic languages and literatures at Weinberg College. "Years later, students write to say, 'That was when I realized how much fun it can be to play with ideas.'"
Schapiro co-wrote two books and co-edited a third with Morson and collaborated with other colleagues on commentaries, articles and essays that have appeared in numerous publications.
"His energy as a scholar is apparently boundless," says David Figlio, dean of the School of Education and Social Policy (and soon-to-be provost of the University of Rochester). "Whenever Morty goes on 'vacation,' the new text and analysis come flying toward me at breathtaking speed. I even had to admonish him once when he called me from the beach in Maui to discuss edits."
Schapiro, who holds faculty appointments at Weinberg College, the Kellogg School of Management and the School of Education and Social Policy, has taught an upper-level economics seminar and is a regular guest lecturer in engineering, law, marketing communications and education classes, including Figlio's Economics of the University course.
"It's very rewarding for a president to continue to do research and to stay in the classroom," Schapiro says. "Doing so keeps you in touch with faculty and students in ways that you wouldn't otherwise be able to do.
"That might just make you a better leader, which benefits the University. But even if it doesn't, I would do it anyway for the sake of my sanity."
PURPLE PRIDE WORLDWIDE
Early in his presidency Schapiro set his sights on expanding Northwestern's impact abroad.
"Morty and I quickly realized we were on the same page in regard to international affairs," says Dévora Grynspan '76,'77 MA, '82 PhD, vice president for international relations. "Beyond internationalizing the curriculum, Morty has focused on global engagement more generally, as a way to increase Northwestern's visibility and reputation."
An avid traveler, Schapiro ramped up efforts to connect with alumni abroad. When representing Northwestern internationally, he often meets with local alumni and parents, gives presentations to civic and business groups, leads faculty panel discussions and meets with partners at peer institutions — all with grace and his signature lighthearted humor.
"I will miss his easiness," says Grynspan. "Morty has this ability to get in front of any audience at the drop of a hat. He can get up there and be friendly and engaging and make everyone feel important."
The relationships he built abroad helped increase opportunities for Northwestern students, whether opening doors to unusual historical sites in China, lobbying university presidents to provide better facilities and programming for Northwestern students, or fundraising from alumni to create new study abroad experiences.
Schapiro also embraced opportunities to experience international history and culture with students studying abroad. He climbed the Great Wall of China with undergraduates several times and connected with Northwestern groups in Cape Town, South Africa, and Mexico City, as well as in London and Paris. Because of Schapiro's vision, "Northwestern has been able to expand its global footprint," Grynspan says.
Back on the Evanston campus, Schapiro focused on the recruitment of international students and on increasing financial aid for them, Grynspan says, "because he wanted to bring the world's best students to Northwestern, regardless of income. He succeeded not only in increasing the number of underrepresented and international students but also Northwestern's rankings as a result."
And just like at home, Schapiro enjoys sharing a meal with alumni and students abroad, taking them to his favorite local restaurants that he has discovered during his travels.
"Now you have to understand," Grynspan explains, "that Morty is not an adventurous eater, and he won't eat many of the things that he insists students and friends must try.
"Once, in a fancy restaurant, the chef came out and started giving us the menu. And I laughed, thinking, 'There is nothing here that Morty is going to eat.' So, we all had a fabulous meal — except Morty. He just derives pleasure from everyone else's enjoyment of a global experience."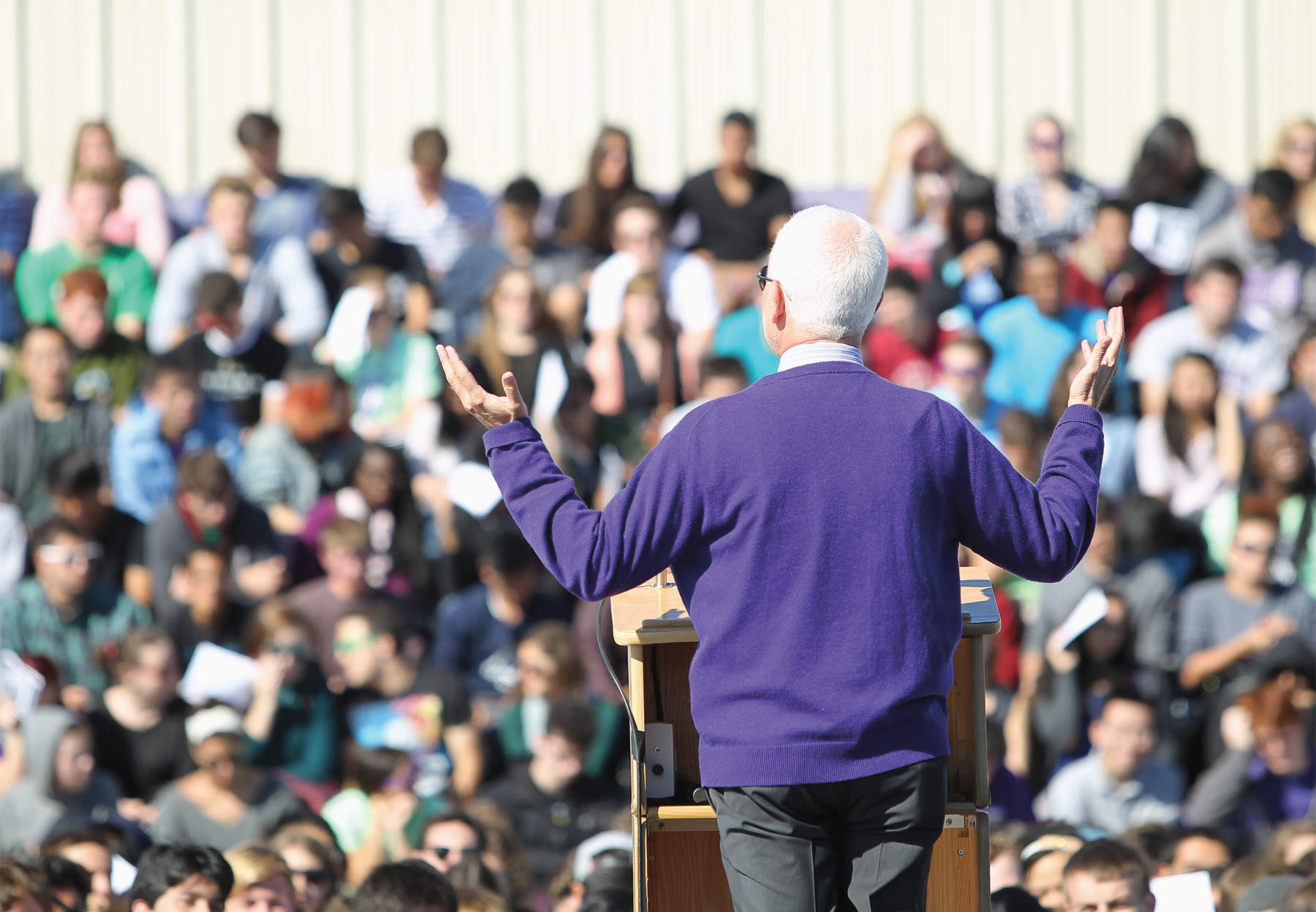 CHEERING ON THE 'CATS
In his first few weeks at Northwestern in fall 2009, Schapiro — an enthusiastic Wildcat backer — dropped by a field hockey game.
"He was on our sideline," recalls head coach Tracey Fuchs, "and my assistant asked me if I wanted her to move 'that guy' to the other side of the field. I laughed and said, 'No, that's our president!'"
From his first fall on campus, when he opted to watch football games from the sidelines rather than the Ryan Field skybox, Schapiro has been a vocal supporter.
"There is no more passionate Wildcats fan than Morty, and his belief in our students is unmatched," says Pat Fitzgerald '97, the Dan and Susan Jones Family Head Football Coach.
"I believe that if the University is going to do something, we should do it well," says Schapiro. "We don't hold back on our music and arts programs, our research or our teaching, so we shouldn't hold back on athletics. Those are our students, and they deserve our support."
The Wildcats, once the doormat of the Big Ten, have achieved remarkable success in recent years. The football team has won the Big Ten West Division twice in the last four years, the men's basketball team was invited to the NCAA Tournament for the first time ever in 2017, and in 2020 the women's basketball team won its first Big Ten championship since 1990, followed by an invitation to the NCAA Tournament in 2021. The women's lacrosse team has captured seven national championships, the field hockey team won the NCAA title last fall, and Wildcats also won individual national championships in wrestling and diving.
Northwestern student-athletes' success extends to the classroom. According to the NCAA's 2020–21 Graduation Success Rate (GSR) data (a long-term assessment of student-athletes' academic success), Northwestern scored a 98% GSR overall, which ranks second among all Football Bowl Subdivision institutions and best in the Big Ten.
"I've had the privilege to work for the best university president in higher education," Fitzgerald says. "The transformational past decade for Northwestern Athletics and Recreation simply would not have been possible without his unwavering support, leadership and vision."
FACING CHALLENGES
All university presidents deal with controversies, and Schapiro is no exception. During his tenure, Northwestern experienced faculty members engaging in inappropriate relationships with students, football players seeking to unionize, a reexamination of the problematic history of University founder John Evans and allegations of sexual assault at fraternities. Those issues and others, and the University's response to them, drew attention and criticism from students, faculty, alumni and the public.
In fall 2020 a number of strident demonstrations took place outside the president's house, and marches on campus called for abolishing the Northwestern University Police Department. Vandalism occurred during some of the demonstrations. Schapiro responded by sending an email to the campus community criticizing some of the demonstrators' actions and characterizing some of the language demonstrators used as antisemitic. Some felt the response exacerbated the problem rather than easing it. In response, Schapiro and other senior leaders held a series of listening sessions with students, faculty, staff and alumni and then stepped up efforts to follow through on social justice commitments.
Northwestern also endured a financial crisis in 2017–18, when the University found itself facing a multimillion-dollar budget deficit. As a result, more than 80 staff members were laid off — the first layoffs in more than 40 years — budgets were reduced, a temporary hiring freeze was implemented, and Northwestern had to withdraw more money than usual from its endowment earnings in order to balance the budget. However, the fiscal restructuring brought the University back to a stable financial status within two years. And while the University weathered the pandemic better than many other institutions, COVID-19 resulted in significant additional expenses and required similar cost-cutting measures.
When asked if he regretted how he handled some of the controversies, Schapiro was philosophical. "There are always things you say and do and write that could have been better," he says. "I just try to learn and not make the same mistakes twice."
Through it all, Schapiro has remained grounded in his faith, says Michael Simon, executive director of Northwestern Hillel. "Morty Schapiro has been a courageous leader, called by his tradition to do the right thing, and providing an inspiring example for a generation of Northwestern students and alumni."
Every Shabbat, Schapiro recites a prayer that reads: "For human community, our common past and future hope, our oneness transcending all separation, our capacity to work for peace and justice in the midst of hostility and oppression."
"While it's in the Hebrew prayer book, it wasn't written by a rabbi or Jewish biblical scholar. That prayer comes from a poem written by a Unitarian minister, reminding me once again that healing the world, that working for peace and justice, is a universal precept," says Schapiro, who encouraged interfaith dialogue at Northwestern and focused on faith and humanity at the annual Baccalaureate Service.
Reflecting on his tenure, Schapiro remains modest about his success in leading Northwestern. "I just hope that when people look back at my presidency, they think that I'm worthy of being mentioned in the same breath as Henry Bienen ['09 H] and Arnie Weber ['95 H]," says Schapiro. "They did an unbelievable job setting the stage for me and this university, and I've tried my best to do the same for my successor. I've had a good run, and it's worked out well. I think things are in good shape for the next president."
Alan K. Cubbage '78 MS, '87 MS served as Northwestern's vice president for university relations for more than 20 years. He wrote Transforming a University: Northwestern in the New Millennium.