Kayla Sharples' second season in the National Women's Soccer League (NWSL) was anything but typical. For starters, she didn't play at SeatGeek Stadium, her Chicago Red Stars' home field. Instead, each team stayed and played in a small Utah village after the league abandoned the regular season in favor of a shorter tournament, played against the backdrop of both a pandemic and the Black Lives Matter movement.
The kicker? The NWSL became the first U.S. team sports league to address both realities while games were played. Sharples '19, a former Wildcat women's soccer standout, was among the first professional athletes in the country to compete last summer through the NWSL's 2020 Challenge Cup, a new competition that tested the effectiveness of quarantine on an American sports league. (Sharples' Northwestern teammate, Hannah Davison '19, also plays for the Red Stars.)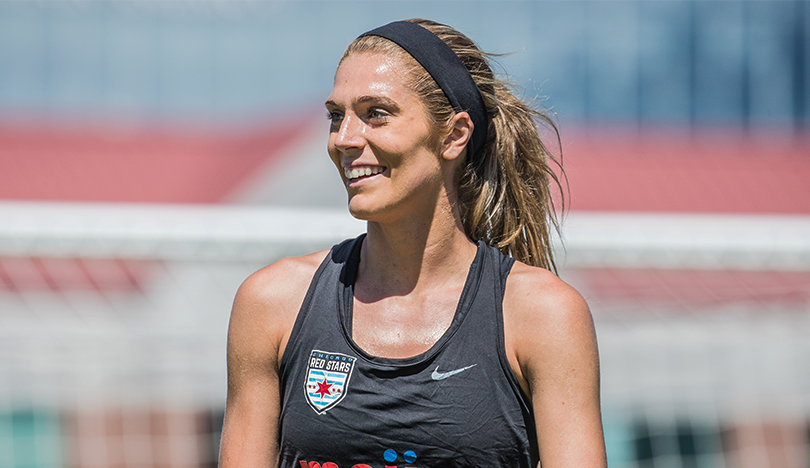 Before the NBA and NHL held their postseason tournaments in isolation, the Challenge Cup took place in a makeshift "bubble village" near Salt Lake City. Players were only allowed to interact with their teammates outside of games and couldn't leave the bubble. Sharples and the rest of her team spent a month isolated from the outside world.
"You have your moments where it's mentally exhausting," Sharples says. "We tried to keep ourselves busy and sane, for example, by playing competitive ping-pong and card games. I think at the end of the day, the bubble really helped us bond and we became a stronger and more close-knit unit because of it."
Though the new environment was restrictive, it worked: There were no reported positive COVID-19 cases for players and coaches once the tournament was underway (the Orlando Pride withdrew following positive tests just before entering the bubble, whittling the field to eight teams). Sharples credits this success to the league's commitment to its players and cooperation on all fronts.
When the games began, Sharples' Red Stars managed just one win in four games in group play but pulled off two consecutive knockout-round wins to reach the final against the Houston Dash.
Sharples, a defender who was drafted 26th overall by Chicago in 2019, had played limited minutes throughout the tournament. However, she was promoted to start against Houston.
Chicago had advanced to the NWSL final the previous season but came up short. With a chance at redemption, the Red Stars faced a stingy Dash defense. Chicago fell 2-0. Sharples committed a costly foul minutes into the game, leading to a Houston goal on a penalty kick.
Disappointed but not defeated, Sharples won't let that moment bring her down. Rather, she says, the goal is to push her game forward through reflection and improvement.
"I'm still absorbing my role in our loss," she says. "I wish I could take those five minutes back, but I wouldn't take back the experience. It was definitely a growing experience for me since I'm a young player. I will use it as motivation to improve."
Off the soccer field, a much bigger issue emerged during the Challenge Cup. As the first tournament games took place in June, a month dominated by Black Lives Matter protests across the country, the league's teams and athletes alike found themselves in a position to address racial inequality.
"Sports foster an environment that brings people together regardless of race," Sharples says. "For the Red Stars specifically, we had many tough conversations, and it was clear that the Black Lives Matter movement is a priority for us. It was important for us to use our platforms, our social media channels, for good. At the end of the day, it was important for us to give a voice to those who have been silenced and oppressed."
Sharples, a Naperville, Ill., native, is now playing with the Finnish club Kuopion Palloseura on loan from the Chicago Red Stars. She will be back next season for Chicago as the Red Stars push to improve on their recent success.