Doctor Becomes Patient
Former offensive lineman turned ER doctor Ryan Padgett comes back from COVID-19. By Clare Milliken
Emergency medicine physician Ryan Padgett has a new appreciation for the little things: cooking dinner, playing board games, nights on the couch with his family. And ice chips.
"The most beautiful thing I've ever had to eat or drink was the first ice chip I got," says Padgett, "Envision being in a mountain stream and just jumping in. It was the most refreshing thing."
Padgett '97 was waking up from 16 days on a ventilator, having survived a near-death battle against COVID-19. He was the first patient to survive such a severe case of COVID-19, and one of the first healthcare workers in Washington state to test positive for the virus.
Padgett's story has become both a symbol of hope and a cautionary tale about the ­­­dangers of COVID-19. Within hours of being admitted to the hospital with low oxygen levels, at the insistence of his then-fiancé Connie, Padgett was put on the ventilator. During those 16 days, he received two experimental treatments: extracorporeal membrane oxygenation (ECMO), which oxygenates a patient's blood outside of the body and then delivers it back into the patient, and tocilizumab, a drug frequently used in cancer patients to suppress the immune system. (Like many other COVID-19 patients, Padgett showed signs of a "cytokine storm," in which the immune system overreacts and starts attacking organs and other healthy tissues.)
Over several days, Padgett, a former All-Big Ten offensive guard who helped lead the Wildcats to the Rose Bowl after the 1995 season, showed slow improvement as his body became better able to fight off the virus.
Despite all the trauma and fear surrounding his "brush with death," as Padgett refers to those weeks, he is upbeat and eager to help however he can.
"If my story can be an inspiration, or if it can be some light in the darkness, I'm happy to play that role because this is such a hard time for everyone."
The darkest days
Until COVID-19, Padgett felt he had control over the course of his life. "I turned 45 in the hospital, and up to that point I had a feeling that I could control everything," he says. "Study hard, get good grades, get a good MCAT score, get into medical school. And for the first time in my life, I had zero control at all."
Padgett was initially in denial about the severity of his illness. A mild headache over the weekend became a cough and a fever early in the week. By Thursday, Connie told him they needed to get to the emergency room.
Admitted to the hospital at 10 p.m., Padgett was moved to the ICU before 6 a.m. His longtime colleague, Dave Baker, told Connie that she should cancel their upcoming wedding in May. Then Baker passed the phone to Padgett, minutes before he was intubated.
"I understood the gravity of the situation, but I don't remember being scared," says Padgett, who told Connie he loved her and asked her to write down passwords and other important information. "I guess in medicine, you just know what next thing needs to happen. Dave has since told me I was pretty calm, and I'm not sure if it was inevitability or trust."
Padgett says he didn't suffer at all, but he knows his loved ones can't say the same.
"That's actually been the hardest part — understanding the horrific time my family went through," Padgett says. "It's something you can't put words to. That's been tough. They're incredibly strong. And we made it."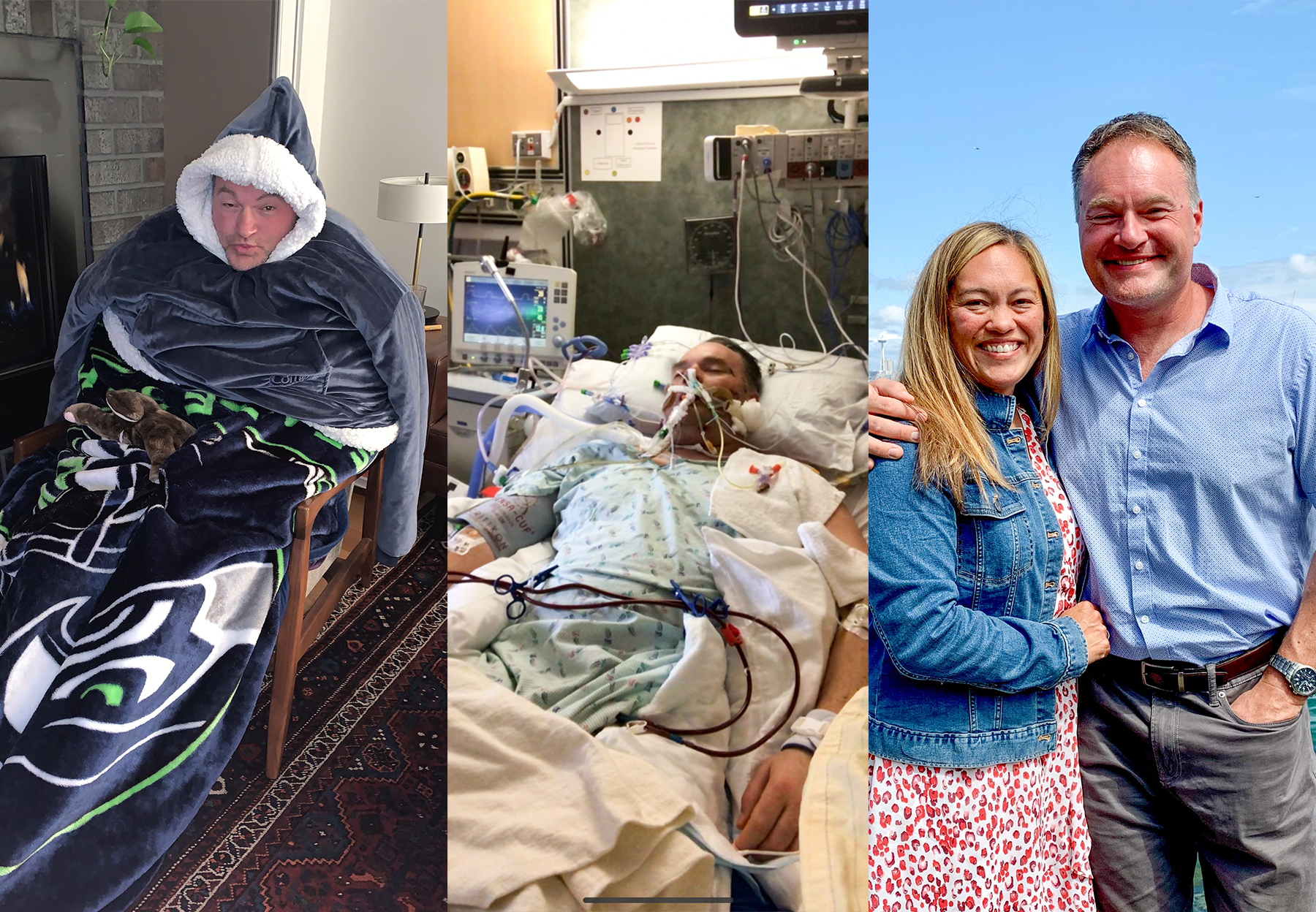 Back in the huddle
Padgett was taken off the ventilator on March 27, and he slowly, almost miraculously, regained consciousness.
"Waking up to this new world, I've been really touched by people's desire to help others," he says. "In the midst of people losing jobs and being fearful that they can't afford their rent, the generosity has been incredible. The support for healthcare workers — those are the things that give me hope."
Padgett has also been buoyed by the people from his past who've sent well wishes after hearing about his ordeal.
"Old friends, parents of friends, people I knew growing up have reached out," he says. "Folks from my freshman year dorm. A complete stranger donated to Northwestern in my name. One of my middle school teachers wrote me an incredibly kind letter."
One of those well-wishers is Padgett's former teammate and lifelong friend, Robert Johnson '95, who had been in touch with Connie daily while Padgett was in the hospital. "One of the toughest, smartest guys I know was on the brink of death. It was a really intense emotional roller coaster," says Johnson, who has kept in touch with Padgett over the years through group texts and occasional visits. "This has really strengthened my resolve to make sure we see each other more often."
Now recovering at home, Padgett is enjoying time with his family. He and Connie were married a month earlier than originally planned, on a boat with their two children. "It was the wedding exactly as we wanted it," Padgett says.
These days, when friends, family and others reach out to Padgett, they tell him he's incredibly strong. He would like to clarify:
"We've got to do a football analogy here. This is a team win. This is not a big individual effort. I'm here by the grace of a team who refused to give up."