Jordan Simkovic's wedding was the best night of his life. Northwestern's 2009 Battle of the Bands, he says, was a pretty close second.
"Something came out of me that night that I honestly didn't know I had [in me]," the actor and songwriter says.
Best friends Simkovic '09 and Kevin Hoban '09 were members of Slow, Weird and Melodic, an early-2000s Northwestern student band born from late-night music sessions. Simkovic played the drums, and Hoban played guitar. After two years of shows, the band played Battle of the Bands, competing for a slot at Dillo Day, Northwestern's annual student-run music festival.
That night, after playing a setlist that featured "Livin' La Vida Loca," Simkovic dove into the crowd and surfed offstage.
"I would have bet my life on the fact that we had won," he recalls.
They lost.
But 14 years later they're still making music as Captain & Cat, a musical duo producing educational songs and videos for kids. The duo recently won the 2022 John Lennon Songwriting Contest Grand Prize.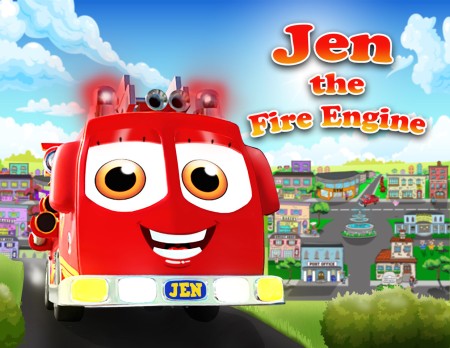 The international songwriting contest, founded by Yoko Ono, recognizes 24 winners across 12 categories based on originality, composition, melody and lyrics. Grand prize winners receive more than $8,000 worth of music equipment. Simkovic and Hoban won for "Jen the Fire Engine."
"Beyond the Grammys, this is about the best you can get for a kids' song," Hoban says.
Captain & Cat post singalong videos, goodnight lullabies and holiday and educational songs on their YouTube channel. They released their first album, The Adventures of Captain & Cat, in 2021. With more than 5 million views on YouTube, "Jen the Fire Engine" is their most-watched music video to date.
Simkovic and Hoban are now pitching a children's TV show based on "Jen the Fire Engine."