In Memoriam
In memoriam is a page to read featured obituaries of Northwestern alumni, faculty and staff. Visit Remembrances to read memorials of Northwestern community members submitted by their family or peers. Please send obituaries to alums@northwestern.edu.
Filter alumni by decade:
Narrow to: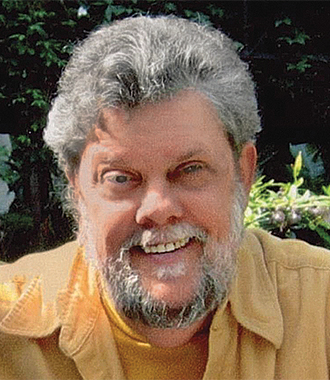 Robert "Bobby" Whiteside '64, Madison, Tenn., April 21, 2021, at age 79. A singer, producer and songwriter, Whiteside worked alongside artists such as Barbra Streisand and Johnny Mathis. Whiteside co-wrote hit songs such as "Comin' In and Out of Your Life" and "When the Lovin' Goes Out of the Lovin'" and also released his own album, Bittersweet Stories, in 1974. He spent 40 years in the commercial advertising business, writing and producing jingles for Harley-Davidson, McDonald's, 7UP and others. He won three Clio Awards. He also had a passion for fishing and boating. Whiteside is survived by his wife of 54 years, Brenda; his daughter, Wendy; his sons Terry and Tarrey; four grandchildren; and his sister, Mary Whiteside Schuette '60.
Louis R. Magor, '67, '74 MMus, Seattle, April 11, at age 75. An acclaimed musician, conductor and teacher, Magor began teaching choral music to middle and high schoolers in the Chicago area while he was a student at Northwestern. He arranged music for various choral groups in Chicago at the encouragement of choral professor William Ballard, and soon after earning his master's degree in music, Magor became the first director of the prestigious San Francisco Symphony Chorus when he was 28 years old. Margaret Hillis, the renowned conductor of the Chicago Symphony Chorus, had recommended Magor for the position, and numerous members of the San Francisco Symphony Chorus wrote letters to then-conductor Seiji Ozawa insisting that Magor be hired. Magor held the position for a decade, after which he replaced Ballard as conductor of the San Francisco Boys Chorus and led them on a national tour in 1985. In 1990 Magor moved to Seattle and became a well-respected elementary school music teacher for 31 years. He served as an accompanist to Seattle's Total Experience Gospel Choir, as the music director at Wallingford United Methodist Church and as conductor for the Seattle Bach Choir and the West Seattle Children's Chorus. Magor is survived by nine cousins.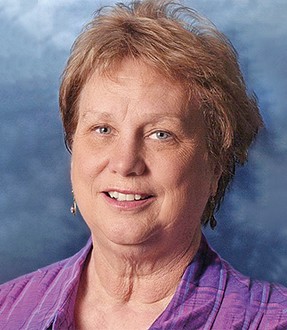 Patricia Hoftiezer Simms '69 of Madison, Wis., April 5, at age 75. After graduating from Northwestern, Simms spent her entire 42-year career reporting for the Wisconsin State Journal, where she started two columns. Her "Snoop" column, which ran from 1989 to 1998, compiled gossip, insider news and watchdog reporting. In 2007 she launched a consumer advocacy column called "SOS" that continues to this day. During her time at the State Journal, Simms covered five governors and the 1970 bombing of the University of Wisconsin–Madison's Sterling Hall. Simms' newsroom team was named a finalist for the 2012 Pulitzer Prize for their breaking news reporting on the 2011 protests at the Wisconsin State Capitol in response to Gov. Scott Walker's Act 10, an anti-union law. Simms continued to freelance for the paper after her retirement in 2011. She was also the first woman journalist in Wisconsin to demand and receive maternity leave. Simms is survived by her two children, Sara Lander and Joseph Simms, and her six grandchildren.
Photo: Courtesy of Wisconsin State Journal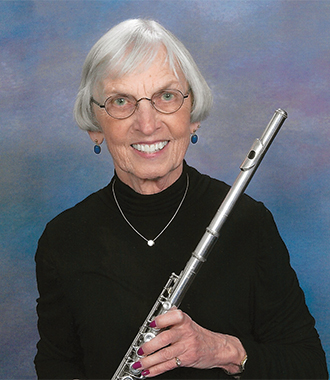 Elizabeth "Betty" Urbanowski Hibben '60, Northbrook, Ill., March 28, 2021, at age 83. Hibben was one of the first women to be inducted into Northwestern's N Club, an alumni organization for former Wildcat athletes. She played intramural softball, basketball, volleyball and tennis as a member of the Alpha Chi Omega sorority. She became co-owner and manager of the Ivy Racquet Club in Peru, Ill., and coached the Illinois Valley Community College women's tennis team, for which she received the National Junior College Women's Tennis Coach of the Year award. A flautist, Hibben was also a member of the Northwestern University Marching and Band Alumni. She is survived by her children, Kenneth, Timothy and Nancy; and four grandchildren.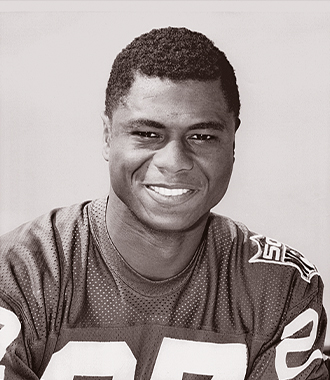 Irvin A. Cross '61, Roseville, Minn., Feb. 28, 2021, at age 81. Named Northwestern's 1961 Male Athlete of the Year in both track and football, Cross played three years as wide receiver and defensive back for the Wildcats. Drafted by the Philadelphia Eagles, Cross played cornerback for nine seasons in the NFL, collecting 22 interceptions. The two-time Pro Bowler joined CBS' The NFL Today in 1975, becoming the first Black full-time television analyst for a network sports show. He worked for CBS for 15 years, and in 2009 Cross received the Pete Rozelle Radio-Television Award from the Pro Football Hall of Fame. He is survived by his wife, Liz; his children, Susan, Lisa, Sandra and Matthew; a grandson; five sisters; and three brothers.
Photo Credit: Northwestern University Archives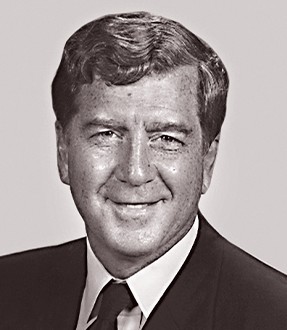 James Schadt '60, Vero Beach, Fla., Feb. 3, at age 82. A Northwestern life trustee, Schadt came to the University in 1956 on a swimming scholarship. He and his wife, Barbara Soldmann Schadt '60, created the James P. and Barbara S. Schadt Swimming Scholarship. James Schadt served on the Northwestern Board of Trustees' development, alumni relations and steering committees. He was also a founding member of the Weinberg College of Arts and Sciences Board of Visitors. Schadt started his career in brand management at Procter & Gamble before becoming president and CEO of London-based Cadbury Schweppes Beverages. He later became the first American to serve on Cadbury Schweppes' board of directors. Eventually, he became chairman and CEO of the Reader's Digest Association (now Trusted Media Brands) before retiring in the 1990s. Schadt is survived by his wife, his children, Lauren Schadt Baker '83, '86 MBA and Andrew Schadt '87, '95 MBA, four grandchildren, and two brothers.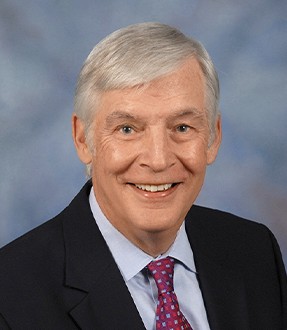 James B. Burns '67, '71 JD, Chicago, Dec. 11, 2020, at age 75. A basketball star, Burns was one of Northwestern's top scorers and earned third-team All-America honors in his senior year. After a brief pro basketball stint with the Chicago Bulls and the Dallas Chaparrals, Burns graduated from the Northwestern School of Law. In 1993 President Bill Clinton appointed Burns as U.S. attorney for the Northern District of Illinois, a post he held for four years. In 2000 Burns was appointed inspector general by the Illinois Secretary of State, a position he held for the rest of his life. Burns remained an active member of the Northwestern community, serving on the Board of Trustees and the Visiting Committee of the School of Law. He received a Northwestern Alumni Association Service Award and Alumni Merit Award. Burns is survived by his wife, Martha, and three children.