Remembrances
Remembrances is a page to read memorials of Northwestern community members submitted by their family or peers. Visit In Memoriam to read featured obituaries of Northwestern alumni, faculty and staff. Please send obituaries to alums@northwestern.edu.
Filter alumni by decade:
Narrow to:
George John Zahringer, Jr., known as Jack, passed away peacefully in his sleep on October 5, 2022, after a full and glorious life of 100 years. He is survived by his loving and devoted wife of 71 years, Rosemary Duncan Zahringer. He is preceded in death by his father and mother, Mary Bernice (Croarkin) and George John Zahringer, Sr., and his sisters Lee Ann Stine, Mary Lou Mitchell, and Jean Burke.
Born July 18, 1922, in Naperville, Ill., Jack grew up in a well-known and respected family. Equally enthusiastic assisting at mass as an altar boy or leading his troop as an Eagle Scout, Jack's youth presaged the qualities that would characterize his life—a life of energy, activity, centered on faith, family, friends, and civic duty.
Jack matriculated at Northwestern University as a member of the class of 1944. He would go on to bleed purple for the rest of his life. His collegiate experience was formative, and later in life he would happily recount in fondness to family and friends alike tales of his campus glory days, cheering on the Wildcats as freshman football manager in "dirty-white bucs," the epitome of studied casualness. A diligent student, Jack earned a bachelor's degree in chemistry. He would also serve as yearbook manager and pledge the Delta Tau Delta fraternity, a source of long-lasting friendships.
His undergraduate years were interrupted by World War II. Commissioned as a Lieutenant in the U.S. Army, Jack's military service would see him sent to Georgia Tech for further education by the Army Corps of Engineers. After the war, Jack attended Harvard Business School, class of 1948, on the G.I. Bill, where he would earn a master's in business administration and forge further friendships that spanned the decades.
Jack met his future beautiful wife Rosemary, whom he affectionately called Roso, in Chicago and they were wed in 1951 at St. Malachy in Creston, Iowa. His working life saw him in a long, successful career in chemical engineering. He would go on to start his own marketing firm. In his "retirement" career, he worked with Jed Dolce in real estate.
A celebrated Rye resident since 1966, Jack was a civic-minded citizen and selflessly gave his time and energy to the community. He was a loyal Lions Club and Rotary Club member, joined the Rye Board of Architectural Review, and would chair the Rye Landmarks Committee well into his 10th decade. A life-long student of history, he would work to protect Rye's historical integrity, a task that included restoring Rye's three Boston Post Road mile-markers, fixed by Benjamin Franklin himself in 1763. For his indefatigable efforts as protector of Rye's history and recognizing his storehouse of local knowledge, Jack at age 98 received the Mayor John Carey Merit Award, presented to a Rye resident who has "made meaningful contributions to public life in the City of Rye for an extended period."
In addition to his love of college football, Jack was an avid sports enthusiast himself. A past member of the Westchester Country Club and a current member of the American Yacht Club, he played golf, squash, and successfully drop-shotted his grandchildren on the tennis court into his late eighties.
The last of the Greatest Generation, in a life that bridged two centuries, Jack personified those values of personal responsibility, duty, honor, and faith that had been instilled in him from youth.
He was adored by his five children: George J. Zahringer III (Natalia), Martha Z. Jeffrey, James D. Zahringer (Madeleine), Charles J. Zahringer (Edmee), and Anne Z. Ogilvy.
He will be profoundly missed by all his family including his twenty-one grandchildren: George IV, Killian, Lauren, Alexander, and Christina Zahringer; William, John, and Christian Jeffrey; James Jr. (Ashlee), Charlotte, Dashiel, Kendall, and W. Kress Zahringer; Lucia (Fritz Coan), Charles Jr., Graham, Kylie, and Frederick Zahringer; Charlotte and Margaret Poler; and Melinda Ogilvy, and his four great-grandchildren: James III and Summer Isabelle Zahringer; and Schaefer and Heidi Coan.
A Mass of Christian Burial at the Church of the Resurrection, Rye, N.Y., will be announced at a future date.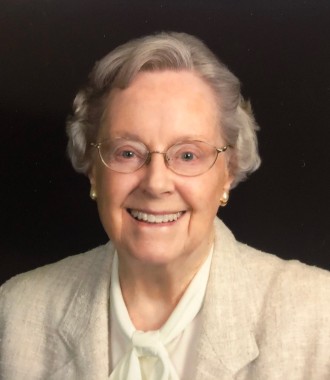 Sally Elizabeth Shull Conner '45, died June 6, 2022. She was just two months shy of her 100th birthday. She graduated with honors from Northwestern University in Evanston in 1945, with a bachelor of science degree in psychology. She was a member of the Upsilon chapter of Delta Delta Delta sorority.
After graduating, she worked as a psychometrist for the Sioux City (Iowa) Board of Education. In 1950 Sally married R. Dudley Conner in Sioux City, Iowa, and together they raised three children. She had a strong faith, profound dignity, a lifelong love of learning and reading, and a contagious laugh and sense of humor. She was highly intelligent and an "outside of the box" thinker.
She loved her years and classes at Northwestern University and spoke of them often.
Robert E. Peckenpaugh '49, '52 MBA of Hinsdale, Ill., passed away on May 4, 2019, at age 92. After serving as a quartermaster in the U.S. Navy during the conclusion of World War II, Mr. Peckenpaugh began his career, which ended up spanning 70 years as an investment professional. One of the earliest holders of the Chartered Financial Analyst® designation, he was a past president of the CFA Society Chicago. Mr.Peckenpaugh served the community by helping to lead the referenda to establish College of DuPage and build Hinsdale South High School, as well as working with the local Easter Seals organization. He is survived by his six children, 19 grandchildren and 18 great-grandchildren.
My father William Charles Schmidt '46 while still living on this earth was a loving, caring and devoted son, husband, father and brother to his family and friends. He graduated in 1946 from Northwestern University with a degree in geology. After graduation he went to work in the oil and gas business as a petroleum exploration geologist. In his later years he founded Jason Petroleum Corporation. He became a certified petroleum geologist and a member of the American Association of Petroleum Geologists in 1966 and a member of the Society of Independent Professional Earth Scientists in 2002. William passed away on Dec. 17, 2017, at the age of 94 due to natural causes. He is survived by his wife of 69 years, four children, eight grandchildren and eight great grandchildren. His legacy of hope, faith and charity will live on to the next generation due to his lived Catholic Christian faith. I miss you Dad. Pray for us that one day we will reach heaven to be with God our creator.
The book Tomorrow Never Came: The Sinking of the S.S. Athenia by Max Caulfield in 1958 describes the true story of the first act of aggression by Germany against Britain, at the start of the Second World War.
On Sept. 3, 1939, the Athenia was torpedoed by U-Boat 30, "and the ship went to the bottom with the loss of 112 lives, sixty-nine women and sixteen children among them."
My aunt, Doris Elaine Kent Fox '40 MS, was one of the survivors who gave a first-hand description of the events between the time the torpedo struck and her rescue the following morning.
"I was in the [tourist] dining room eating a lamb chop. After the awful explosion, I dashed somehow through the door, down a long corridor, to stairs. My cabin was one deck below. I had to get my lifebelt. Going down, I found the stairs broken — clinging to the rail I got down — in pitch black I felt my way to cabin, reached under bunks … and felt the lifebelts. On my way back up broken stairs, I gave one lifebelt away. Feeling my way up, I opened door to deck and it was LIGHT! Barney was there on deck. He saw me and said, 'Here, get into that boat.' It was Boat 6, the only other boat (besides 5) which had a motor and shortwave radio. No one knew how to run it, and we had to row all night long.
"When I was the next one up from Boat 6, I was hanging dead weight on the bosun chair. Just then I heard them scream, 'Hold tight!' The ocean washed up over my head and washed me off the chair. My grip on the knotted rope held. The lifeboat surged out away, then back in. They jerked one great jerk — and yanked me up just as the boat came crashing into ship — just below my legs. They had pulled me up just in time to keep me from being crushed. On up, to deck's rail, and there was Capt. Cook. He exclaimed, 'My god, girl, it's you!'"
The captain, James Cook, as well as 430 other survivors, including my aunt, were brought to Galway, Ireland, by the Norwegian steamer Knute Nelson.
My aunt was also advertising copywriter at Marshall Field & Co. in Chicago from 1937 to 1939, a freelance writer for New York Herald Tribune and Paris Herald Tribune in 1939 and an advertising copywriter for Carson Pirie Scott & Co. in Chicago from 1939 to 1940. She was a public relations writer for Northwestern University in Evanston from 1963 to 1966 and a member of the American Association of University Women and branch president (1984–86).
She died in Pasadena, Calif., Sept. 22, 2011, at age 94.
Martha Wiedman '71