Remembrances
Remembrances is a page to read memorials of Northwestern community members submitted by their family or peers. Visit In Memoriam to read featured obituaries of Northwestern alumni, faculty and staff. Please send obituaries to alums@northwestern.edu.
Filter alumni by decade:
Narrow to: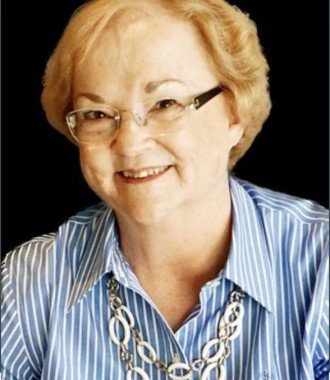 Linda Arlene Maxwell Paulson '69 passed away on December 5, 2022, at home in Green Valley, California, just five months after she had been diagnosed with stage IV pancreatic cancer.
After graduating from Northwestern with a BA in History in 1969, Linda began a master's program at Boston University. On June 20, 1970, Linda married David Paulson who had also graduated from Northwestern with a BA in Sociology in 1969.
In the summer of 1970 Linda fulfilled a dream, one she had held since kindergarten, and became a teacher. She received her Ed.M. degree in Pupil Personnel Services from Boston University in June 1973. Between 1970 and 2009, she taught at Acton-Boxborough Regional High School in Acton, Massachusetts, Armijo High School in Fairfield, California, and at Crystal Middle School in Suisun City, California. She was selected as the Armijo High School "Teacher of the Year" for 1981, and the Crystal Middle School "Teacher of the Year" for 2003.
Linda and Dave lived in Napa from March 1973 until March 1993, when Dave was appointed District Attorney of Solano County. They have lived in Solano County since then.
Linda retired from teaching in June 2009, and in early 2010, she and Dave adopted Cooper, a Malagasy Coton de Tulear. Linda spent almost a year socializing and training him, and by early 2011, Cooper began working with Linda as the "reading buddy dog" at the Suisun Library. They were there almost every Wednesday afternoon until the library closed due to Covid in 2020. Over those nine years, hundreds of children read to Cooper, and many came back years later just to visit him. It was always a joy for Linda to see Cooper light up when he recognized a young adult who had read to him as a child years before.
Beginning in 2009, Linda and Dave began what they fondly called their "Disney Decade." This included being founding members of the Walt Disney Family Museum on the Presidio in San Francisco, becoming the museum's first Walt's Circle members, and continuing to provide financial support to the museum.
Linda is survived by her husband of 52 years, Dave, son Brian, and his wife, Claire and grandchildren Sven and Margot, of Sun Valley, Idaho, and daughter, Karen and her husband, Daniel Gullberg, of Lund, Sweden.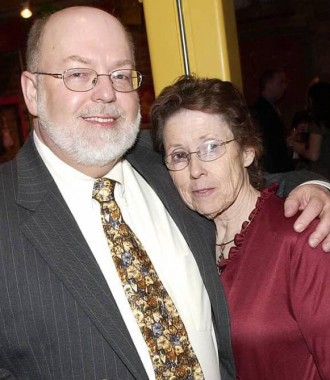 Beverly Bainbridge Overmyer '61 of Valparaiso, Ind., passed away July 11, 2022, at age 83. She was born March 4, 1939, in Chicago, beloved daughter of Francis and Marian (Erickson) Bainbridge. Overmyer received a bachelor's degree from Northwestern University's Medill School of Journalism, Media, Integrated Marketing Communications and plied her trade locally as the nature columnist for the Vidette-Messenger. She was also a skilled textbook editor and received an elementary education degree, practicing those skills liberally on her own offspring. Any natural wildlife would immediately become the focus of her attention, especially the opportunity to birdwatch. Volunteering at the Independent Cat Society brought fulfilment to her soul, and attendance at Merrillville Community School orchestra concerts with her husband, Gary, brought joy to her heart, as her daughter was the director. She also brought joy to the musicians' hearts, many of whom still harbor warm remembrances of her kind gestures.
On August 11, 1984, she married Richard "Gary" Overmyer, who survives along with her children, Marc Rosenthal (Angela Elbert) and Diane Rosenthal (Charley Harrison); and grandchildren, Benjamin, Rebecca, Robert and Eric.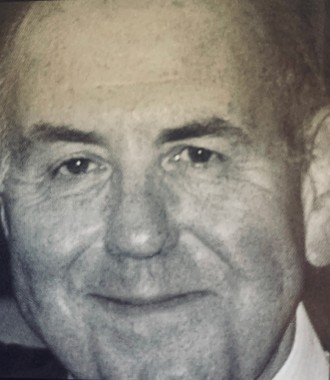 John H. Stassen '65, one of the leaders of the Northwestern Library Board of Governors and a devoted NU alumnus, died on March 19.
John joined the Libraries Board of Governors in 1996 and served as chair from 2004 to 2007. John was granted emeritus status in October 2014 and continued to support the Libraries. He generously established the Stassen Family Endowed Fund in 2000 to be used for areas of greatest need at Northwestern University Libraries. John also supported the Dance Marathon and Athletics department, and volunteered with Campaign Northwestern, the John Evans Club Board of Directors, his reunion committees and the NU Club of Chicago, before he later relocated to the Los Angeles area. During his time at NU as a student, he participated in Psi Upsilon and Model UN. John was a prominent senior partner of the law firm of Kirkland & Ellis and was the principal outside counsel to the Chicago Board of Trade. John's widow Sara Gaw Stassen '66, their son Dave Stassen '99 and grandson Jack Stassen Soler '23 are all part of the Northwestern family.
John was a truly dedicated, knowledgeable and congenial supporter of Northwestern and its Libraries, and we will miss him.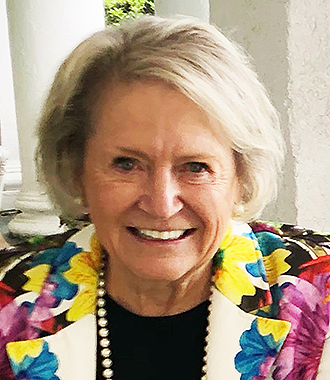 Barbara Lee Soldmann Schadt, 83, of Vero Beach, Fla., Westport, Conn., and New York City passed away peacefully at her home in Vero Beach on March 4, 2022 with her son by her side. She was a fiercely independent force who will be greatly missed by all who loved her.
Barbara was predeceased by her best friend and beloved husband of 62 years, Jim Schadt. She is survived by her children, Lauren Schadt Baker (Charlie) and Andrew Schadt (Kristen); her grandchildren Charlie (Christine), AJ, Caroline and William; her sisters Pat Mollsen (Cliff), Michele Goodman and their families; brothers-in-law Tom Schadt (Sharon Reitveld) and Jerry Schadt; and many treasured close friends.
Barbara was born and raised in Chicago. One old friend wrote, "she grew up in a time when expectations for women were limited. Women might attend college, meet a nice man, have a family in their 20s and support their husband's career. Barbara did all of that, but she always wanted more." She was the first in her family to attend college and was accepted to Northwestern University on an academic scholarship. Standing in a line at freshman orientation, she met Jim Schadt who would become her best friend, husband and partner in life. They dated all through college, taught swimming at the same country club during the summers and were married just before their senior year.
Their life took their family to Cincinnati; Westport, Conn; Kenilworth, Ill.; and back again to Westport and Rowayton, Conn., where they lived for over 40 years. Barbara was always engaged in her community, but always felt there was more she could accomplish on her own. In Westport, she served as the president of the Young Women's League and championed the funding and construction of the Levitt Pavilion, which remains a cultural center for Fairfield County. Barbara surprised everyone but her husband when, at the age of 40, she enrolled at the University of Bridgeport School of Law. In typical fashion, she excelled in the classroom and led the law review. Upon graduation, she joined the firm of Kelley, Drye & Warren in their real estate group. Determined to have a greater impact on her community, she became an assistant attorney general for the State of Connecticut focusing on environmental protection. Several years later, she was appointed as a magistrate to the District Court of Connecticut where she served until she retired. On more than one occasion, she was known to bring a gavel to the dinner table. Barbara's many professional and community accomplishments continue to inspire her family and friends.
Outside of her career, she was also an avid tennis player, skier and world traveler. She traveled extensively, sharing the experiences with dear friends and family including heli-skiing over 1 million vertical feet, exploring Hong Kong and Vietnam with girlfriends and sleeping in a tent in the Serengeti. She maintained a wonderful group of adored friends throughout her life, keeping the same holiday traditions, book group and bridge club for over 50 years!
Barbara Soldmann Schadt was a quiet force with a pioneering drive. She set high expectations for herself and expected nothing less from others. She inspired her children, family and friends to reach higher, to think and live independently, and to work hard to build a joyful, successful life. While her family and dear friends will miss her every day, she will forever live on in our hearts.
A private family ceremony took place in Vero Beach. A celebration of Barbara's incredible life will be held this summer in Southport, Conn. In lieu of flowers, donations may be made to the Westport Young Women's League, the James P. and Barbara Schadt Swimming Scholarship at Northwestern University, or the charity of your choice.
Born Diane Margot Cody, Diane Beaurline '68 grew up in Scarsdale, N.Y. She attended Northwestern University, graduating in 1968. In her freshman year she spotted Alan Beaurline in a class with her and asked for a date. They were married in 1969 and lived in Denver and Evanston before moving to northern Minnesota to open a cafe. After three years they moved to Helena, Montana, to open an award-winning Italian restaurant in 1978. In 1985 they sold the restaurant and moved to Maui.
On Maui, they built a house and then opened Kihei Wine & Spirits in 1991. They moved the store to Wailea and renamed it Wailea Wine in 2006. In 2012 they sold the business to Ed Mikesh but continued to work there until 2018.
Her love of food and her creative cooking abilities provided for over 50 years of wonderful food and successful businesses. She and Alan shared a special relationship by always working together and maintaining very private lives outside of their businesses. She was known for her radiant smile and her love of hugs. She loved to walk, swim, read and cook.
She loved dogs, and she loved life.
She suffered a severe hemorrhagic stroke on Nov. 9 and died later that day without regaining consciousness. She was loved dearly and is terribly missed by her husband, Alan.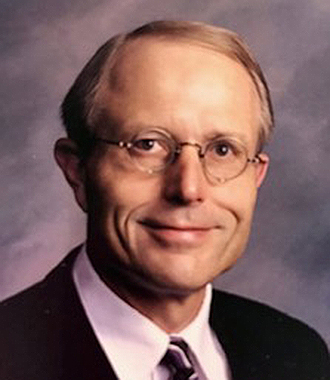 Lloyd John Peterson '65, '69 MD, a long-time resident of Greensboro, N.C., passed away on Oct. 25th, 2021, at the age of 78. The beloved only child of second-generation Swedish immigrants, Lloyd Frederick and Lois Emma Peterson, he was born on July 15, 1943, in Oak Park, Ill. In 1951 the family moved to Itasca, Ill.
Lloyd was salutatorian of his graduating class at Lake Park High School in Medinah, Ill. The first member of his family to attend college, Lloyd earned a BA in chemistry from Northwestern University, where he was a member of the Phi Lambda Upsilon Honorary Chemical Society and the Phi Kappa Sigma Fraternity. In 1969 he graduated "with distinction" from Northwestern University Medical School where was inducted into the Alpha Omega Alpha Honor Medical Society.
Lloyd completed a fellowship in surgical pathology at the Mayo Clinic in Rochester, Minn., before he started as a surgical intern and junior resident in general surgery at Duke University Medical Center, Durham, N.C. He finished his time at Duke as a urology resident and fellow. In addition to his clinical training, he was active in basic research. He published numerous articles, made multiple presentations, and received several research prizes.
From 1975 to 1977, Lloyd served as a major in the U.S. Army and was a staff urologist at Letterman Army Medical Center, The Presidio, San Francisco. He received The Army Commendation Medal. Following his Army service, Lloyd became an assistant professor of urology at Washington University School of Medicine and performed research at Barnes Hospital in St. Louis. In 1979, Lloyd moved to Greensboro and joined the urological practice of Garvey and Hunt (which later merged with other practices to become Alliance Urology), but remained involved with clinical research throughout his entire career. Lloyd served as chief of surgery, president of the medical board, and sat on the board of trustees for Moses Cone Health System. He also chaired numerous hospital committees at both Moses Cone and Wesley Long Hospitals in Greensboro. Lloyd retired from practicing medicine in 2012.
During his years of medical practice Lloyd cared deeply about his patients, the nurses, and staff. With his wonderful sense of humor, he tried to keep things light even in the most serious situations. Many patients recall what he said to them to help them relax as they were about to undergo a procedure. His staff always valued his friendly, endearing demeanor and warm smile.
Lloyd also served as senior warden of the Vestry at Holy Trinity Episcopal Church and was on the boards of the Greensboro Country Club, the Wellspring Life Care Community, and the Wellspring Foundation.
Lloyd and his wife, Jane Houston Peterson, met at Northwestern University as freshmen. They married in 1967 in Kansas City, Mo., and honeymooned in San Francisco following Lloyd's second year of medical school. Lloyd and Jane lived in Chicago for the remaining two years of medical school and then relocated to Durham for his internship and residency at Duke University, where their daughter, Kristin, and son, Kirk, were born.
Lloyd was first and foremost a gentleman and a devoted son, husband, father, and grandfather. He was proud of his children and grandchildren and loved participating in their activities, attending sporting events, getting to know their friends, babysitting, helping with schoolwork, running errands, cleaning, building and fixing things, mentoring and generally offering his loving service in any way he could.
Lloyd was a dedicated fan of the Northwestern Wildcats, Chicago Bears and Cubs and the Duke Blue Devils. A love of golf was instilled by his father, and Lloyd cherished the camaraderie he found on the links throughout his life. Lloyd had several weekly golf groups at Greensboro Country Club with close friends. For 20 years, Lloyd and Jane traveled, dined and laughed endlessly with the couple's golf group, the Easy Ryders. He started taking his family on annual ski trips in the early 1980s which led them to Colorado, Utah, Vermont and Europe, often in the company other families. Lloyd loved to travel the world and found joy in taking pictures that he used to create photobooks which he shared with fellow travelers. While living in San Francisco, he caught the "jogging" bug while running across the Golden Gate Bridge and became an avid runner and competed in dozens of races including the New York City Marathon in 1985. Lloyd and Jane learned to sail together when they lived in San Francisco and being on the water was always one of Lloyd's great joys. For many years he sailed and raced his yellow Lightning, Sneak A-Tack. He sailed with friends from Beaufort, N.C., to Bermuda. Later he delighted in captaining their Scout outboard at Figure 8 Island, where he often pulled his kids and grandchildren on tubes and water-skis and was affectionately named Captain Lloyd.
He was an intellectual, a voracious reader, a jokester with a quick wit, a stylish dresser who could be found on the dancefloor at every party. He was known for his loving, humorous, and poetic rhyming toasts that he gave at birthdays, anniversaries and graduations. Lloyd belonged to the NNBC (No Name Book Club) for decades and appreciated the intellectual conversations they had trying to solve the world's problems. He adored walking and playing fetch with his black Labrador, Aiko, and his "grand-dogs" Stella, JoJo, Dixie and Maisie. Lloyd was a music aficionado, a collector of records, CDs and ultimately audio files. He was thrilled to finally see The Rolling Stones and John Prine in concert with Jane in 2019.
Lloyd unexpectantly became ill in March of 2020 with a very rare, rapidly progressing form of Alzheimer's and succumbed to the disease 19 months later.
Lloyd is survived by his beloved wife of 54 years, Jane; his daughter, Kristin Peterson Edwards; his son, Kirk Houston Peterson; a daughter-in-law, Kimberly Bolick Peterson; and five cherished grandchildren, Hayden, Lucie, and Gretchen Edwards, and Van and Louisa Peterson.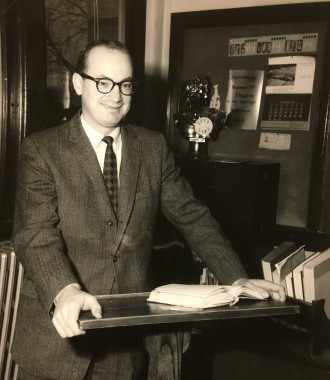 Roy Earl Howarth '60 MA, '71 PhD, Gilbert, Ariz., April 21, 2021, age 89.
Howarth was born in Dartmouth, Mass., to Roy and Elsie Howarth.
After high school, Roy enlisted in the U.S. Navy and served on the USS Oriskany (Mighty "O") during the Korean War. Following his service, he gained inspiration from his wife, Lissette, to pursue a career in teaching while an undergraduate.
Roy became a dedicated educator at Maine East High School in Illinois. He taught courses at all levels of English literature and composition and earned his master's and doctoral degrees at Northwestern. He was an inspiring teacher and an encouraging mentor to faculty while chair of the English department at Maine East.
In his personal life, Roy's favorite ways to pass the time included golfing, gardening, reading and travel.
Beloved by his family, he is survived by his wife of 70 years, Lissette Arnold Howarth; his daughter and son-in-law, Jennifer and Richard King; and his brother and sister-in-law, Donald and Barbara Howarth.