Remembrances
Remembrances is a page to read memorials of Northwestern community members submitted by their family or peers. Visit In Memoriam to read featured obituaries of Northwestern alumni, faculty and staff. Please send obituaries to alums@northwestern.edu.
Filter alumni by decade:
Narrow to:
Cheryl Lee Ross '78, 65, of Buckeye, Ariz., passed away on March 5, 2022.
Cheryl was born on February 11, 1957, to Ron and Frankie Ross in Columbus, Ohio.
After Cheryl graduated from Whetstone High School in Columbus in 1974, she went on to achieve her bachelor's degree at Northwestern University, master's in business at UCLA and her graduate degree in IT at Northwestern University.
After a graduate degree in business administration, she started her first job at Frito Lay as a brand manager, kickstarting a 30-year career in marketing, product management and consumer research. Throughout her career, Cheryl served as the brand manager at Kraft Foods, director of marketing at Spiegel/Eddie Bauer, senior marketing consultant at Accenture, and director of merchandising and sales development at Sears Roebuck & Co.
In 1984 Cheryl met Jim Lacey at Lakeshore Athletic Club in Chicago. Cheryl and Jim went on to raise their two children, Jason and Christie in Glen Ellyn, Ill.
In 2012 Cheryl retired from her rewarding business career and spent her time swimming, hiking, dancing, participating in book clubs, cultivating deep relationships with friends and traveling throughout the west and overseas. She was a lifetime student and had a voracious thirst for knowledge. Cheryl was more interested in getting to know others than talking about herself. She was a critical thinker and was known for her thought-provoking questions. She looked for the best in everybody and was always impeccable with her word. Cheryl exuded friendship and goodwill. She was a dear friend to many and had a contagious laughter and a beaming smile that lit up the room. Cheryl loved bright colors in her clothing, her home's interior decoration and the flowering plants blooming in her Arizona yard. May her memory be for a blessing.
Cheryl was predeceased by her parents, Ron and Frankie Ross. She is survived by her husband, James Lacey; children, Jason Lacey and Christie Lacey; a sister, Robin Ross Lang; and several in-laws, cousins, and nieces and nephews.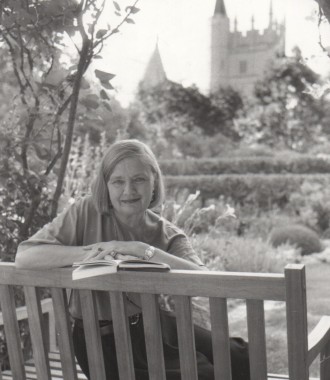 Tilde Sankovitch '73 PhD, died Feb. 27, 2022, at the age of 86. Tilde was born in Antwerp, Belgium, in 1935, daughter of Anna Otten Janssens and Joseph Janssens. She graduated from the University of Leuven in Belgium, where she met the love of her life, Anatole Sankovitch, on Dec. 15, 1952, in a philosophy class. She married Anatole ("Tola") in 1957, and that same year they moved to the United States. They eventually settled in Evanston, where their three daughters, Anne-Marie, Natasha and Nina, were born.
In 1968, Tilde began postgraduate studies, earning a PhD in French Literature at Northwestern University in 1973. After completing her PhD, she began to teach at Northwestern and became the Harold H. and Virginia Anderson Professor of French and Italian, receiving tenure in 1978. She served as chair of the French and Italian Department for a number of years and was also director of Women's Studies from 1994 to 1996, having been involved in the program from its inception as a member of various committees and as a professor. Tilde was beloved by faculty, staff and students, and was a cherished friend to many. She was a brilliant scholar, an engaging and popular professor, and supportive and respectful of every person she ever met. She was a proud feminist and advocated for equal rights for all genders and races.
Tilde was the author of numerous books and articles, including French Women Writers and the Book and The Poems of The Troubadour Bertran de Born, which she co-wrote with William Paden Jr., professor emeritus of French, and Patricia H. Stäblein.
After retiring from Northwestern in 1999, Tilde moved with her husband to New York City where she lived until her death. Tilde read to — and with — her daughters throughout their lives, and they were inspired by her bravery, kindness, curiosity, intellect and open-hearted generosity. Her grandchildren also adored her, and she loved spending time with them. And her husband, Tola, loved her with unbounded devotion, dedicating his memoir to her with the inscription, To Tilde, My Life.
Tilde is survived by Tola, her husband of almost 65 years; her daughters Natasha and Nina; her brother Peter Janssens; her grandchildren Meredith, Peter, Michael, George and Martin; great-grandchildren Charlotte and William; and nieces and nephews in England and Belgium. Tilde was predeceased by her parents, her sister Friedel and her daughter Anne-Marie.
In lieu of flowers, donations can be made in Tilde's name to the Central Park Conservancy in New York City. Tilde spent countless happy hours in Central Park and her spirit will always be found there, especially in the Conservatory Garden, where there is a bench bearing the name of her daughter Anne-Marie. Engraved on the bench are Anne-Marie's own words, "For who can end in despair, when there is such beauty in the world?"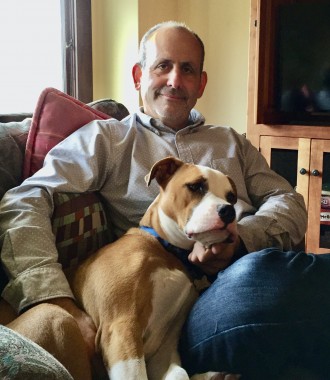 Richard (Rich) Kreisman, 64, died peacefully on October 7, 2021, at home in San Francisco after a courageous two-year battle with lymphoma. His loving partner, Jack Fahy, and their dog, Gemma, were by his side.
Rich spent his first ten years in Philadelphia and then moved to Rockville, Maryland, where he graduated from Robert E. Peary High School. After majoring in journalism at Northwestern, he worked as a reporter and editor. Rich then created a consulting business specializing in digital content licensing and content acquisition. He collaborated with Outsell, where he was VP and Practice Leader of Science, Technology and Healthcare. Outsell CEO Anthea Stratigos wrote, "Rich worked on an amazing number of projects, and never did he deliver one that didn't meet or exceed the client's expectations. That is who Rich was — caring and complete in whatever he did."

Rich enjoyed tutoring adults who needed help with reading. He was also an exceptional advocate for his mother and others at the facility where she lived. Rich had many, many close friends who cherished him for his charm, wit and sense of humor. He was uniquely able to "dig in deep" and "get real," allowing everyone to feel seen, heard and loved.
Rich is survived by his partner, Jack; his sister, Sandy Kreisman, her husband, Robert Buganski, and their son, Sam Buganski; his uncle, Harold Borushok, and his wife, Judy; and several cousins. He was pre-deceased by his parents, Renee and Irv Kreisman, and three dogs: Penny, Otto and Franny.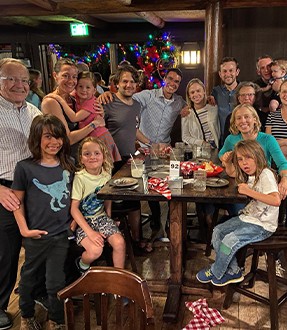 James A. Kohlstedt '71, 71, of La Grange, Ill., born June 1, 1949, in Evanston; died peacefully Oct. 10, 2020, surrounded by family.
Jim grew up in Evanston and attended Evanston Township High School. Jim's father, August Kohlstedt, was the lead maintenance engineer in Northwestern's Technical Institute building in the 1950s. That experience exposed Jim to the school and handiwork at a young age. He received his bachelor's degree in political science from Northwestern, where he was president of the Lambda Chi Alpha fraternity. He received his JD and MBA from Indiana University in Bloomington, Indiana, where he met and married Pat, his wife of 43 years.
Jim loved traveling (all seven continents!), practicing law, hiking, skiing in Colorado and Canada as "Jake" and "Hans," telling jokes, and spending time with family and friends. He was skilled in helping others and making space for the occasional joke while practicing commercial real estate, transaction and estate planning law. He was a mentor and friend to many, and a proud third-generation school board member for 20 years at Lyons Township High School in La Grange, Ill. Jim took exceptional pride in his three children and two children-in-law who received degrees from Northwestern, though it may have just been an excuse to attend more Wildcat football games and tailgates as a longtime season ticket holder. Jim's greatest joy in life was his grandchildren, whose lives he enriched immensely.
He is survived by his wife Pat; children Katie Kohlstedt '01 (and Francisco), Matt Kohlstedt '02 (and Sarah), Lindsey Kohlstedt Meyer (and Devin Meyer '13 MBA) and Kevin Kohlstedt '17 MBA, '17 MS (and Karly); grandchildren Kai and Teo Portillo Kohlstedt, Benjamin and Zoe Kohlstedt, William, Luke and Emily Meyer, and Avery Kohlstedt; and ski chairlift jokes awaiting punchlines.
He was preceded in death by his parents, August and Deloris Weichelt Kohlstedt.
Jim tried his best and encouraged others to do the same.
James Andrew Aull IV '76 MS, 80, of Oak Park, Ill., born Dec. 18, 1938, in West Norriton, Montgomery County, Pa; died peacefully June 8, 2019, surrounded by family and friends.
Jim grew up on a 50-acre farm, with woods, streams and wildlife, and his love of nature never left him. He attended the Hill School college prep. He graduated from Princeton University with a B.A. in history in 1960, and earned an MDiv from Chicago Theological Seminary and an MAT from Northwestern University. During his professional life, he worked for the YMCA, taught high school in Woodstock, Ill., and spent 25 years with the Chicago Youth Centers, retiring as director of quality improvement. It was during his work at the YMCA that he became involved in the civil rights and social justice movements which became a lifetime commitment.
Jim is survived by his beloved spouse of 30 years, Jeffrey Jon Smith; his loving sons Gino Aull of Naples, Fla., and James Bradley Aull of Berwyn, Ill., and his granddaughter Rebecca Aull of Chicago. Jim was preceded in death by his father, James Andrew Aull III; his mother, Sarah Helena Aull (nee Longacre); his sister, Jean Kathryn Aull of Lyme, N.H.; and his late partner, Dennis Thompson.
Jim was greatly loved and will be missed. He realized his altruism through word and deed and did what all of us should aspire to do: He made the world a better place.
Americo Bugliani '73 PhD was born 86 years ago in Pietrasanta a small Italian town nestled between the ocean and the Apuan Alps in Tuscany. It is sometimes referred to as the sculpture capital of the world. As an anti-fascist, his father emigrated to the U.S. to seek work, and Americo was born with American citizenship, which he cherished his entire life.
When WWII broke out the front line was to go right through his town. He and his family lost everything suffering hunger and untold hardships during the war. But one day he met an American soldier who gave him his first toothbrush, a tube of Colgate toothpaste and other items. He told him his name was Paul Sakamoto and gave him a picture of himself.
Americo said that was his only day of happiness during the war. He kept that picture in his wallet for many years. Fifty years later he tried to find Paul Sakamoto calling all the Sakamotos in California. Someone suggested he call Hawaii. There on the Big Island he was reunited with Paul. The reunion made the front page of the Hawaii Herald in an article titled "A Debt of Gratitude." But he felt he needed to do more so he organized the leading citizens of Pietrasanta and persuaded them to construct a monument in honor of the Nisei soldiers who had liberated their hometown. The beautiful monument by world renowned sculptor Marcello Tommasi depicts Sadao Munemori who was awarded the Congressional Medal of Honor for his heroic death on the Gothic Line. This story is recorded in David Ono's award-winning documentary for ABC.
Americo's father was a WWI veteran, and Americo was a veteran of the Korean War, having served in Germany, Austria and Italy. He was immensely honored at having been elected Commander of the Chicago Nisei Post 1183. His liberators had chosen him as commander! Unbelievable. He was also very proud of having become a Kentucky colonel.
Americo began his professional life in the travel industry, ending his career as vice president of an international travel company. He then took a furlough to obtain his Ph.D. at Northwestern University. His academic career as a Professor at the University of Illinois was highlighted by the publication of many articles and three scholarly books. He was also able to secure funding to launch the first Italian-American Studies program in the United States. He went on to go into business for himself as a wholesale jeweler before retirement.
In 2001 his wife, Ann, was appointed Director of the Loyola University of Chicago Rome Center Campus for a two-year stint. And so Americo and Ann moved to Rome and after two years they moved to Pietrasanta, where Americo died on Jan. 17, 2019. Americo and Ann had been happily married for 58 years.