Remembrances
Remembrances is a page to read memorials of Northwestern community members submitted by their family or peers. Visit In Memoriam to read featured obituaries of Northwestern alumni, faculty and staff. Please send obituaries to alums@northwestern.edu.
Filter alumni by decade:
Narrow to: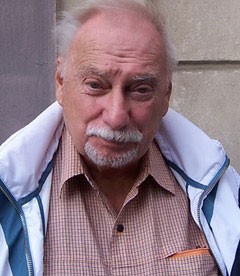 James Edwin Moore died April 14, 2022, of complications from aspiration pneumonia in Vancouver, Wash., at the age of 92. He was surrounded by his children.
Born in Detroit in 1929, Jim was the first of his family to graduate from college after serving stateside during the Korean War. He ultimately received his PhD in music education from the University of Michigan. He taught as a music teacher in Detroit area high schools and later as a professor at Cochise College in Douglas, Ariz., and Idaho State University in Pocatello, Idaho.
In 1968 he accepted a position at Northwestern University, where he took on progressive administrative responsibilities until he retired in 1993 as director of admissions, career services and summer session at what is now the Bienen School of Music. During his tenure he reorganized and modernized the national admissions office, oversaw the school's advertising and recruitment campaigns, edited the school's Fanfare magazine and directed its summer National High School Music Institute. One of his most rewarding roles was traveling the country to audition and recruit new students. He was well liked by all who knew him.
In 1960 Jim met Carol Barney, who was working at Carty's Music Store in Ypsilanti, Mich. They were married in 1962 and stayed together for 56 years until Carol's passing in 2018. After Jim's retirement, the two returned to Arizona where they built a house in Tucson. They traveled extensively, were active bridge players and enjoyed the weather and mountain views in their new home. Jim sang in the choir at Saint Philip's in the Hills Episcopal Church.
Jim is survived by his children, sons Colin and Clay Moore and daughter Harker Brautighan, and sister Garlin Green.