Remembrances
Remembrances is a page to read memorials of Northwestern community members submitted by their family or peers. Visit In Memoriam to read featured obituaries of Northwestern alumni, faculty and staff. Please send obituaries to alums@northwestern.edu.
Filter alumni by decade:
Narrow to:
Arturo Evening '06, formerly Arturo Menchaca, passed away on January 10th, 2023, at the age of 38. He was an artist and musician specializing in vocal and electronic music production who engineered, taught and performed under various monikers, including Rainbo Video, Æ, Gradients, Cool Dreams and The Spectral Gate. He is survived by his father, Dr. Arturo Menchaca, his mother, Ixtaccihuatl and his sister Ixtaccihuatl Julieta, as well as aunts and uncles on both sides of the family. Arturo was raised in Chicago, Ill., where he attended St. Ignatius College Prep before studying radio/television/film and earning a bachelor's degree in communication from Northwestern. Arturo was an active member of both schools' arts, music and film communities, and he explored a deep interest in experimental, subversive and structural multimedia works, perhaps best embodied by the event series he assembled in spring 2006 for the Block Museum's student-programmed campus cinema called A Cinema of Physics and Perception, featuring an impressive speaker roster of notable media scholars and thoughtfully curated weekly screenings. He was happy to be the third generation of musicians from maternal and paternal sides of the family, and also created works in modalities such as photography, collage, video, poetry and installations. Arturo was an avid sports fan who tracked various professional Chicago teams and was a valued member of the Chelsea FC fan community. Many of Arturo's friends and contemporaries have admired and learned from the breadth of his knowledge in these and other areas of personal interest, which were extensive and reliably mined for deeper layers of meaning. In lieu of flowers, the family asks that donations be made to The People's Music School where he served on the associate board and enthusiastically advocated for children's educational programs focused on electronic music production.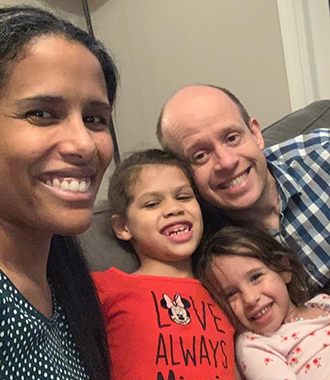 Dr. Jeffrey Anthony Jaeger, 41, passed away on Sept. 14, 2021, at home surrounded by his loving family after his long and heroic battle with cancer. Jeffrey (Jeff) was born in Bismarck, N.D., to Cherie and Roger Jaeger. During his childhood his family lived in Miles City, Mont.; Kansas City, Mo.; and Fargo, N.D. Jeff had many fond memories of his childhood and all the places he lived, and he loved returning to visit and staying connected with family and friends. He was very close with his parents and sisters and had a deep commitment and love of family that carried throughout his life. Jeff had many interests and talents and enjoyed playing a variety of sports and being a part of show choir.
Jeff attended college at Northwestern University in Chicago and remained in Chicago for two years after graduating and then moved to Seattle to pursue his graduate studies. While at Northwestern, in addition to honors such as being on the Dean's List, Jeff co-founded the a cappella group, Freshman 15, which continues to this day. The group has touched the lives of many with the power of music and formed a brotherhood that has been deeply influential for past and current members. In college, Jeff was also a Residence Hall Coordinator, providing mentorship and support for fellow college students. He could understand and connect with anyone and those he interacted with felt welcomed and respected. These traits made him an incredible clinician-in-training and friend during his graduate studies. He graduated with his doctorate in clinical psychology from the University of Washington in 2010. Jeff met his wife, Briana, on his first day of graduate school. They were married six years later, on Oct. 16, 2010, in Kansas City, Mo.
After Seattle, Jeff continued to live in several different cities including San Diego; Durham, N.C.; Iowa City, Iowa; Kansas City, Mo.; and Atlanta. In every place he lived, Jeff had an incredible ability to develop friendships and connect with people in a meaningful way that left a lasting positive impression. Jeff was a gifted and dedicated clinician and educator, going above and beyond for his patients and supervisees. He could connect with anyone and had profound empathy for others, changing so many lives for the better. In 2013, Jeff and Briana welcomed their elder daughter, Ella, and in 2015 welcomed their younger daughter, Cora. Jeff was a loving and devoted husband and father. His girls were the light of his life and he took such pride and joy in being a dad. He made sure each day was filled with love, joy and adventure. From exploring nature, movie and game nights, building elaborate Lego sets, and making music, to traveling and building creative family traditions like pumpkin carving and making gingerbread houses, Jeff delighted in finding new and creative ways to show the girls the beauty and wonder in life. Jeff instilled a zest for life that exudes from his daughters. He was also a true partner in life with his wife, Briana, and a constant source of love, strength and support, even while he was struggling with the physical cruelties of cancer. Jeff always made sure those he loved were taken care of and did it with such whole-heartedness and generosity of spirit, giving of his full self. He lived life to the fullest, in the big and small moments, reflected through his many major achievements and the daily "little" things that have left a lasting impact felt across so many.
During the last year of his life, Jeff continued to live life with joy, love and deep generosity even when experiencing major physical challenges due to his numerous intensive cancer treatments. He kept seeing his patients until he could no longer muster the breath needed for full sessions and treated everyone with kindness even when in immense pain. Jeff lived his too-few years with such love, compassion, integrity, kindness, deep generosity and passion for life that would fill many lifetimes, and he gave this gift to his wife and daughters to sustain them as they miss him every day and in every way. He was preceded in death by his grandparents. He is survived by his wife, Briana Woods-Jaeger; daughters, Ella Vivienne Jaeger and Cora Elise Jaeger; parents Roger and Cherie Jaeger; sister Jennifer Muggli and her husband, Eric, and their children, Nathan and Jordyn; sister Michelle Schweitzer and her husband, Jon, and their children, Hunter and Harper; and his loving in-laws.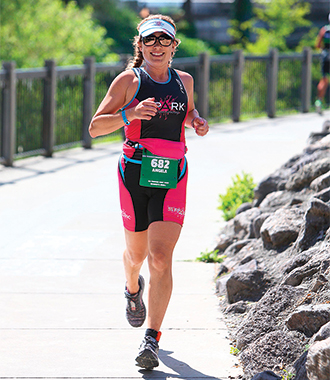 Angela Kristine Nielsen Park '01 WCAS,'02 MS, Chicago, Aug. 9, at age 39.
Angela earned her bachelor's degree in human development in 2001 and master's degree in education in 2002. She was also a member of Alpha Phi sorority.
After teaching for a few years in the Chicago and Boston public schools, Angela found her true calling as a personal trainer, working for Chicago Athletic Clubs and eventually starting her own training business, Spark Multisport.
Angela swam competitively for 12 years and was a top age group swimmer in Wisconsin and the Midwest. While attending Northwestern, Angela taught swim lessons and began dabbling in the sport of triathlon, participating in her first triathlon there. She had since completed more than 100 triathlons, including multiple half Ironmans (Ironman 70.3), Ironman Arizona, Ironman Wisconsin and Ironman Santa Rosa. She had numerous top 3 age group and overall female finishes during her triathlon career and was a 2013 Ironman All World Athlete, a member of Team USA at the 2015 Age Group Triathlon World Championships in Chicago and a USA Triathlon National Championship qualifier consecutively since 2010.
She built Spark Multisport with the belief that adopting a healthy, active lifestyle starts with small changes and motivation. She helped all find his/her inner athlete. Angela was a top personal trainer and triathlon coach. She earned popular recognition in the hit reality show The Biggest Loser as the personal trainer to the show's 2008 at-home winner. Through her company, she organized group races and women's health retreats. When she was not running, biking and swimming, she loved to travel and spend time with her husband and daughters. Angela enjoyed every moment with her children.
Angela was born in Waterbury, Conn., and was primarily raised in Kenosha, Wis.
Angela is survived by her loving husband, Eugene '01; her daughters, Alexandra Grace (8) and Olivia Kate (3); her parents, Richard '64 and '70 MBA and Gloria Nielsen; and a brother, Scott (Samantha) Nielsen.