Remembrances
Remembrances is a page to read memorials of Northwestern community members submitted by their family or peers. Visit In Memoriam to read featured obituaries of Northwestern alumni, faculty and staff. Please send obituaries to alums@northwestern.edu.
Filter alumni by decade:
Narrow to:
Mark Whitney Allen '90 MA, '92 PhD, born June 19, 1963, in New London, Conn., grew up in Connecticut and called Chicago home, demonstrating an early interest in psychology and also theater. He earned a B.A. at Amherst College in sociology and psychology and an M.A. and Ph.D. in speech language pathology at Northwestern University.
He was on the special education faculty at Niles North High School for 25 years, helping students to overcome disabilities through therapy, theater and literature. He was also on the faculty at Northwestern University's Department of Communication Sciences and Disorders.
Mark had a successful private practice working with children, adolescents and adults who stutter, founding and writing for Speak Freely Publications.
Always curious, outgoing, and giving, Mark was surrounded by his children and loved ones in his final days after a long struggle with Parkinson's. He is survived by his three children, Joseph, Rose and Camille; his parents; and four siblings.
Mark died March 27, 2018, in Zurich at age 54.
My father William Charles Schmidt '46 while still living on this earth was a loving, caring and devoted son, husband, father and brother to his family and friends. He graduated in 1946 from Northwestern University with a degree in geology. After graduation he went to work in the oil and gas business as a petroleum exploration geologist. In his later years he founded Jason Petroleum Corporation. He became a certified petroleum geologist and a member of the American Association of Petroleum Geologists in 1966 and a member of the Society of Independent Professional Earth Scientists in 2002. William passed away on Dec. 17, 2017, at the age of 94 due to natural causes. He is survived by his wife of 69 years, four children, eight grandchildren and eight great grandchildren. His legacy of hope, faith and charity will live on to the next generation due to his lived Catholic Christian faith. I miss you Dad. Pray for us that one day we will reach heaven to be with God our creator.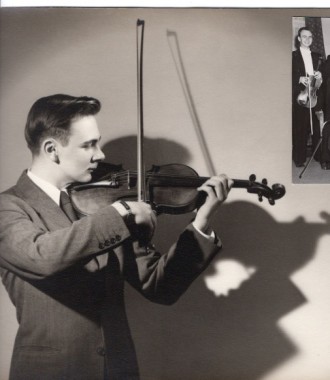 Nicholas Waselowich '50, '52 MMus — At age 91, Nicholas Waselowich of Warren, Mich., died Nov. 15, 2017.
From humble beginnings, his European immigrant parents made sacrifices for Nick to study the violin. He graduated from Cass Tech High School in 1944. He then served in World War II in the Philippines. Upon his return home, he studied viola at Northwestern University, receiving his bachelor's degree in music in 1950, followed by a master's degree in music in 1952.
After completing his education, he married his sweetheart, Rose, and began his performing career including the following: San Antonio and Detroit Symphony Orchestras, Michigan Opera Theatre, the Fisher, and Pine Knob. He was also hired to play recording sessions for Motown. For 35 years Nick was an elementary strings and band teacher in the Detroit Public Schools.
When he was not performing, he enjoyed playing golf and was a Detroit Red Wings hockey fan. As a devoted family man, he will be remembered by all for his generous, loving, and positive attitude.
He is survived by three daughters, Cindy (Vito) Aluia, Janice (Thomas) Manzella and Nancy Waselowich; a grandson Christopher Aluia; and a great grandson, Nicholas Aluia.
The book Tomorrow Never Came: The Sinking of the S.S. Athenia by Max Caulfield in 1958 describes the true story of the first act of aggression by Germany against Britain, at the start of the Second World War.
On Sept. 3, 1939, the Athenia was torpedoed by U-Boat 30, "and the ship went to the bottom with the loss of 112 lives, sixty-nine women and sixteen children among them."
My aunt, Doris Elaine Kent Fox '40 MS, was one of the survivors who gave a first-hand description of the events between the time the torpedo struck and her rescue the following morning.
"I was in the [tourist] dining room eating a lamb chop. After the awful explosion, I dashed somehow through the door, down a long corridor, to stairs. My cabin was one deck below. I had to get my lifebelt. Going down, I found the stairs broken — clinging to the rail I got down — in pitch black I felt my way to cabin, reached under bunks … and felt the lifebelts. On my way back up broken stairs, I gave one lifebelt away. Feeling my way up, I opened door to deck and it was LIGHT! Barney was there on deck. He saw me and said, 'Here, get into that boat.' It was Boat 6, the only other boat (besides 5) which had a motor and shortwave radio. No one knew how to run it, and we had to row all night long.
"When I was the next one up from Boat 6, I was hanging dead weight on the bosun chair. Just then I heard them scream, 'Hold tight!' The ocean washed up over my head and washed me off the chair. My grip on the knotted rope held. The lifeboat surged out away, then back in. They jerked one great jerk — and yanked me up just as the boat came crashing into ship — just below my legs. They had pulled me up just in time to keep me from being crushed. On up, to deck's rail, and there was Capt. Cook. He exclaimed, 'My god, girl, it's you!'"
The captain, James Cook, as well as 430 other survivors, including my aunt, were brought to Galway, Ireland, by the Norwegian steamer Knute Nelson.
My aunt was also advertising copywriter at Marshall Field & Co. in Chicago from 1937 to 1939, a freelance writer for New York Herald Tribune and Paris Herald Tribune in 1939 and an advertising copywriter for Carson Pirie Scott & Co. in Chicago from 1939 to 1940. She was a public relations writer for Northwestern University in Evanston from 1963 to 1966 and a member of the American Association of University Women and branch president (1984–86).
She died in Pasadena, Calif., Sept. 22, 2011, at age 94.
Martha Wiedman '71