In Memoriam
In memoriam is a page to read featured obituaries of Northwestern alumni, faculty and staff. Visit Remembrances to read memorials of Northwestern community members submitted by their family or peers. Please send obituaries to alums@northwestern.edu.
Filter alumni by decade:
Narrow to: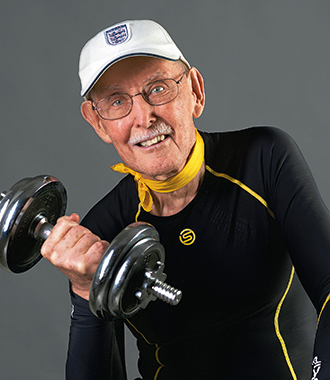 Charles M.E. Eugster '50 DDS, Zurich, April 26, 2017, at age 97. A retired dentist, Dr. Eugster took up rowing at age 63, started bodybuilding at 87 and became a record-breaking sprinter at age 95. "You are never too old to try something new," he wrote in his book, Age Is Just a Number: What a 97-Year-Old Record Breaker Can Teach Us About Growing Older (Little, Brown and Company, 2018).
Dr. Eugster set several world records into his late 90s. The world's oldest competitive rower, he won 40 gold medals in World Masters rowing and held multiple World Strenflex titles. At age 95, Dr. Eugster became the World Masters record holder in the 200-meter indoor and 400-meter outdoor sprinting events for his age group.
Born in London just after World War I, Dr. Eugster suffered a number of debilitating illnesses as a child, including scarlet fever and whooping cough. He served in the Swiss army and then ran a dental practice in Zurich.
He decided to get fit after he looked in the mirror in his 50s and realized he was a "balding, self-satisfied lump of lard," he told the Daily Telegraph last year. He started rowing competitively, training six days a week. He retired from his dental practice at age 75 and became a fitness blogger. In his mid-80s, he started working out with a former Mr. Universe to put on muscle. Inspired by vanity, Dr. Eugster admitted, he wanted an "Adonis body to turn the heads of the sexy young 70-year-old girls on the beach."
In recent years Dr. Eugster became a sought-after speaker on the benefits of staying active into older old age. His TEDxZurich talk, "Why Bodybuilding at Age 93 Is a Great Idea," has been viewed more than 800,000 times.
Dr. Eugster is survived by his two sons, Andre and Christian.
Photo by Terri Potoczna/Courtesy of Tarsh Consulting